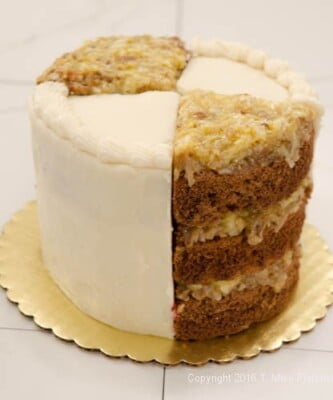 Two Classic Cakes from German Chocolate Cake batter, makes either one the star. I have to admit I am one of the few people in America that doesn't get one of the Two Classic Cakes - The Red Velvet Cake. Traditionally a white cake with the barest amount of cocoa colored with red dye to which a bit of vinegar is added to make it even more red which, after baking, is filled and finished with Cream Cheese Frosting.
To make the cake part more interesting at the bakery, we used the Second Classic Cake - the German Chocolate Cake to which we added red dye and a little vinegar. As you can see from the photos - red it is. The cake has one of the most tender crumbs of any cake.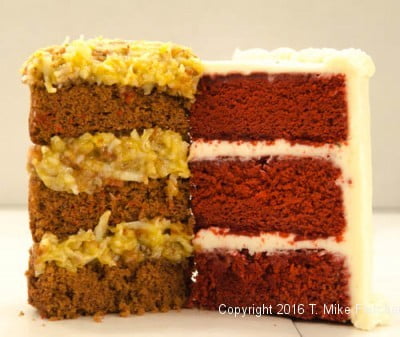 Because these are very tall, very elegant cakes I have increased the finishes/fillings for each of the cakes. A single recipe of the incredible pecan coconut filling and frosting for the German Chocolate Cake had to be increased by one half.
If making the German Chocolate Cake, make the filling/frosting the day before to allow it to set up in the refrigerator. It will make all the difference when assembling the cake.
When making the cream cheese filling and frosting do not get the butter too soft or the frosting will be droopy. Refrigerate if need to stiffen it up.
For the photo, I made the German Chocolate Cake batter below once. I then divided the batter in half and added half the amount of red food coloring and vinegar for the Red Velvet Cake. A recipe for a nine inch cake will yield two 6 inch cakes. The recipe below is for one 9" cake. Additions to turn the German Chocolate Cake into a 9" Red Velvet Cake are listed below.
As to the photography for this blog, Mike had an accident and I had to take my own pictures. Knowing absolutely nothing about his cameras, I used my iPhone except for the photos of the finished cakes. I almost drove myself nuts trying to make the cake and photograph it too. I would remember after I did something that I should have taken a picture. I salute all of you who can manage both. I know the copyright reads T. Mike Fletcher but honestly, at this point, I really don't care.
German Chocolate Cake
4 ounces semisweet chocolate
½ cup boiling water*
1 cup butter, room temperature (2 sticks, 225 grams or 8 ounces)
2 cups sugar, divided (400 grams or 14 ounces)
4 eggs, separated
1 teaspoon vanilla
2 ½ cups cake flour + 2 tablespoons* (310 grams or scant 11 scant ounces)
1 teaspoon baking soda
½ teaspoon baking powder
½ teaspoon salt
1 cup buttermilk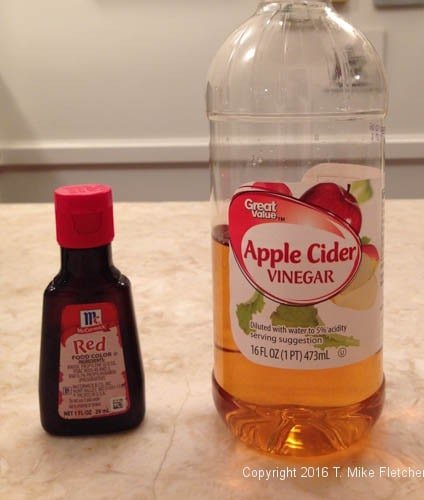 For Red Velvet Cake - All the ingredients are the same as the German Chocolate Cake with the following substitution and additions.
*Reduce the water to ⅓ cup water
Add 2 tablespoons red food coloring
Add 1 teaspoon vinegarMelt chocolate in ⅓ cup water. Add the red food coloring and vinegar. Set aside. Use where specified in directions below.
Line three 9 inch cake pans with parchment. Spray only the center of the rounds. Do not spray the sides. Set aside. Preheat the oven to 350 degrees.
Chop chocolate coarsely and melt in boiling water. (If making the Red Velvet Cake use the ingredients for the Red Velvet Cake above and continue as below.) Cool.
Cream the butter and 1 ½ cups sugar until fluffy and pale in color. Add yolks, one at a time, beating well after each addition. Add the vanilla and chocolate; scraping down and beating until all is blended and smooth.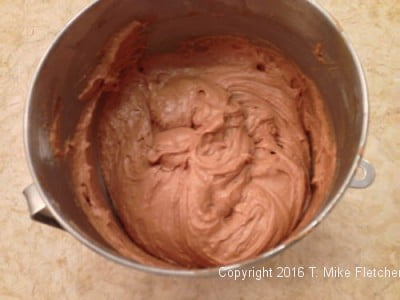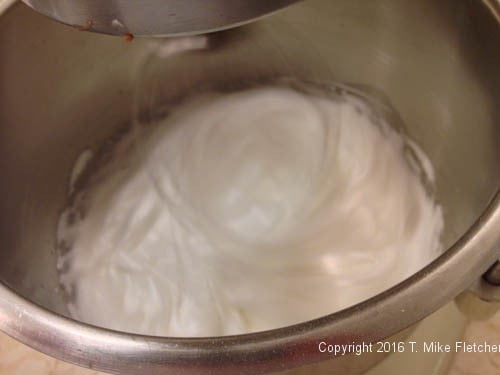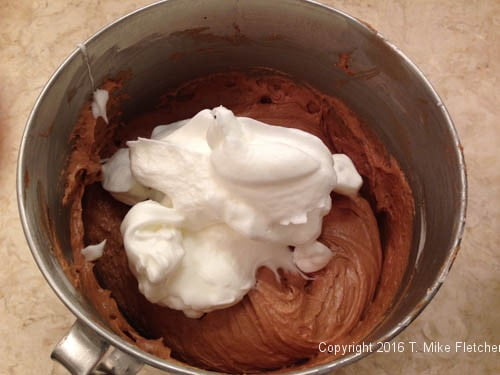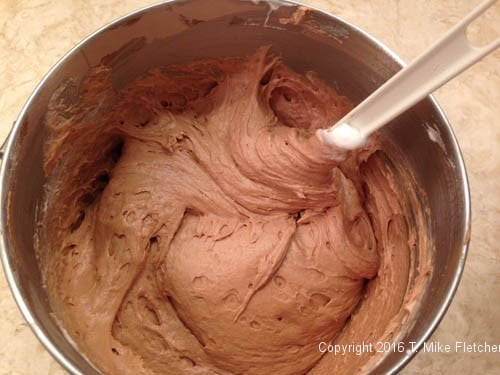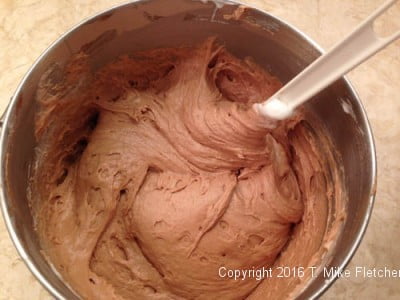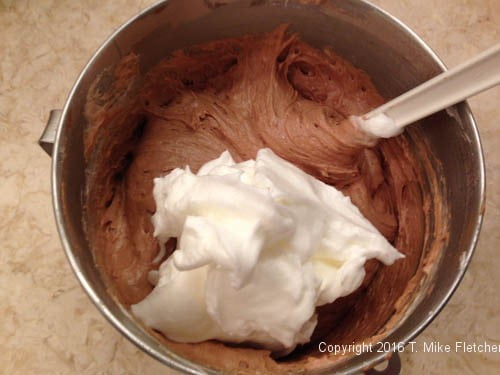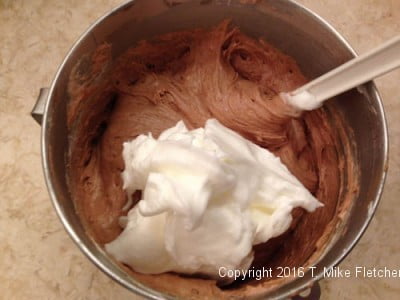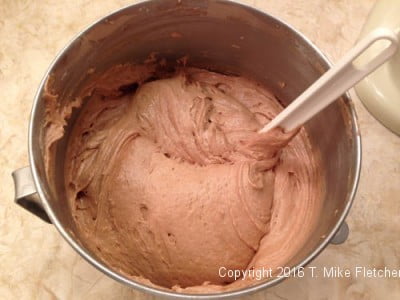 Whisk the flour, baking soda, baking powder and salt together; add alternately with buttermilk (starting and ending with flour).In a clean bowl, beat egg whites until soft peaks form; add remaining sugar slowly in a steady stream. Beat until fairly stiff. Stir ⅓ of the egg whites into the batter to lighten it. Fold the remainder of the whites into the batter. Divide equally between the three pans (about 490 grams per pan); smoothing and leveling.Bake for 25 to 30 minutes until tester comes out clean and center springs back when lightly touched.
Coconut-Pecan Frosting for the German Chocolate Cake
1 ½ cups evaporated milk
1 ½ cups sugar (300 grams or 10 ½ ounces)
5 slightly beaten egg yolks
¾ cup butter, cut into pieces (170 grams or 6 ounces)
2 teaspoons vanilla
2 ½ cups Baker's Angel Flake Coconut (210 grams or 9 ounces)
2 ¼ cups chopped pecans (170 or 6 ounces)
Combine evaporated milk, sugar, yolks and butter in a saucepan. Cook and stir over medium heat until thickened, about 192 degrees. Do not boil. Add vanilla, coconut and pecans. Chill until set.
Yields: Approximately 1100 grams
After the filling is completely cooled, place ⅓ (365 grams or 12 ¾ ounces) of frosting between the layers and on top.
Cream Cheese Frosting For Red Velvet Cake
1 ½ sticks butter (170 grams, 6 ounces or ¾ cup)
12 ounces cream cheese (340 grams)
1 ½ pounds powdered sugar (680 grams or 24 ounces)
1 teaspoon vanilla
Combine all in a mixing bowl and beat until smooth and fluffy. Spread between the layers and undercoat cake, reserving enough to apply a finish coat and decorative edging.
While there are many American Classic cakes, these two are among the most requested.