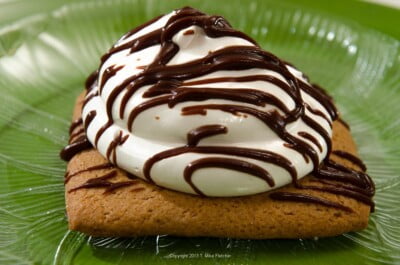 Reinterpreting S'Mores is one of the fun things about being a pastry chef. This version of S'mores is a perfect example as it keeps the classic components but changes them up a bit.
Homemade graham crackers are topped with homemade marshmallow crème then topped off with hot fudge. Like I said, all the components of a really good S'more.
When my boys were little I made graham crackers for them. They are quite simple. The dough is a bit sticky but rolling it between sheets of waxed paper solves that problem. Both honey and brown sugar sweeten the whole wheat flour. Equal parts of whole wheat and all purpose flour are used in this recipe. Using a pizza cutter facilitates the cutting and the traditional holes are made with the back end of a wooden skewer for best results. It makes the perfect size hole when baked.
The graham crackers can be baked soft or crisper as desired by simply baking longer or shorter.
The marshmallow crème stands in for the traditional marshmallow. It can be piped on the graham cracker or simply dolloped on. It is like the Marshmallow Fluff in the grocery stores but better. It can be made weeks ahead and stored in the refrigerator. Stir it before using it.
The final twist in this version os S'Mores is a deeply chocolate hot fudge sauce. Instead of sandwiching the graham crackers for this S'more, I use the graham cracker as the base, dollop on the marshmallow crème and top it with the hot fudge sauce. This sauce can also be made weeks ahead and used anywhere a chocolate sauce is needed. Reheat or microwave it gently t heat it but do not get so hot it melts.
Graham Crackers
1 ¼ cup whole wheat flour (170 grams or 6 ounces)
1 ¼ cup all purpose flour (170 grams or 6 ounces)
⅔ cup brown sugar (130 grams or 4 ½ ounces)
¾ teaspoon salt
1 teaspoon baking soda
½ cup butter, cold cut into small pieces (114 grams or 4 ounces)
¼ cup honey
¼ cup milk
1 teaspoon vanilla
Preheat oven to 350 degree. Line two baking sheets with parchment. Set aside.
Place the flours, sugar, salt and baking soda in the bowl of a food processor.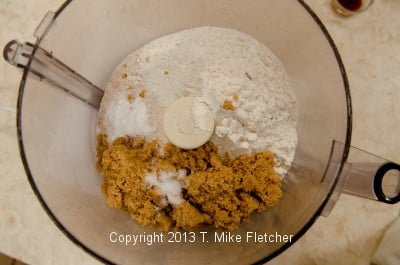 Pulse to mix.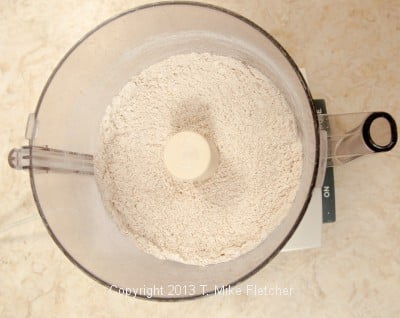 Add the cold butter and pulse to cut in until indistinguishable.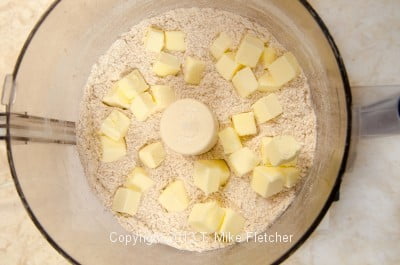 Combine the honey, milk and vanilla.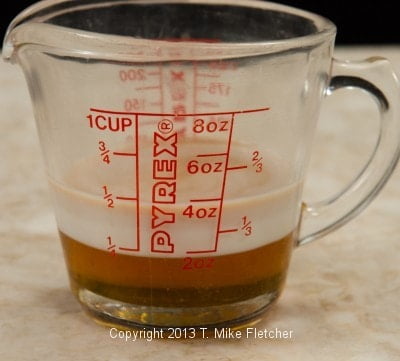 Pour it over the ingredients in the processor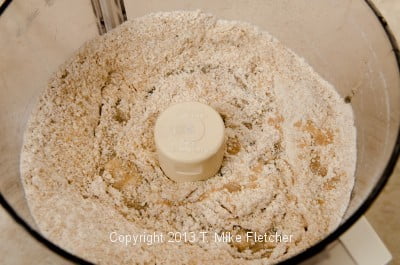 and process to form a ball.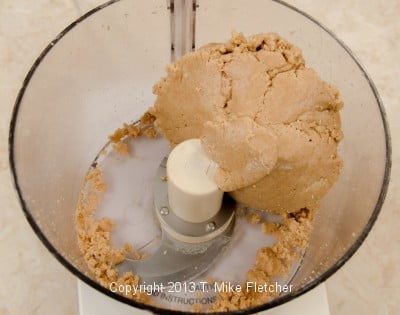 Remove from the processor
and knead it several times to bring it together. Shape into a ball and flatten slightly.
Divide the dough in half (360 grams or 12 ¾ ounces).
Roll one piece between wax paper into a 12"x6" rectangle.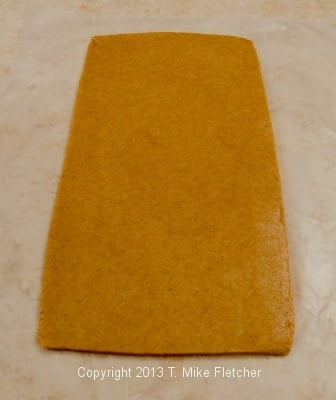 It will be about ¼ inch thick. Square the sides with a tapping with a ruler.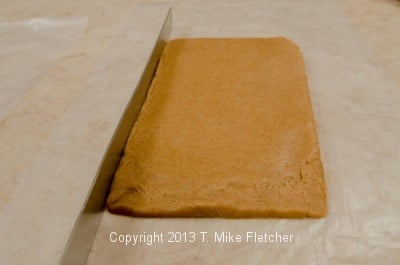 Cut into desired size. I cut mine into 3 inch squares. I mark the dough in half from the 6 inch side through the waxed paper.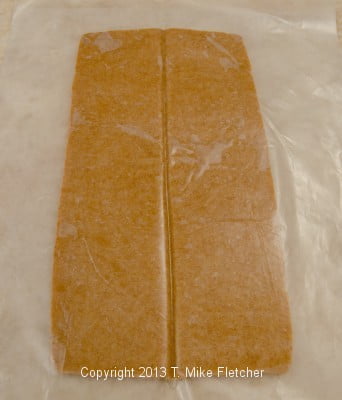 Mark every 3 inches horizontally.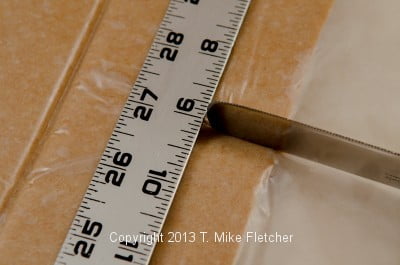 Mark across the dough with the ruler.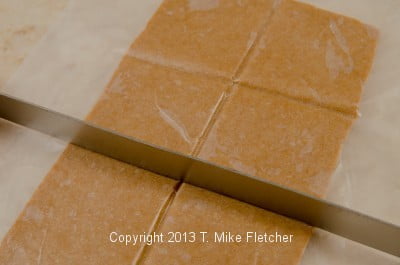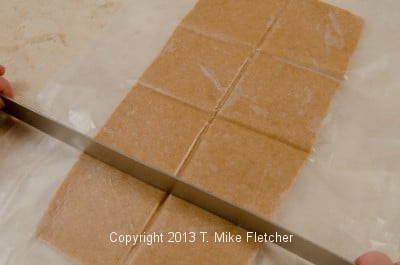 Remove the top piece of paper and cut the cookie with a pizza cutter.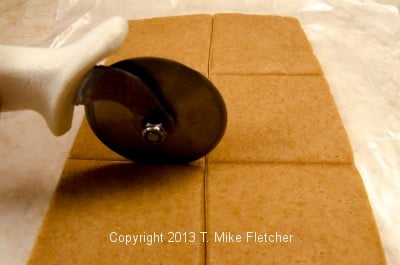 Place the bottom piece of waxed paper with the cookies on it in the freezer for 5 to 10 minutes. This will make them much easier to remove without stretching them out of shape. Place the cookies on a baking sheet about an inch or more apart as they will spread somewhat.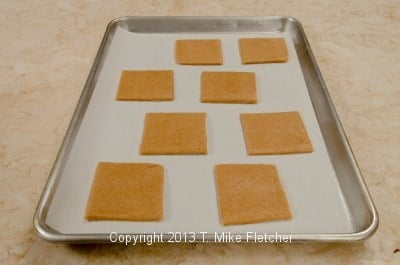 Allow them to soften slightly and then, using the flat end of a wooden skewer,
make holes in whatever pattern you wish.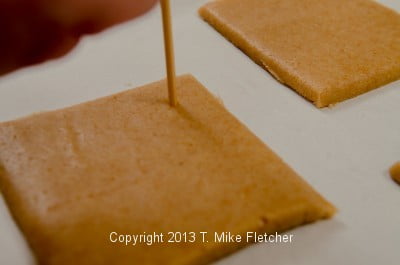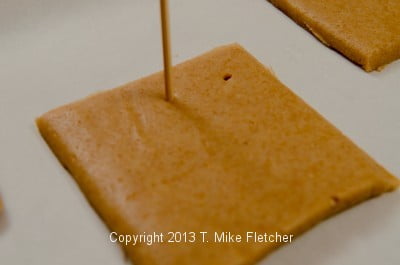 Bake for10 minutes, turn the pan and bake another 3 to 6 minutes depending upon whether you want them soft or crisp. They should be set but somewhat soft coming from the oven. They will become crisper as they cool.
Remove the cookies to a rack to cool. Stored in an airtight container, these graham crackers will last for a couple of weeks.
Yields: 16 – 3" Square Graham Crackers.
Marshmallow Crème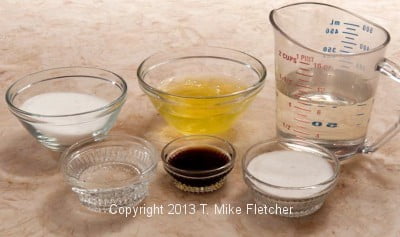 ⅓ cup water
1 ¼ cup corn syrup
¾ cup sugar (150 grams or 5 ⅓ ounces)
4 large egg whites
2 tablespoons vanilla
In a small saucepan, bring the water, cornsyrup and ½ cup (100 grams or 3 ½ ounces) sugar to a boil.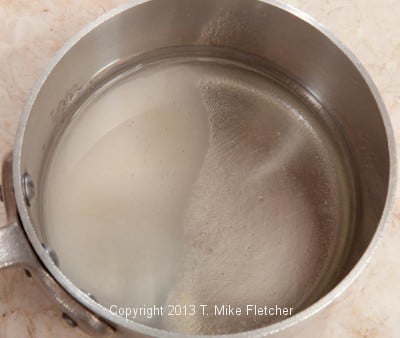 Wash the sides of the saucepan down with a pasty brush (not plastic) dipped in cold water. Continue to boil hard until a candy thermometer reaches 240 degrees.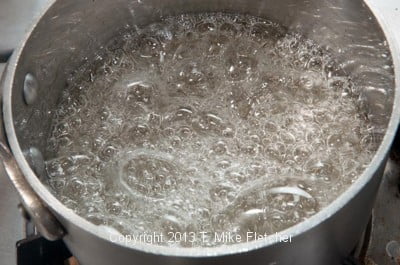 In the meantime, place the egg whites in a clean mixing bowl fitted with a whisk.
Beat until soft peaks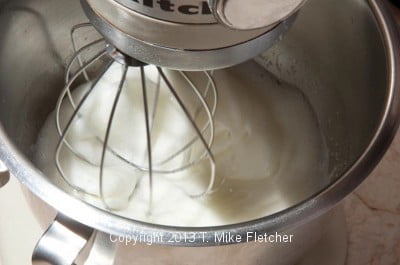 and slowly add the remaining ¼ cup sugar (50 grams or scant 2 ounces) to the soft peak stage.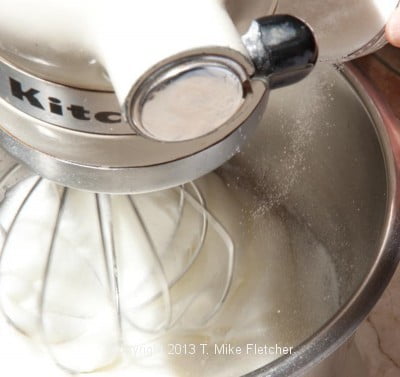 If the whites get done before the syrup, reduce the speed to the lowest and keep mixing. Do not turn off the mixer.
When the syrup comes to temperature, raise the speed of the mixer to medium and slowly drizzle into the whites.
Turn the mixer to medium and beat until it begins to thicken. Reduce the mixer to low and add the vanilla.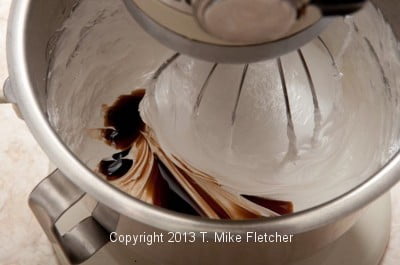 Beat just until it thickens and is creamy. Do not overbeat as it becomes difficult the handle. Yield: About 5 cups
Hot Fudge Sauce
6 ounces semisweet chocolate
1 cup half and half
1 stick butter (½ cup or 4 ounces)
½ cup sugar (100 grams or 3 ½ ounces)
1 teaspoon vanilla
Combine all but the vanilla in a saucepan.
Bring to a boil over low heat and boil for 3 minutes.
Add vanilla. Cool completely and store in the refrigerator. Warm slightly before using. If it is too thick, thin with half and half or water. Approximately 2 cups
Assembly
Graham Crackers
Marshmallow Crème
Hot Fudge Sauce
Sea Salt, optional
Place a cracker on a serving plate. Spoon or pipe the marshmallow crème on top. Drizzle with the hot fudge sauce. Sprinkle lightly with sea salt if desired.