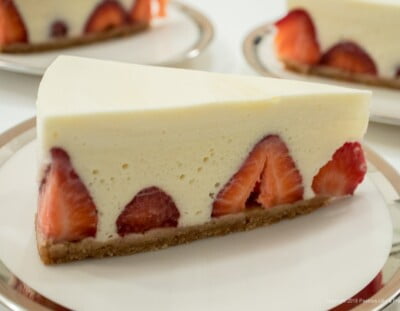 With Mother's Day upon us, this Vanilla Mousse Torte with Strawberries is a perfect do-ahead dessert to honor her. It is light, full of flavor, not too sweet, beautiful, easy to make and almost no bake. I'm not sure what more could be asked of a dessert.
Chocolate mousse is a given, but a good Vanilla Mousse is hard to find. Most are based on white chocolate which is not my favorite chocolate. I find it lacking in any distinctive flavor, although I know many will disagree, including my husband.
To up the flavor, I used my pastry cream, added a bit more vanilla and lightened it with whipped cream before pouring it over fresh strawberries on a vanilla wafer base.
The pastry cream for this Vanilla Mousse Torte can be made several days before using or a couple of months ahead and stored in the freezer. Thaw in the refrigerator overnight to use. If the pastry cream is made ahead of time this is an easy dessert to assemble.
The entire torte must be made the day ahead and can be made up to 2 days ahead.
Pastry Cream for Vanilla Mousse Torte
Using the ingredients below, go here for how to photos.
1 ½ teaspoon unflavored gelatin
1 tablespoon cold water
2 cup milk
6 egg yolks
¾ cup sugar (150 grams or 5 ⅓ ounces)
⅓ cup flour or sweet rice flour (45 grams or 1 ½ ounces)
2 teaspoon vanilla extract
Soften the gelatin in the water and set aside.
In a small saucepan, heat the milk until very hot but not boiling. Whisk the egg yolks and sugar together in a bowl. Whisk in the flour.
Add the hot milk slowly, whisking well and scraping the bowl with a rubber spatula to make sure all of the egg yolk mixture is incorporated. Strain into the top of a double boiler.
Whisking constantly, heat until very hot and beginning to thicken. Remove the top of the double boiler and place directly over heat. Whisk constantly until it comes to a boil; cook for 1 minute. Remove from the heat; add the vanilla. Tear the gelatin into small pieces and stir into the hot liquid (there is no need to liquefy it, the heat of the mixture will do this for you) completely dissolved.
Transfer to a bowl. Place plastic wrap directly on the surface of the pastry cream, poke a few holes in it and chill at least 6 hours or overnight. This can also be frozen several months in advance.
Yield: 2 cups
Vanilla Wafer Crust
Go here for how to pictures
1 ¼ cups vanilla wafer crumbs (about 40 wafers or 140 grams or 5 ounces)
4 tablespoons butter, melted
Preheat the oven to 350 degrees.
The wafers may be processed to make crumbs or placed in a plastic bag and crush them with a rolling pin until very fine. Add the butter and mix with a fork.
Press into the bottom of a 9×3″ cheesecake pan or springform pan.
If baking, bake for 12 minutes. Cool completely.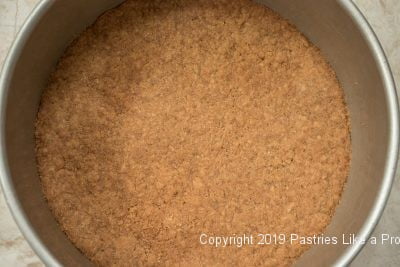 Assembly
Baked and cooled crust
Pastry cream, thawed if frozen
1 to 2 quarts of strawberries depending upon the size
1 tablespoon gelatin
2 tablespoons vanilla
1 ½ cups heavy cream
½ cup powdered sugar (65 grams or 2 ¼ ounces)
Sort the strawberries as to size.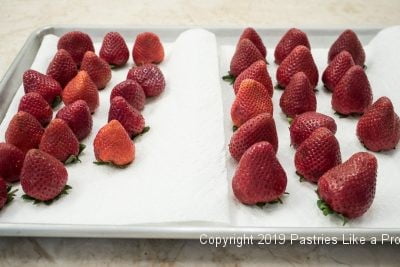 Cut the tops off. Cut the larger strawberries in half vertically and place them around the edges of the pan. Fill in the center with additional strawberries, placing them close together.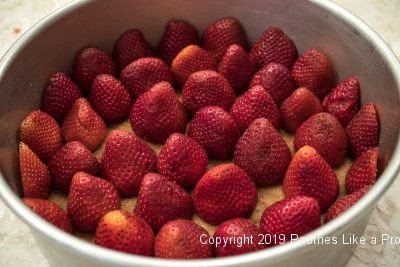 Place the vanilla in a small bowl. Sprinkle the gelatin on top. Stir to combine and set aside.
Microwave the pastry cream until just warm and whisk smooth. Set aside.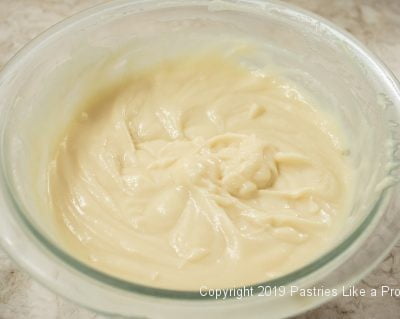 Beat the cream and powdered sugar together until stiff. Pour the pastry cream over it and fold gently to combine but not so much you deflate the cream. It should form a thick but pourable mixture.
Heat the gelatin until very hot. Quickly whisk it into the pastry cream mixture and pour it over the strawberries. Chill overnight.
Releasing the Vanilla Mousse Torte with Strawberries
Go here for how to photos
Apply a little heat to the edge of the pan with a hair blower. It won't take much heat. Place the torte on a large can and slide the side down.
If the Vanilla Mousse has covered some of the strawberries, partially or fully, just remove it with a pointed spatula or small knife.
The pastry cream will come off easily exposing the strawberries.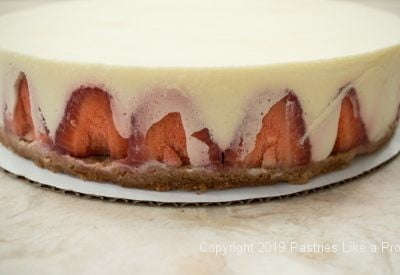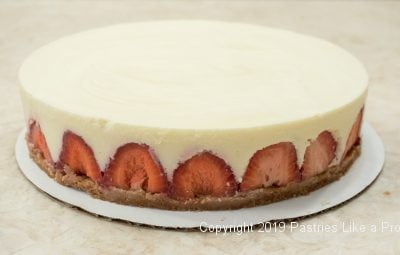 Go under the crust with a medium flat metal spatula. Using two pancake turners, transfer the torte to a serving dish.
Refrigerate until serving. For the cleanest cuts, run really hot water over your knife, dry it quickly with a paper towel and slice the cake. Repeat for every cut.