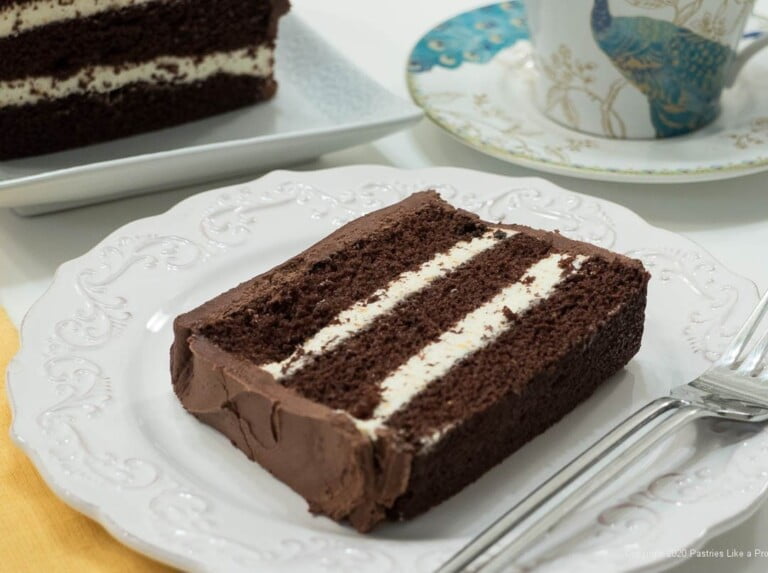 This Chocolate Creamsicle Cake is an updated version of one of the first cakes I made….a lot! As you'll see this recipe was atypical for me but being self-taught it took me a bit to build my confidence before I was able to get into scratch baking and pastry.
Our house was ground zero for every holiday. We also liked to entertain. So there were plenty of desserts that needed to be made. Some were scratch such as Crepes Suzette but one of the favorites was a Dark Chocolate cake with whipped cream filling and a dark, deep chocolate frosting. The atypical part was I used a box cake mix. Before you say Oh no! remember I wasn't versed in baking as I am now. As a matter of fact, I loved it. And it couldn't be more American. Chocolate cake, American Buttercream, and whipped cream – what more could you want?
For this Chocolate Creamsicle Cake, I altered my plain whipped cream by adding orange and vanilla, the key components to a creamsicle. And the cake? Easier than going to the store to get a cake mix. It's what we used to call a dump cake which simply meant exactly what it sounds like – you dump everything into a mixing bowl, mix it for 3 minutes then pour it into the pan. Now you have to admit that's easy. This is also known as a high ratio cake where the sugar is equal to or exceeds the weight of the flour making this technique really easy. Notice I said weight, not volume.
The recipe for the Chocolate Cake is a basic cake. I have seen it everywhere including on my fudge cake recipe with a slight variation. It is moist to begin with and stays that way for days.
Because I didn't want a big Chocolate Creamsicle Cake sitting around for us to eat by ourselves, I turned it into a loaf cake. It's also a simply finished cake which takes only a metal spatula.
If, for any reason, you are not into orange and chocolate together, omit the orange rind in the filling and simply use plain whipped cream. But do keep the chocolate fudge frosting. It is literally like eating a piece of fudge.
All American Chocolate Cake
¾ cup + 2 tablespoons all-purpose flour (120 grams or about 4 ½ ounces)
⅓ cup Dutch cocoa, sifted (30 grams)
1 teaspoon baking powder
½ teaspoon salt
¼ teaspoon baking soda
1 cup sugar (200 grams or 7 ounces)
2 large eggs
⅓ cup vegetable oil
1 teaspoon vanilla extract
1 teaspoon instant coffee or espresso powder
⅔ cup water
Preheat the oven to 350°F. Line a 9x13" baking pan or quarter sheet pan with parchment. Spray the center only with non-stick spray.
Whisk together the flour, cocoa, baking powder, salt, baking soda, and sugar in the bowl of a mixer.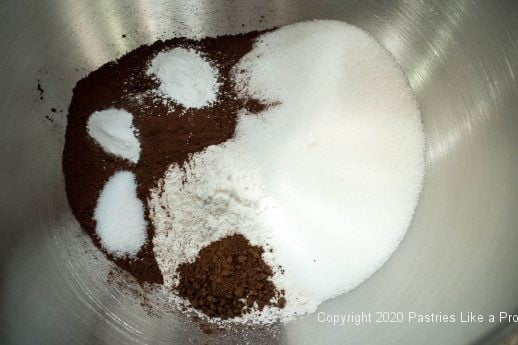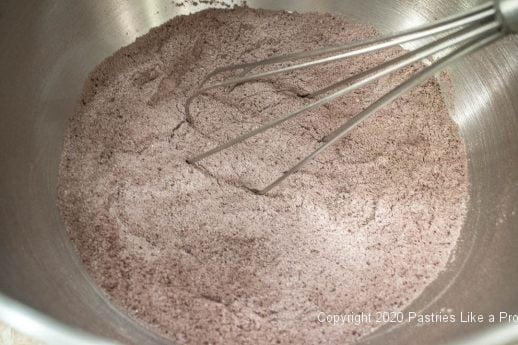 Add the sugar, eggs, oil, vanilla, coffee or espresso, and water.
Beat on low for 3 minutes. Scrape as needed. The batter will be very liquid.
Pour into the prepared pan and even out by tilting the pan.
Bake for 15 to 18 minutes until a tester comes out clean.
Cool in the pan. Go around the edge with a small flexible spatula and turn the cake out onto a cake board.
Freeze before ontinuing or for up to a couple of months if well wrapped.
When ready to use, cut into 3 - 4" wide pieces.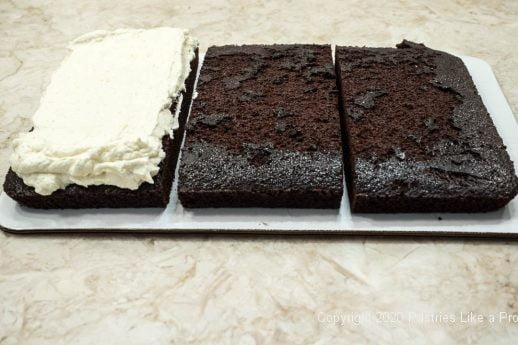 Creamsicle Filling
1 ¼ cup heavy cream
⅓ cup powder sugar, sifted (45 grams or1 ½ ounces)
1 teaspoon vanilla
Zest of 1 large orange
Place the cream, powder sugar, and vanilla in a mixing bowl. Beat until fairly stiff. Add the orange rind and beat until stiff.
Place one layer on a cake board and spread half of the filling over the layer.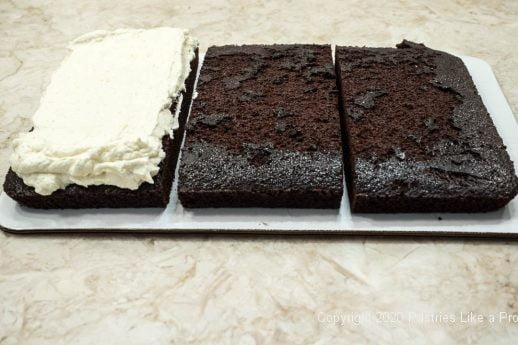 Place a second cake layer on top and spread with the remaining filling.
Top with the third layer. Press down lightly. Clean the sides of any excess filling. At this point it looks like a double ice cream sandwich..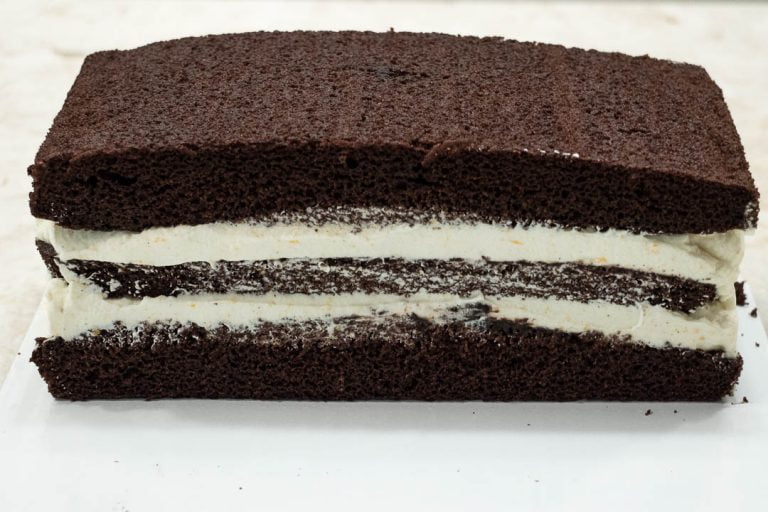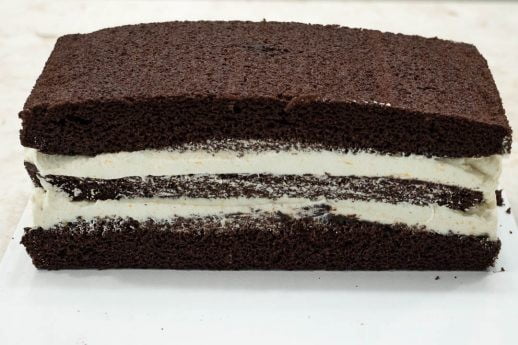 Freeze completely. It can be wrapped and kept frozen for several months if desired. The cake is frozen to make it easier to finish. It is very wiggly if not frozen.
When ready to finish, make the frosting.
Chocolate Fudge Frosting
½ cup unsalted butter, softened (114 grams or 4 ounces)
4 ounces semisweet chocolate, melted (114 grams)
2 ½ cups powder sugar, sifted (325 grams or about 11 ½ ounces)
¼ cup cocoa, sifted, Dutch preferred (28 grams or 1 ounce)
2 tablespoons cream or milk, or as needed
Place all ingredients except the cream or milk in the bowl of a mixer and beat until combined. Add the cream or milk as needed to obtain a spreadable frosting.
Frost the sides and top. Refrigerate to allow the loaf to thaw. Cut with a hot dry knife. Just run the knive under the hottest tap water, dry it quickly and let it melt through the frosting, then cut straight down through the cake into slices. Repeat for each slice.
If you liked this cake, you might want to try one of these:
Black Forest Torte Revisited
Coconut Cream Cake
Lemon Meringue Cake