Basically, crepes are a thin pancake. Ideally they will fold and roll without cracking or tearing. While the French version is the most notable, there are other thin pancakes from other countries.There are as many crepe recipes as there are cooks.
Many of us learned the art of the crepe from Julia Child as seen in this recipe. Today everyone makes them from Martha (of course with a video) to Rachael Ray.
At the take out shop, we served crepes numerous ways including Beef Stogonoff crepes, Seafood crepes, Ham and Cheese crepes and Crepes Suzette, the most famous of all. One of the most loved appetizers we did was miniture crepes with a swipe of lemon basil mayo and a roasted asparagus tip sticking out. They were about four inches long when wrapped. We would make the crepes and cut out ovals with a cookie cutter. As I remember, I could get five ovals out of a 10 inch crepe. While these were time consuming, everyone, including me, loved them.
In the '80's, crepes were all the rage when they were the featured dish with many different fillings at the Magic Pan restaurants. One of the favorites was the Spinach crepe. While researching this blog, I ran across a blog post on Chowhound that gave away the secret. Would you believe it was Stouffer's Spinach Souffle? It seems Stouffer's owned Magic Pan and the restaurant used a lot of their products just wrapped in a crepe. The recipe is given away by Robyn Raymer in the comments section.
The beauty of crepes is they can easily be made ahead and frozen with waxed paper between them. We would make 50 or more at a time and keep them frozen. Just make sure they are completely thawed before using. Also, if you are not using immediately, make sure they are covered with plastic wrap so they won't dry out.
My recipe includes milk for tenderness and water for body. The brandy adds flavor, the oil flexibility. The batter needs to rest so the ingredients can come together for the best end result.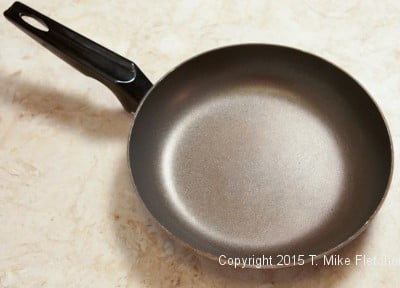 While there is an official "crepe pan", I prefer a non-stick pan for ease of making them. I swipe the pan with a stick of butter every fourth or fifth crepe.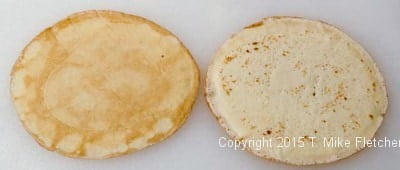 There are two sides to a crepe. The first side that browns is the one that should be shown in the final dish. It is always face down when being filled. It is on the left. The second side will never be as beautiful so it is the one that holds the filling before being rolled. It is on the right.
While the crepe may see intimidating at first, it is all in the wrist. You simply pour the batter into the pan and rotate it around to fill the pan. That's pretty much it. The edges will brown and that is your indication, the crepe is ready to be turned over. Another few seconds on that side and you are good to go. After a few crepes you will be a master!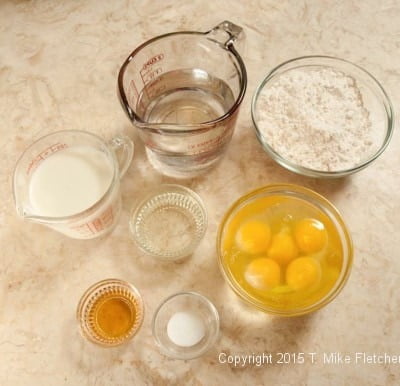 Crepes1 ⅔ cups flour
1 teaspoon salt
1 cup milk
1 ½ cups water
5 eggs
1 ½ tablespoons brandy
3 tablespoons vegetable oil
1 stick of butter for the pan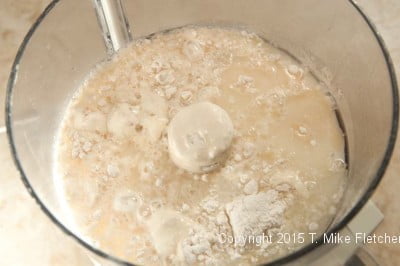 Place all the ingredients except the stick of butter in a food processor by batches if necessary. If by batches, whisk together in a large bowl after processing. Pour into a bowl and let rest for 1 hour at room temperature or overnight in the refrigerator.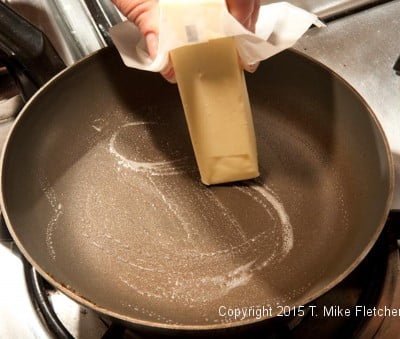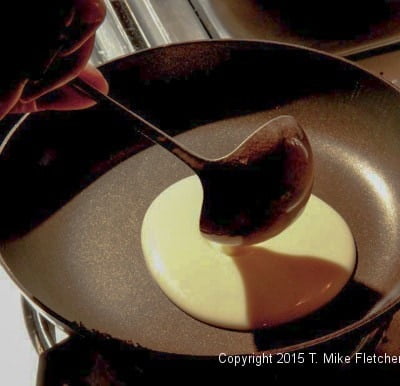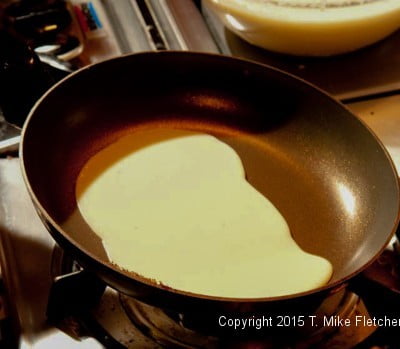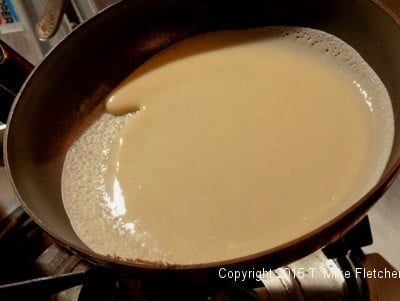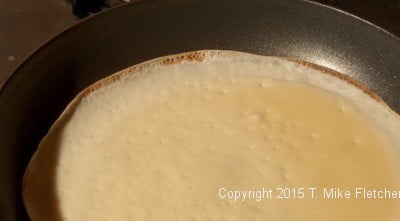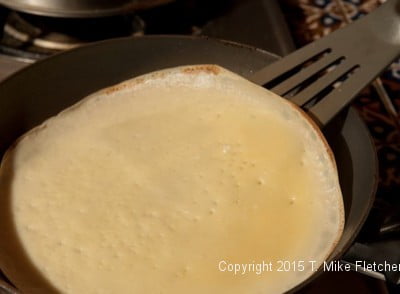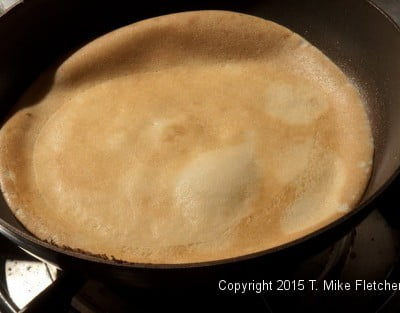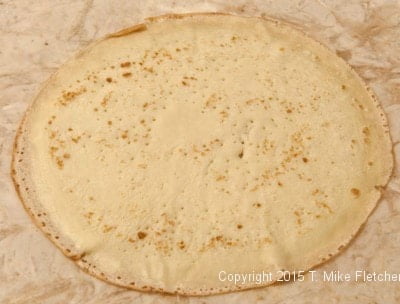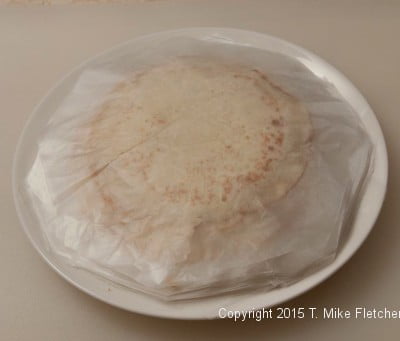 For 10" Crepes: Using a stick of butter, swipe the pan and ladle 2 ounces of batter into a hot 10" non stick skillet. Rotate the pan to make a complete circle, filling the pan evenly with the batter. Fry on one side until the edge is browned, indicating it is ready to turn over.Flip and brown on the other. Stack between waxed paper with second side up. Cool to room temperature. Use immediately or freeze. If using from the frozen state, thaw completely and make sure they are room temperature.
Yield: 16 crepes
Note: These can be made in any size pan you wish.