Hand Pies have been around as long as people have been cooking. Anything enclosed in bread or pastry that can be eaten out of hand qualifies. It can be a turnover, English pasty, a calzone, or Russian pierogis. Every culture has a hand pie no matter what they call it.
While many hand pies are savory, sweet hand pies qualify and have been front and center of late. Any pie filling or sweet filling can be used as long as it isn't runny. A number of pastries can be used but I particularly like this Mock Puff Pastry. The recipe has been around a long time. I remember seeing it first in the '80's. It combines two techniques - pie crusts and the laminating of doughs. This dough contains no water. It is held together with sour cream which makes a very tender, as well as tasty, pastry.
It is important when making the pastry to make sure the butter stays in pea size piece as in a pie crust. The pastry should not come together in the mixer. It should be removed as soon as it clumps together. It is pushed together into a cohesive dough on the work surface and rolled into a rectangle. I fold mine into what is called a book fold as has more layers than the traditional three fold laminated pastry.
It is best to make the pastry at least the day or up to three days ahead. It rolls out easily. When making pastry for a hand pie, do not roll it out too thick, especially as this will rise as does puff pastry but not as dramatically.
The apple filling may also be made the day ahead if desired.
This recipe calls for the use of a bought caramel, Werther's Original soft and chewy caramels. But my caramel would make an even better version. Just use about 1 tablespoon per hand pie and place it on the bottom of the hand pie with the apple filling over it.
A salted version can be made by sprinkling coarse sea salt lightly over the caramel.
Or, if you wish, omit the caramel and just use the apple filling. This filling is a great basic apple filling for anything made with apples.
A word about the potato starch. I have recently switched from cornstarch to potato starch for a couple of reasons. The first is anything thickened with potato starch can be frozen and thawed with no harm. Cornstarch will break down if frozen and thawed. Secondly, potato starch can be heated to a higher temperature than cornstarch. If you have ever cooked something with cornstarch in it and it has lost its thickness, it was cooked too long or at too high a heat. The potato starch, like cornstarch, is clear when cooked.
This Apple Caramel Hand Pie can be frozen before baking without the egg wash. It is best to bring it to room temperature, egg wash it and then bake it. Hand Pies are great to have in the freezer when you want a quick dessert or treat.
Mock Puff Pastry
The original recipe came from King Arthur Flour. While I increased the salt slightly, my main change was how this was put together. KA did it by hand, I give you the option of processor or mixer.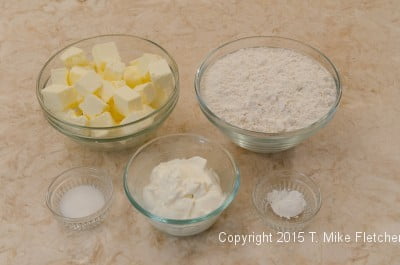 1 ¾ cup all purpose flour (245 grams or 8 ⅔ ounces)
¾ teaspoon salt
½ teaspoon baking powder
1 cup cold unsalted butter, cut into small pieces (225 grams or 8 ounces)
½ cup cold sour cream (114 grams or 4 ounces)
Place the flour, salt and baking powder in the bowl of a mixer.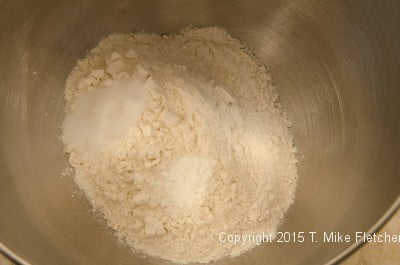 Mix briefly.
Place the butter over the flour
and beat on low to medium until the butter is cut in but leaving pea size pieces of butter.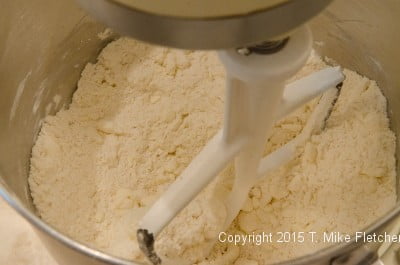 Add the sour cream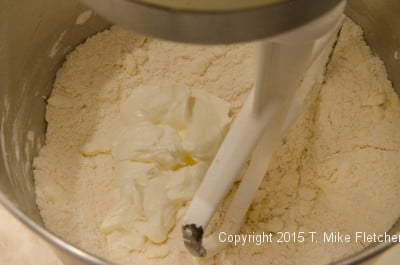 and mix until it comes together in clumps.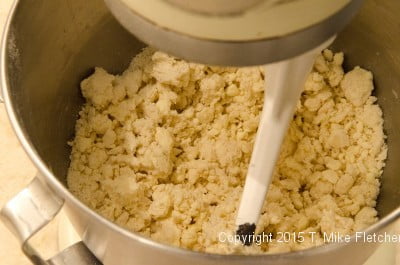 Pour out onto a work surface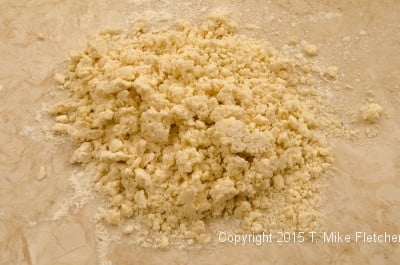 and push together to form a cohesive mass. Shape into a rectangle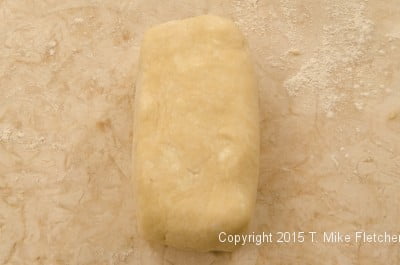 and roll into a 16x8 rectangle on a lightly floured surface.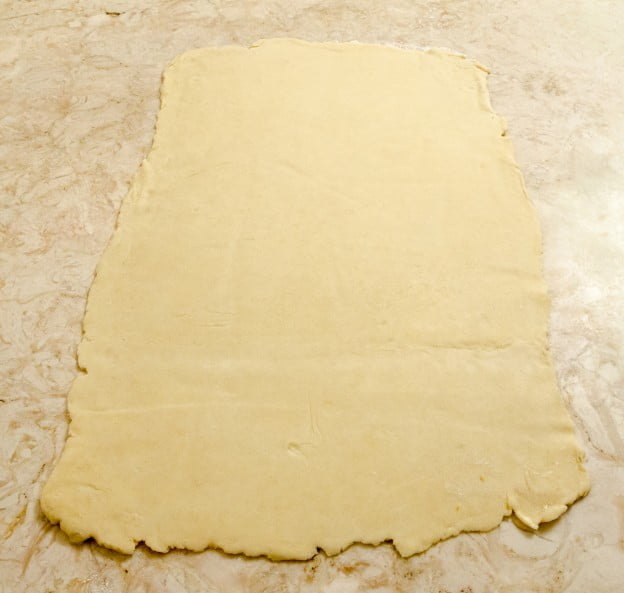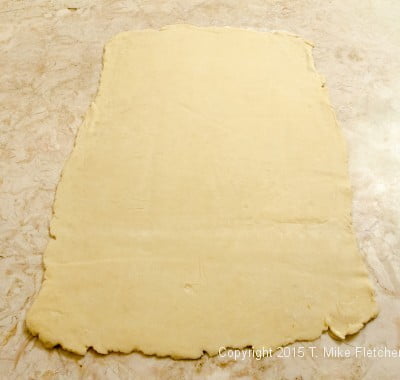 Brush off any loose flour. Bring the bottom to the middle of the dough. Square the sides by pushing the sides to straighten it out.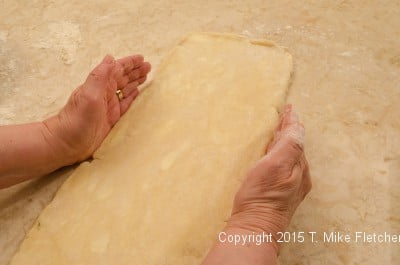 Bring the top down to the middle and the bottom up to the muffle.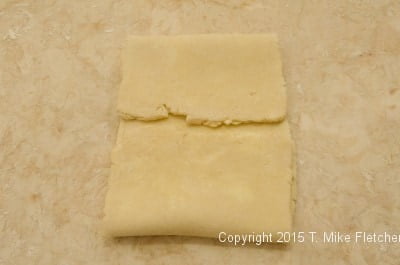 Fold in half.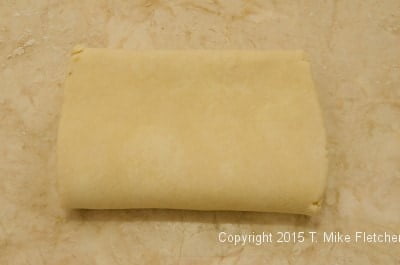 This is a book fold. Turn one quarter to the right.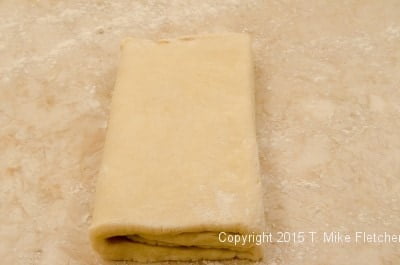 Repeat the rolling and folding one more time. Wrap in film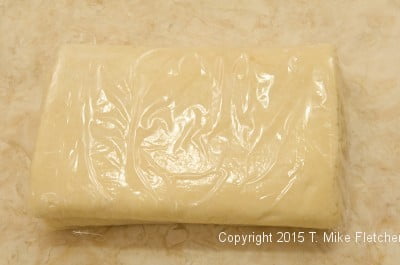 and refrigerate up to 2 days or place in a freezer bag and freeze for several months. Thaw in the refrigerator overnight before using.
Apple Caramel Hand Pies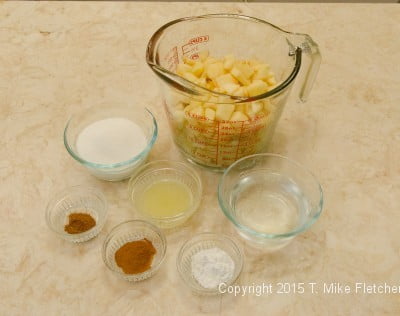 1 large Granny Smith
2 Gala Apples
½ cup sugar
½ teaspoon cinnamon
¼ teaspoon nutmeg
¼ cup water
1 tablespoon lemon juice
1 teaspoons potato starch
1 recipe mock puff pastry
2 – 5 ounce bags Werther's Original Chewy Caramels
Coarse Sea Salt, optional
1 egg
Peel the apples and cut into about ½ inch dice. You should have about 4 cups. Combine the apples with the sugar, cinnamon, nutmeg and water.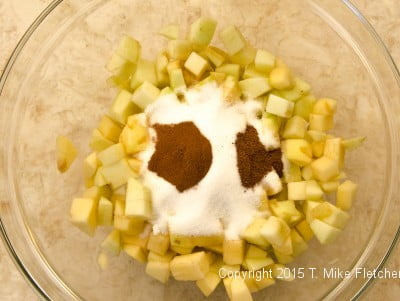 Place in a medium saucepan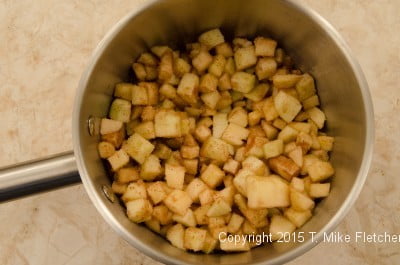 and simmer until the apples are tender. When the apples are almost done, stir the potato starch into the lemon juice and add to the apple mixture.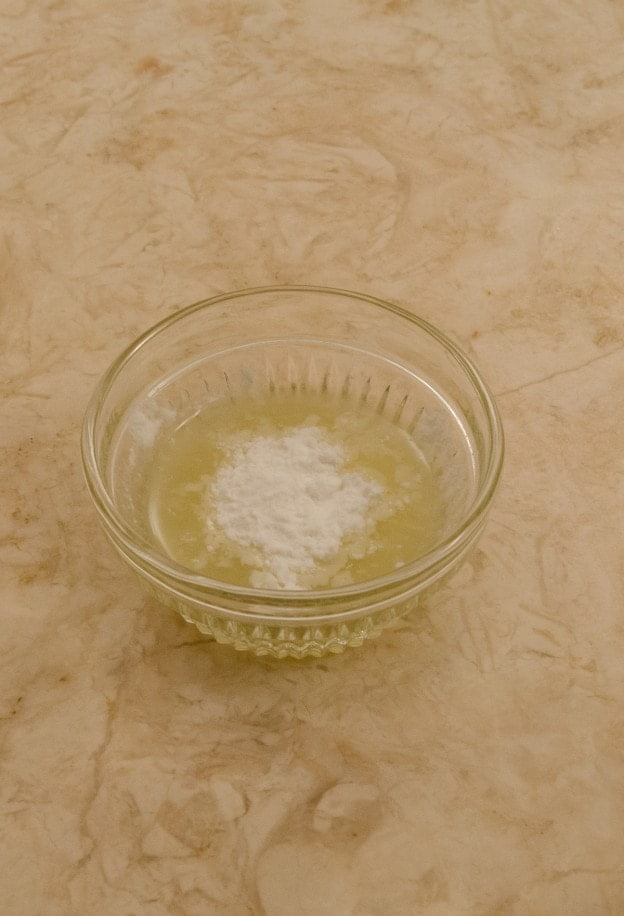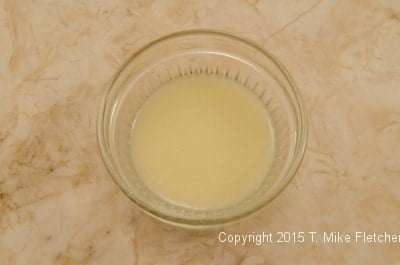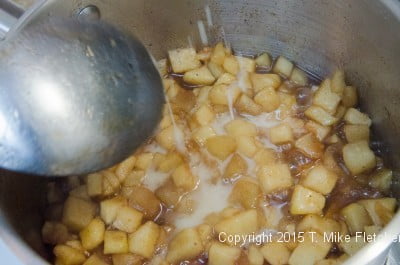 Bring to a boil and cook several minutes until thickened.
Cool completely.
Preheat the oven to 425°F. Line a ½ sheet with parchment. Set aside.
Roll the puff pastry into a 12 ½ x 18 ½ inch rectangle. Cut six 6 circles out 2 wide by 3 long.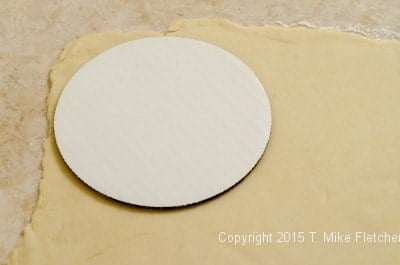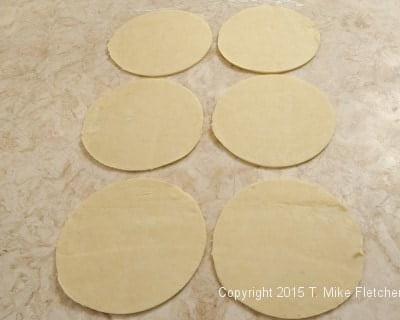 Line 4 caramels along the bottom of the rounds, leaving a ½ inch border.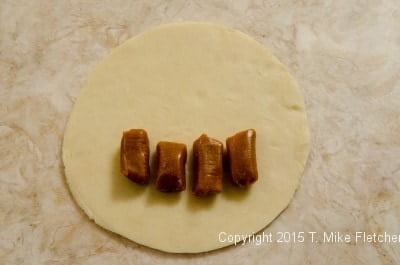 Sprinkle with a little sea salt if using. Place ⅙ of the filling (scant ⅓ cup) over the caramels.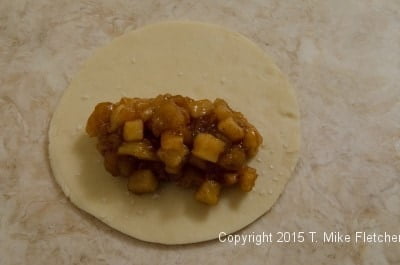 Wet the border with water,
Bring the top down over the apples matching the edges. Press together. Seal with the tines of a fork.
Brush with egg wash.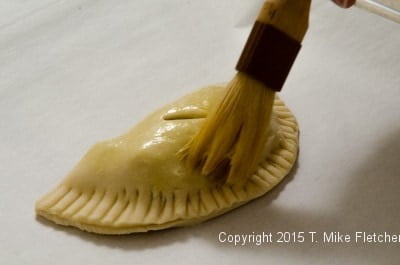 Cut a vent in the top.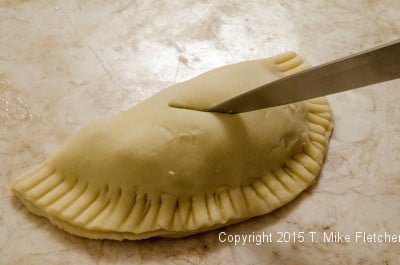 Bake for 18 to 20 minutes until medium golden brown. Repeat with the other 5.
Bake for 18 to 22 minutes until golden brown. Cool. Serve slightly warm.
Yield: 6 Handpies