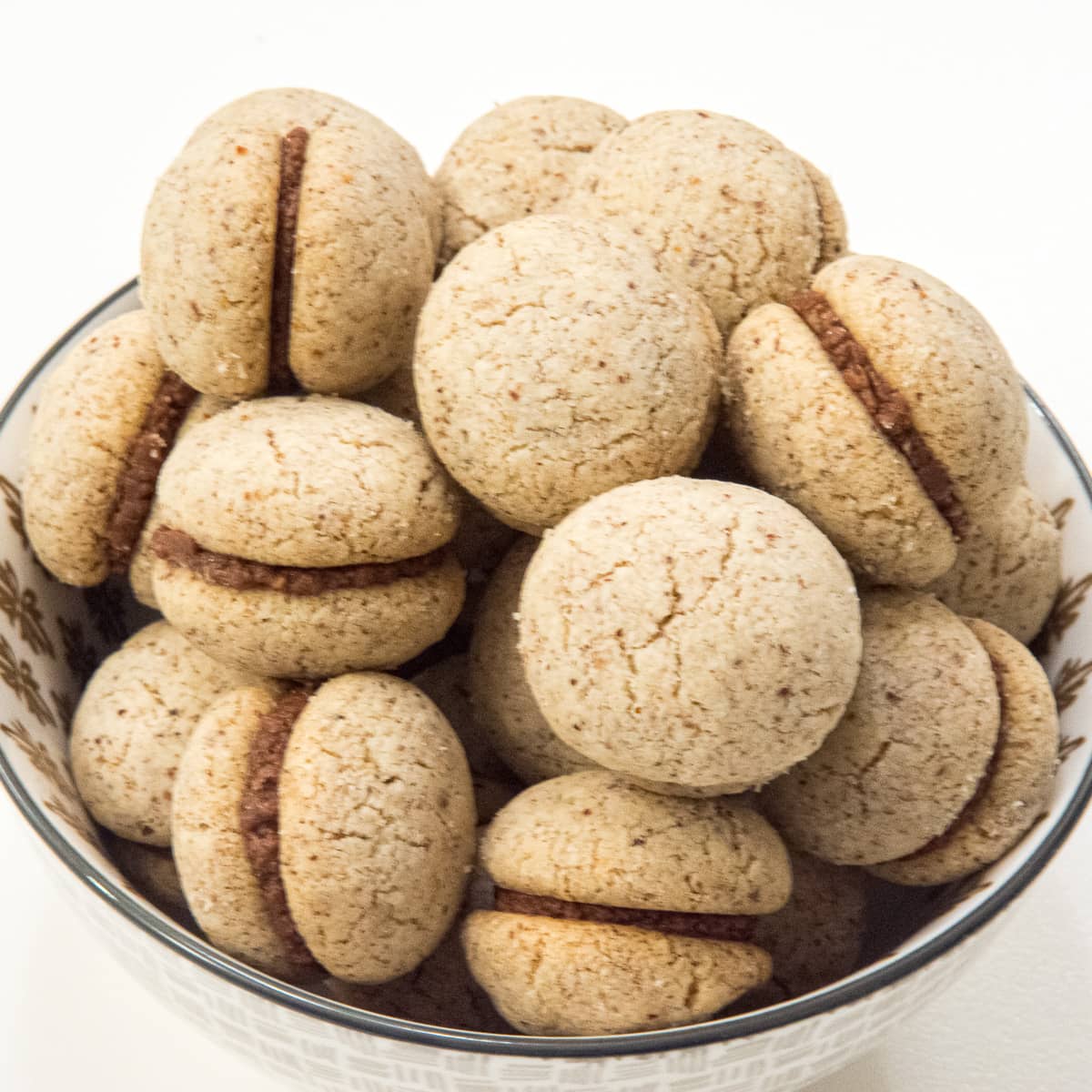 These fantastic looking Baci di Dama cookies consist of two hemispheres of buttery hazelnut cookies sandwiched with a rich gianduja filling. The recipe for this Italian cookie is as easy to remember as your name. It is equal parts, by weight, of four ingredients for the cookie. Forming the cookies is just as easy.
This cookie is from my upcoming cookie book, Craving Cookies. I thought you might enjoy adding it to your cookie trays this year instead of waiting until next year. European cookies are often thought of as difficult but this is as easy as they get.
Italy's Gift to Your Holiday Cookies
These Baci di Dama call for Hazelnut or Almond flour. Hazelnut flour is available on the internet and I prefer that to homemade. Make sure it states fine so you know it will be powdery fine. The processor cannot powder the nuts as finely as the bought flour but if you want to make your own it's easy. Try to buy skinned hazelnuts. If you can't, there are a couple of ways to remove the skins. One is by boiling them with a little baking soda then slipping the skins off. However, then you have to dry them and roast them in the oven.
So my preferred way is to do it all at once. Preheat the oven to 350°F and spread the hazelnuts in a single layer on a rimmed baking sheet. Roast for 10 to 12 minutes until they are fragrant and the nuts are golden brown. Remove them and immediately put them in a paper bag. Shake them to remove the skins or roll them between a towel. Chances are no matter which method you use some of the skins remain. That is fine as far as I am concerned. They add a bit of character to an otherwise plain looking cookie. Cool completely.
To make the hazelnut flour, place the nuts along with the flour in the bowl of the processor and process to grind them. Stir and process again to get them as fine as possible. The flour is used to prevent the nuts from becoming a paste. Continue as in the directions below.
Baci di Dama translates to "a Ladies Kiss" because they are thought to resemble a ladies lips. Whatever you call these they are wonderful.
Baci di Dama Cookie
1 cup +3 tablespoons hazelnut flour* (114 grams or 4 ounces
1 cup less 1 ½ tablespoons cake flour (114 grams or 4 ounces)
½ cup unsalted butter, cold and cut into small pieces (114 grams or 4 ounces)
⅞ cup powdered sugar (114 grams, 4 ounces or 1 cup less 2 tablespoons)
*I used Bob's Red Mill Hazelnut Flour, finely ground. Almond flour may also be used.
Preheat the oven to 300°F. Line baking sheets with parchment.
Place the hazelnut and cake flours in the food processor bowl. Process several seconds to mix well. Add the cold, cut up butter and process until the butter is indistinguishable. Add the powdered sugar and process until the dough clumps up. This takes a bit of processing so stop several times, rearrange the dough and process again. It will eventually clump up.
At this point, pour it out onto a work surface and knead it several times to bring it together.
Divide into four pieces, each one 114 grams or 4 ounces. Keep the other pieces covered tightly with plastic wrap. Roll one piece into a ½" rope. It will be 18" long. Cut each roll into 1" pieces and roll each into a ball. If the dough crumbles when you roll it, just press it together again. The balls will be about the size of a chocolate candy malted milk ball. Place one inch apart on a prepared baking sheet.
Bake for 19 to 22 minutes until firm and barely colored. Cool on racks.
Gianduja Filling*
1 ½ ounces semisweet chocolate (45 grams)
1 ½ ounces milk chocolate (45 grams)
2 tablespoons milk
¼ cup powdered sugar (32 grams or about 1 ⅛ ounces)
¼ cup hazelnut flour (18 grams or about ⅔ ounce)
Combine the chocolates and milk in a microwave-safe bowl. Microwave at half power until the chocolate is melted. Add the powdered sugar and hazelnut flour, stirring to make a spreadable filling. If too thick, loosen with a little milk. If too thin, add a bit more powdered sugar.
*These can also be filled with plain melted semisweet chocolate.
Assembly
Pair the cookies by size.
The easiest way to fill these is with a piping bag fitted with a ¼ inch tip. I piped about ½ teaspoon filling on the bottom of the cookie. After placing the top on, press down to distribute the filling evenly to the edge of the cookies.
Yield: 36 Baci di Dama
Storage: These are great keepers. They will last for weeks in a closed tin.
Be sure to check out my blog Helpful Cookie Baking Tips for the Holiday to make your holiday baking a bit easier.