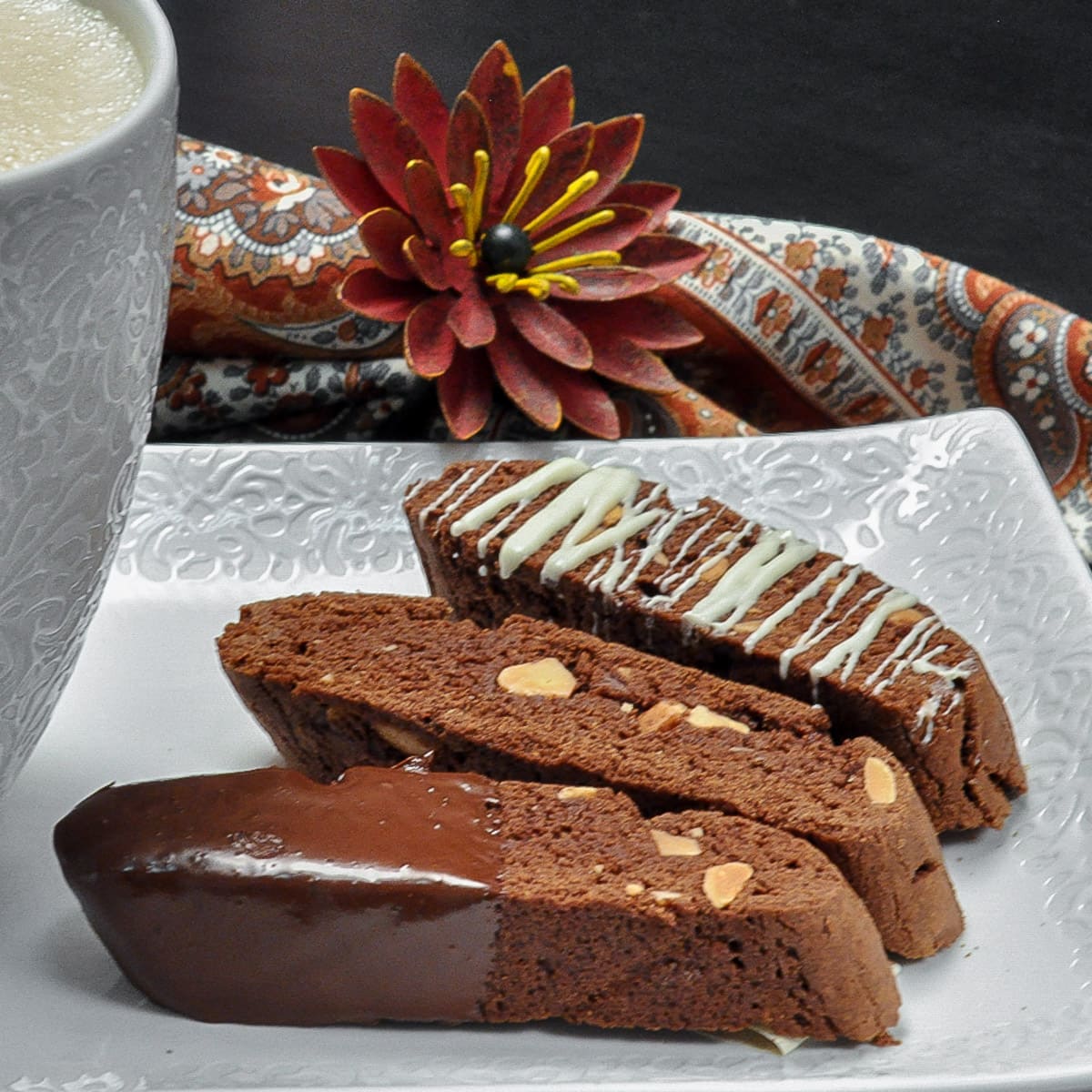 Chocolate Spice Olive Oil Biscotti cookies are an Italian specialty cookie that is a very exciting recipe for me. I love the combination of chocolate and spice and chocolate and heat which I combined here. I first became acquainted with the spice combination from a cookie my mother made for Christmas, Honey Diamonds. They contained no shortening and were soft and rolled in vanilla sugar. I could easily eat the whole batch if allowed to. I have never forgotten the flavor and it is comfort food of the highest order for me. I used the same spices for this biscotti plus a bit of cayenne for a marvelous warm finish.
Biscotti are twice baked cookies and come to us from Italy. They are not too sweet and are simply addictive. To make things better they are really easy to make. When we were shooting the photos for this blog, I looked at the number of ingredients in little bowls and almost panicked. But then I realized you don't have to put them in all these little bowls, so it isn't nearly as bad as it looks! The number of ingredients didn't bother me, just the number of bowls. This stretched my tiny bowl collection to the max.
As is my habit, the nuts for this recipe are toasted to bring out their flavor. If you use whole nuts, don't chop them too small. Big pieces enhance the looks of the biscotti as you can see in the photos.
When I make chocolate products, I especially like to have melted chocolate in them. The chocolate adds a depth of flavor that cocoa alone cannot sustain. Here both chocolate and cocoa are used to maximize the chocolate experience.
I finished these by dipping in a quick tempering chocolate or drizzling with white chocolate although I prefer them totally plain. Half dipping cookies can be problematic if you don't make a lot of the glaze - especially if they are long as are these biscotti. Here I found a way to easily half dip by putting the chocolate mixture in a small, narrow glass, making it possible to easily dip only half the cookie. If your kitchen is warm, refrigerate the dipped or drizzled cookies for 15 to 20 minutes to set them. They should be fine at room temperature after that.
These cookies are fairly zippy due to the cayenne. If you're a mild sort of person, add the smaller amount the first time.
Double panning slows the heat of the oven to the bottom of high burn risk products and keeps them from burning. Baked goods with chocolate, honey, brown sugar benefit from being double panned. If in doubt, double pan. It will add a few minutes to the baking process but will enhance the end product immensely.
Although I am not a large coffee drinker, nothing is more perfect with these than some form of coffee, be it plain, a latte or cappuccino.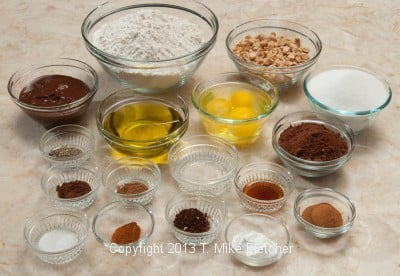 Chocolate Spice Olive Oil Biscotti
½ cup hazelnuts (60 grams or 2 ounces)*
½ cup almonds (60 grams or 2 ounces)*
5 ounces semi sweet chocolate, melted (140 grams)
2 tablespoons water
1 teaspoon instant coffee
1 teaspoon vanilla
3 cups flour (420 grams or 14 ounces)
½ cup cocoa (40 grams or 1 ½ ounces)
1 ½ teaspoon baking powder
2 teaspoon cinnamon ½ teaspoon cloves
½ teaspoon coarse ground black pepper
¼ teaspoon salt ¼ teaspoon nutmeg ⅛ to
¼ teaspoon cayenne pepper
½ cup extra virgin olive oil
1 cup sugar (200 grams or 7 ounces)
3 eggs
*All almonds or all hazlnuts can be used if desired.
Preheat oven to 350 degrees.
Place nuts on a jelly roll pan or a ½ sheet pan and toast for 8 to 10 minutes until fragrant and browned. Cool completely. Chop coarsely.
Reduce oven to 325 degrees. Line a half sheet pan with parchment. Set aside.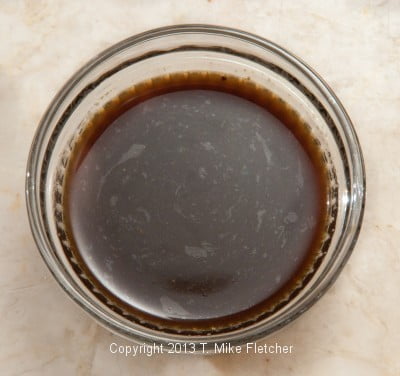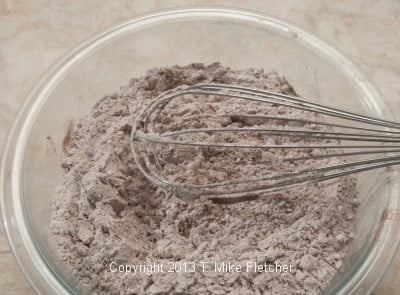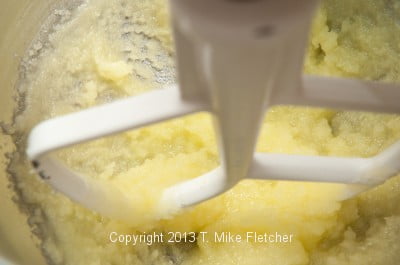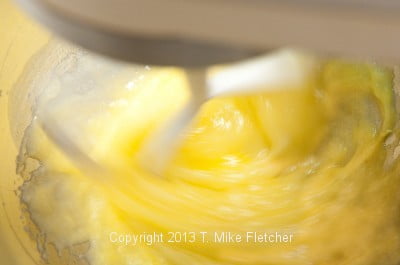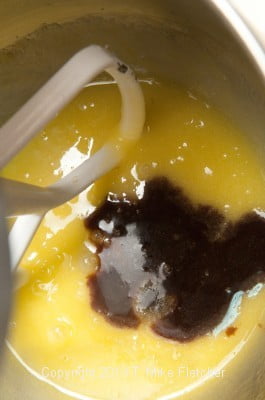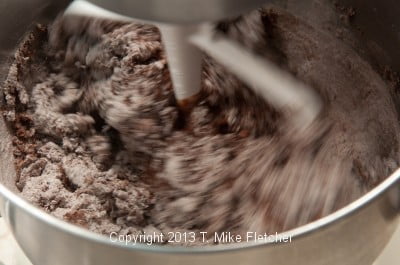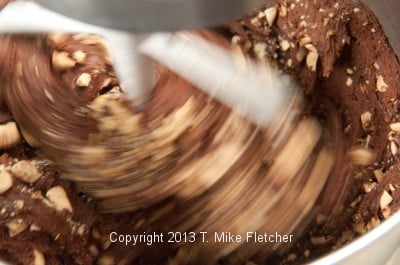 Melt chocolate in a microwave for about 2 minutes at ½ power or by placing in the top of a double boiler. Set aside to cool. Combine water, coffee and vanilla. Set aside.Whisk together the flour, cocoa, baking powder, cinnamon, cloves, black pepper, salt, nutmeg and cayenne pepper. Set aside. Place oil and sugar in mixer bowl and beat until completely combined. Add eggs one at a time beating well after each addition. Add water, coffee and vanilla.Add the chocolate,then the flour mixture. Add the nuts. Although I didn't need to, if the dough is a bit sticky for shaping, refrigerate 20 to 30 minutes to firm.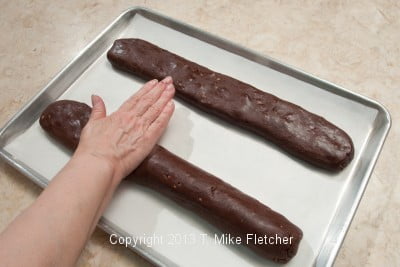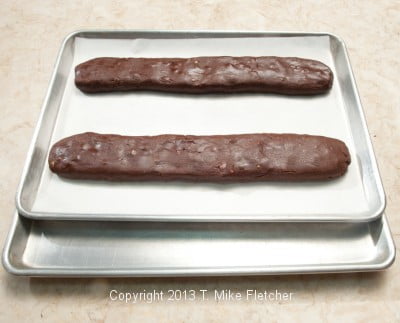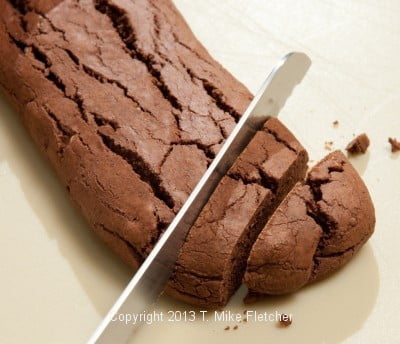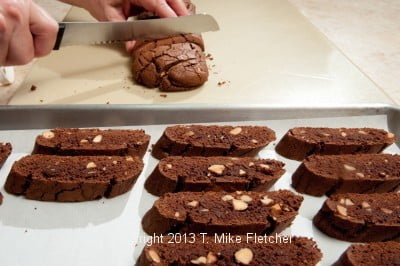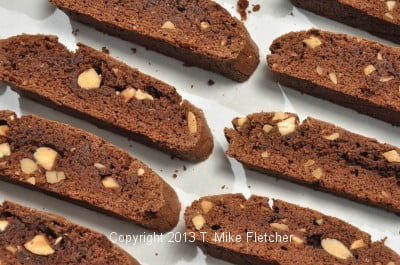 Divide dough in half (590 grams or 1 ⅓ pounds each). Without flouring if possible, roll each piece 14 inches long. Place in the parchment lined pan and flatten to 2 ½ inches wide. Double pan the biscotti. Bake for 25 to 30 minutes. Cool for 10 to 15 minutes and then slice diagonally into ¾ inch slices.Bake again for 10 to 15 minutes. There is no need to double pan for this short time.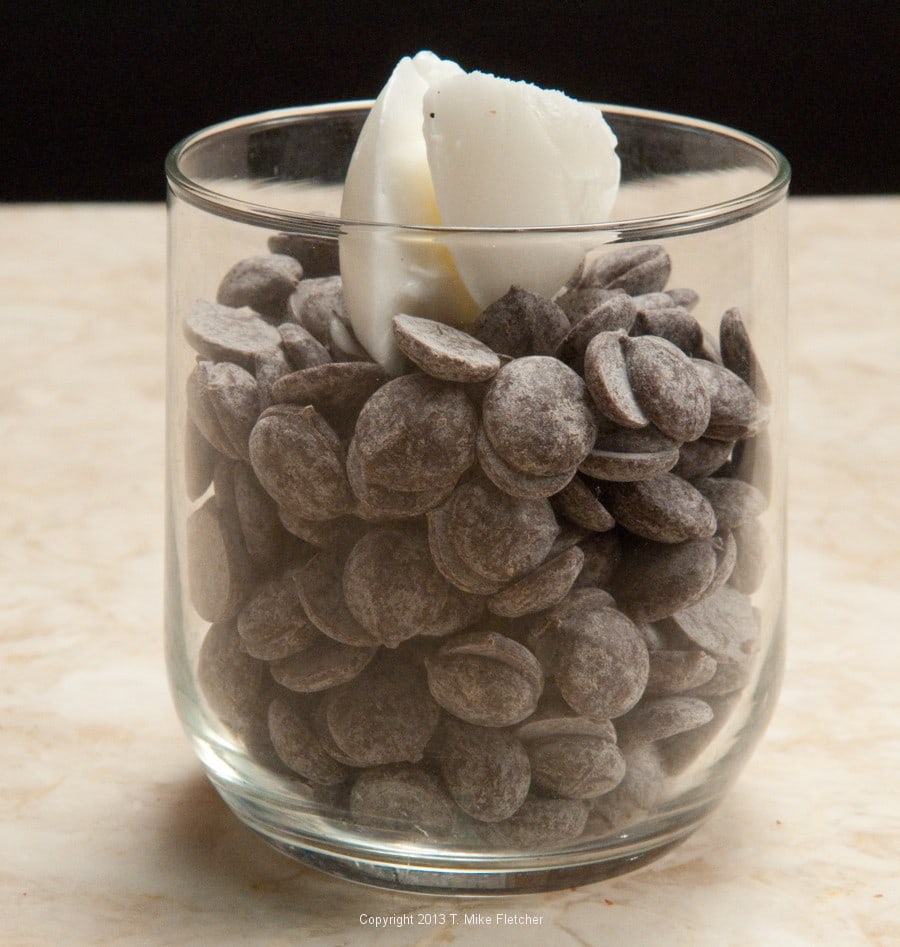 Chocolate Dipped Biscotti 12 ounces semisweet chocolate
3 tablespoons crisco or other like shortening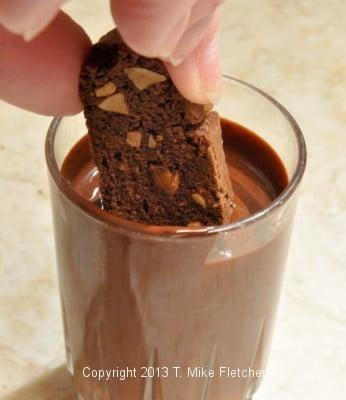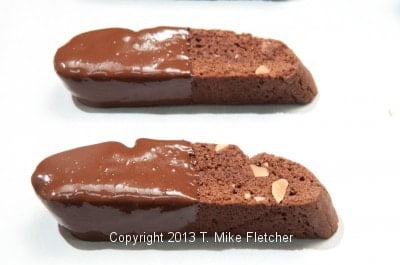 Melt the chocolate and shortening together at half power in the microwave or in the top of a double boiler. Stir together completely. Pour into a narrow glass. Dip one half of the biscotti in the chocolate, wiping the bottom against the edge of the glass to scrape off most of the chocolate. Place on a parchment lined sheet and allow to set up. If the room is warm, place the tray in the refrigerator for 15 to 20 minutes to set up. White Chocolate Drizzle
2 to 3 ounces white chocolate (not coating chocolate)
Melt as above. Stir until smooth. Dip a spoon in the chocolate and holding it above the biscotti, wave it back and forth.