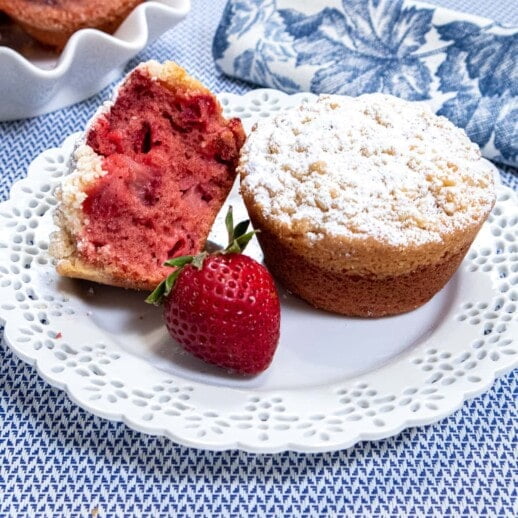 These Best of All Strawberry Muffins are not only easy, but the strawberries are used two ways. Strawberry puree intensifies the cut strawberries that add a burst of sweet/tart flavor to the muffins.
A full pound of this best of all summertime fruit is used so be sure to pick the ripest, most full of flavor strawberries you can find.
Toppings for Best of All Strawberry Muffins
My favorite crumb topping is included along with either Swedish Pearl Sugar or sanding sugar. Both of these will provide some crunch. Anyone of these toppings makes a great finish for these strawberry muffins.
The crumb topping is the same one used on the New York Style Crumbcake and it is my idea of the perfect coffeecake. They are super easy to make as long as the mixture is not over beaten leading to a paste instead of crumbs.
Swedish pearl sugar is made by compressing sugar crystals to form larger, round, particles that won't dissolve in baked goods. It's a wonderful topping for all kinds of pastries and baked items. These pure white, crunchy sugar crystals don't melt in the oven. But It shouldn't be confused with Belgian Pearl Sugar which has quite large white crystals and is used in Liege waffles. Both of these can be easily found online.
Sanding sugar is made by drying out sugar syrup, then screening the granules that are left behind. Sanding sugar can be found uncolored which adds sparkle and crunch to baked goods or it is can be found in a wide array of colors.
But Why Use Cake Flour
Cake flour has the lowest protein count of all the white baking flours providing a softer texture to the finished item. It is the protein in flour that gives it its strength. Bread flour has a much larger protein count and is most often used with yeast. All- purpose is in the middle.
I specify cake flour when I want to ensure a soft outcome to cake layers, biscuits, scones, or muffins. Lacking cake flour, all-purpose flour can be substituted.
Mixing the Batter
The easiest part of this recipe is that it comes from the whisk and a bowl category of mixing referred to as the muffin mix. Recipes using this method don't require a mixer. Barring using the crumb finish, the Best of All Strawberry Muffins use a couple of bowls, measuring equipment, a whisk and a rubber spatula.
These muffins are based on my Crumb Topped Orange and Date Muffins. I used strawberry puree in place of the buttermilk to sharpen the flavor.
It is advisable to use the red food coloring or the strawberries look an insipid pale bluish-red color.
Sizes of the Best of All Strawberry Muffins
Instructions include making these as Texas, standard and mini muffins. This recipe also makes quite a few. The excess can be frozen or the recipe can be halved. If cutting in half, use 1 egg and 1 yolk. The remainder of the ingredients will cut in half easily.
Other Recipes You'll Love
Stuffed Cinnamon French Toast with Orange Sauce
Belgium Waffles with Berry Compote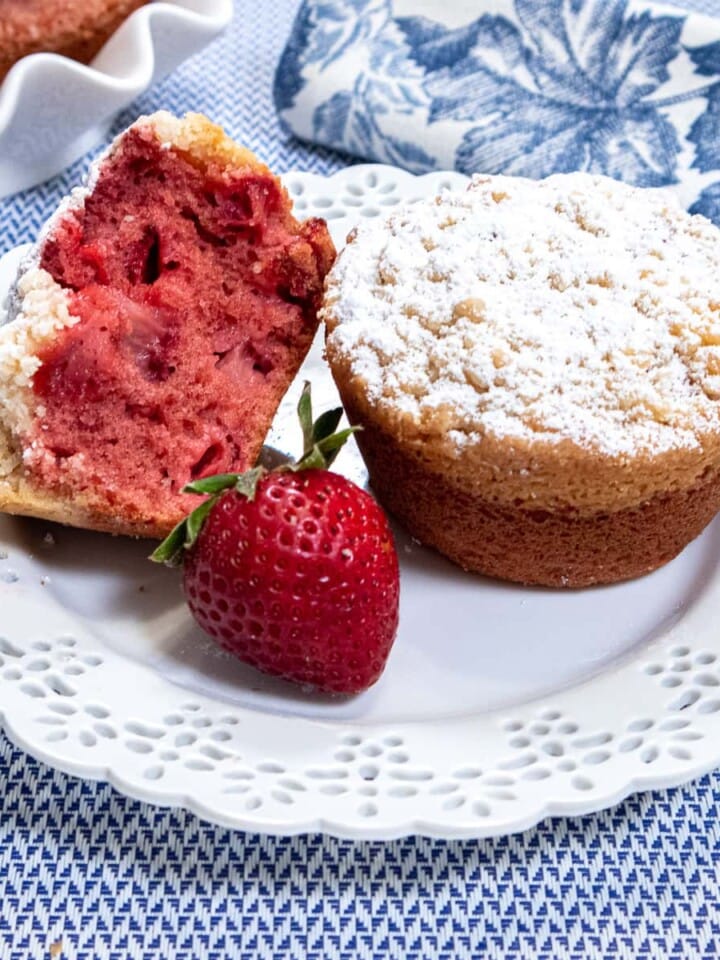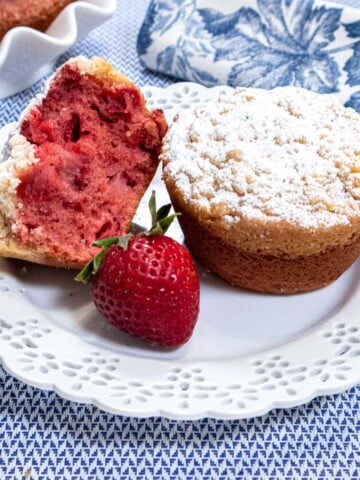 Get the Recipe:
Best of All Strawberry Muffins
TheseBest of All Strawberry Muffins use a full pound of fresh strawberries as a puree and cut up in the muffins.  Use the ripest strawberries for the fullest flavor.
Ingredients
Crumb Topping
½

cup

butter, softened (114 grams, 4 ounces or 1 stick)

⅓

cup

granulated sugar (65 grams or about 2 ¼ ounces)

⅓

cup

packed brown sugar (65 grams or about 2 ¼ ounces)

1 ½

cups

cake flour (185 grams or 13 ½ ounces)

¼

teaspoon

salt
Easy Strawberry Muffins
1 ½

cups

coarsely cut fresh strawberries

2 ½

cups

cake flour (310 grams or about 10 ¾ ounces)

¾

cup

sugar (150 grams or 5 ¼ ounces)

1 ½

teaspoon

baking powder

¼

teaspoon

salt

3

eggs

¾

cup

butter, melted (170 grams, 1 ½ sticks or 12 tablespoons)

⅔

cup

strawberry puree

1

teaspoon

almond extract

1

teaspoon

vanilla extract

½ to 1

teaspoon

red food coloring

Swedish pearl sugar as needed

Sanding Sugar as needed

Crumb Topping

Powdered sugar as needed.
Instructions
Crumb Topping
Combine the butter and both sugars in the bowl of a mixer.  Cream until very light. Whisk the cake flour and salt together.

Add it all at once and beat on medium until it starts to form crumbs.  Scrape the bowl well and beat again.  As it starts to form small crumbs, increase the speed somewhat and continue beating until larger crumbs form.  Do not overbeat or it will become a thick cohesive mixture.

Store in the refrigerator while making the muffins.
Best of All Strawberry Muffins
This recipe makes about 12 Texas Muffin, 24 standard sized muffins or 40 mini muffins.

Preheat the oven to 350°F. Spray the muffin cups with non-stick baking release or line with muffin papers.

Cut the strawberries into pieces about ¼".  Set aside.

Purée the remainder of the fresh strawberries in a processor or blender. There should be about ⅔ cup.  If it is short, add water.  Set aside.

In a large bowl, whisk together the cake flour, sugar, baking powder, and salt.

In a separate bowl, whisk the eggs.  Add the melted butter, strawberry puree, almond extract, vanilla extract, and food coloring, mixing well.

Pour the wet ingredients over the dry ingredients and mix gently with a rubber spatula.  Do not overmix. A few lumps are fine.

Stir in the cut strawberries.

If topping with the crumbs, fill the Texas Muffin cups about ½ full of the batter.

Top with a scant ⅓ cup crumb mixture, pressing down lightly.

Fill the regular size muffin cups about ½ full.  Top with a heaping soup spoon of crumbs, pressing them down lightly.  The mini pans should be filled about half full. Top with crumbs to about the top of the pan.

If topping with sanding sugar or Swedish Pearl sugar, fill the cups about ¾ full.  Sprinkle one of the sugars liberally on top.

Bake the mini pans 12 to 14 minutes or until a tester comes out clean.

The regular muffins should bake about 15 to 16 minutes.

The Texas muffins bake 19 to 22 minutes.

Cool completely and dust the crumb topped muffins with powdered sugar.

The muffins will keep well for several days in an airtight tin.  They can also be frozen without the powdered sugar for several months.  Thaw at room temperature and dust heavily with powdered sugar.
Disclaimer
This Analysis is an estimate based on available ingredients and this preparation. It should not substitute for a dietitian's or nutritionist's advice.
Nutrition
Calories:
220
kcal
|
Carbohydrates:
28
g
|
Protein:
3
g
|
Fat:
11
g
|
Saturated Fat:
6
g
|
Polyunsaturated Fat:
1
g
|
Monounsaturated Fat:
3
g
|
Trans Fat:
0.4
g
|
Cholesterol:
46
mg
|
Sodium:
160
mg
|
Potassium:
60
mg
|
Fiber:
1
g
|
Sugar:
13
g
|
Vitamin A:
327
IU
|
Vitamin C:
9
mg
|
Calcium:
29
mg
|
Iron:
0.4
mg