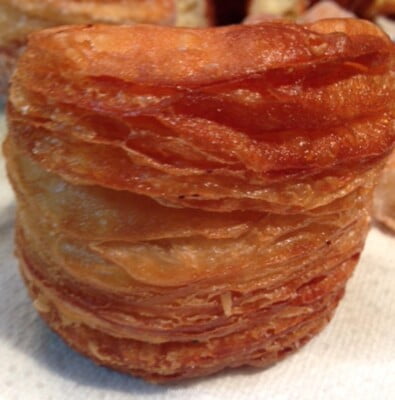 When I first heard about Cronuts, quite frankly, I thought they were obscene. Having made several batches of them, I can tell you they are!!
Using Dominique Ansel's recipe, which I cut in half, I applied the same technique I came up with years ago for Croissants and Puff Pastry. in record time. Where he takes 3 days, this method makes them in less than a third of that time. As you can see from the photo to the left, the flakiness is beyond anything iI have ever seen. The are crispy on the outside and soft on the inside. While his recipe for home cooks as he refers to it, takes 3 days and a lot of elbow grease, this version of cronuts can be made in a day. Much of that time is just resting the dough. The actual work is minimal and spread out. To make these easier, you can refrigerate the cronuts at various stages if you want.
The dough is like no other yeast dough I have ever made. Although soft and smooth, it has a craggy look and an almost aerated texture.
While New York cronuts are filled and iced, my preference is simply rolling them in sugar. It seems like gilding the lily to do more to these. But feel free to fill and frost if desired.
Cronuts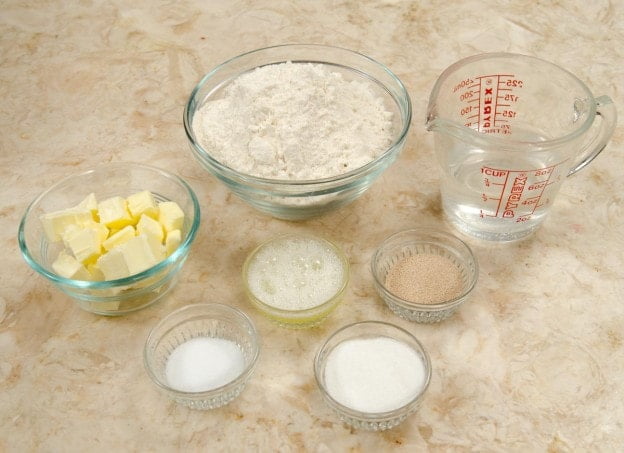 ½ cup + 1 tablespoon water, warm
2 ¼ teaspoon yeast (7 gram package)
1 ⅞ cups bread flour (260 grams or 9 ¼ ounces)
2 tablespoons sugar
¾ teaspoon salt (he uses 2 ½ teaspoons)
4 tablespoons butter, cold and cut into small pieces (60 grams or 2 ounces)
1 tablespoon egg white*
*Beat the egg white until foamy and broken down. Measure ½ of it.
9 tablespoons butter, cold and cut into small pieces (135 grams or 4 ¾ ounces)
Combine the water and yeast.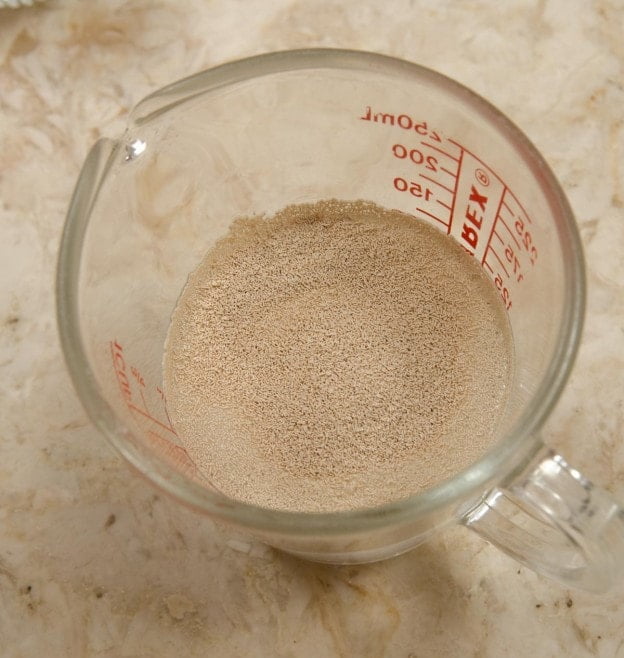 Place the flour, sugar and salt in the processor bowl.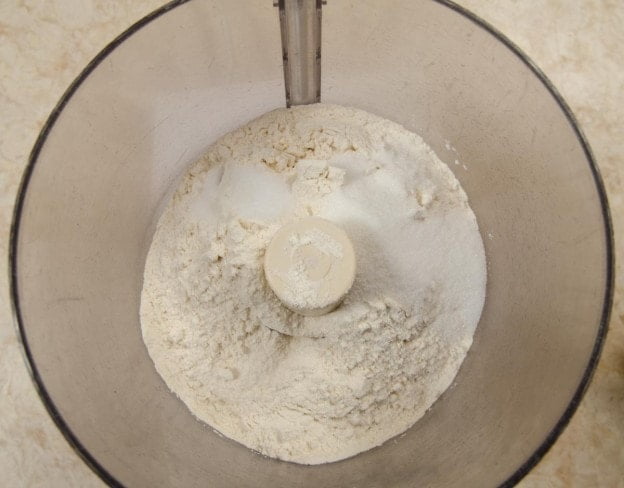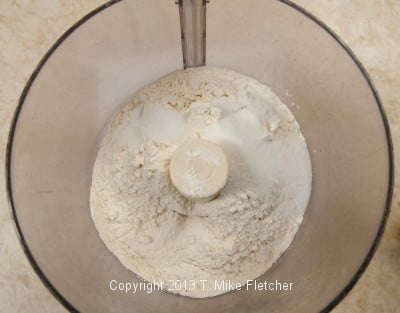 Process to mix.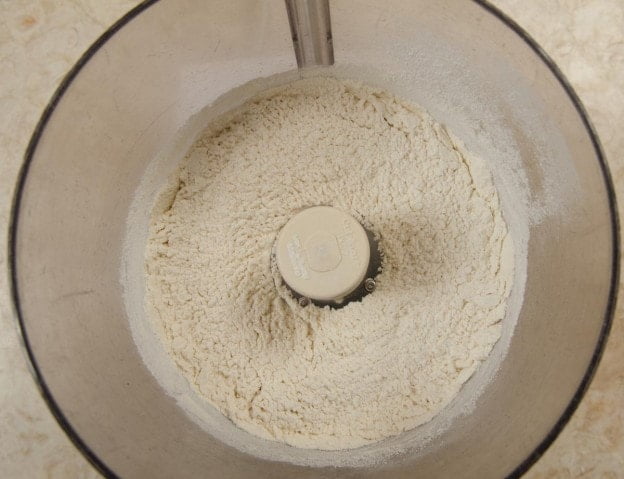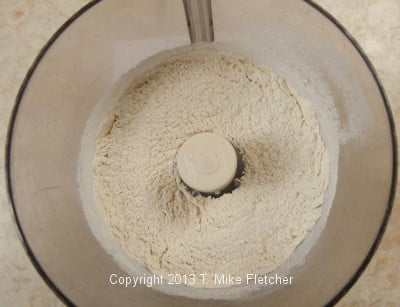 Add the cold butter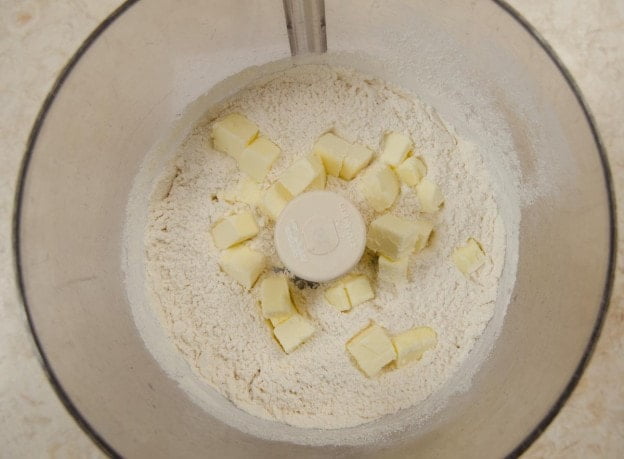 and process until the butter is indistinguishable.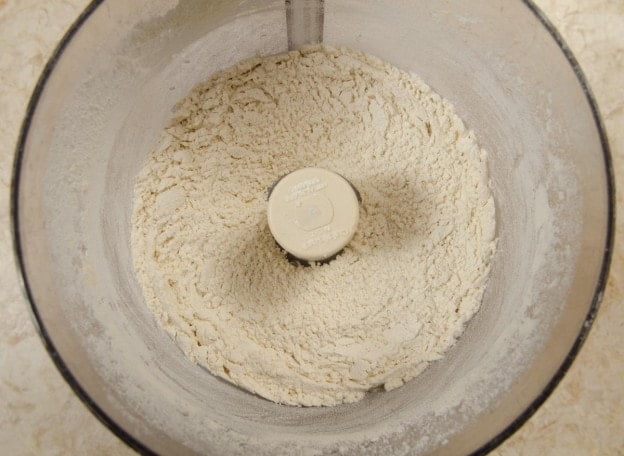 Add the egg white to the water/yeast mixture.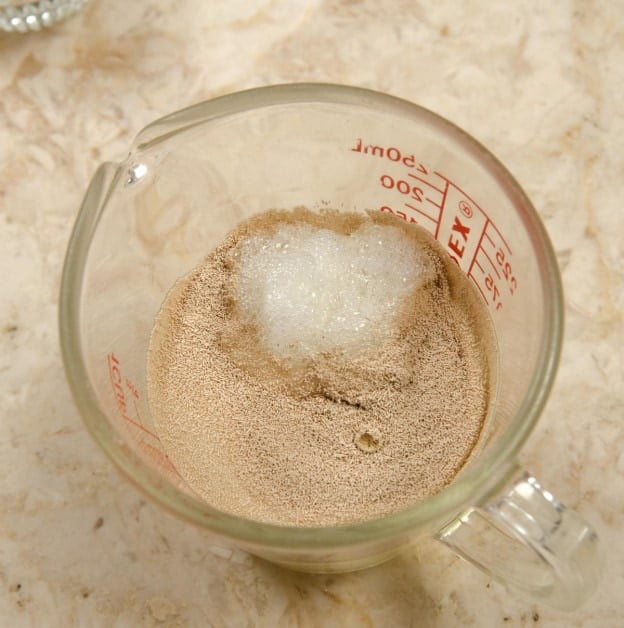 Pour the water mixture over the dry ingredients.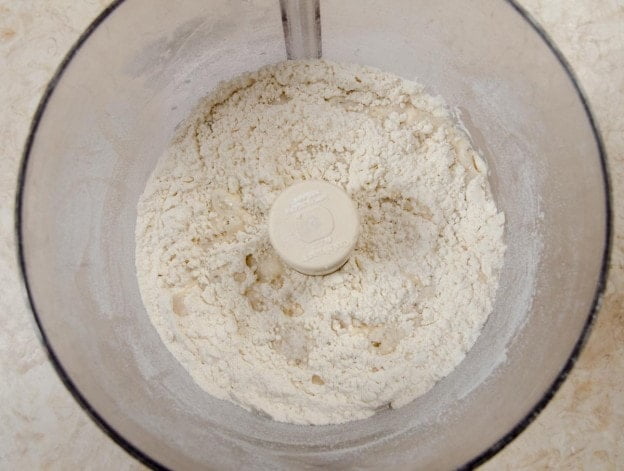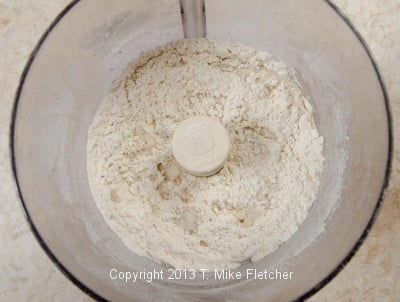 Process until the dough balls up. Process for 30 seconds more.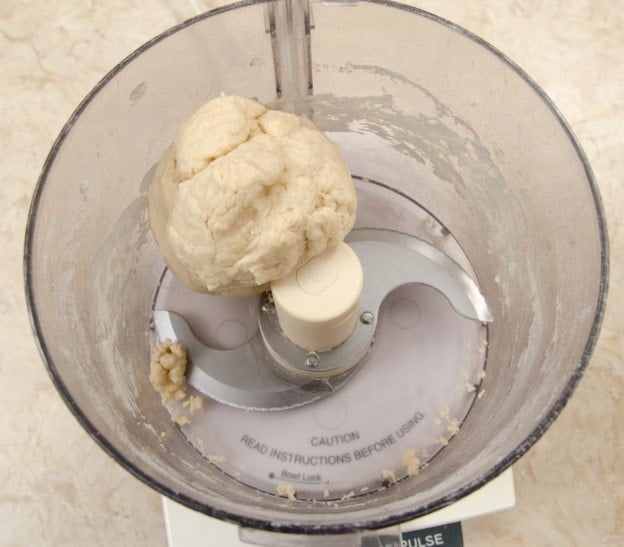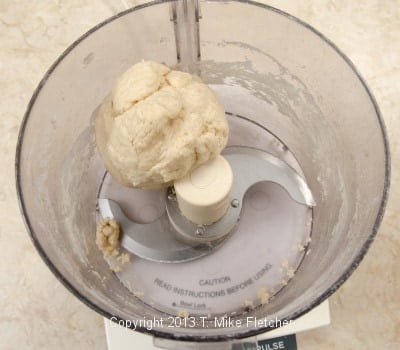 Remove from the processor bowl and knead several times to make a smooth ball.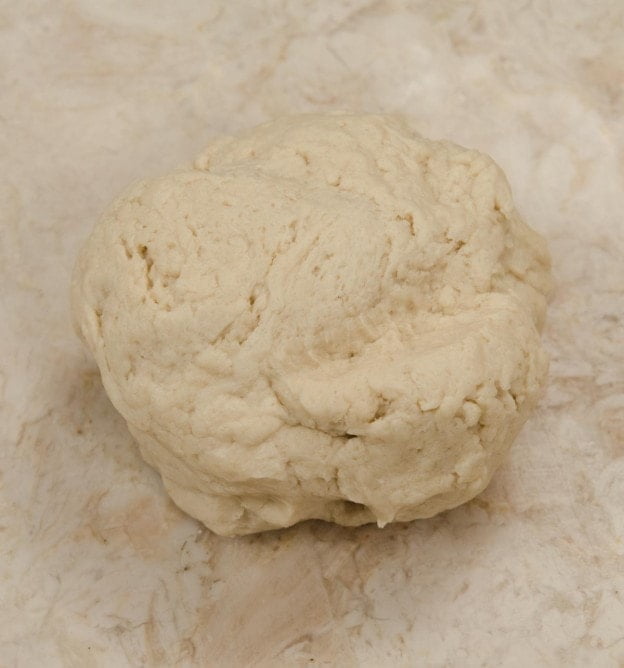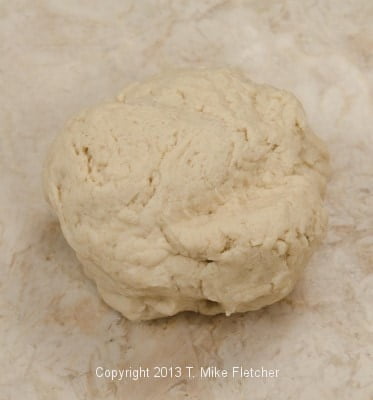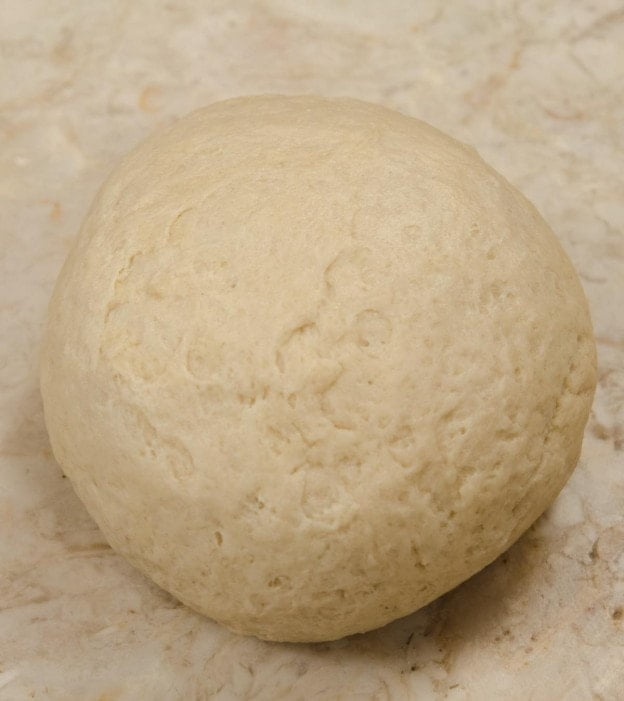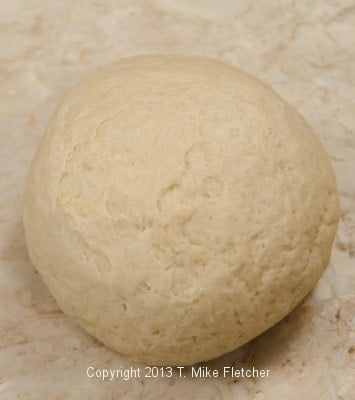 place in a bowl that has been spray with releasing agent. Cover with film and mark the time on it.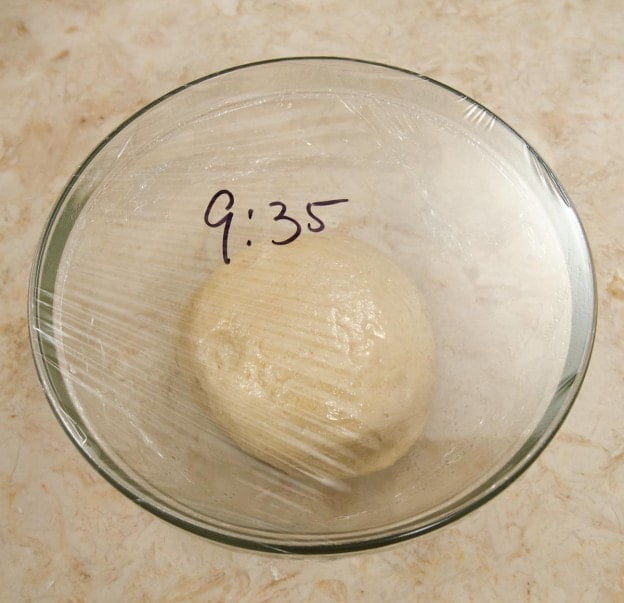 Let rise until doubled in bulk, about 2 hours.
Flour the work surface lightly. Deflate the dough and press it into a round about 1 inch thick. I do this in one step by turning it out over the floured surface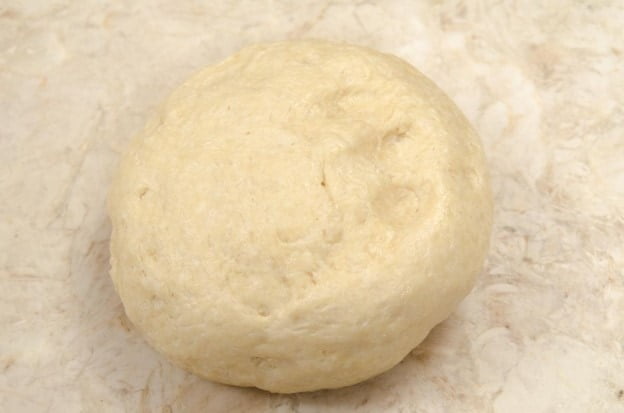 and just flattening it with the palm of your hand.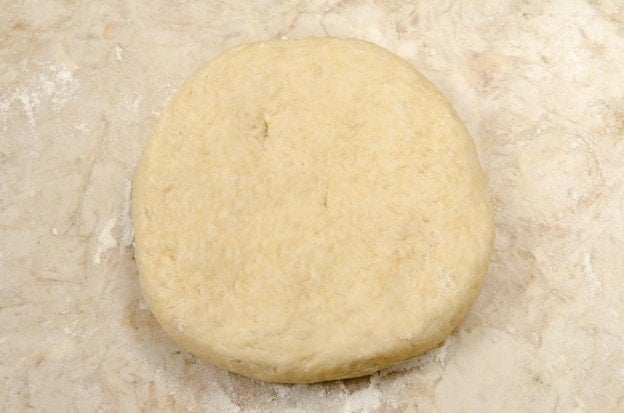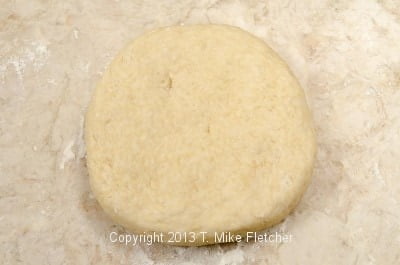 Wrap in plastic wrap and place it in the freezer.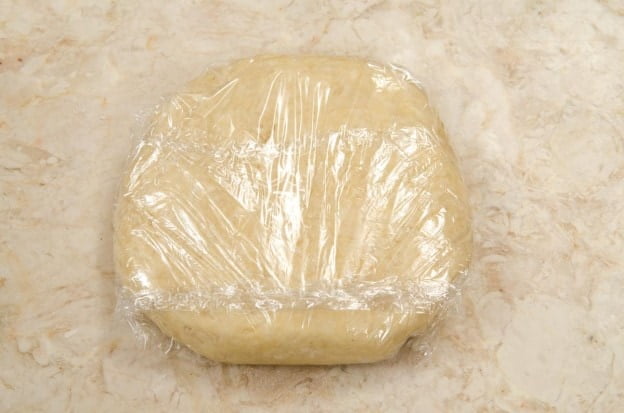 Allow the outer edge of the dough to freeze about ½ to ¾ inch in from the edge. The time will vary depending upon how cold the freezer is but should take about 1 to ½ hours.
Cut the stick of butter in half lengthwise. Turn it one quarter turn and cut again lengthwise making 4 long pieces. Cut these every half inch or so to make small cubes. Cut the one tablespoon into 4 cubes. Freeze along with the dough.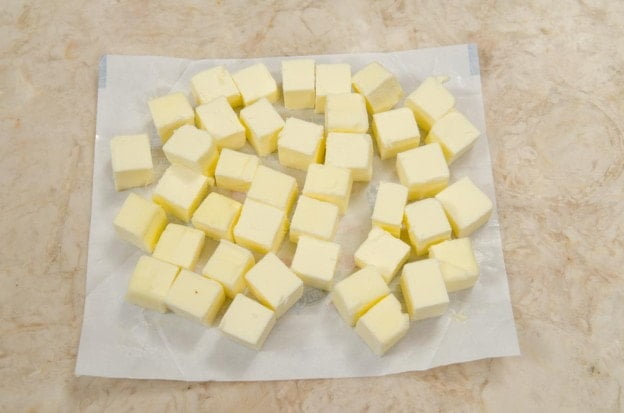 Remove the dough from the freezer and cut into four pieces. Cut each of those into 3 pieces making a total of 12 pieces.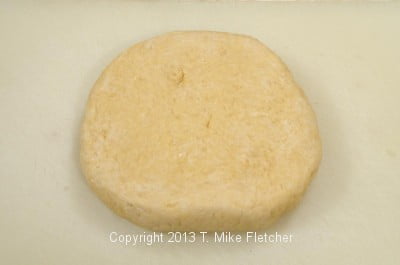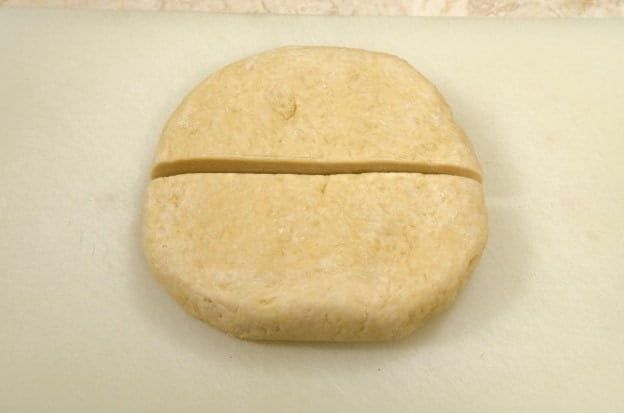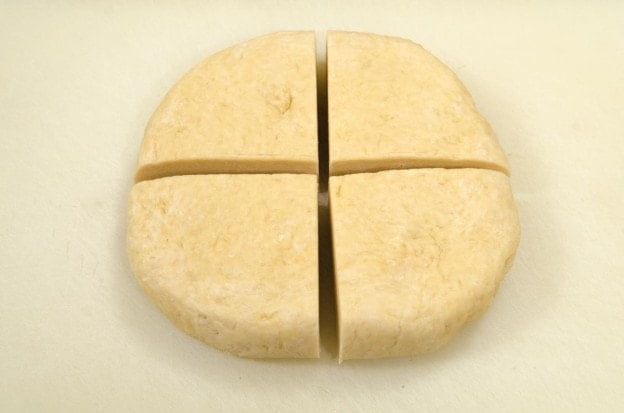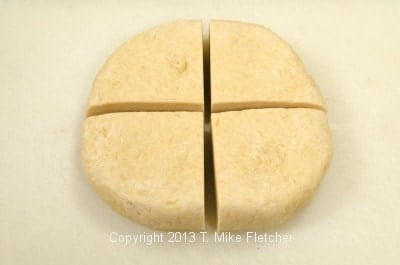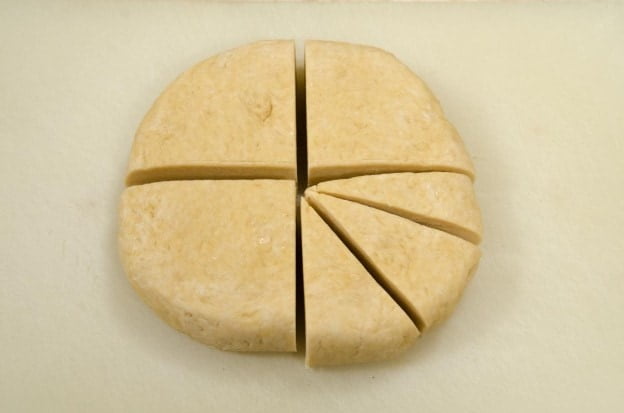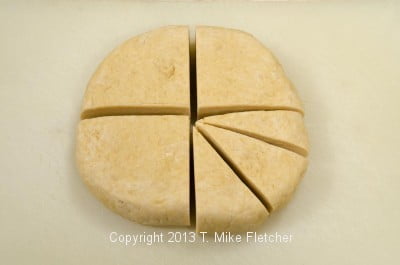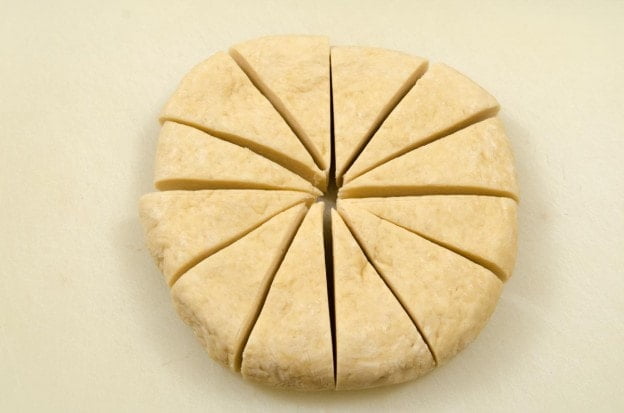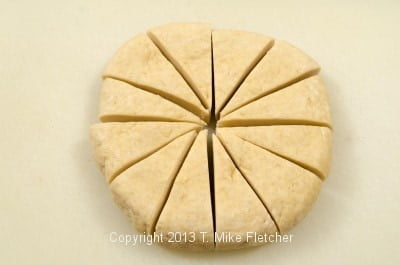 Place 4 pieces of dough in the processor bowl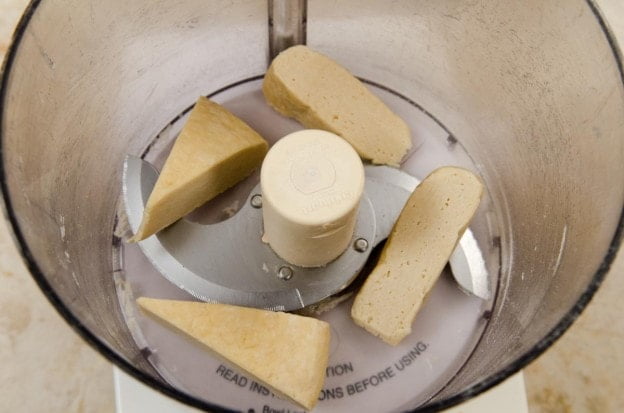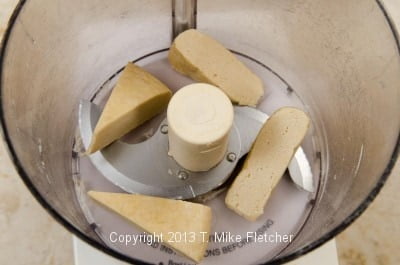 along with ⅓ of the butter.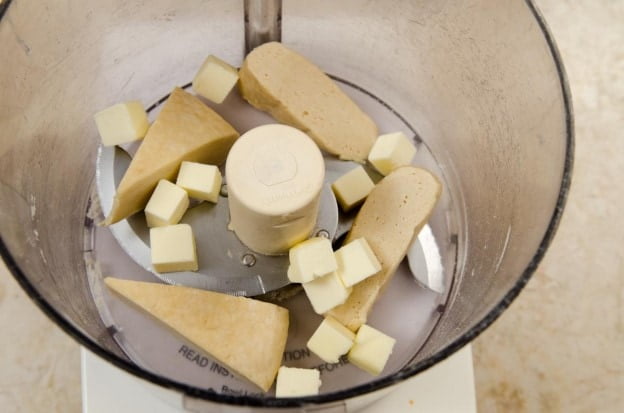 Pulse until the dough and butter are cut into small pieces.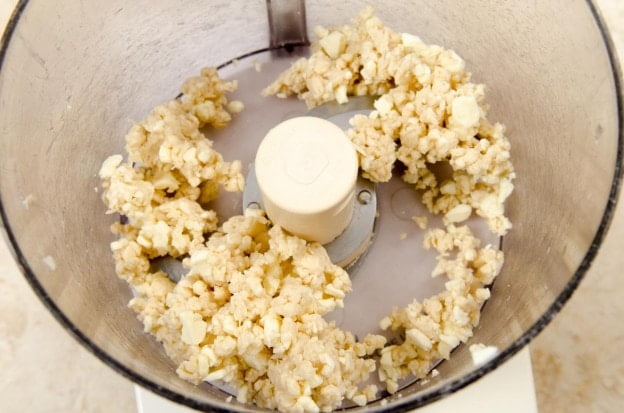 Pour out onto a work surface.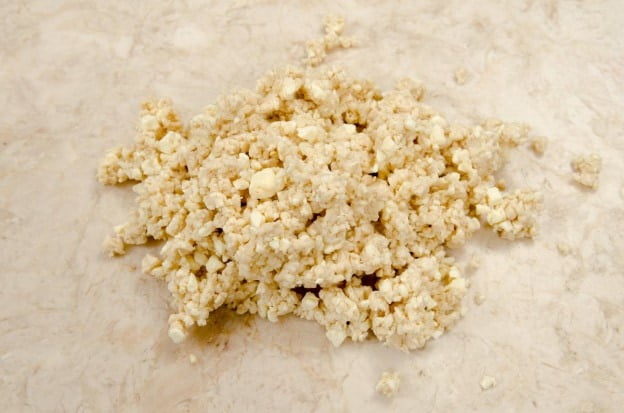 Repeat 2 more times. Push the dough/butter into a rectangle.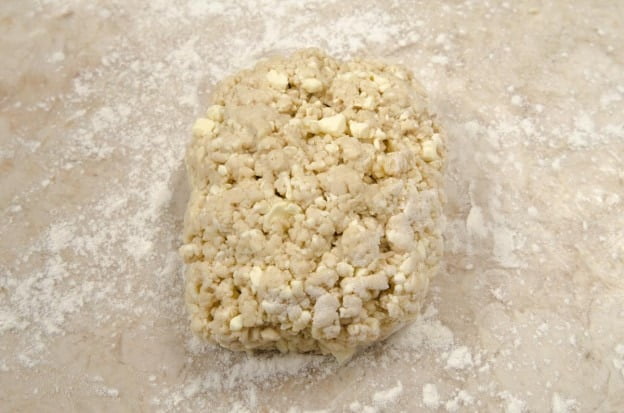 Roll out into a 6x15 inch rectangle. Chunks of butter should be visible.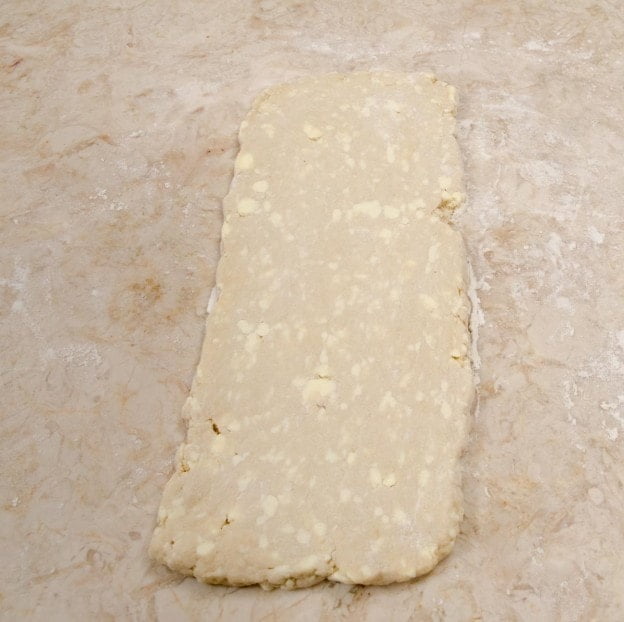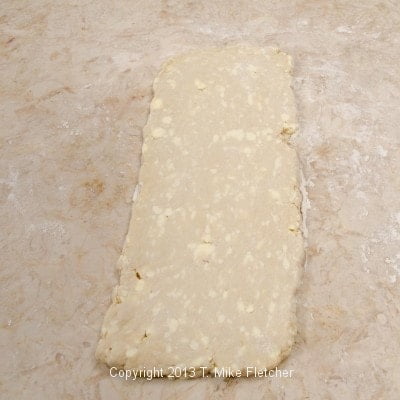 Fold the two ends to the center of the dough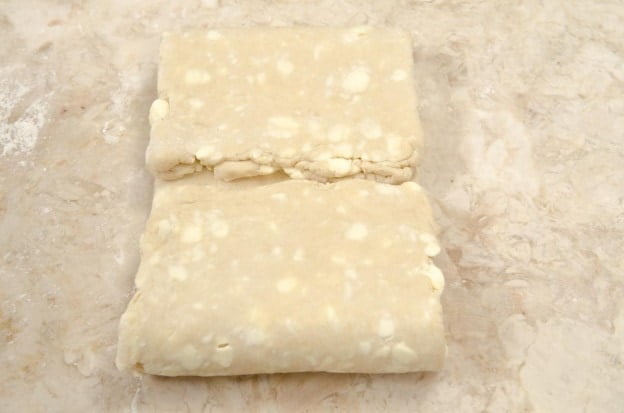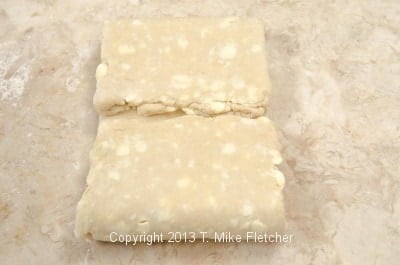 and then fold them together like a book.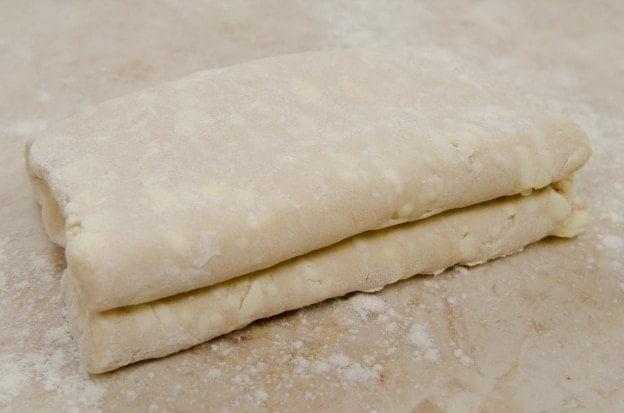 Turn the pastry so the folded edge is toward your right.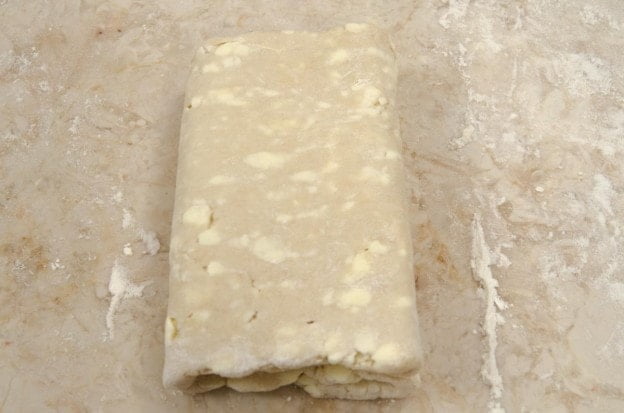 Roll out again into a 6x15 inch rectangle and fold as above. Refrigerate for 1 hour. Repeat twice more as above. Allow the dough to rest in the refrigerator at least 3 hours or better overnight.
Roll the dough out into a 7x11 inch rectangle.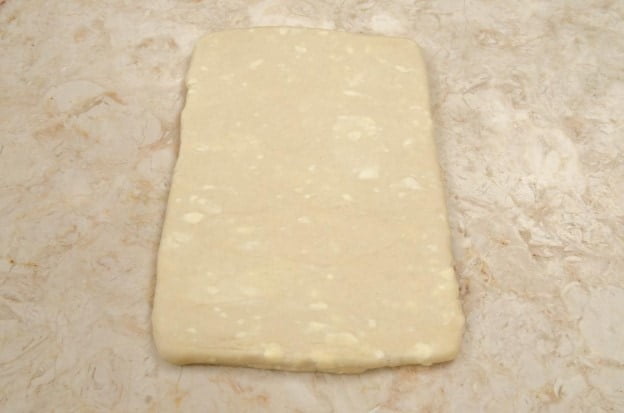 Cut 6 rounds out with a 3 ⅓ inch round doughnut cutter.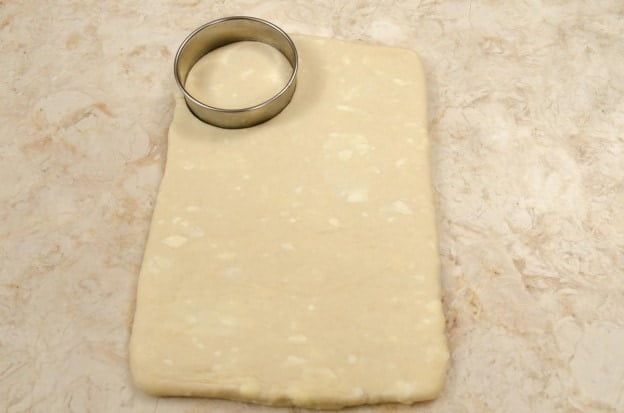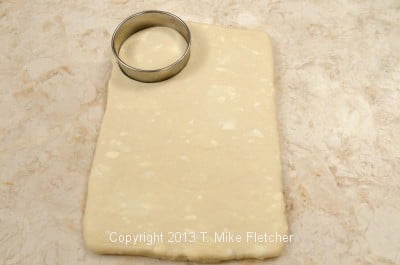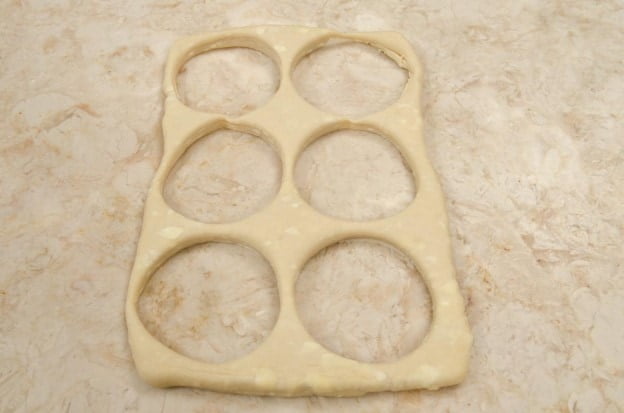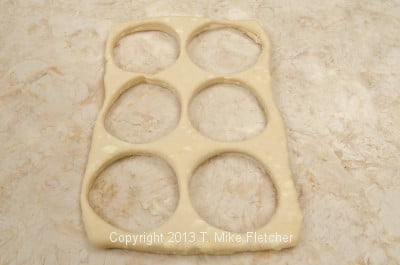 Re-roll the scraps into a 6 ½"x 3 ¼ inch rectangle. Cut out two more. Take the scraps and form them into any shape you want to use it up. With a 1 inch cutter, cut the center out of each round.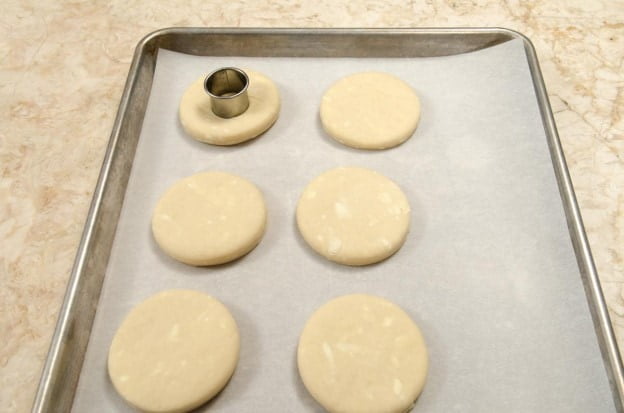 Place on a parchment lined baking pan, cover lightly with a towel and let rise until tripled.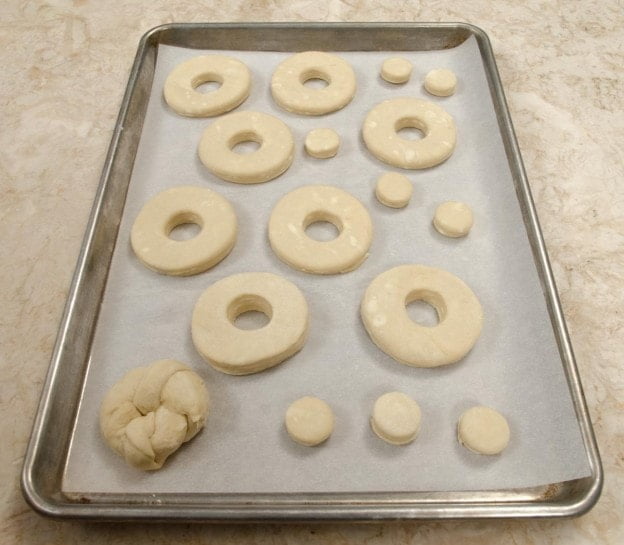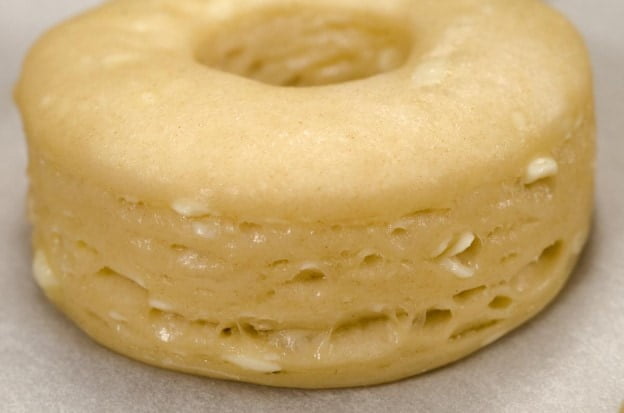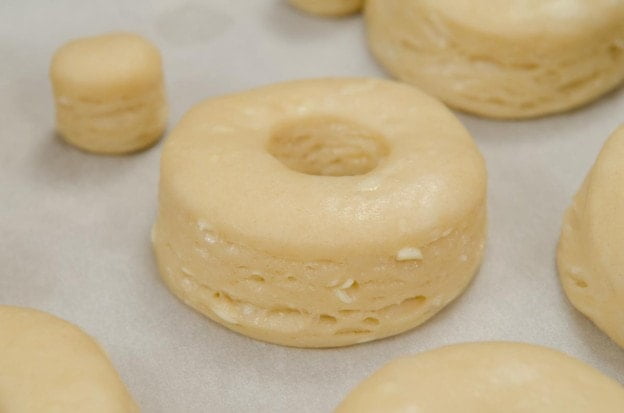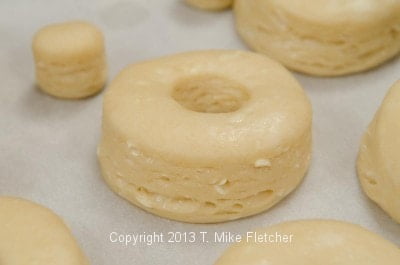 Before you start frying, make sure you have all your equipment handy. Here I have my thermometer, a large fork for turning the cornets, a paper towel lined cooling rack and sugar in which to roll the hot cronuts.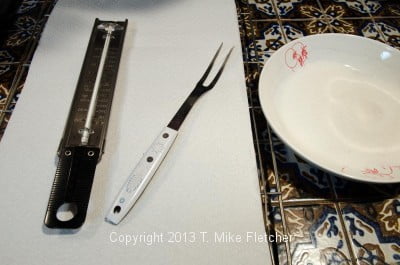 Heat ½" of oil to 350°F. Clip on a thermometer.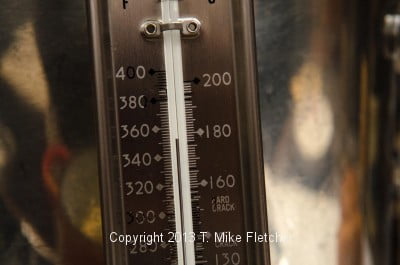 Place as many cronuts in the pan as will fit with room around them. I used a small casserole and fried two at a time so I didn't have to use a lot oil.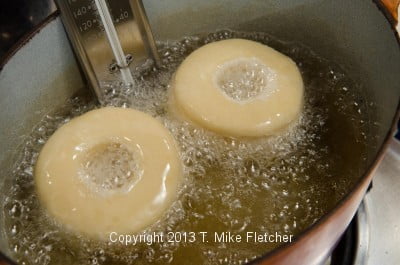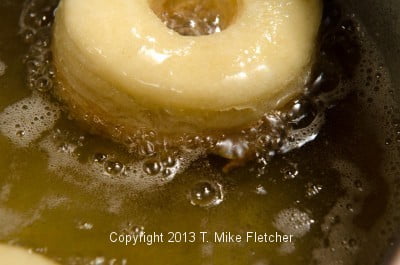 Fry until golden brown on one side, about 90 seconds,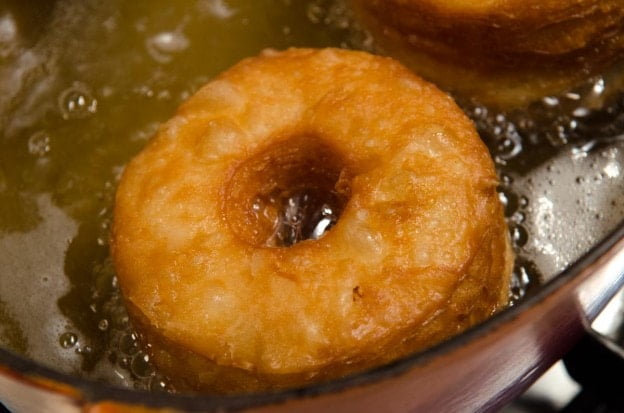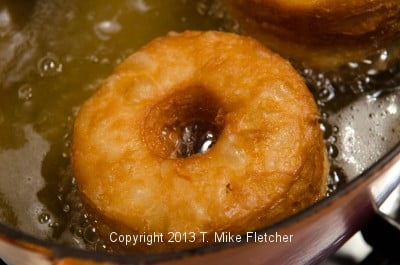 flip and fry on the other side another 90 seconds. If they fry faster, the oil is too hot, if slower the oil is too cool. It is important to keep the oil at 350°F throughout the frying. The temperature will go up and down so you have to moniter it by raising or lowering the heat.
Fill, glaze or roll in sugar. You can see the layering in the uncut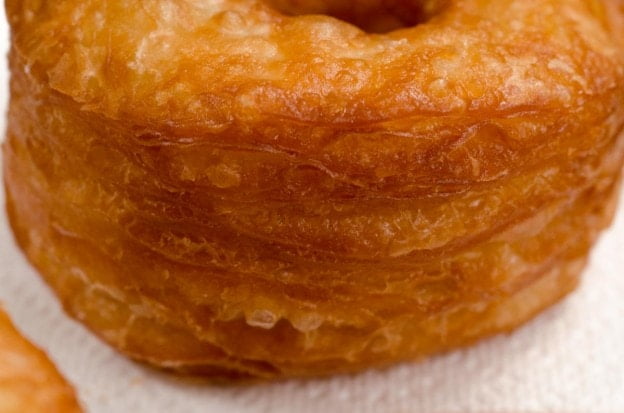 and cut cronuts.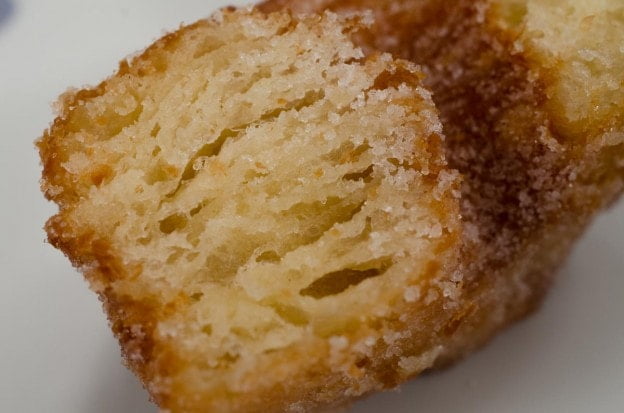 I particularly love the holes. They are so dramatic.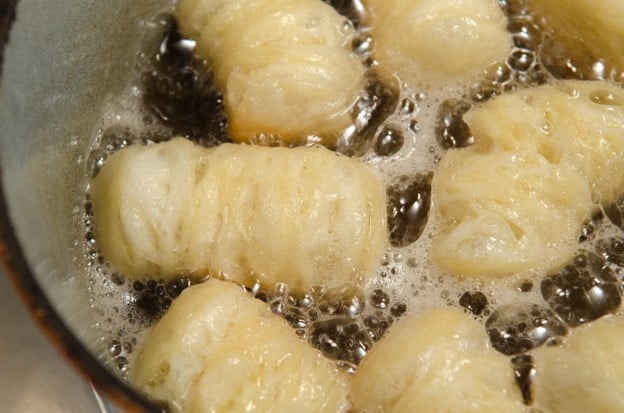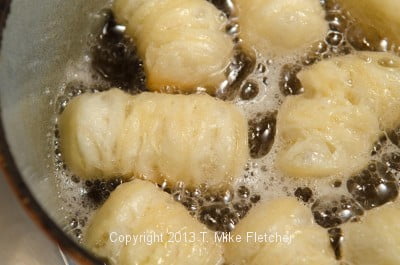 You can see the layering when you pull one apart.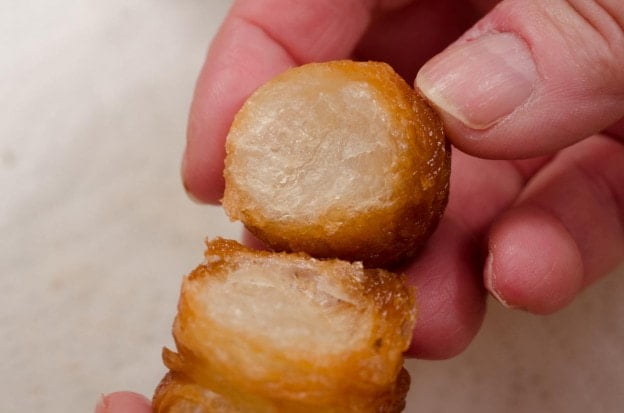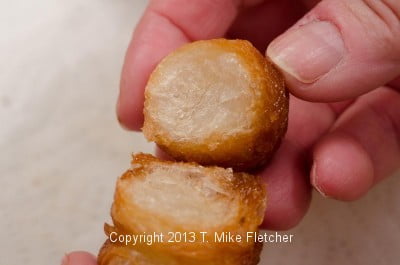 Yield: 8 cronuts with holes.