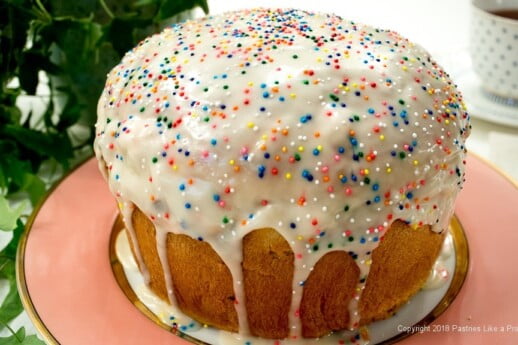 This Easter Bread started to be a blog about making Kulich, the Russian Easter Bread. In my research, I was led to believe that Paska was the same as Kulich. However, it seemed to me that Kulich had fruit in it as well as being finished with a powdered sugar glaze and colored nonpareils whereas Paska had no fruit and was usually beautifully decorated with braids on top but no nonpareils.
To make a long story short, I decided to use my mothers' sweet yeast dough which is the best I have ever encountered. It is soft, slightly sweet and tender. It is reminiscent of brioche. I added dried raisins, cranberries and apricots but you can use any combination of dried and/or candied rind you wish.
Since we are not coffee drinkers, I had no tall coffee can in which to bake this for the traditional tall, slender Kulich. I even stopped at my local gourmet kitchen store to see if they had one of the paper baking forms. But no luck. On my way out, I saw these adorable 2 and 5 ounce decorated paper baking cups that I fell in love with. The design doesn't change color in the heat of the oven. They are great for baking and giving as a gift and they look like Easter to me.
For the full-size Easter Bread, I used a very old (as you can see) Charlotte Mold. When we moved, I got rid of so much bakeware, but for some reason, I couldn't let this mold go. So happy I didn't. All of the dough would have fit in this 9 cup mold but I used some for the little ones.
To determine the amount of your baking dish or mold, measure the amount of water it will hold. A little under or over won't matter. You're going to want an 8 or 9 cup mold.
This Easter Bread is perfect for brunch or just a quiet cup of coffee or tea after everyone leaves.
It freezes well baked without the icing. I always prefer to thaw, then wrap in foil, leaving a small opening on top for the steam to escape and heat at 350°F for about 20 to 25 minutes to freshen it. Cool and then finish.
This Easter Bread is so easy and what I love the most about my mother's yeast dough is that it is so easy to work. While it seems rather sticky in the beginning, after rising, it is a dream to work with.
But don't just save this Easter Bread for Easter. It is perfect all year long.
My Easter Bread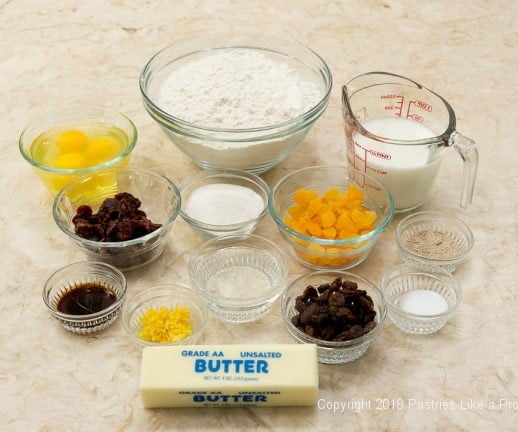 1 package yeast (2 ¼ teaspoons)
¼ cup water
¾ cup milk
¼ cup sugar (50 grams or 1 ¾ ounces)
1 teaspoon salt
½ cup unsalted butter (1 sticks, 114 grams or 4 ounces)
3 eggs
½ teaspoon vanilla
Zest from ½ large lemon (about 2 teaspoons)
4 cups bread flour (550 grams or 19 ⅓ ounces)
1 ⅓ cups raisins, dried fruit or candied fruit*
*I used ⅓ cup raisins, ½ cup dried cranberries, ½ cup dried apricots.
If using dried fruit such as the raisins and cranberries, soak them in very hot water while making the dough.
Dissolve yeast in warm water. Set aside.
Heat milk, butter and sugar to simmering.; cool to lukewarm.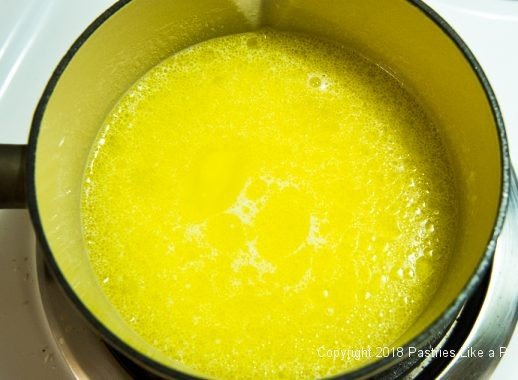 Pour it into the bowl of a mixer fitted with a dough hook Whisk the yeast mixture, eggs, vanilla and lemon zest into the milk mixture.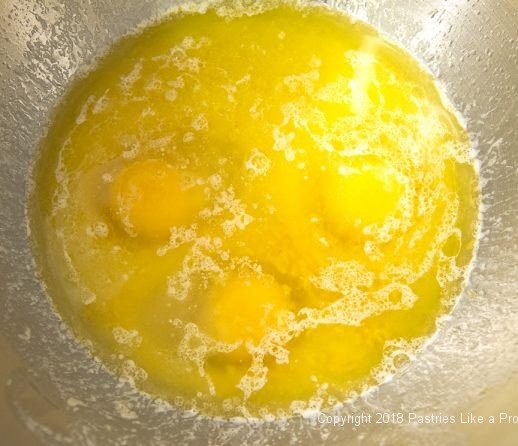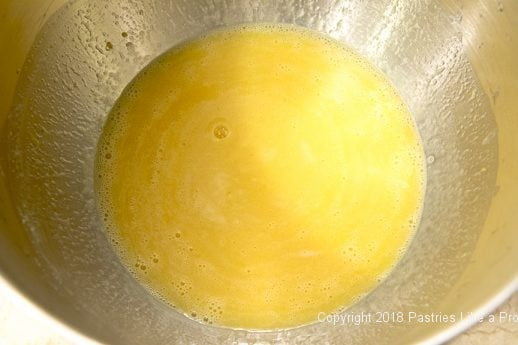 Add half the bread flour. Beat until smooth.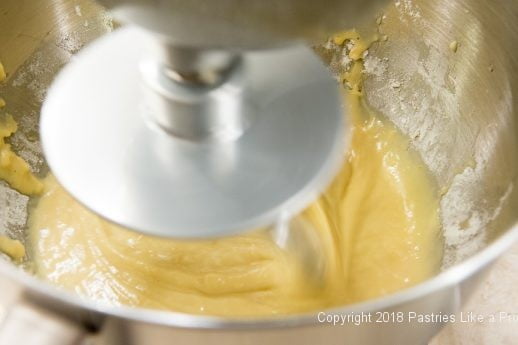 Drain the soaked fruit very well, pat well between paper towels.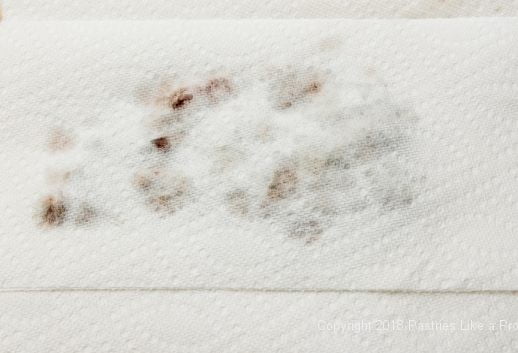 Mix all the fruit together.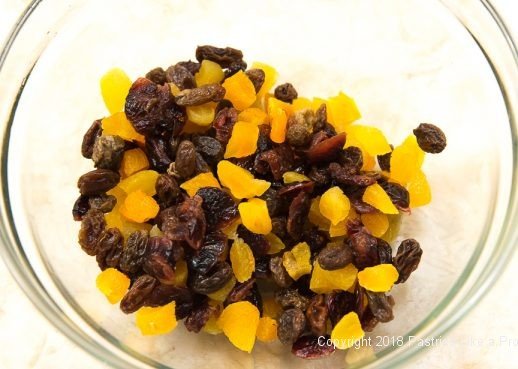 Add half the fruit and beat well.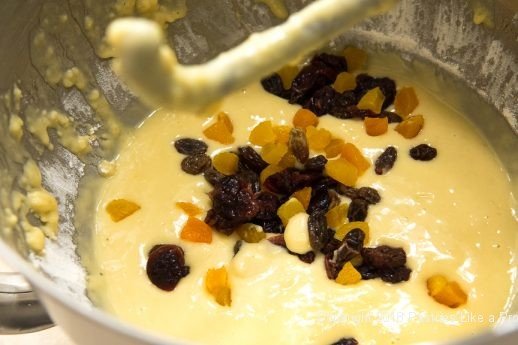 Add the remaining flour and fruit; beat until smooth.
Knead in bowl for 3 minutes.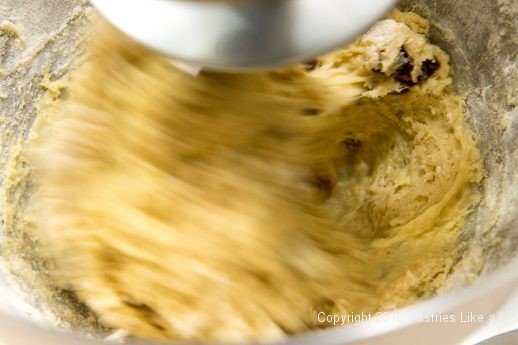 When finished, remove from the bowl and hand knead several times until perfectly smooth.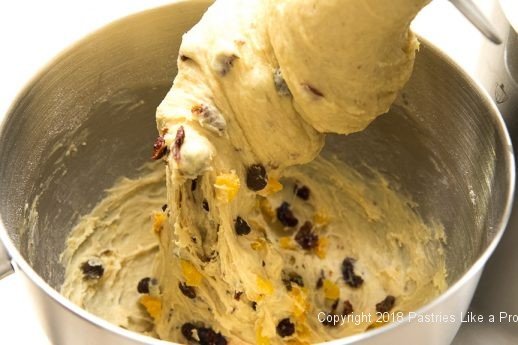 Place in a large, greased container. Turn the dough immediately to grease the top.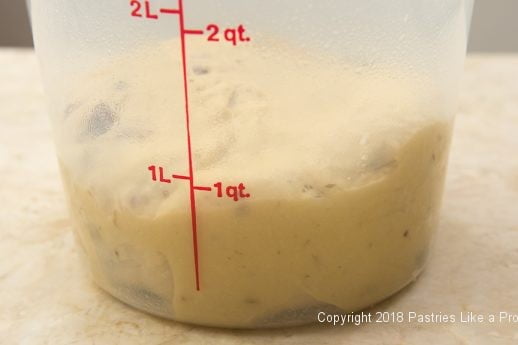 Cover with plastic wrap and allow to rise until it is doubled in bulk, about 1 ½ to 2 hours.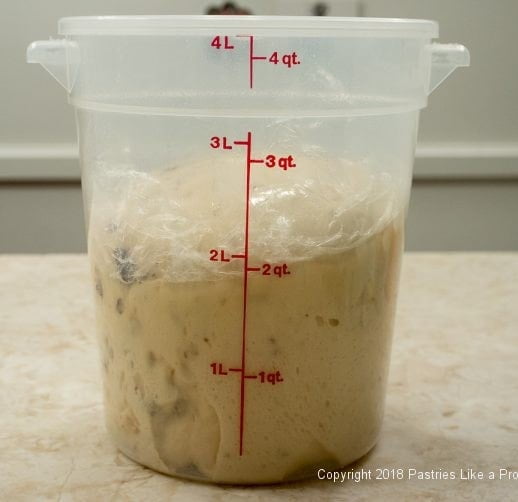 Punch down and use immediately or refrigerate up to 3 days.
Yield: Approximately 1200 grams or 2 ⅔.
To Bake
Cut a circle from parchment paper the size of the bottom of the dish or mold. Spray an 8 to 9 cup baking dish or mold well. Place the parchment paper on the bottom and spray it also. Shape the dough into a smooth round and place it in the prepared dish or pan, pressing it down to flatten it. It should come up to about ½ to a little more full.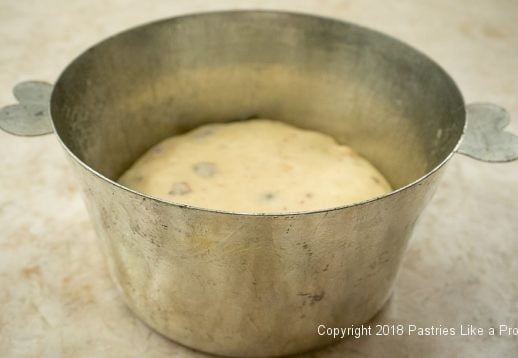 For the small individual Easter Breads,
I used 40 grams or 1 ⅓ ounces per 2 ounce container. The larger 5 ounce container uses 90 grams or 3 ounces. Roll the dough into a ball and place it in the container. It should fill the containers about half full.
Cover with a towel and let rise for about 1 to ½ hours.
Preheat the oven to 350°F. Bake the large Easter read for 35 to 40 minutes until deeply browned. Cover the top loosely with foil if it browns too quickly. For the smaller Easter Breads, bake about 20 to 25 minutes. Cool.
To Finish
1 ½ cup powdered sugar (200 grams or 7 ounces)
¼ to ⅓ cup liquid of choice (milk, lemon juice, amaretto, brandy rum, etc.)
Mullti-colored nonpareils
Mix the two until completely smooth. Add additional powdered sugar or liquid as needed to make a thick glaze.
Pour over Easter Bread and use a small offset spatula to distribute to edges so it can drip down.
SaveSave
SaveSave
SaveSave
SaveSave
SaveSaveSaveSave