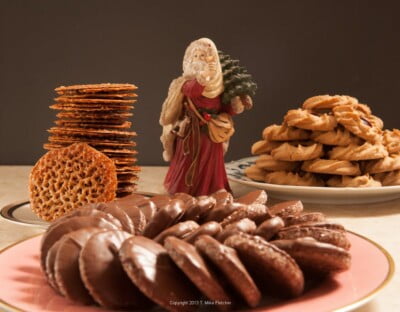 These very special Holiday Cookies offer a variety of flavors to add to your list of holiday cookies. They are all easy to make and can be made ahead to minimize your last minute preparations.
Sienna Lace has very special memories for me. I first encountered Almond Lace cookies, from which this recipe is derived from the owner of a cooking school in Iowa. I was, at one point in my ever changing career, a traveling cooking teacher which is how I found myself in Iowa. I remember a long drive from the airport on roads that appeared to be cut straight through fields of crops. It was cold and the land lay quiet as it waited for spring before it could come to life again.
Being a city girl, I couldn't imagine the long drive without a house, shopping center or building in site. There was an occasional stop sign but that was pretty much it! When we finally arrived at the house, it was warm and inviting with the aroma of a perfectly roasted chicken with rosemary and a side dish of sweet potatoes and apples. Dessert was the almond lace cookies. I had never seen them before and was enthralled. I also remember wondering how many I could eat before I looked boorish! It took me no time at all to ask for the recipe.
The flavors of this Sienna Lace are based on the fantastic 15th century Italian cake, Panforte di Sienna which was rich with spices brought from the Orient as well as honey and sugar, orange and lemon available only to the wealthy of that time. The delicacy of this cookie is matched only its flavor and is a great addition to any cookie tray.
The Chocolate Dipped Cappuccino Rounds are a coffee lovers dream with chocolate, cinnamon and coffee making this a modern holiday cookie. This is an icebox cookie as it has to set up before it can be sliced and baked. The milk chocolate glaze is of the quick tempered version where a little shortening added to the chocolate allows it to dry with a perfect sheen that looks to all the world as though you actually tempered the chocolate. Crystal sugar edges the cookie and gives a crunch and a bit of sweetness to each bite. The shortening is essential in this cookie to prevent it from spreading too much during baking.
Anise Swirls came about years ago when I was looking for a different flavor for my cookie tray. Anise is a favorite flavor in Italy and Germany and has a distinct licorice flavor. They flavor a lot of their holiday cookies with anise.
These are a piped cookie filled with a bit of red currant jelly that looks like jewels. They are a strong flavor and should be kept separate from other cookies so as not to alter the flavor of the other cookies. While I prefer anise oil, it can be difficult to find so I have included a substitution of anise extract which is easily found in the spice aisle, especially during the holidays. Oils are much stronger flavors and do not bake out as extracts can so measure carefully if using the oil. The use of cake flour is important in this recipe.
The swirl is obtained by using a piping bag and tip but alternate instructions are given if you don't want to go that route. We had customers at the retail shop that would wait all year for this particular cookie. It was one of my husband's favorites before he was diagnosed with diabetes - bummer!!!
So come back in time with me and enjoy these Holiday Cookies meant to be eaten in a leisurely manner with friends and a cup of coffee or tea. Of course, eating them anytime by yourself isn't all bad either. I have done both!
SIENNA LACE
2 ounces hazelnuts, skinned* (60 grams)
2 ounces blanched almonds (60 grams_
1 stick unsalted butter (114 grams or 4 ounces)
½ cup sugar (100 grams or 3 13 ounces)
1 tablespoon flour
¼ teaspoon salt
2 teaspoons freshly grated lemon rind
2 teaspoons freshly grated orange rind
½ teaspoon cinnamon
¼ teaspoon nutmeg
⅛ teaspoon cloves
2 tablespoons milk
3 ½ ounces semisweet chocolate, melted (100 grams)
*If hazelnuts are difficult to find, use 4 ounces of almonds.
Preheat oven to 350 degrees. Toast the hazelnuts and almonds for 7 to 8 minutes. Cool completely. Finely grind nuts in the food processor. Set aside.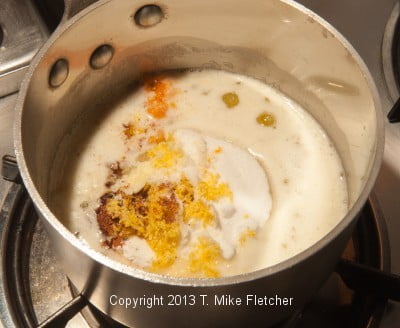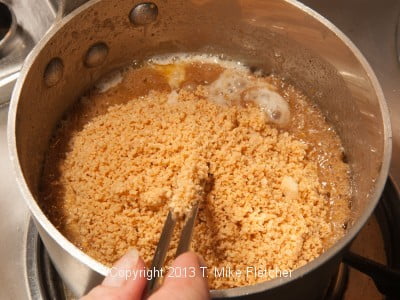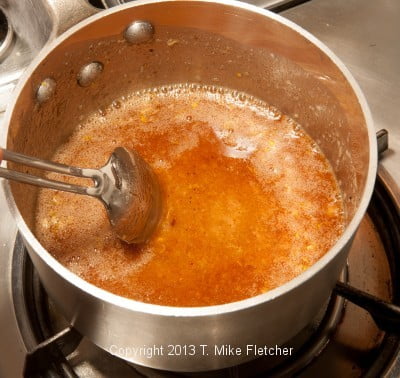 Combine the dry ingredients and set aside. Line baking sheets with foil, dull side up. Melt butter in a medium saucepan over medium heat. Add sugar, flour, salt, citrus peels and spices. Stir until sugar dissolves, about 3 minutes. Mix in nuts and milk; cook until slightly thickened, no longer than 3 minutes. Remove from the heat. Let sit for 5 minutes.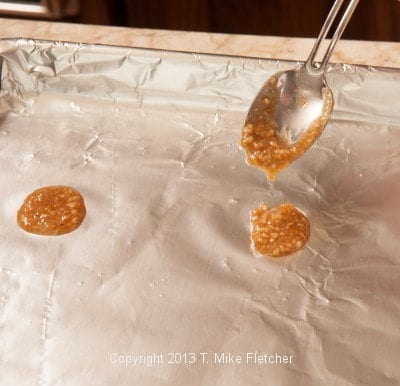 Drop by teaspoonfuls (about the size of a quarter) onto foil spacing about 4 inches apart. The batter will spread considerably when baked. Bake until the cookies are a deep medium brown, 8 to 10 minutes. Let them cool on the foil, then remove with a spatula carefully as they are very fragile. Wipe foil with paper towel and use again. Make sure the cookie sheets are cold before placing the next batch of cookies on them. The cookies can be dropped onto foil while waiting to bake if desired.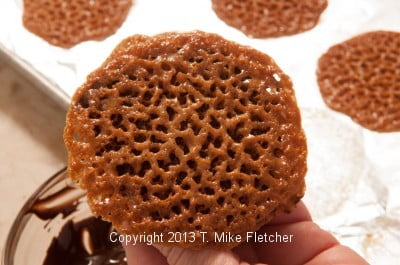 When cool, sparingly spread the underside of one cookie with chocolate and sandwich with another cookie. Store in an airtight tin. These are also wonderful plain as single cookies without chocolate.
Store the baked cookies in an airtight tin for several weeks with or without the chocolate.
Yield: About 40 single cookies or 20 sandwiched depending upon size.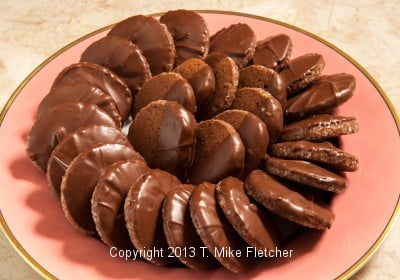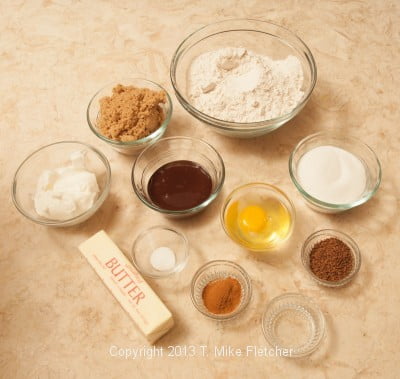 CHOCOLATE DIPPED CAPPUCCINO ROUNDS
2 ounces unsweetened chocolate (60 grams)
2 cups all purpose flour (140 grams or 5 ounces)
1 teaspoon ground cinnamon
¼ teaspoon salt
½ cup shortening (60 grams
½ cup butter, room temperature (114 grams or 4 ounces)
½ cup sugar (100 grams or 3 ½ ounces)
½ cup brown sugar (100 grams or 3 ½ ounces)
1 tablespoon instant coffee
1 teaspoon water
1 egg
Crystal Sugar as needed
Melt unsweetened chocolate, cool and set aside.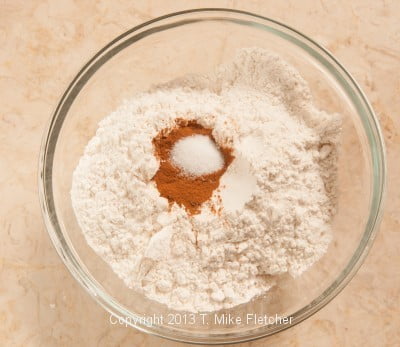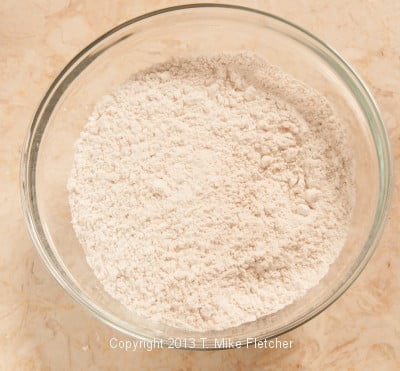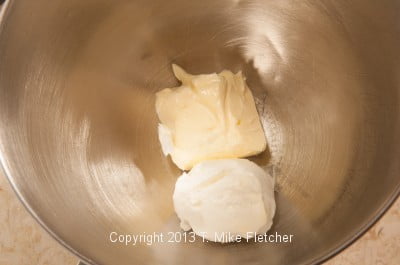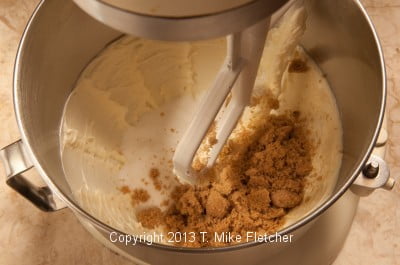 Combine flour, cinnamon and salt; set aside. In the bowl of a mixer, combine shortening and butter. Beat until well combined; add sugars and beat until fluffy.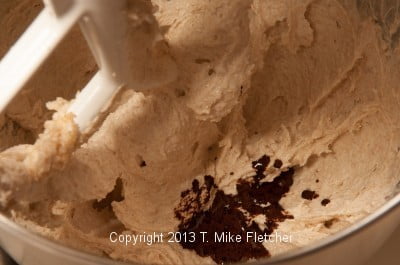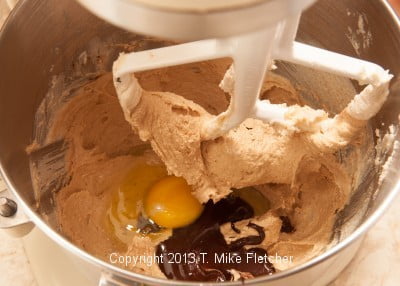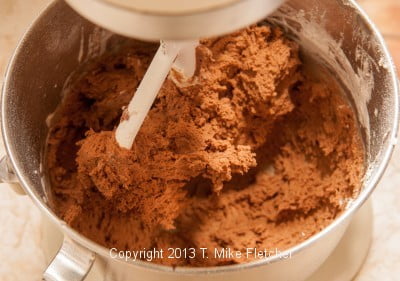 Dissolve coffee in the water and add it, the melted unsweetened chocolate and the egg to the butter mixture;beat well. Add the flour and beat until completely combined.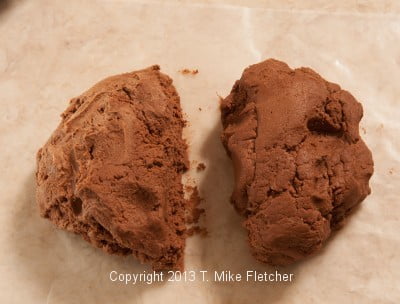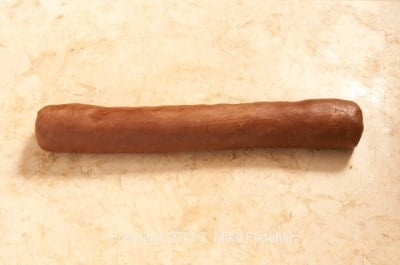 Turn out onto the table and divide the dough in half. Roll each half into a 10 to 11 inch log. Roll each log in crystal sugar. If the dough is too soft to roll easily, refrigerate it briefly. Try not to use too much flour when rolling and be sure to brush it all off before rolling in the crystal sugar. Wrap tightly in plastic wrap and refrigerate or freeze.
When ready to use, preheat oven to 350 degrees. Thaw the logs if frozen, and cut into ¼ to ⅓ inch rounds.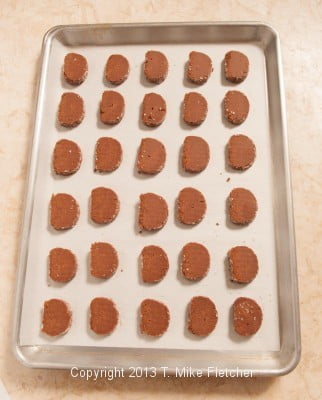 Double pan (place on another baking pan) and bake for 18 to 20 minutes until the cookies are set.
Milk Chocolate Glaze
8 ounces milk chocolate chips (225 grams)
2 tablespoons shortening
Combine the milk chocolate chops and shortening in a bowl. Microwave for about 2 minutes on half power or place over boiling water until melted. Stir to combine.
If the chocolate is too loose or too firm, it will not coat well. If it is too loose, let it sit for a few minutes and test the cookie. If it is too firm, microwave it very briefly and test.
Dip the tops of the cookies in the chocolate,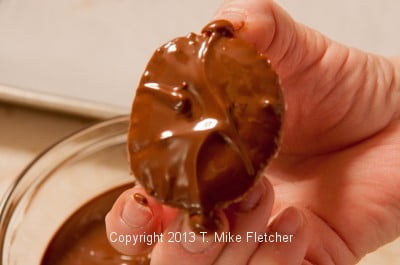 Shake the cookie to smooth out the chocolate. Place them on parchment to set up. Alternately, you can half dip the cookies if desired.
Scrape the bottom of the cookie on the side of the bowl to clean it off.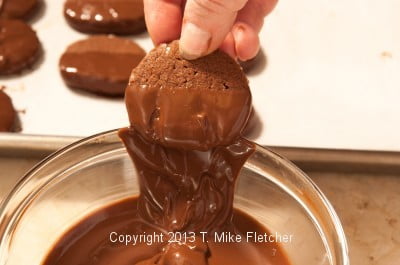 ANISE SWIRLS
2 sticks butter, room temperature (225 grams or 8 ounces)
¾ cup packed brown sugar (150 grams or 5 ⅓ ounces)
2 egg yolks
½ teaspoon baking soda
¼ teaspoon anise oil
2 ½ cups cake flour (300 grams or 10 ounces)
Red Currant Jelly as needed
Preheat oven to 350 degrees. Line baking sheets with parchment.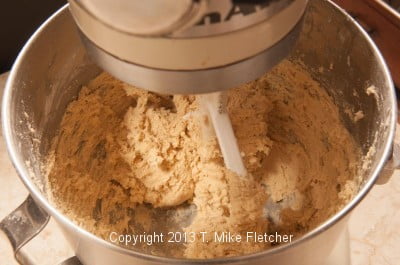 Beat butter and sugar until very fluffy and almost white. Add the yolks, baking soda and anise oil and continue beating until fluffy. Add the flour and beat on low until completely mixed, scraping as necessary.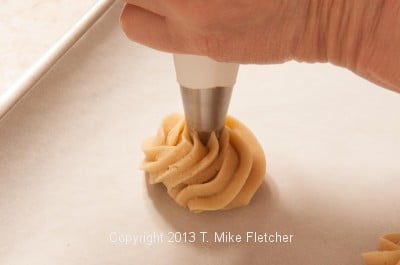 Fit a pastry bag with a #5 open star tip (about ½ inch wide). Pipe into swirls as small as possible.
With the rounded end of a wooden spoon dipped in flour, make an indentation in the center of the cookie but do not go completely through.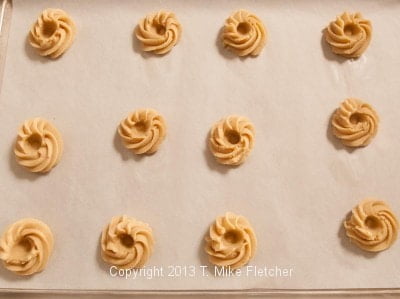 Enlarge the hole by rotating the end of the spoon around the hole at an angle.If you don't want to pipe the cookies, roll into balls the size of large walnuts. Make an indention, bake and fill as called for above.
Double pan the cookies and bake 15 to 18 minutes until lightly colored. Cool several minutes on the pan. Remove to racks to cool completely.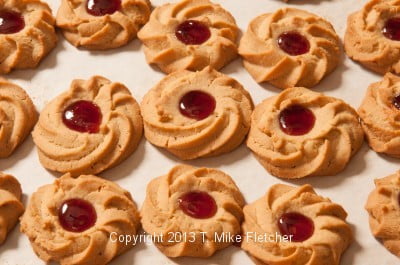 Heat currant jelly in a measuring cup in the microwave until somewhat liquid. Whisk smooth. Pour a bit into each indentation. Let dry overnight so the jelly will tighten up.These cookies are best made several days ahead and stored in airtight containers to mellow the flavor. They will keep in tins for weeks.
These can be frozen before filling with the jelly. Simply defrost on racks and fill.
Yields: Approximately 35 cookies, depending upon the size.