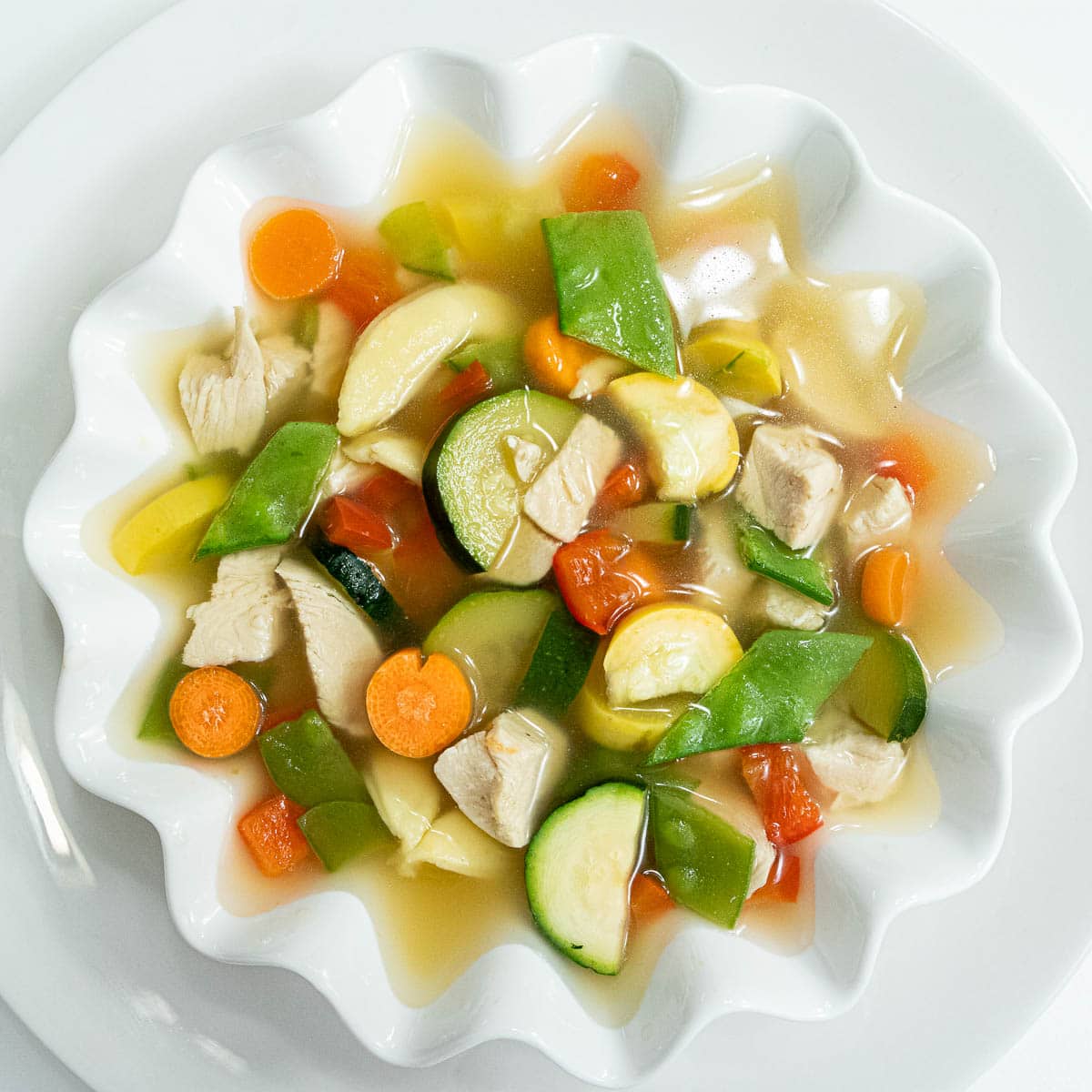 This easy, light chicken soup called Spoo is a family joke. It came about one day many years ago. I had been sidelined with a really bad cold that kept me in bed for a couple of days. When I finally returned to the kitchen, I was hungry but I wasn't ready to go to the store. So I had to find something to make with ingredients on hand.
Spoo was the result of this adventure. The name came about when my son asked me what I had made. In an ill-fated attempt at sarcasm, instead of soup, Spoo came out. So Spoo it was and so it is.
This updated chicken vegetable soup is a really quick to cook and is very light and flavorful in the vein of an oriental soup. Low fat, low calorie, this is an entire meal of meat, pasta and vegetables. The important thing is not to overcook the vegetables. They should remain crisp. The ingredients are straight forward but if you have a chance, purchase mini tortellini. I couldn't find them this time but they are easier to eat in the soup.
Why, you ask, is this the first post of the year. I don't know about you but after the holidays, I always eat light for the first few weeks or a month. After all the cookies, food, eggnog and merrymaking, I tend to hole up with some of my favorite, light food and plan my year.....which never seems to go the way I plan!! After promoting Craving Cookies, a hectic last quarter at the restaurant, changing the look of the blog, the holidays, the food, etc, etc., I want a simple, satisfying meal in a bowl. Something easy where I don't have to do too much or spend a lot of time. And this easy, light chicken soup fit the bill perfectly. I thought you might enjoy it also.
I'll be back with a show stopping Classic Birthday Cake soon.
Easy Light Chicken Soup Called Spoo
This easy chicken soup is low fat, low calorie and a complete meal in a bowl.  Crisp, fresh vegetables team up with cheese tortellini and chicken.  Add a crusty bread and fruit for dessert for a great way to start the new year.
Ingredients
6

ounce

cheese tortellini, cooked

1

quart

chicken broth (7 to 8 cups)

2

large chicken breast halves, boned, skinned and cooked*

½

cup

sliced carrots

½

large red pepper, diced

¼

pound

snow peas, (strings removed) and cut about ½ inch

½

cup

Zucchini, sliced ¼ inch and quartered

½

cup

yellow squash, sliced ¼ inch and juilenned

3

tablespoons

juilenned fresh basil

1

teaspoon

salt

¼

teaspoon

white pepper
Instructions
Cut chicken into bite sized pieces.  Set aside.  

Place the broth in a saucepan and add the carrots and red pepper.  Cook about 5 minutes.  

Add  the snow peas, zuchinni and yellow squash, cook about 3 to 4 minutes.

Last, add the cooked tortellini, basil, salt, pepper and chicken.  Simmer briefly.  

Check for seasonings and serve.
Notes
*Meat from a rotisserie chicken can be used if desired.  Otherwise, if roasting, lightly coat the chicken breasts with vegetable oil and bake in a 350°F oven for 18 to 30 minutes, depending upon the size. They should register 165°F when done.
Nutrition
Calories:
202
kcal
Carbohydrates:
17
g
Protein:
22
g
Fat:
5
g
Saturated Fat:
1
g
Polyunsaturated Fat:
0.4
g
Monounsaturated Fat:
1
g
Trans Fat:
0.01
g
Cholesterol:
62
mg
Sodium:
1193
mg
Potassium:
455
mg
Fiber:
2
g
Sugar:
4
g
Vitamin A:
2416
IU
Vitamin C:
29
mg
Calcium:
68
mg
Iron:
2
mg