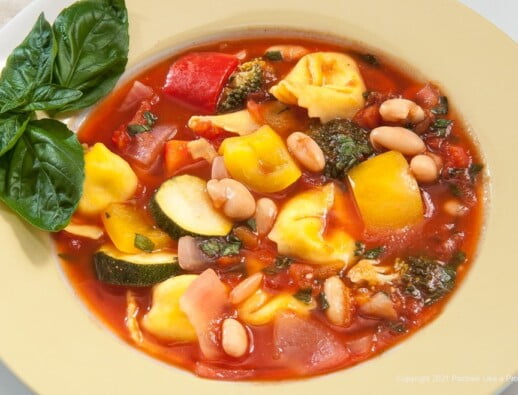 This Tuscan Vegetable Stew comes via one of the Lettuce Entertain You restaurants in Chicago. It was years and years ago and which restaurant I can't honestly remember. What I do remember is this incredible stew. It is so very easy, quick to make, low in fat and calories and amazing in every way.
It was late in the day and my husband and I were weary from walking around doing research. By the time we got to the restaurant, we were both tired and conversation seemed like an effort. After we looked at the menu and ordered, I remember thinking it might have been better to just go back to the hotel and go to sleep. I couldn't have been more wrong!
When the Tuscan Vegetable Stew arrived, everything in me perked up. It was visually beautiful, smelled wonderful and I could hardly wait for it to cool a bit so I could dive in. While I waited, I started on the rosemary bread that accompanied it. Rosemary can be a very assertive herb but the bread contained just enough green specks to make it appealing. When the stew cooled a bit and I was able to start eating, I couldn't believe the vibrancy of the vegetables. No small, indistinguishable pieces here but large pieces of recognizable vegetables still retaining much of their crispness.
The dish seemed put together with color as well as taste in mind finished off with cannellini beans and large cheese ravioli. After the veggies are cut and ready to go, it is only a matter of minutes of cooking to bring it all together.
I quickly pulled out the little notebook I carry everywhere just for such an occasion. In it I listed all of the ingredients and came home to recreate it. The only changes were the ravioli to tortellini because I thought it easier to eat and I added just a bit of vinegar to sharpen the taste. Other than that, I can only thank the restaurant for an amazingly tasty and easy to make vegetable stew perfect all year around.
In the summer 2 cups of cut up really ripe tomatoes can be used in place of the canned tomatoes used in the winter months if desired. All of the measurements are guidelines. A little more or a little less of one or the other will not alter the taste.
Couple this stew with the No-Knead Sicilian Olive Bread, Stuffed Italian Bread - Pane Bianco or the No-Knead Bread
I have no idea if they serve this in Tuscany, but I am sure they would love it if they did.
Tuscan Vegetable Stew
1 cup zucchini sliced, ¼ inch thick
1 cup yellow squash, sliced ¼ inch thick
¾ cup red pepper, cut into 1x1 inch dice
¾ cup yellow pepper, cut into 1x1 dice
½ cup red onion, cut into quarter moons
2 cups canned petite diced tomatoes with juice (or fresh tomatoes)
3 cups tomato juice
½ water
2 tablespoons cider vinegar
1 ½ teaspoon salt
⅛ to ¼ teaspoon cayenne pepper
2 cups broccoli florets
6 to 8 ounces cheese tortellini
1 15 ounce can cannellini beans, drained and rinsed
¼ cup fresh basil, shredded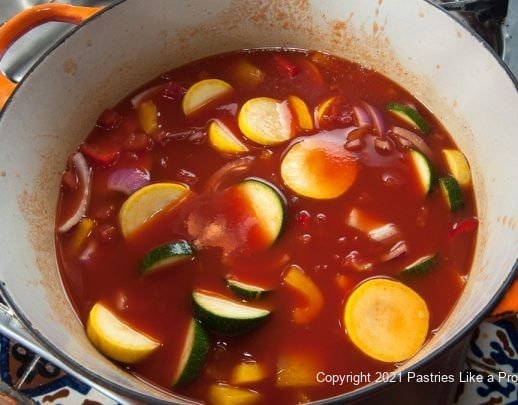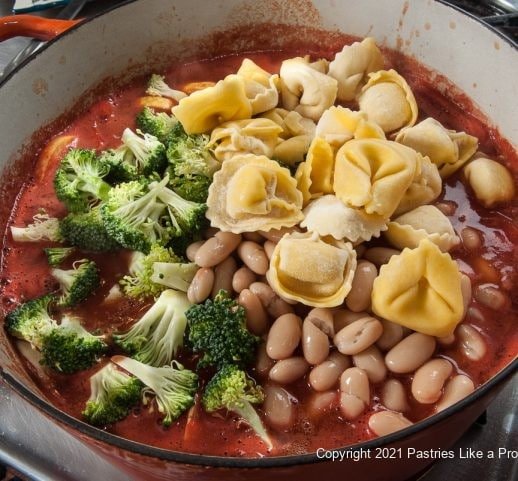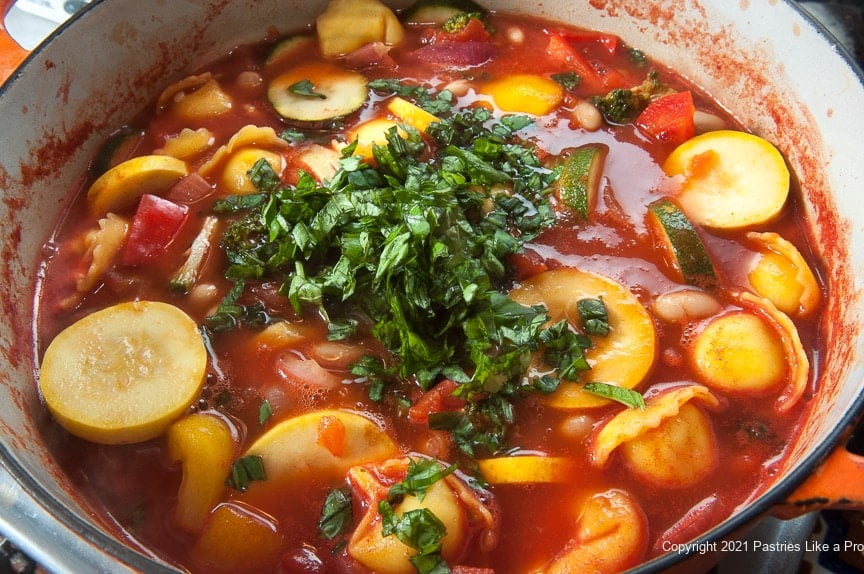 Place the zucchini, yellow squash, red and yellow peppers, red onion, tomato, tomato juice, water, salt, and pepper in a dutch oven. Bring to a boil, add the broccoli, tortellini and beans. Return to a simmer and cook 7 to 8 minutes, just until the veggies are tender crisp and the tortellini is cooked through. Remove from the heat and add the basil.
Serves 6.