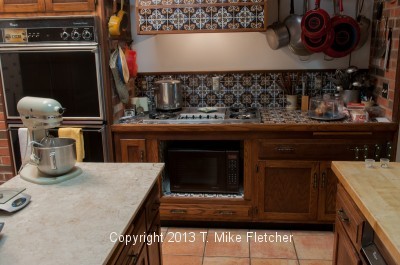 I tried to think of a really sexy title but what can you say about food equipment and  a bunch of pots and pans, knives and miscellaneous cooking items?  Because I am in the kitchen constantly cooking for pleasure and business, I designed my kitchen about 40 years ago to make it as easy as possible to use.
When we remodeled our small kitchen, I wanted an island which gave me a lot of prep room, but it had the effect of making the kitchen smaller.  I wanted to keep my work areas as of free of clutter as possible.  That goes for under and over the counter storage as well as drawers.  When we were ready to remodel, we gutted the kitchen and everything went.  All of my small utensils were put in a box and stored in the basement.  I also had a box that held questionable utensils.  These were items that seemed like a good idea when I bought them, but didn't seem to get much use.   I decided if I didn't use any any of these  for six months, they would go out.  I kept one.  The others I gave away to Goodwill.  Hopefully, someone enjoyed them.
I don't think anyone ever has enough storage for food equipment.  I certainly don't.  To help solve the problem I looked at any vertical flat area we had and basically used kitchen gear in various forms as decorative pieces.  I covered walls with pegboard, hung racks and my husband designed a knife rack to keep my knives out of a drawer and accessible.  The outcome was a kitchen where I never have to take more than three or four steps to get anything I want to use.  Small definitely has its advantages.
Here are some photos to inspire you if you decide a remodel is in your future or if you simply need additional storage space.
The pegboards were finished with moulding to give them depth and make them decorative as well as useful.  This pegboard saves a ton of room in drawers and keeps a lot of different utensils at hand.
A second pegboard around the corner in the breakfast room, stores larger pieces that would't fit on the pot rack.
The range top is covered by a hood.  On either side of the hood, I have added storage for pots and pans as well as other food equipment.  As you might have guessed by now, I never met a pot or pan I didn't like.
In my earlier years, I started my collection of Le Creuset.  These pots and pans are at least 40 years old and I still love them.  My husband burned my 2 quart pan with a lip so badly, we had to throw  it away. He is still hearing about that!  It was my favorite saucepan.  The newer ones have a very puny lip, if any at all and aren't my favs. The two quart was a larger version of the yellow saucepan on this rack.  You can see what a great lip it has on it making it very useful.  I guess I should quit going on about this now!
Also on this rack are my potholders as my ovens are behind this wall.   Tile covers the hood as well as some counters.  It reflects the Spanish look of the house.
On the right hand side of the hood is my collection of All Clad which I use constantly.  I love my pot rack and couldn't do without it.
 My collection of knives were bought one at a time over the years.  I wanted them available in vertical storage, but a block would take up too much space on a counter.   So my husband designed a vertical rack consisting of two pieces of heavy plexiglass that were attached to the side of a cabinet.  (I told  you I used every available space!).
Although not technically food equipment, I can't live without paper towels. There was no place to put a holder that wouldn't clutter a counter, so I put them on the backside of one of the doors under my sink.  The other door has towel holders.
Completing my storage of food equipment are various containers full of spatulas, whisks, thermometers, spoons and anything else I need to reach conveniently.  This truly is my dream kitchen, albeit a small one.  But one I happily work in.
The moral of this story is if you have blank vertical space on your kitchen walls, hang something on it to make your kitchen easier to use.