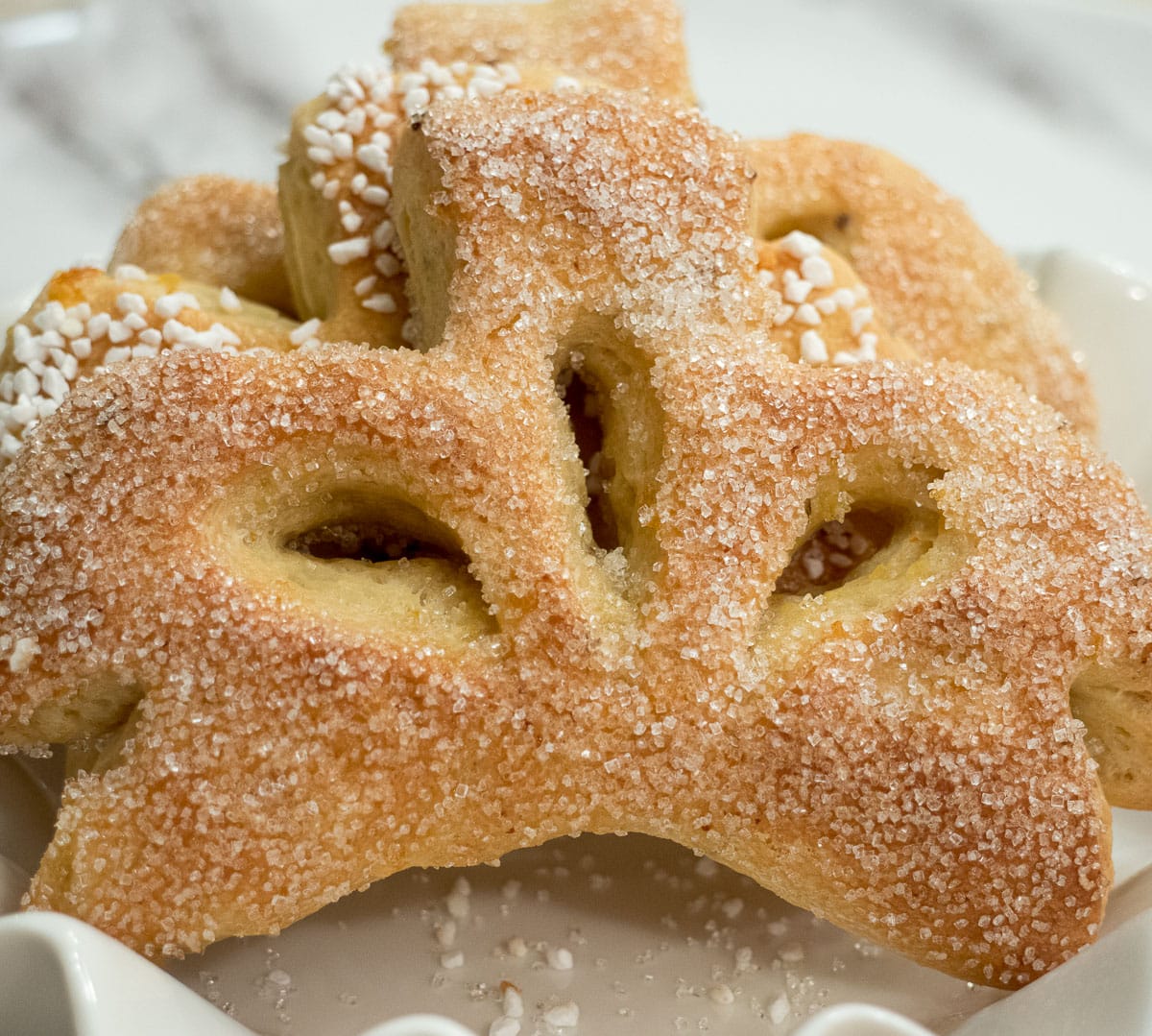 Gibassier (pronounced zhee bah see ay) is a much loved French breakfast bread that originated in Provence, France. It features orange and anise seed and has a particular shape to replicate the fleur de lis. Anise is a flavor that is as much disliked as it is liked. So if you are not a fan, simply omit it. I was intrigued by this bread when one of my readers asked me about incorporating the butter into the dough. This is a variation of the recipes I found on the web and the one that was sent to me.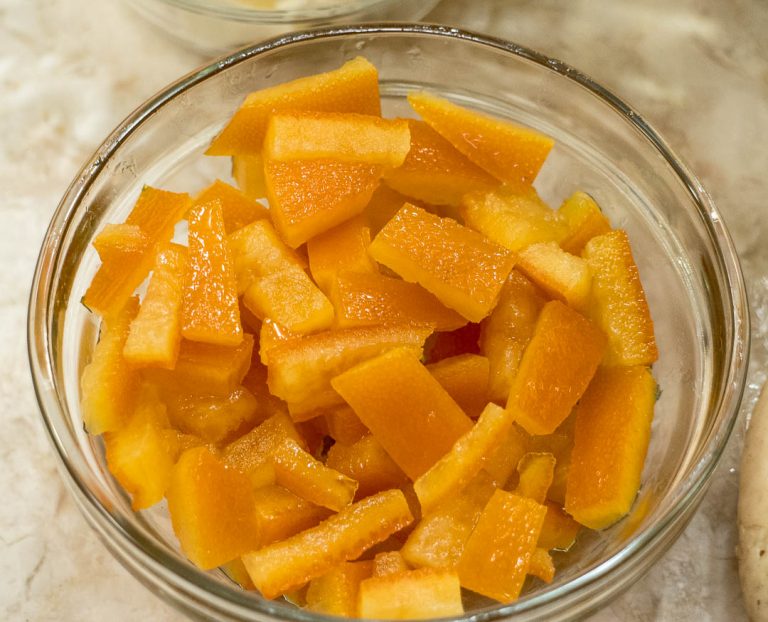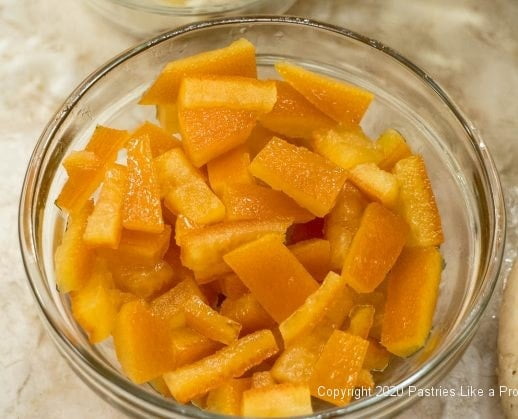 Candied orange rind can be hard to find out of season. Either use my candied orange peel which can be made the day before or Trader Joe's has candied orange slices that can be cut up and used. Failing either of these use dried apricots in place of the candied orange rind. Instead of orange blossom water as is usually called for, I used orange zest. If using my candied orange peel be sure to cut it larger. It is soft and if cut too small will disappear when processed.
Gibassier features a luxuriously soft, brioche type of bread but uses butter and olive oil instead of only butter. It is for that reason that, after making the dough and letting it rise, I deflate it and refrigerate it overnight. It is much easier to shape cold yeast dough, especially if it is soft.
The recipe goes together quickly using the food processor. However, a mixer can also be used. Instructions are given for both.
Gibassier uses Biga, a preferment which needs to be made early in the day or can be made the night before if desired. It gives an extra boost to the rich dough.
When I first saw the unusual shaping I couldn't figure out how to get the cuts inside of the edges of the dough because of the small size. My first attempt was delicious but didn't look very good. One blog I read said she cut up a credit card and used that. I don't have a lot of credit cards and those I have I use so that was out, although I couldn't quite figure out how that worked. After thinking about it for weeks, I woke up one morning and thought of the perfect tool – a single-edged razor blade. It's sharp, fits perfectly within the borders of the dough, and is easy to use.
Because this dough is heavy in fat and sugar, it is easy to shape because it doesn't spring back when rolled out. In other words, it doesn't fight you. You don't even need flour to shape them. While the shaping can be intimidating, it's a breeze and the photos will walk you right through it. If you're still not convinced, just shape them into rolls but how ever you shape it do try Gibassier.
Preferment (Biga)
1 cup bread flour (140 grams or 5 ounces)
½ cup warm milk (about 105°F)
Large pinch of instant yeast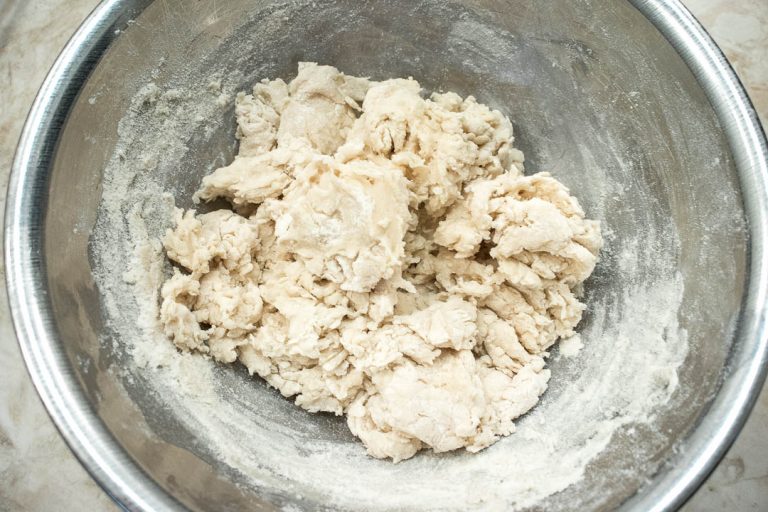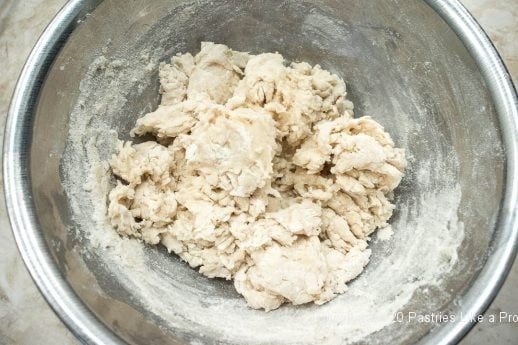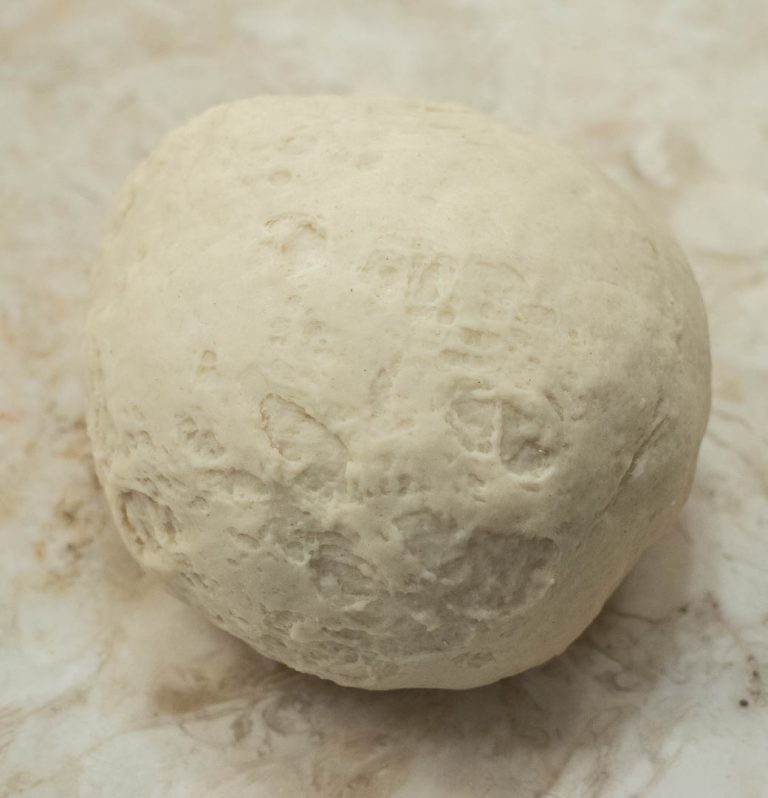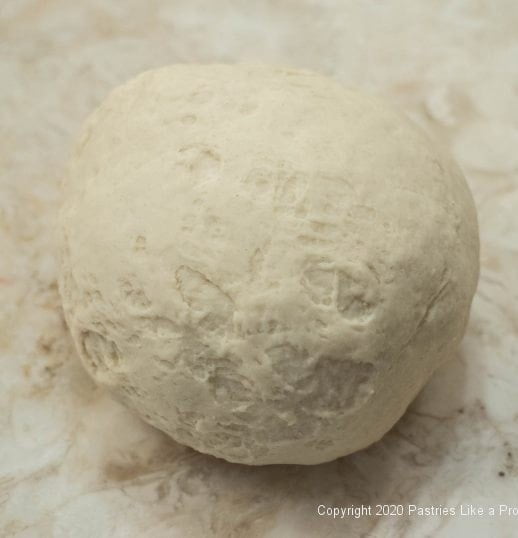 Stir together in a small bowl. It will look shaggy. Knead several times to make a smooth ball. Let sit at room temperature for 12 to 18 hours.
Gibassier Dough
2 ¾ cups bread flour (385 grams or 13 ½ ounces)*
6 tablespoons unsalted butter, cold (85 grams or 3 ounces)
½ cup granulated sugar (100 grams or 3 ½ ounces)
2 ½ teaspoons instant yeast
¾ teaspoon salt
Orange zest from l medium navel orange
All of preferment from above
2 eggs
⅓ cup olive oil
¼ cup water
2 teaspoons anise seed
⅔ cup candied orange rind
*If you don't have bread flour use all-purpose flour. However, this should remain a very soft dough.
Processor method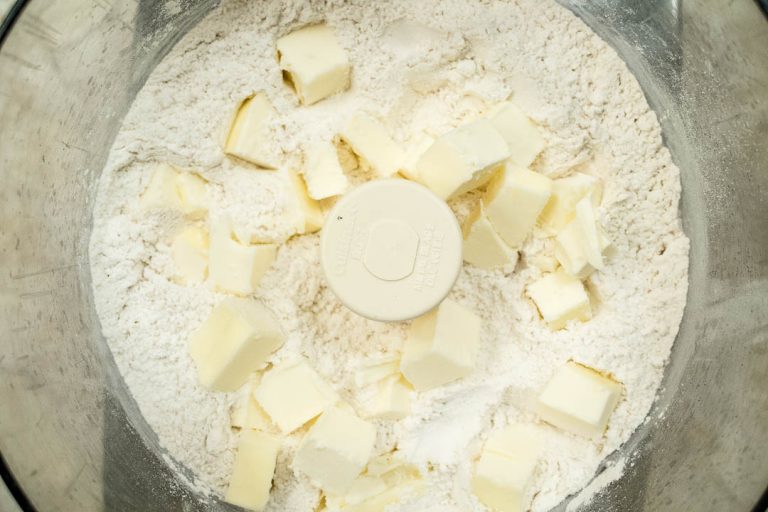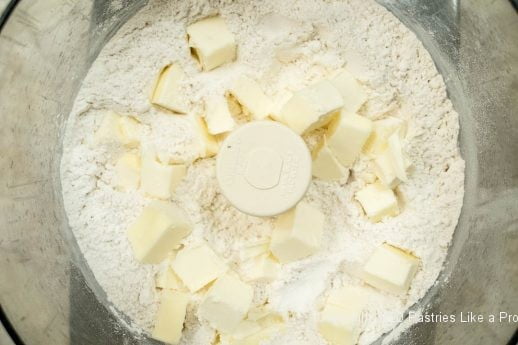 Place the flour in the processor and pulse several times. Cut the cold butter into pieces and arrange in a circle over the flour. Process until the butter is no longer distinguishable.
Add the sugar, yeast, salt, and zest. Pulse to incorporate.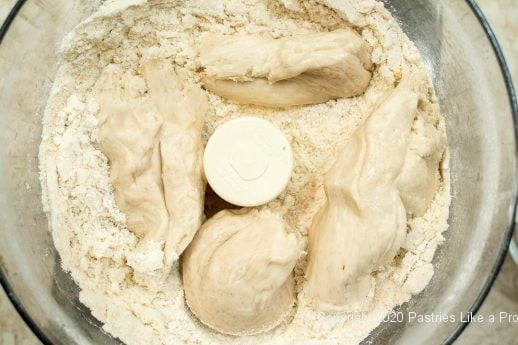 Tear the preferment into pieces and add it processor.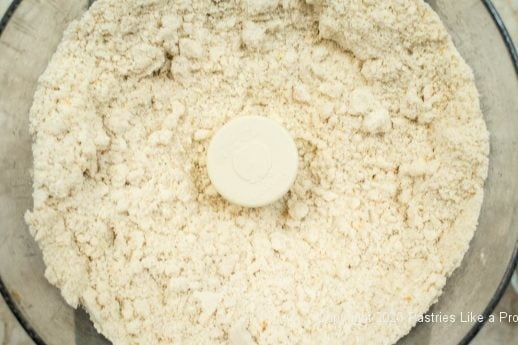 Process to fully incorporate.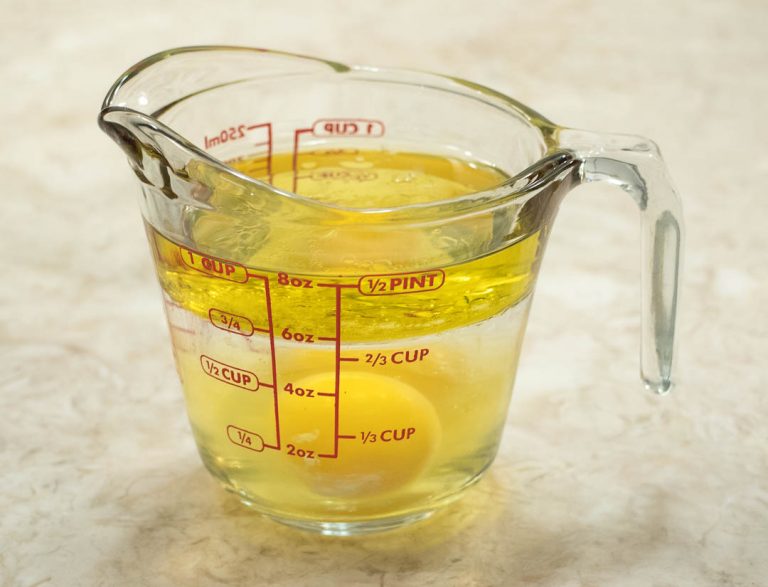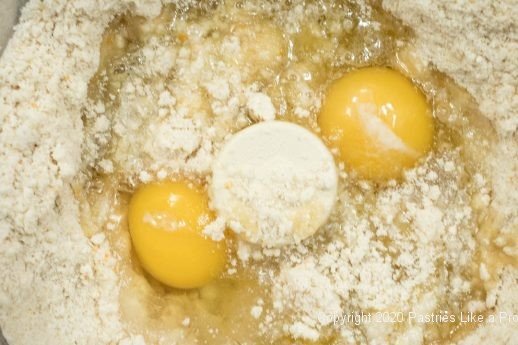 Combine the eggs, olive oil, water. Pour over the dry ingredients and process to mix completely. Scrape down and rearrange the dough if necessary. The dough should be very soft. Add water a teaspoon at a time if necessary.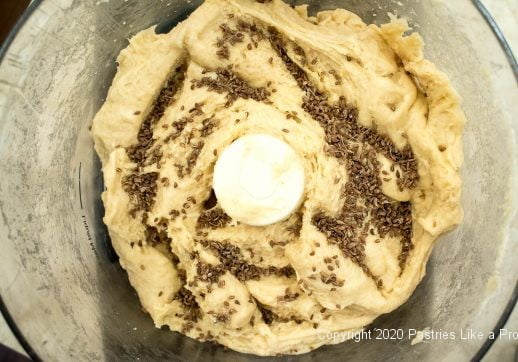 Add the anise seed and pulse several times to distribute.
Last, and the candied orange rind. Pulse briefly to mix. Do not over mix or the rind will be too small.
Weight: About 1095 grams or about 38 ⅜ ounces
Mixer Method
For this method, the butter needs to be just soft, about 72°F. It should not be really soft. Additionally, the orange rind needs to be cut smaller.
Place the preferment in the bowl of a mixer fitted with dough hook. Add the, salt, orange zest, eggs, oil, and water. Mix on low until everything is incorporated.
Combine the flour, sugar, and yeast. Add to the liquid ingredients and mix on low until a soft, smooth dough is formed – abut 3 to 4 minutes.
At this point, add the butter, about 1 tablespoon at a time to the mixer while it is running. Do not add any more butter until the preceding butter is incorporated. Continue adding butter in this manner until it is all in. Add the anise seed and candied orange rind. Mix to distribute them evenly throughout the dough.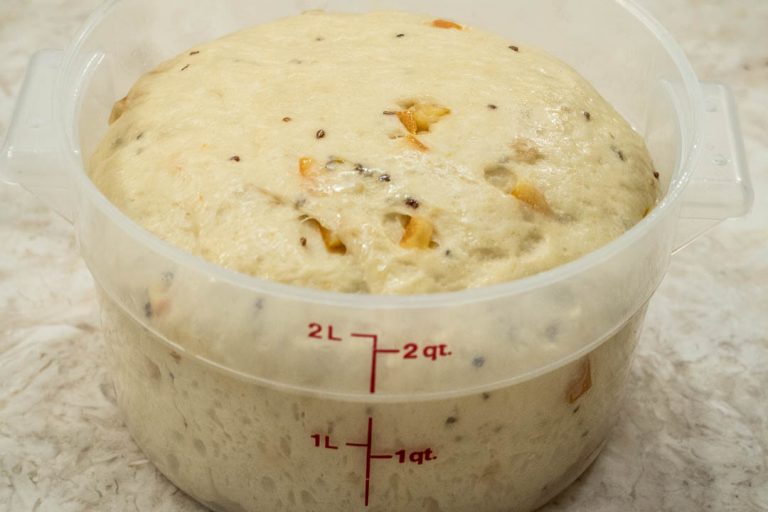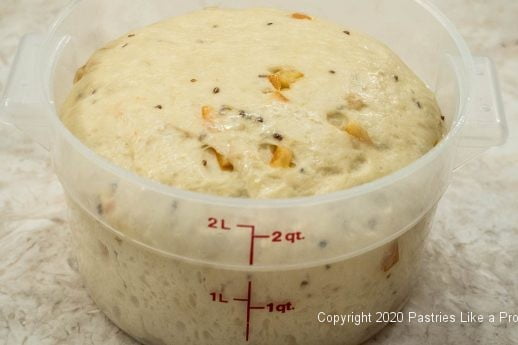 Let the dough rise for 2 to 3hours until light and puffy. Deflate the dough, cover it and refrigerate overnight where it may or may not rise again. It doesn't matter.
Shaping the Gibassier
Line two half-sheet pans with parchment paper.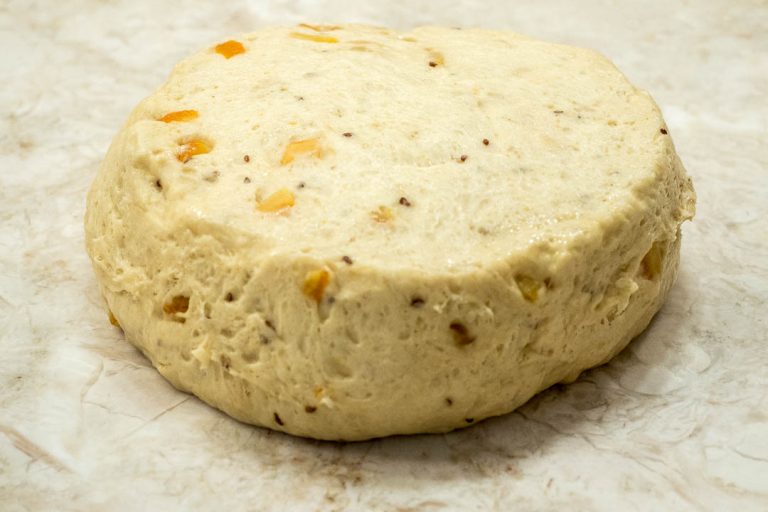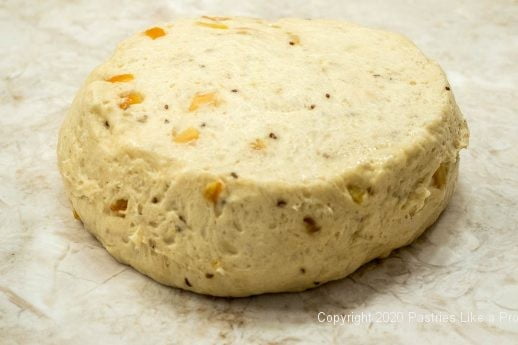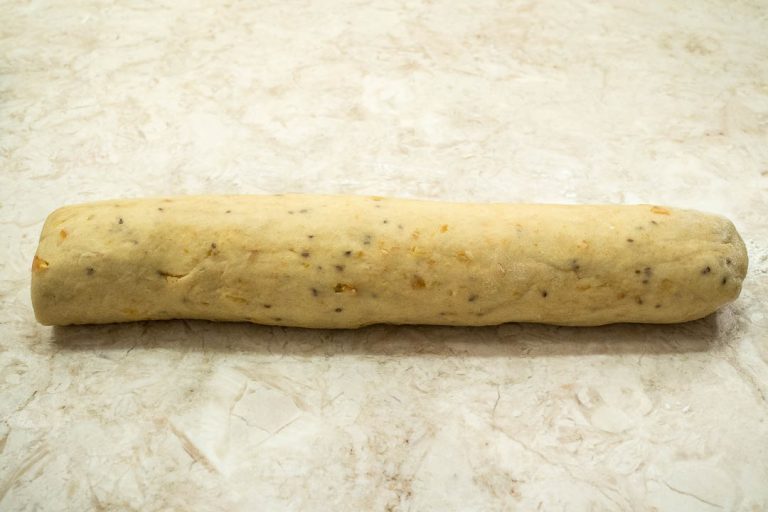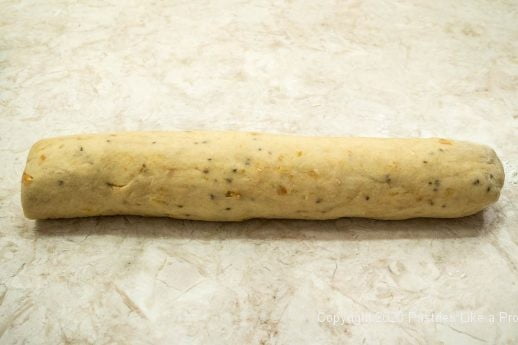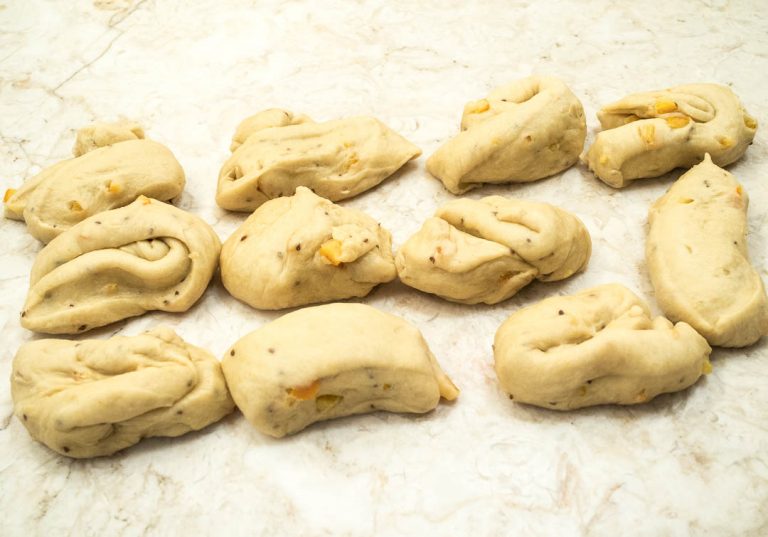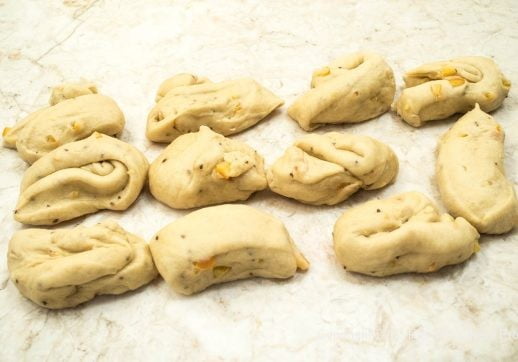 Turn the dough out. Weigh your dough and do the math. Fourteen rolls should be about 78 to 80 grams each. Roll the dough into a 14" log. Divide the dough into 14 pieces by weight. Roll each piece of dough into a ball by pulling all the edges of the dough into the center.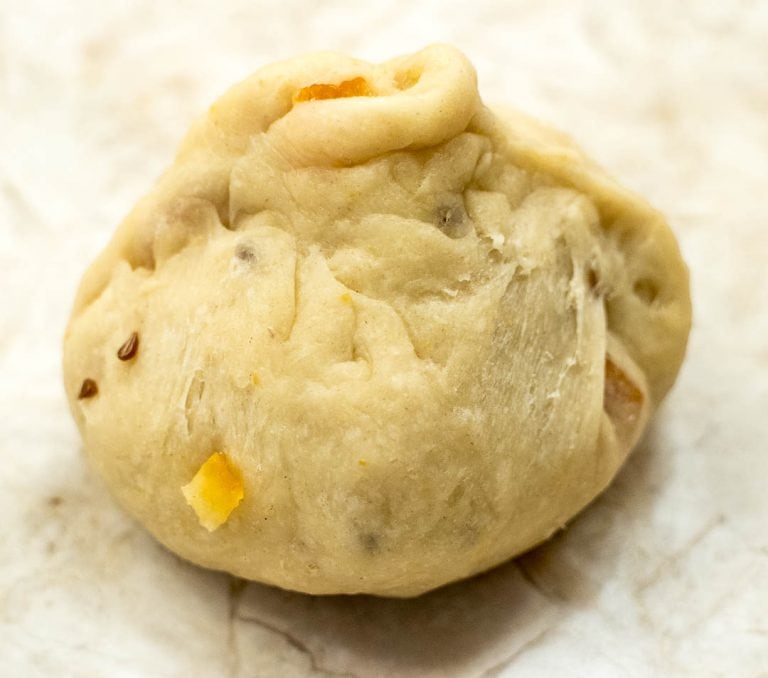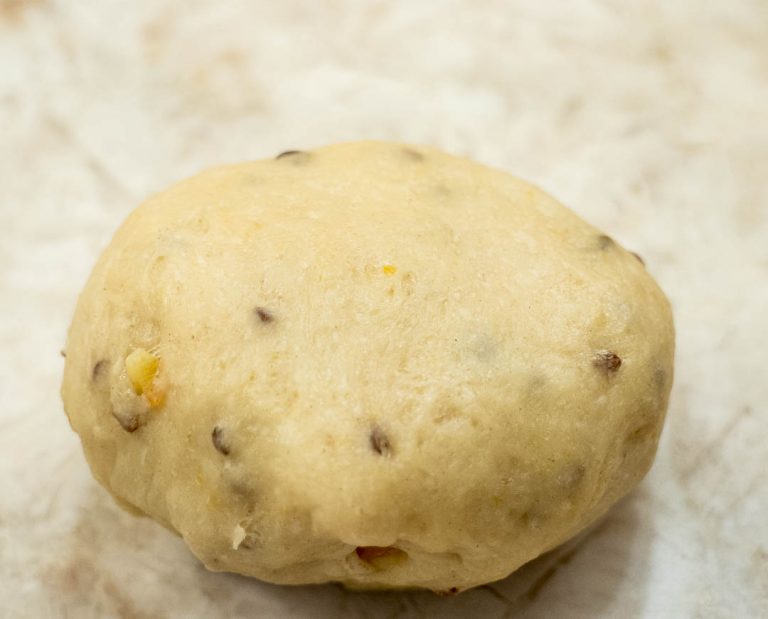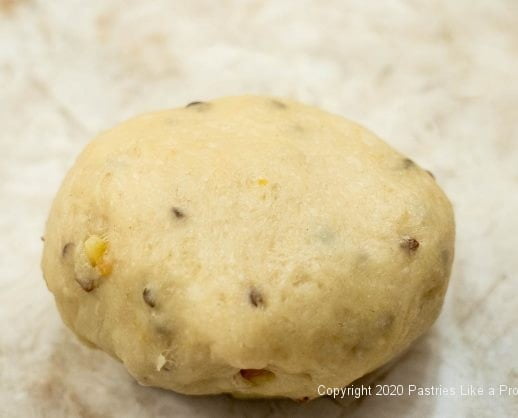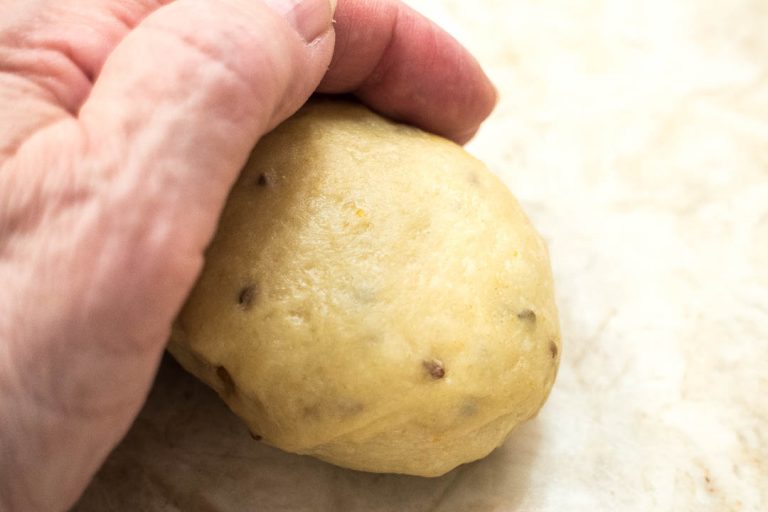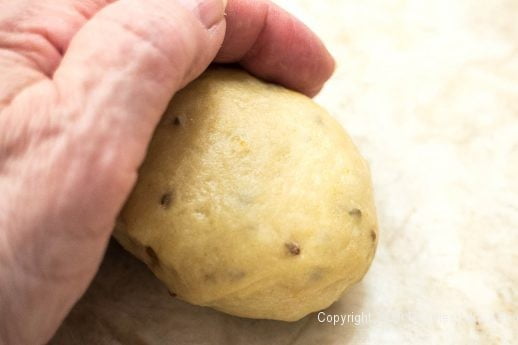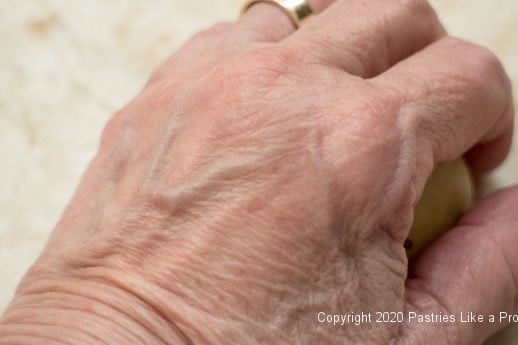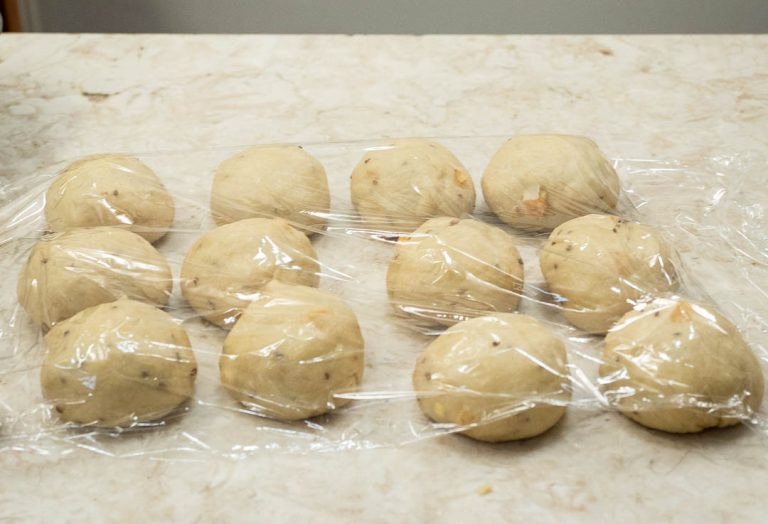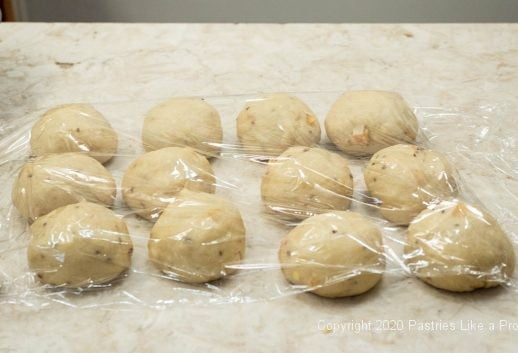 Turn it over and cup your hand over it. Cover the ball completely with your hand and rotate the ball under your hand to form a smooth ball. Apply downward force as you rotate. Shape all the balls, cover, and refrigerate to make it easier to cut them. Take two or three out at a time so they don't soften too much.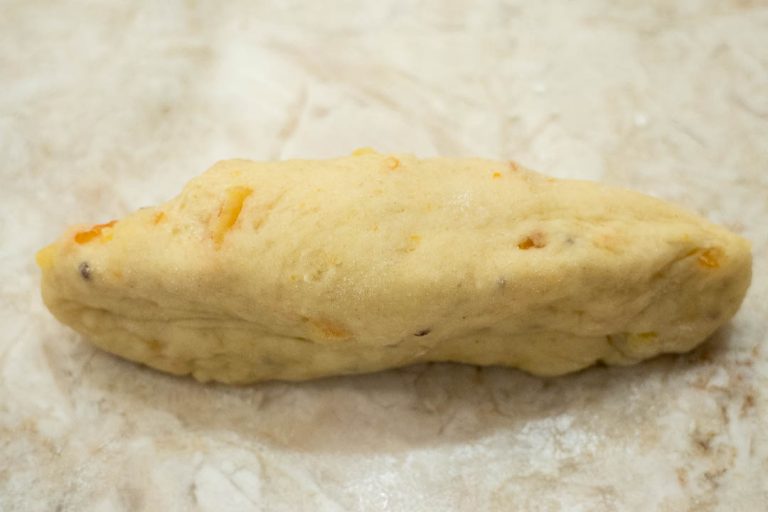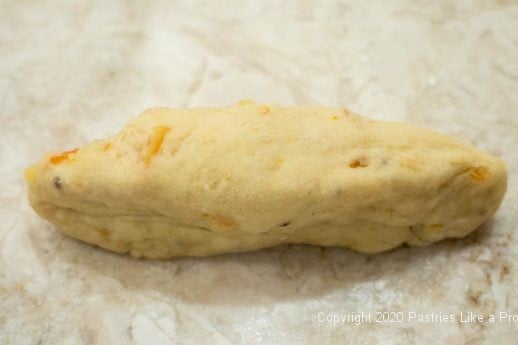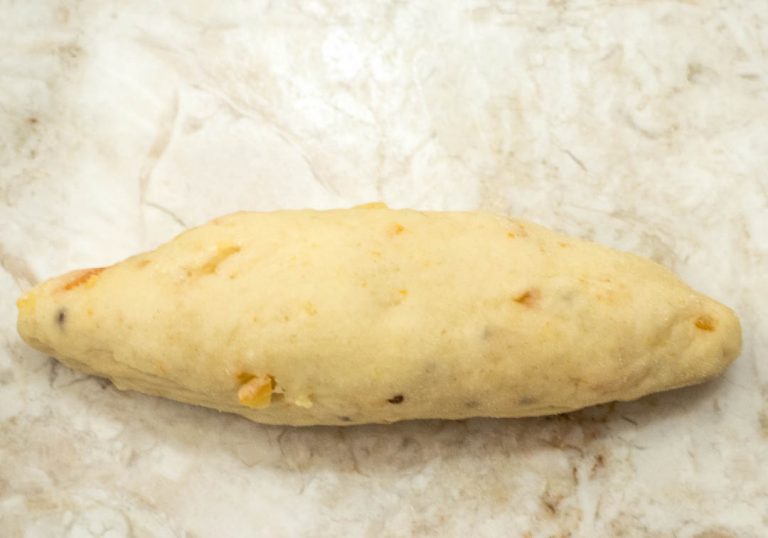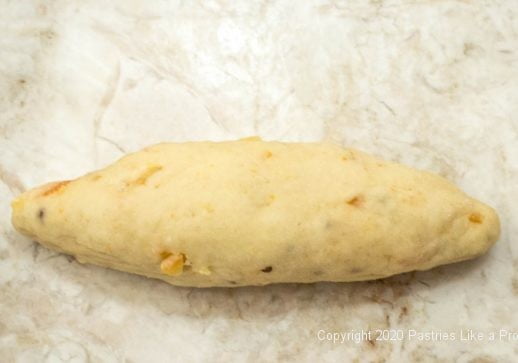 Take a ball and stretch it out with your fingers to make a rough torpedo shape. Roll it under your hands tapering the ends to smooth it to a 4 ½ to 5 " length. You shouldn't need to add flour to the surface because the oil in the dough will keep it from sticking. Having a bit of tension will make it easier to shape the dough.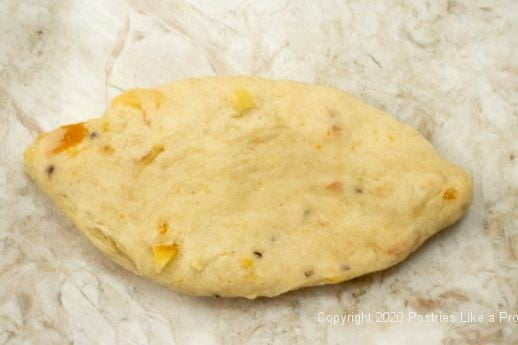 Turn it so the best side is up. With the heel of your hand press the top of the dough upward from the middle. Again from the middle of the dough, with the heel of your hand press the dough downward to form a lemon shape. Flatten the ends to match the center. It shoud be abut 2 ½ " high.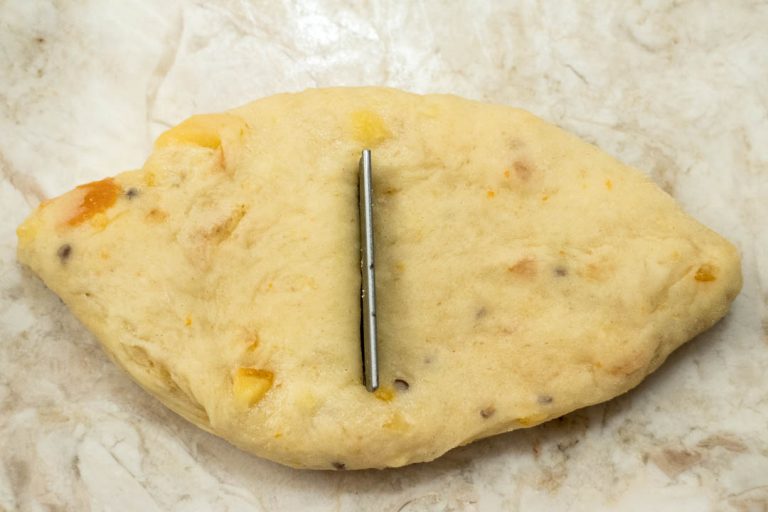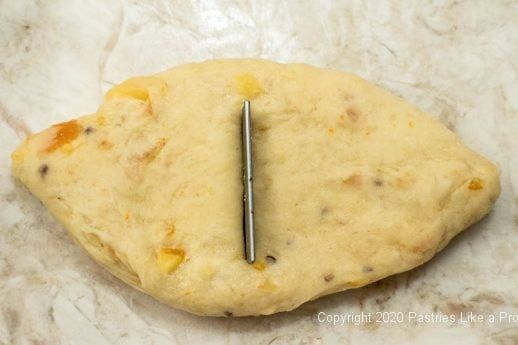 With a single edge razor blade, make a cut in the middle of the dough.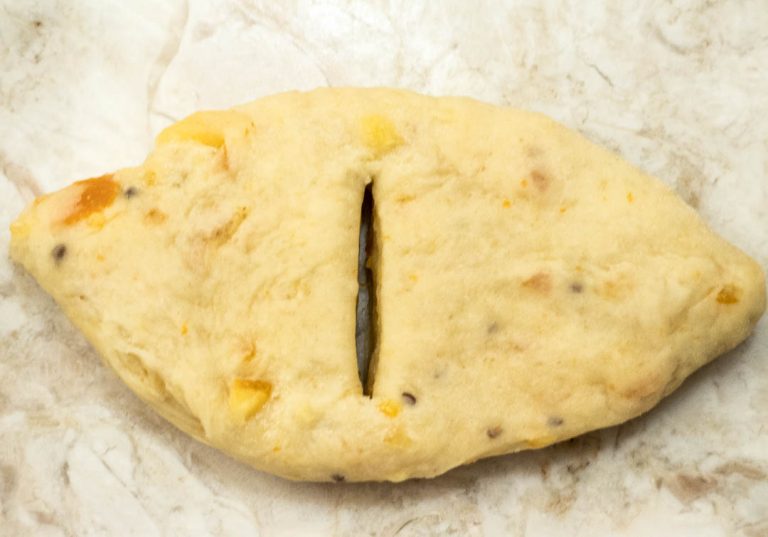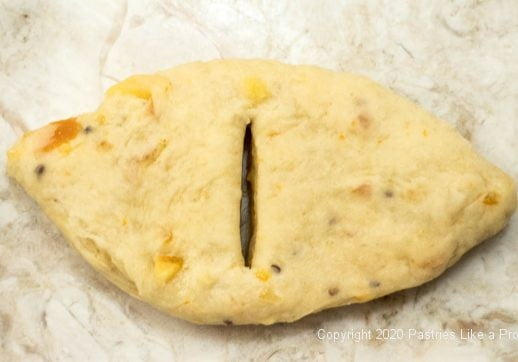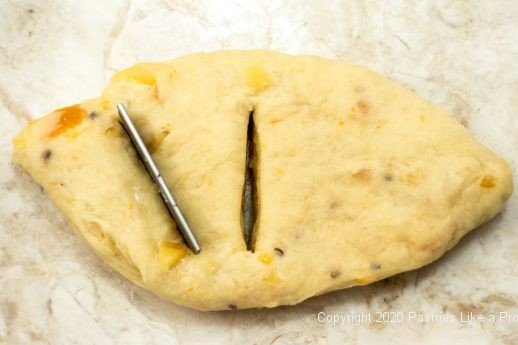 Then one to the left.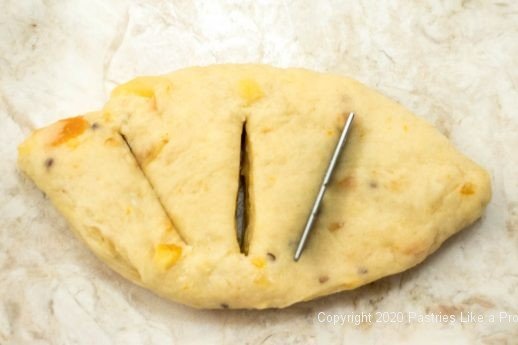 One to the right.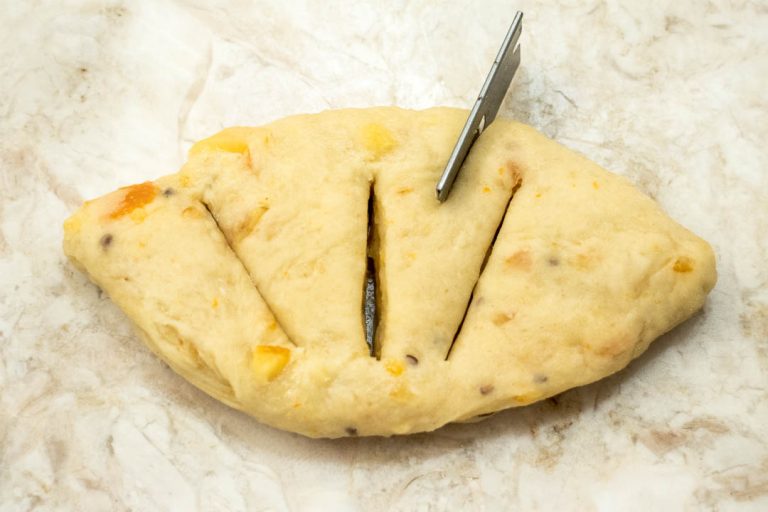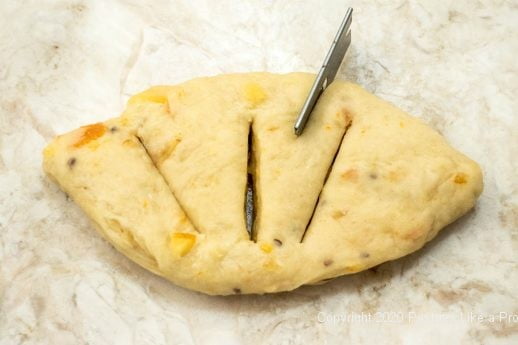 Along the right side of the top of the dough cut in toward the center about ¾" to 1".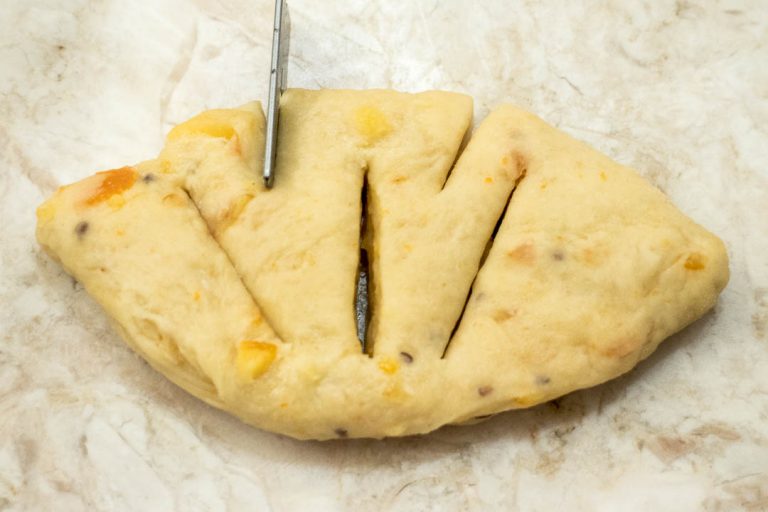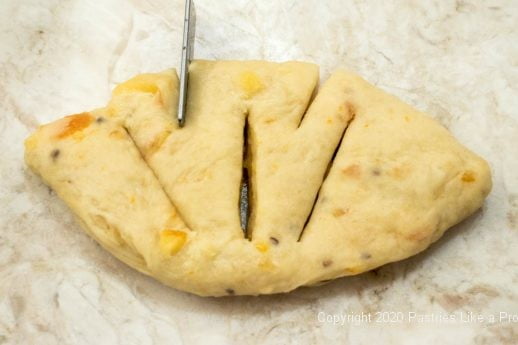 Again on the other side.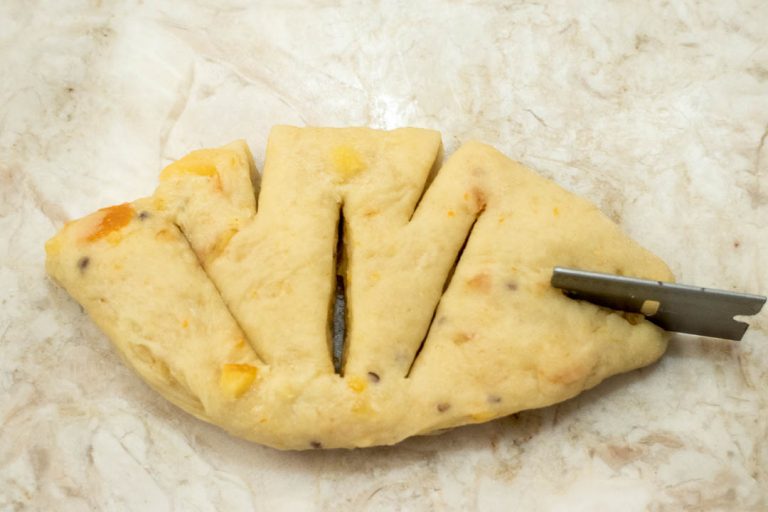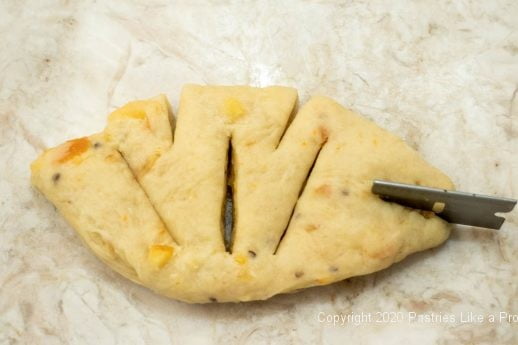 Last cut in the same amount on the right side.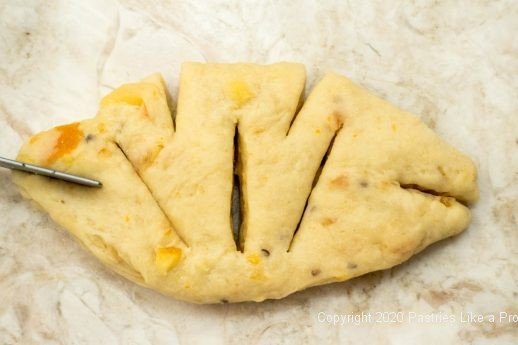 And on the left.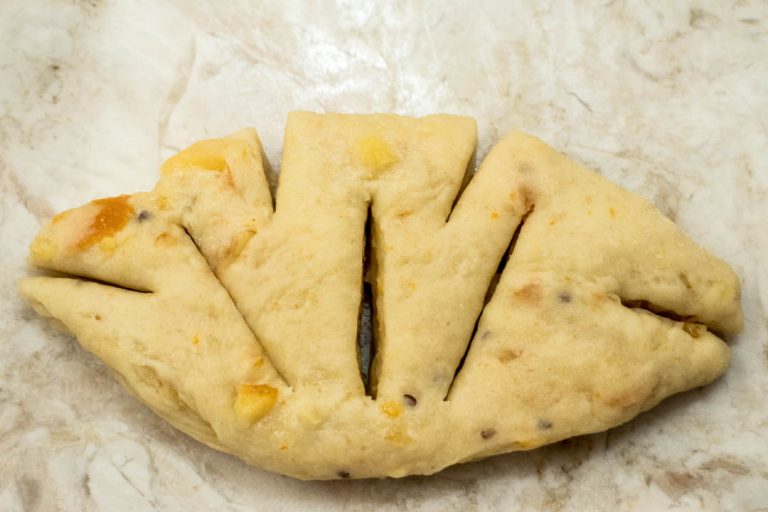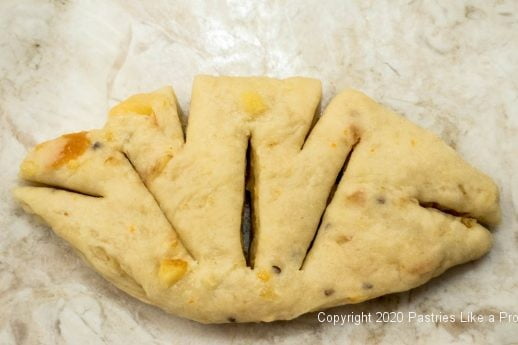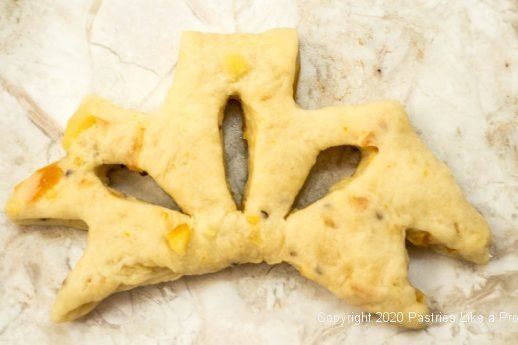 As you pick it up to put it on the sheet pan, stretch it out to enlarge the holes. If you have ever made Fougasse this is the same principle. Place 7 on a tray.
Cover them and allow them to rise for 2 to 2 ½ hours until puffy.
Finishing the Gibassier
Preheat the oven to 350°F.
Traditionally, Gibassier is brushed all over with butter and then covered in granulated sugar after baking. For me, this makes messy eating at best. So I altered that to a sugar finish that goes on before baking stays put afterward.
1 egg, well beaten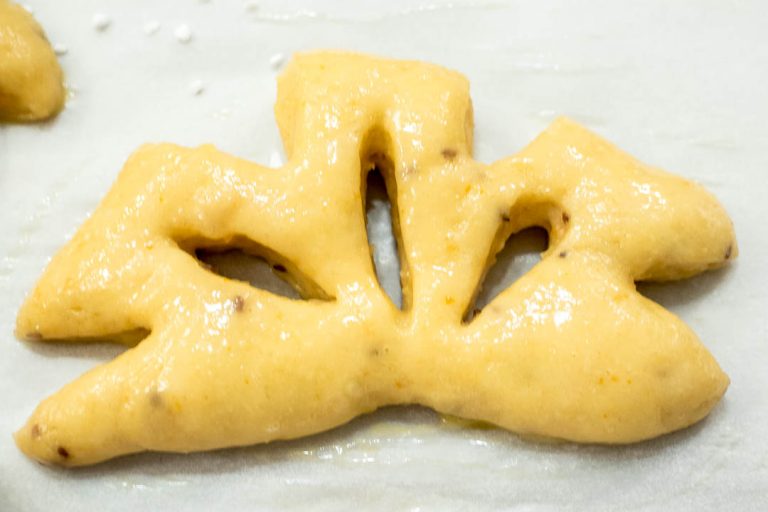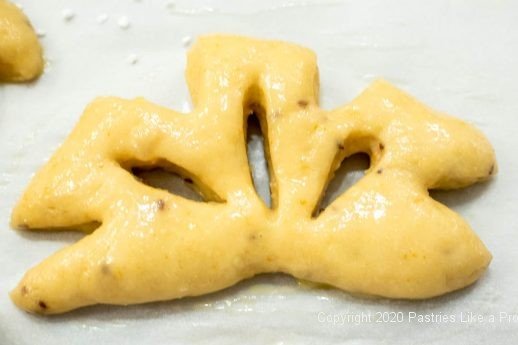 While the oven is heating brush 2 or 3 of the rolls with the egg wash and sprinkle heavily with sanding sugar or pearl sugar.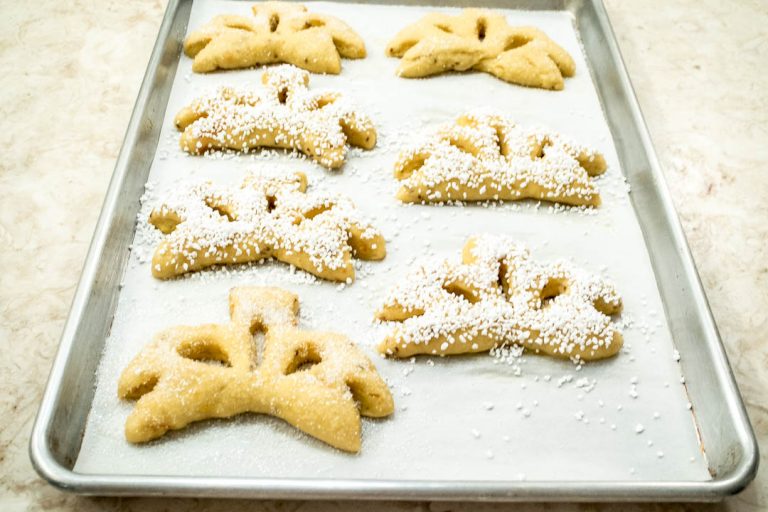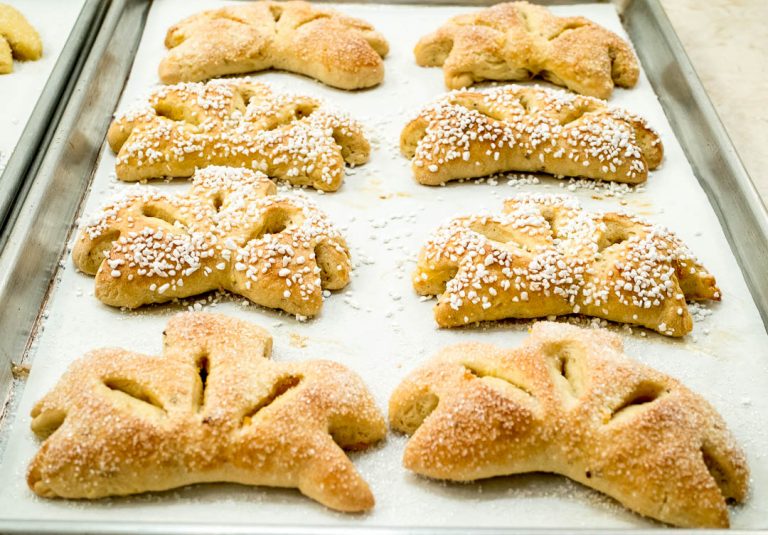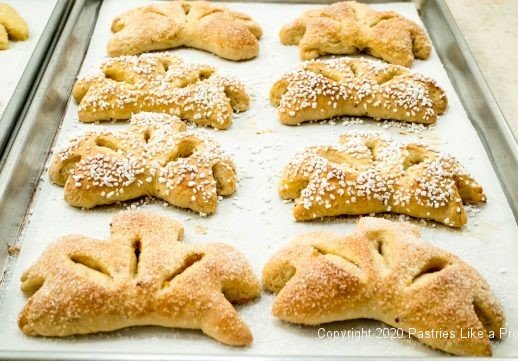 Bake one sheet at a time on the middle rung for 18 to 22 minutes until golden brown and baked through. Watch the bottom of the rolls. If they start over-browning, place another sheet pan underneath the rolls to prevent any more browning.
Serve warm or room temperature.
Yield: 14 Gibassier
Storage: These will keep covered at room temperature for 3 to 4 days