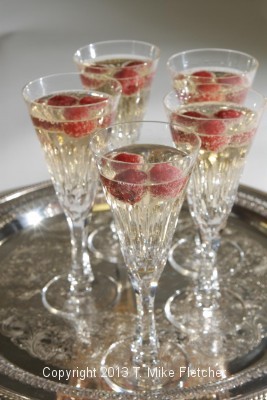 Toast the New Year's celebration with a Peach Melba Royale - a different take on champagne! Fresh raspberries float in a sea of peach schnapps and champagne to bring in the new year in style.
I can scarcely believe we are at the beginning of a New Year! I still remember all the hubbub of turning over a new century in 2000. Fortunately, the pessimists and negative predictions all got lost as we turned from the year 1999 to 2000.
For me the end of one year and the beginning of another is a time of reflections. In the first place I always think I am going to slow down. Then as I think more about it, I realize the years are speeding by more quickly as I get older - or so it seems. I have been blessed with good health or at least the ability to overcome whatever has come up and for that I am most grateful.
In a time when technology has given us access to the world, I am happy for my family whose support has meant everything to me. As my grandsons continue to grow much taller than me (and take great pride in doing do) I cherish the memories of playing hide and seek, baking with them, being with them. I am curious to see where their lives take them.
I am grateful for the continued support so many of you have given me and thank each of you for reading the blogs and for all your comments which mean so much to me.
My wish is that each of us has the best of New Years filled with all that contributes to our happiness and well being. I offer this recipe for a Peach Melba Royale to start it off! Watch for the raspberries turn round and round as they rise to the top of the glass.
Peach Melba Royal
Fresh Raspberries
Peach Schnapps
Champagne, cold
Place 3 or 4 fresh raspberries in the bottom of each champagne flute. Add about 1 tablespoon of Peach Schnapps or more if you like. Top off with cold champagne. Enjoy!!