Harvest Pie came about after my realtor told me about a casserole he made for Thanksgiving called Harvest Casserole. It sounded so good that I couldn't wait to make it into a pie.
This is a pretty straight forward pie except for the sweet potatoes in an otherwise apple pie. At about 2 hours, it is also is the longest baking pie in my repertoire . But it is well worth the time.
The combination of apples and sweet potatoes is unusual but adding brandy and a crumb topping may make this Harvest Pie a new tradition for the holidays.
In grocery stores we often see sweet potatoes and yams as two different categories. However, they are most probably all sweet potatoes. Yams are found in South Africa and have no relation to our sweet potatoes and they are hard to find here. There are over 6500 varieties of sweet potatoes but only a few are found in the grocery stores in the States.
I used Granny Smith apples and Red Garnet Sweet Potatoes for this Harvest Pie. Other apples that will hold their shape when baked and any sweet potato will work.
Pie Crust - see how to photos here
1 ¾ cups sifted cake flour (6 ⅓ ounces or 180 grams)
⅓ cup sifted all purpose flour (scant 1 ½ ounces or 40 grams)
¾ teaspoon salt
6 tablespoons butter, cut into pieces and refrigerated (90 grams or 3 ounces)
3 tablespoons shortening (like Crisco) frozen (45 grams or 1 ½ ounces)
2 tablespoons beaten egg
1 teaspoon lemon juice
5 tablespoons water, chilled and divided
Place both flours and the salt in the processor bowl. Pulse several times to mix.
Place the butter evenly over the flour and pulse until the butter is in large pieces. Add the frozen shortening and continue to pulse until the shortenings are pea sized.
Combine the egg, lemon juice and water. Pour in a circle over the processor contents. Pulse until it forms clumps.
Pour out onto a lightly floured work surface. Push the clumps together into a ball. Knead 4 or 5 times for form a dough. Pat into a circle about 1 inch thick. Wrap in film and refrigerate a minimum of 2 hours or overnight.
When you are ready to make the crust roll it out on a lightly floured surface, roll out to a circle approximately 13 inches. Place in the pie pan and fit into corners. Cut the overhang an even 1 inch all the way around. Tuck the crust under. Make sure when you flute the edges to keep them about 1 inch above the rim of the pie plate. Chill while you make the crumb topping and filling.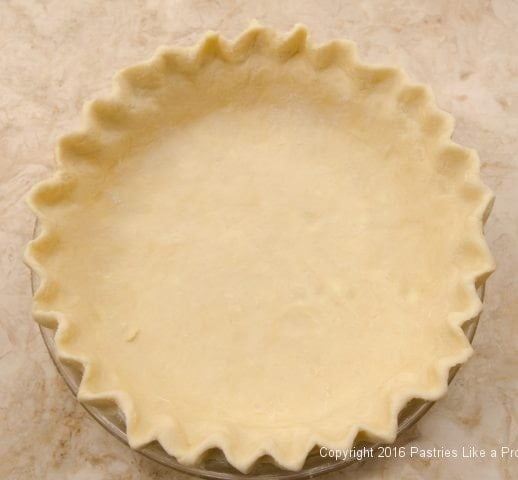 Harvest Pie Crumb Topping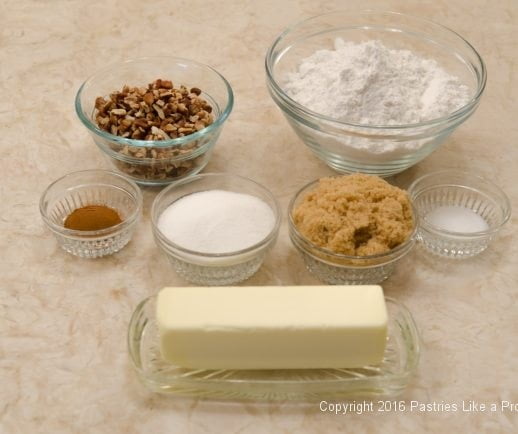 1 sticks unsalted butter, softened (115 grams, 4 ounces or ½ cup)
⅓ cup granulated sugar (65 grams or 2 ¼ ounces)
⅓ cup packed dark-brown sugar (65 grams or 2 ¼ ounces)
¾ teaspoons ground cinnamon
¼ teaspoon salt
1 ½ cups cake flour (not self rising) [185 grams or 6.75 ounces]
½ cups chopped pecans
Combine the butter and both sugars in a mixer.
Cream until very light.
Combine the cinnamon, salt and flour;
Sift to remove the lumps from the cake flour.  
Add all at once along with the pecans
and beat on medium just until large crumbs form. Scrape down the sides and the bottom for unincorporated flour. Mix briefly until large crumbs form.
Do not over mix or you will end up with a really thick cohesive mixture. Store the crumbs in the refrigerator while you make the cake.
Harvest Pie Filling
4 to 5 cups thinly sliced apples, about 3 large apples
4 to 5 cups thinly sliced red garnet sweet potatoes, about 2 large sweet potatoes
½ cup sugar (100 grams or 3 ½ ounces)
½ cup packed brown sugar (100 grams or 3 ½ ounces)
⅓ cup flour (45 grams or 1 ½ ounces)
1 teaspoon cinnamon
¾ teaspoon nutmeg
3 tablespoon brandy
1 tablespoon lemon juice
Zest from one lemon
2 tablespoons butter (45 grams or 1 ½ ounces)
Preheat the oven to 425°F.
Peel, core and thinly slice the apples. Peel and thinly slice the sweet potatoes. There should be about 8 to10 cups.
Combine the sugar, brown sugar, flour, cinnamon and nutmeg  in a small bowl.
Mix together.  
Add to the apples and sweet potatoes and mix well.
Add the brandy, lemon zest and lemon juice, stir to combine. Set aside for 10 to 15 minutes.
Assembly
Prepared pie crust
Harvest Pie Filling
Crumb Topping
Preheat the oven to 425°F.
Place the filling in the pie shell, pouring any juices in the bottom over it.
Dot with butter. 
Place on a parchment lined baking sheet. Cover with the Crumb Topping.
Cover with foil and bake for 60 minutes.
Remove the foil, lower the heat to 350°F and bake for 60 more minutes. Check around 30 to 35 minutes to see if the crumbs are browning too quickly. If they are, cover loosely with foil again and continue baking until the apples and sweet potatoes are soft when checked with a cake tester and the juices are bubbling if they are visable.
Cool to warm to room temperature before serving.
Gilding the lilly: Serve with a scoop of vanilla or better yet, salted caramel ice cream.
For more information and a discussion of the difference between yams and sweet potatoes please see:
https://non www.thekitchn.com/whats-the-difference-between-yams-and-sweet-potatoes-word-of-mouth-211176
https://non www.ncsweetpotatoes.com/sweet-potatoes-101/difference-between-yam-and-sweet-potato/
https://non www.epicurious.com/ingredients/whats-the-difference-between-sweet-potatoes-and-yams-article
https://non www.huffingtonpost.com/2013/11/25/difference-between-sweet-potatoes-and-yams_n_1097840.html