If you're planning a brunch this weekend, this Honey Peanut Coffeecake is a perfect, easy add on. I'm not sure why peanuts are so often overlooked in baking but they seem to be. The only caveat with this recipe is to use unsalted peanuts
This is a coffeecake – it's easy.
Honey Peanut Topping
¼ cup honey
½ cup light brown sugar (100 grams or 3 ½ ounces)
1 tablespoon unsalted butter (15 grams or ½ ounce)
1 tablespoon water
1 ¼ cups peanuts (160 grams or 5 ⅔ ounces)
Preheat the oven to 350°F or 325°F if using glass or a dark pan. Spray a 9x9 inch pan well. Set aside.
Combine the honey, brown sugar, butter, and water in a saucepan. Bring to a hard boil. Remove from the heat and stir in the peanuts. Pour it into the bottom of the prepared pan and set it aside.

Honey Peanut Coffeecake Batter
1 ⅔ cups cake flour* (180 grams or 6 ⅓ ounces)
1 ½ teaspoon baking powder
½ teaspoon baking soda
½ teaspoon salt
½ cup unsalted butter, room temperature (114 grams or 4 ounces)
1 cup granulated sugar (200 grams or 7 ounces)
2 eggs
1 teaspoon vanilla
½ cup sour cream (114 grams or 4 ounces)
*1 ⅓ cups all purpose flour can be substituted. (185 grams or 6 ½ ounces) The texture of the cake will be a bit denser but it will be fine.
Whisk together the flour, baking powder, baking soda, and salt. Set aside,
Cream the butter and the sugar until light. Add the eggs and vanilla, scraping often and beating on medium high. The mixture will probably curdle. That is fine.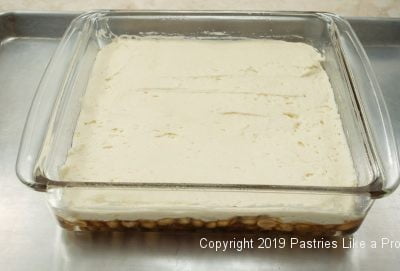 Add half the flour and beat on low until completely blended. Mix in all of the sour cream. Add the remainder of the flour and beat well, scraping often. The batter will be very thick.Spread over the peanut topping. Place on a tray to slow the heat to the bottom of the pan so the topping doesn't become too dark.
Bake for 35 to 40 minutes until the cake is baked.
Immediately transfer to a cooling rack. Let the Honey Peanut Coffeecake cool for about 15 minutes. Turn it out so the bottom becomes the top.
Cool completely. This can be made the day ahead, cooled and wrapped in plastic wrap.
Yield: 9 servings or however many you want to cut it into.
Other coffeecakes you might enjoy are:
Pina Colada Coffeecake
Very Easy Blueberry Coffeecake
Chocolate Spiced Coffee Cake
New York Crumb Cake