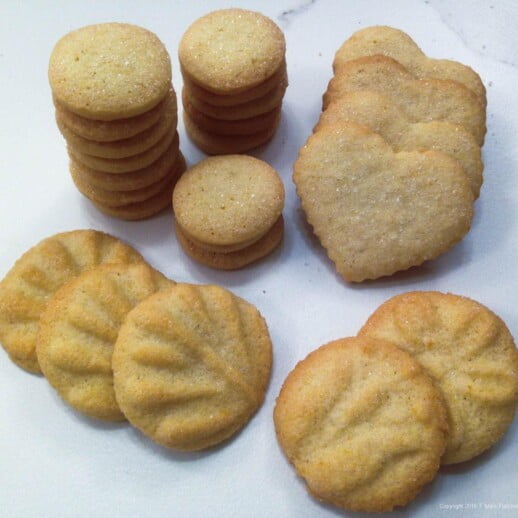 Very Lemon Butter Crisps are all they promise. Lemon cookies are often rather bland. Many are flavored with lemon juice, but a couple of tablespoons will not flavor a cookie with flour and butter. Lemon zest goes a long way to help if enough is used but by adding lemon extract you get a really full flavored cookie.
I found there is a difference between the strengths of lemon extracts. I made the cookies with Spice Island Pure Lemon Extract and Penzy's Pure Lemon Extract. Penny's had a deeper flavor which I prefer for these cookies.
The dough for the Very Lemon Butter Crisps dough can be used for stamped cookies, rolled into a log and sliced or rolled out for cut out cookies. They are topped with sanding sugar which can be found in kitchen supply stores, grocery stores and on the net. It won't melt when baked as regular sugar will. These are a crisp, but sturdy cookie ideal for shipping and sharing.
There are a number of places to get cookie stamps and they can be ceramic, wood, plastic, almost anything. At the end of the recipe I list a several places to get them.
My stamps were gotten probably 50 years ago at a craft fair. I love them because they are hand made and came in a little blue printed bag. These were bought when cookie stamps were rare. Today they seem to be the newest items in cookies. Mine work best if the dough is chilled to keep it from sticking to the cutter. To help prevent this, even if the dough is chilled, I dip them into sanding sugar before stamping the cookie.
They came in a little bag for storage.
However you make these Very Lemon Butter Crisps, they insure a burst of lemon in every bite.
Last but not least, these store in an airtight container almost forever. AND the flavor improves as you keep them. So think in terms of the holidays, when you don't have time to make cookies for yourself or for gifts. These can be made 6 weeks ahead and stored making cookies for yourself or for giving on a moments notice.
Very Lemon Butter Crisps
3 cups all purpose flour (420 grams or 15 ounces)
1 teaspoon baking powder
¼ teaspoon salt
1 cup butter, softened (225 grams or 8 ounces)
1 cup sugar (200 grams or 7 ounces)
2 eggs
1 tablespoon lemon zest
1 ½ teaspoon lemon extract
Sanding sugar as needed
Preheat the oven to 350°F. Line baking sheets with parchment. Double pan them and set aside.
Whisk together the flour, baking powder and salt. Set aside
Cream the butter and sugar until light. Add the eggs, one at a time, beating until completely combined.
Add the lemon zest and lemon extract.
Add the flour and mix until combined. Use as directed below,
For Stamped Cookies:
The dough balls must be cold for the stamp to work well. Scoop balls of dough with a #70 disher. Roll the scoops into balls and roll the balls in sanding sugar. Press the stamp into sugar and then flatten the balls with the cookie stamp. Carefully, remove the cookie by peeling it off the stamp.
Double Pan and bake 16 to 18 minutes the cookies are a medium golden brown.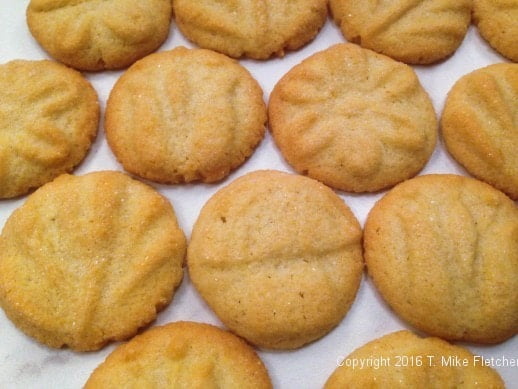 Yield: About 60 two inch cookies.
Cut Out Cookies: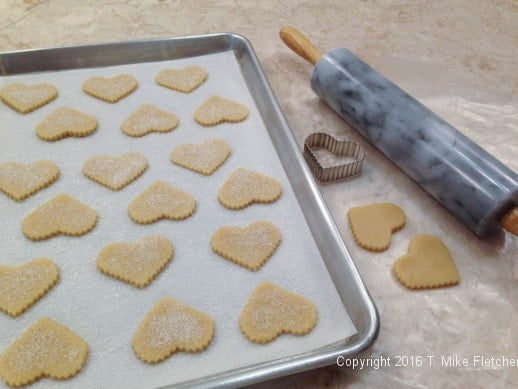 Divide the cold dough into 4 pieces. Keep the other pieces refrigerated and working with one piece at a time, place it between sheets of waxed paper and roll to about ¼ inch thick. Cut out cookies as desired.
Refrigerate or better yet freeze the cookies until hard. The cookies can easily be lifted off with a spatula. The edges will be clean and sharp.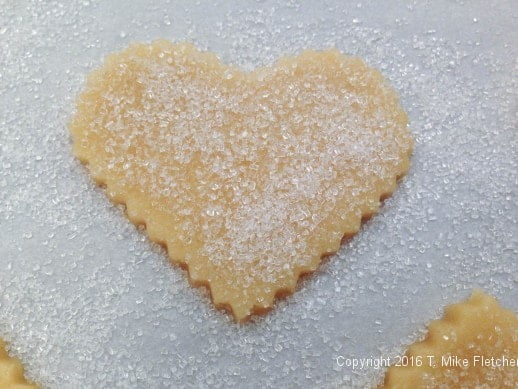 Top with sanding sugar.
Double Pan and bake 16 to 18 minutes the cookies are a medium golden brown.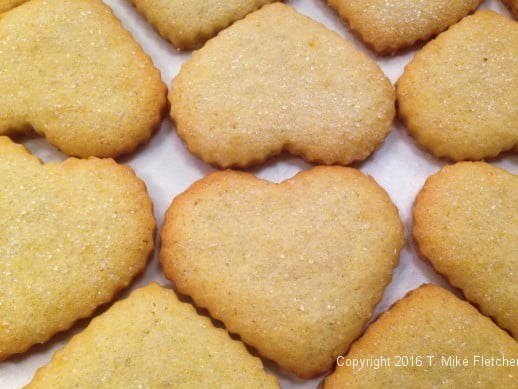 Yield: Depends upon the size of the cookie cutter.
Roll Cookies: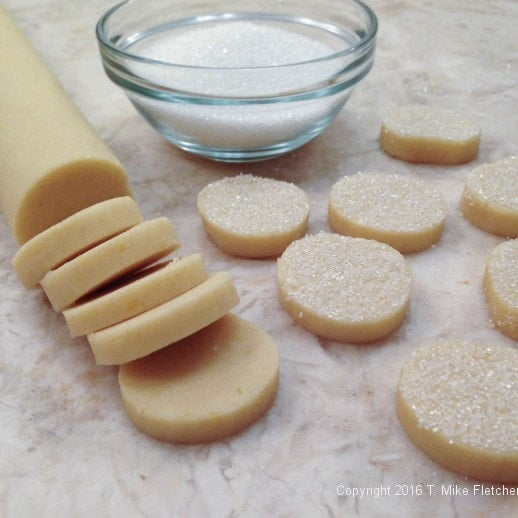 Roll the dough into several logs about 1 ½ inches in diameter. Chill until firm.
Slice about ¼ inch thick, dip tops into sanding sugar.
Double Pan and bake 16 to 18 minutes the cookies are a medium golden brown.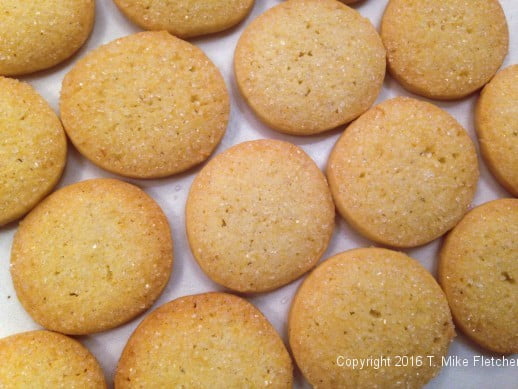 Yield: About 60 cookies
Some places you can find cookie stamps:
Cookie Stamps
https://www.crateandbarrel.com/search?query=Cookie%20stamp
https://www.amazon.com/JBK-Pottery-Cookie-Stamp-Set/dp/B000E6Q22K/ref=sr_1_1?ie=UTF8&qid=1459692108&sr=8-1&keywords=wilton+cookie+stamps - several kinds
Google cookie stamps for a huge variety of stamps listed by the kind of material you want them made of. Click on the photos stamped cookies.
https://www.kingarthurflour.com/shop/items/geometric-cookie-stamps
https://www.cookiestamp.com/page/397361890 12 stamps mounted on a wall hanging board
https://www.surlatable.com/product/PRO-1365386/Nordic+Ware+Heirloom+Cookie+Stamps+Set+of+3