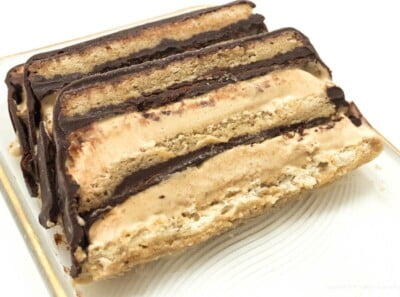 Ice Cream Cake runs the gamut from basic to elegant. My love for L'Opera with its combination of coffee and chocolate is well known and now I have added another dimension to this favorite flavor combination by replacing the coffee buttercream with coffee ice cream.
Layers of coffee liqueur soaked almond sponge cake, chocolate ganache, and coffee ice cream are the component parts of this exquisite ice cream cake. It definitely conjures up thoughts of something special and it won't disappoint. While this may look formidable, every part is made ahead and can be done at different times so it is very doable.
Although I used homemade no-churn ice cream, this could also be made with a bought coffee ice cream if you want to skip that step. I will say the no-churn version is the creamiest, best coffee ice cream I have ever eaten. But it comes with a caveat. It softens quickly. However, you shouldn't have a problem if you just cut it and serve it. Everything in the recipe can and should be made ahead for easy assembly.
The completed ice cream cake can be frozen for a month well wrapped after it is completely frozen. There is some waiting time between layers as each one needs to be frozen before proceeding to the next. However, since the next step only takes a matter of minutes it's not a big deal at all.
To easily remove the ice cream cake from the loaf pan, I lined it with plastic wrap. However, it wrinkles like mad on the sides and I'm not sure I would do it that way again. I think I might just assemble it in the loaf pan without the plastic wrap and then release it by warming the outside of the pan very briefly with a hair blower and slide it out. The sides would definitely be better looking but anyway you do it is fine. The important thing is the taste will be there.
While I use instant coffee, espresso can be used but cut it at least in half since it is so much stronger.
Ice Cream Cakes are wonderful, combining the best of both worlds. My L'Opera Ice Cream Cake is, in my humble opinion (which I guess doesn't sound very humble) the best.
Almond Sponge for L'Opera Ice Cream Cake
This can be made a month ahead and frozen if desired. In any case, it should be frozen for easiest assembly. It is also referred to as Jaconde.
4 eggs
1 cup almond flour (100 grams or 3 ½ ounces)
⅔ cup sugar (135 grams or 4 ⅔ ounces)
⅓ cup flour (45 grams or 1 ½ ounces)
4 egg whites (128 grams or 4 ½ ounces)
2 tablespoons sugar (25 grams or scan 1 ounce)
Preheat the oven to 350°F. Spray a half sheet pan lightly with a baking release. Line with parchment paper and spray the paper. Set aside.
Fit a mixer with the whisk attachment. Beat the whole eggs, almond flour, and sugar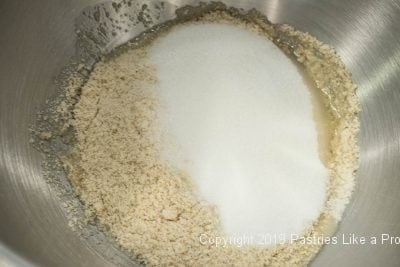 until very light and almost white. Fold the flour in lightly. This is easiest done with a whisk.
In a clean bowl with a clean whisk attachment, beat the whites until soft peaks form. Add the sugar a little at a time and beat until stiff but pliable. Pour the egg mixture over the whites and fold in being careful not to knock the air out of the whites.
Pour into the prepared sheet pan, spread out evenly and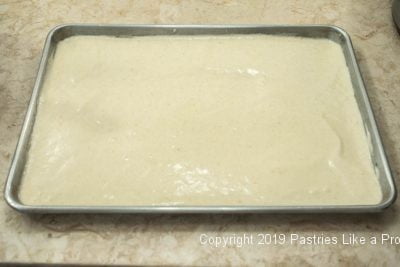 bake for 12 to 14 minutes. It will be lightly colored and firm. Do not underbake. Cool completely and freeze.
Coffee Soaking Syrup
Using the ingredients below, go here for how-to pictures.
⅓ cup water
½ cup sugar (100 grams or 3 ½ ounces)
1 teaspoon instant coffee
2 tablespoons coffee-flavored liqueur*
*If you don't want to use the liqueur, increase the coffee to 2 teaspoons and use 2 tablespoons water.
Combine the water and sugar in a small pan. Bring to a boil and boil hard for 3 to 5 minutes until reduced to about ⅔ of a cup. Dissolve the coffee in the liqueur or water and add to the sugar syrup. Cool completely, store in a container and refrigerate up to a week ahead.
Yield: ¾ cup
No-Churn Coffee Ice Cream
This ice cream takes a while to set up so start at least a day ahead of assembly or up to a month ahead. It will soften faster than store-bought ice cream which may also be used. However, the flavor is, by far, the best.
2 tablespoons instant coffee
2 teaspoons vanilla
1 – 14 ounce can condensed milk
1 ½ cups heavy cream
Dissolve the instant coffee in the vanilla.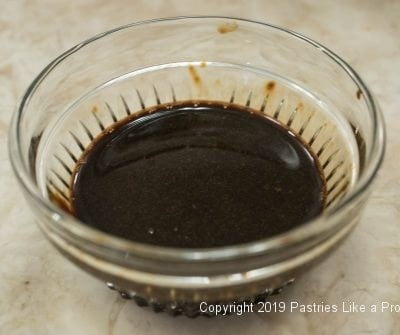 Pour the condensed milk into a medium-size bowl and stir in the coffee mixture.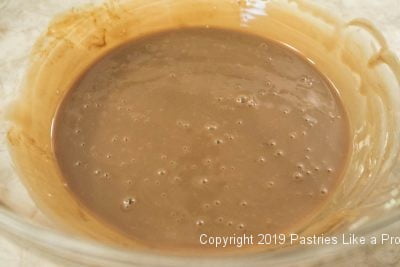 Whip the cream until stiff but still pliable. Pour the milk mixture over the cream and fold in.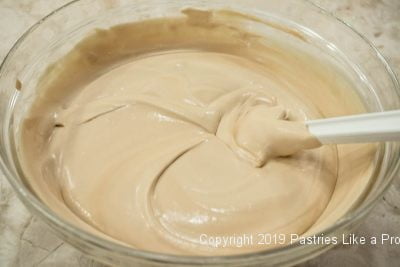 Divide into two bowls (about 1 ½ cups each) if possible and place in the freezer overnight. This makes it much easier to assemble.
Dark Satin Ganache
Go here for how-to photos.
½ cup heavy cream
¼ cup corn syrup (70 grams or 2 ½ ounces)
5 tablespoons butter (75 grams or 2 ½ ounces)
10 ounces semisweet chocolate (285 grams)
Combine the cream, corn syrup, and butter in a small pan. Heat until the butter is melted and the mixture is hot but not boiling. Remove from the heat and submerge the chocolate in the mixture.
Let sit for a few minutes and then gently whisk to combine until smooth.
Pour into a container and refrigerate up to 10 days before assembly.
Assembly of L'Opera Ice Cream Cake
Almond Sponge, frozen
Coffee Soaking Syrup
Coffee Ice Cream, one bowl softened so it is spreadable
Dark Satin Ganache, warmed so it is spreadable
Line a 9x5 loaf pan with plastic wrap allowing it to overhang the short side
or leave it unlined for a smoother finish.
Cut three 9x5 inch rectangles from the frozen almond sponge as shown below.
Cut the pieces into the sizes shown below. It is easier to do this if the rectangles are kept frozen so work with one piece at a time.
Return them to the freezer when cut.
Bottom layer – cut 4 x8 ¼ inches
Middle layer – cut 4 ½ x 8 ½ inches
Top Layer cut 5 x 8 ¾ inches
Place the bottom layer of sponge in the 9x5 inch loaf pan. Brush ¼ cup coffee soaking syrup evenly over the cake layer.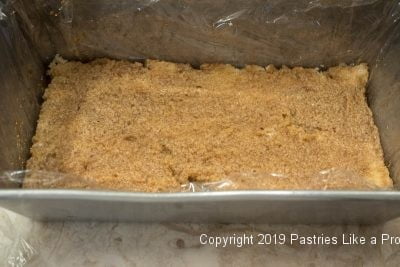 Spread with ½ cup ganache.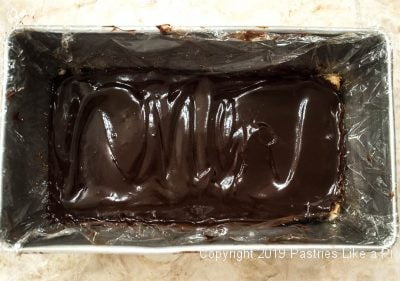 Freeze for a few minutes until the chocolate is firm.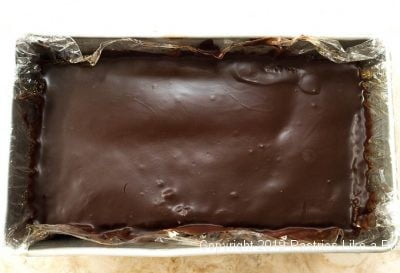 Spread half of the ice cream evenly over the ganache.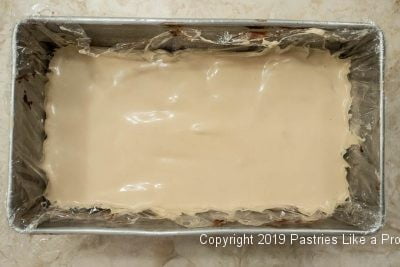 Place in the freezer and freeze until firm. If you use the no-churn ice cream, it will take several hours.
When the bottom assembly is hard, repeat with the middle layer of the sponge, soaking syrup and ganache. Freeze again. Spread the remaining ice cream over the ganache and let it freeze until hard.
Top with the top layer of sponge and soaking syrup. Freeze overnight.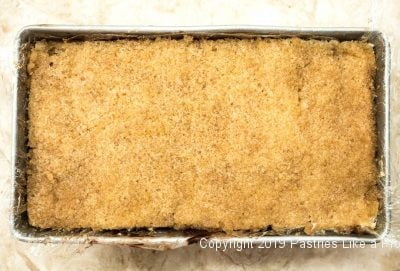 Return the remaining ganache to the refrigerator.
When ready to finish, release the L'Opera Ice Cream Cake from the pan by lifting it out of the pan with the overhanging plastic wrap. Or, if not using the plastic wrap, turn it upside down on a cake board or a flat dish and heat the outside very briefly with a hair blower. Remove the pan. In either case, the ice cream cake should be upside down.
Place it back in the freezer while you warm the ganache.
Pour the ganache down the middle of the cake and spread it out, going side to side with an offset spatula allowing the excess to run down the sides.
Place in the freezer until serving.
Cut with a hot dry knife into ½ to ¾ inch pieces.
Serves 12 to 14.
Other blogs you might enjoy include:
L'Opera Petit Fours
Caramel Brickle No-Churn ice Cream
No-Churn Nutella Ice Cream