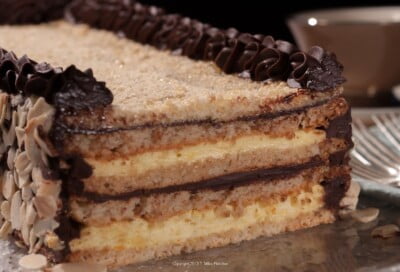 Ahhh, Marjolaine (pronounced mar zjoh lenn). This naturally flourless cake is perfect to celebrate graduations, wedding rehearsals or showers and is a knock out for birthdays.
Fernand Point, was a French restaurateur and is considered to be the father of modern French cuisine according to Wikipedia and other sources. At his three Michelin star restaurant, La Pyramide, he trained many of Frances most influential chefs including Paul Bocuse, Alain Chapel, Louis Outhier, Georges Perrier and Jean and Pierre, the Brothers Troisgros.
One of his signature dishes was the Marjolaine and it seems it took him years to perfect. A combination of nutted meringues, pastry cream, and a hint of chocolate. As with any classic, there are a number of variations some of which include cake layers and German Buttercream. I used a lightened version of pastry cream and a sour cream ganache instead of making creme fraiche. While the original recipe added the almond praline to one of the pastry creams, I used it to finish off the top where it adds a pleasant crunch and doesn't get lost.
Although a Marjolaine initially can be intimidating, almost all of the components can be made ahead of time. The praline can be made at least a week in advance. The pastry cream can be made days in advance and the nutted meringue must be made at least a day ahead but can be made a week ahead of time. In order for the nutted meringue layers of the Marjolaine to soften, it should be assembled a day ahead of time. Most recipes I have seen give a one to three days in advance assembly but I find the meringues get too soft if assembled more than a day ahead.
The meringues become very brittle as they cool and continue to dry. No matter how well the layers are piped, they need to be trimmed. I was hesitant to do this as in the past they have shattered so badly they couldn't be put back together. However, I found that by using a serrated knife with a sawing motion and applying almost no pressure, they can be trimmed perfectly. I trimmed one to a 13 x 4 ½ rectangle then placed it on top of a second one. I used it as a guide, trimming the lower one to match. Do not stack them more than two at a time. If a layer does crack, use it on the second or third layer when assembling. You will see below that I did indeed crack a layer and reformed it.
This Marjolaine is one of the most elegant desserts to be found and is, indeed a special occasion dessert. Don't let its many parts dissuade you from making this classic pastry. Every step is illustrated to make this easier.
Almond Praline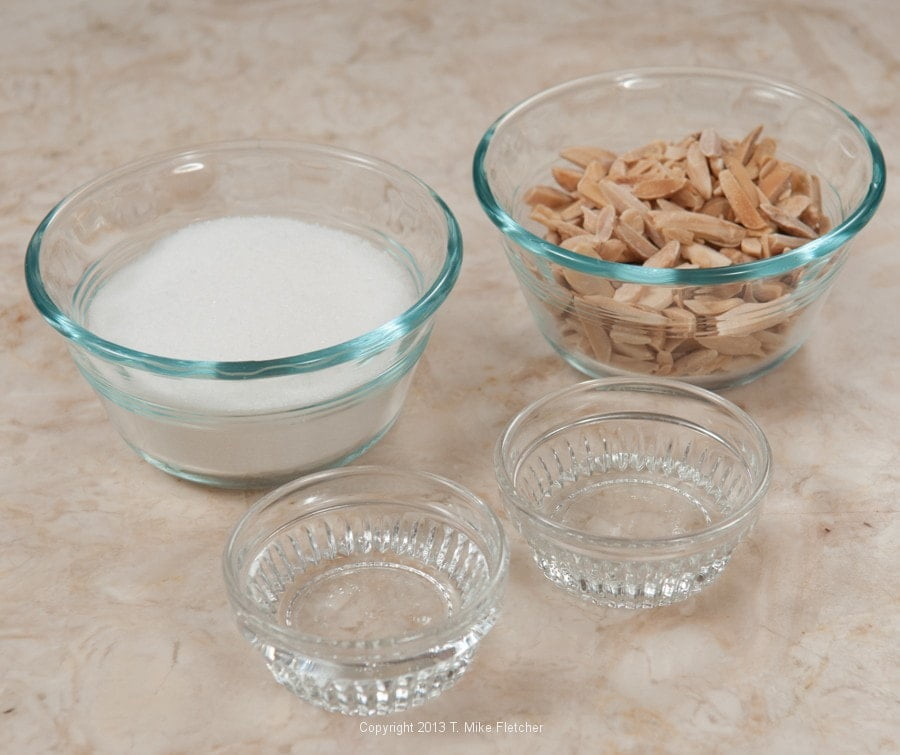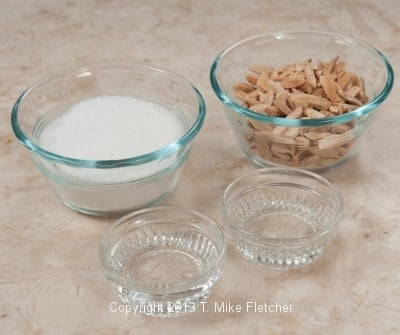 2 tablespoons water
1 tablespoon light corn syrup.
½ cup granulated sugar (100 grams or 3 ½ ounces)
½ cup whole or slivered blanched almonds (58 grams or 2 ounces)
Preheat the oven to 350 degrees. Toast the almonds 8 to 10 minutes until fragrant and just colored. Cool completely. Oil a jelly roll pan or line a half sheet pan with silpat and set aside.
Spray the back of an offset spatula and set next to the prepared pan.
In a small, heavy saucepan, add the water, corn syrup and sugar.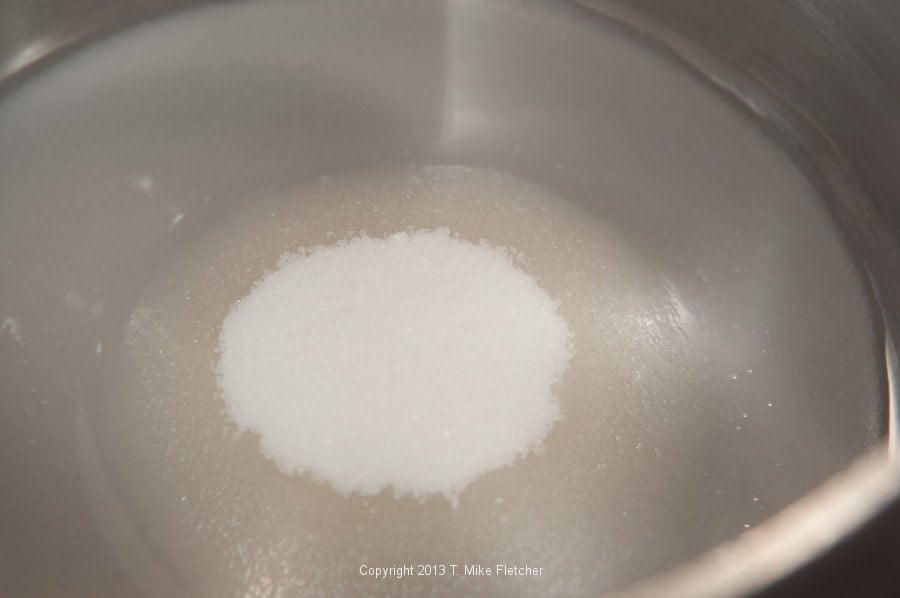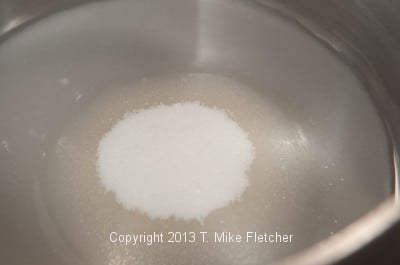 Bring to a boil and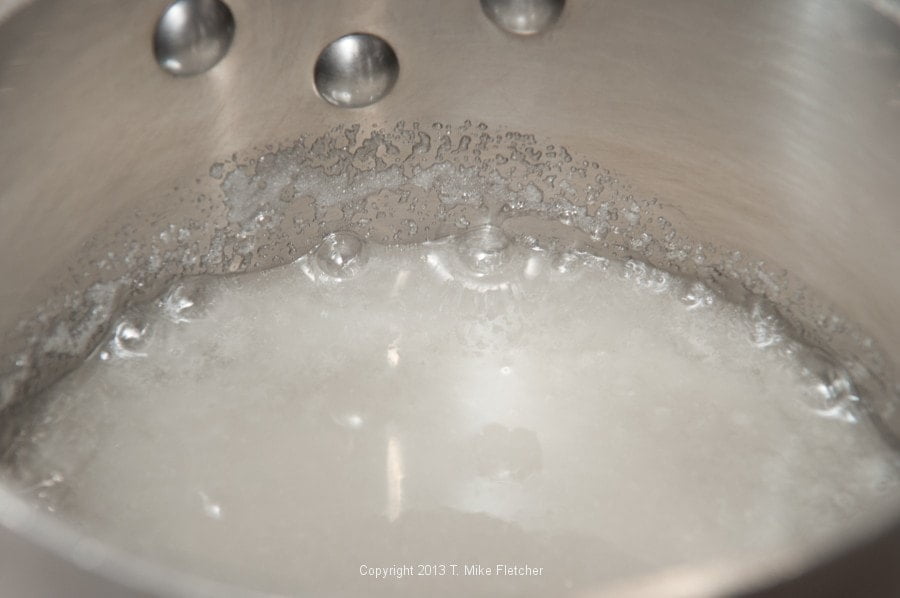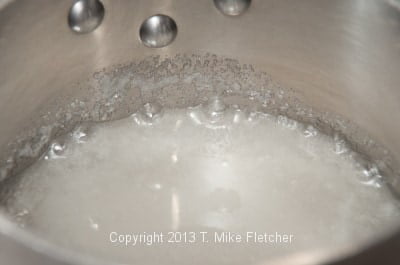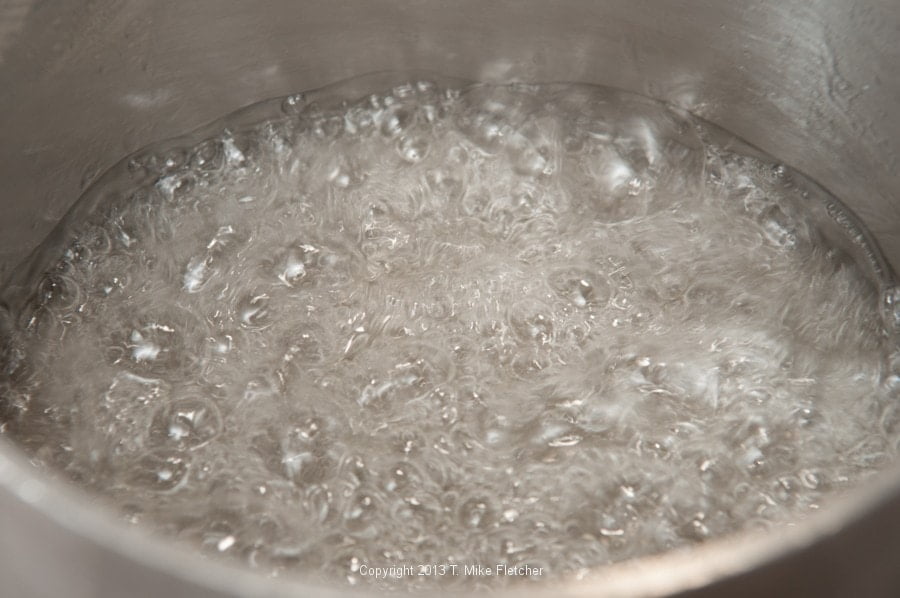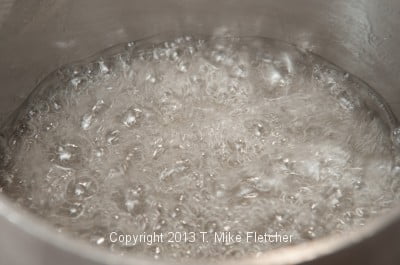 wash the sides down with a brush dipped in cold water.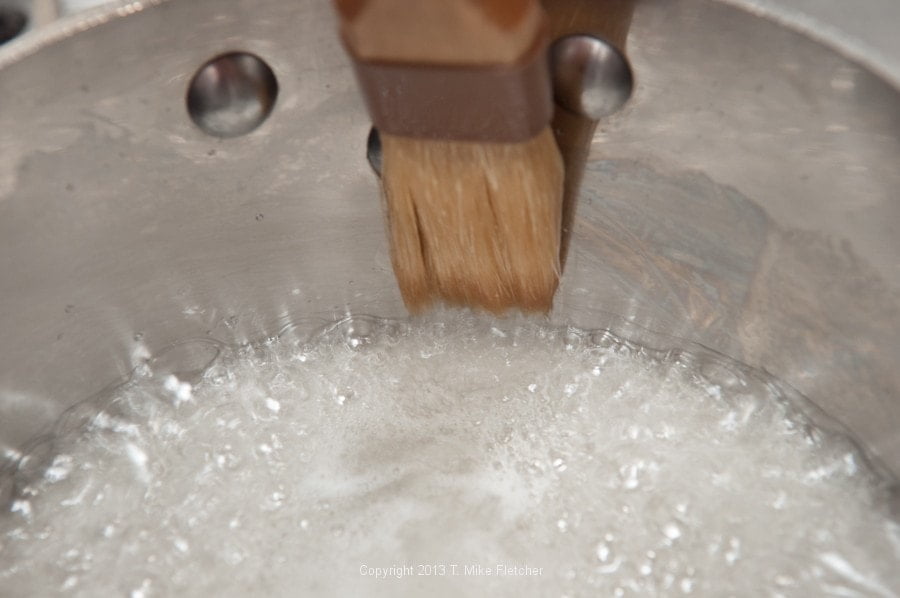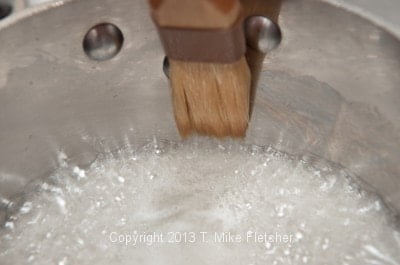 Cook over medium heat until the syrup turns a deep golden brown. As the syrup starts to color, watch it closely as it will deepen in color quickly.
Take if off the heat just before it gets deep enough as it will continue to color.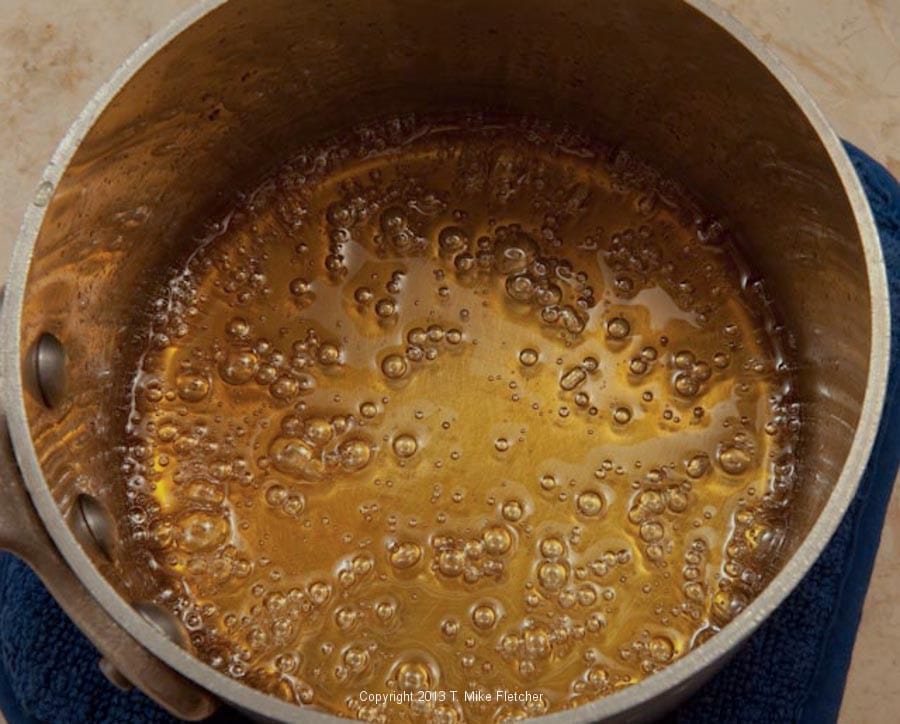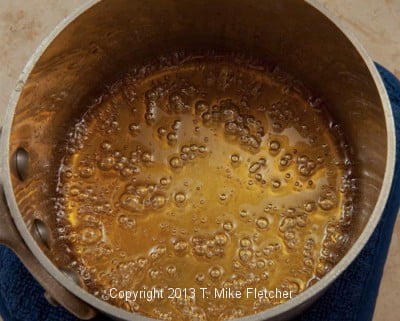 Quickly stir in the almonds,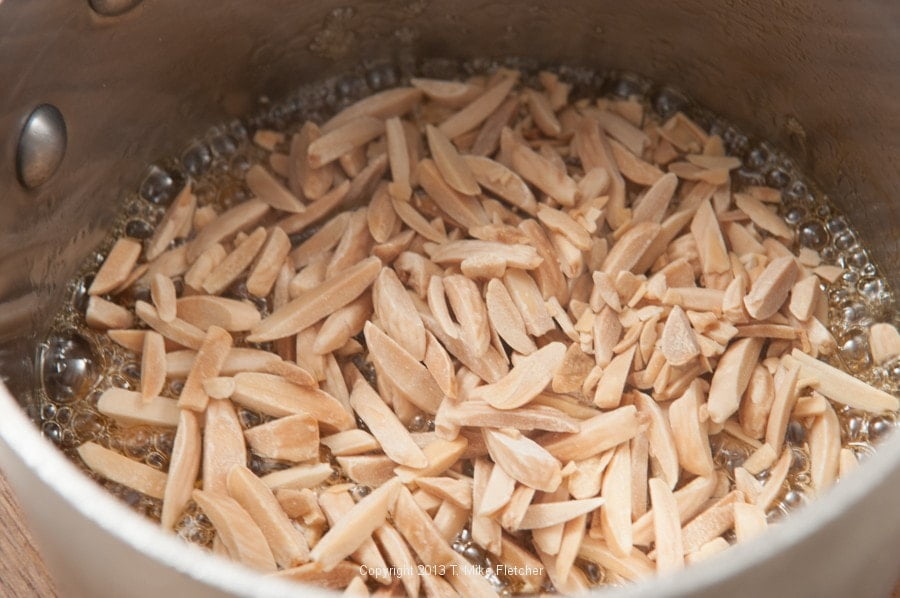 turn out into the pan and spread out with the sprayed spatula.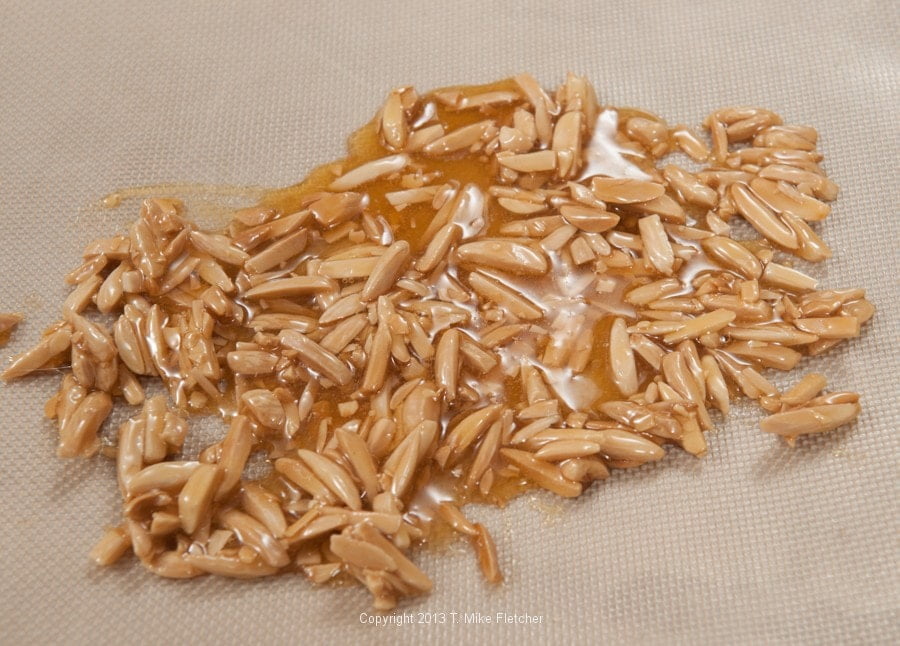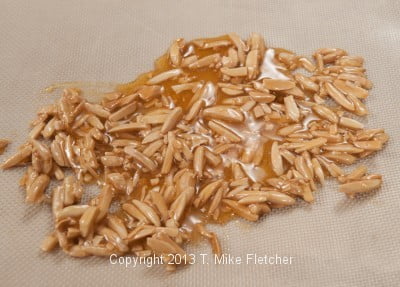 When completely cool, break into pieces and place in a food processor.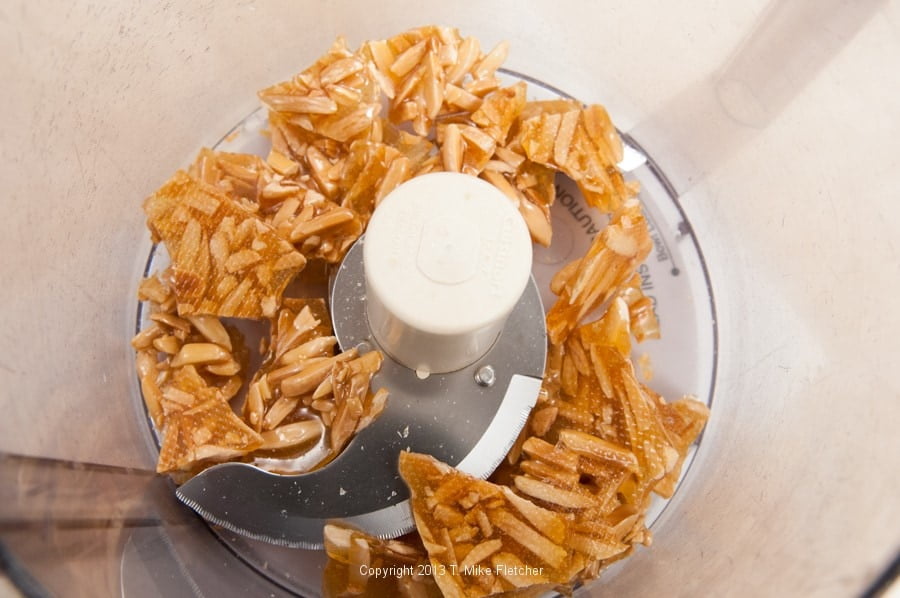 Process to pulverize.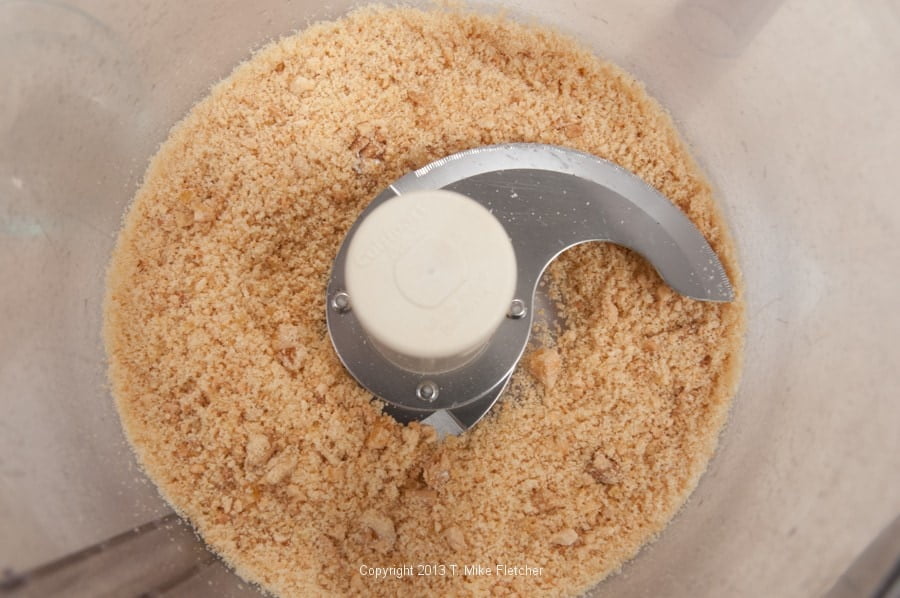 You may have to do this several times, straining between to avoid over-processing the praline that is already pulverized.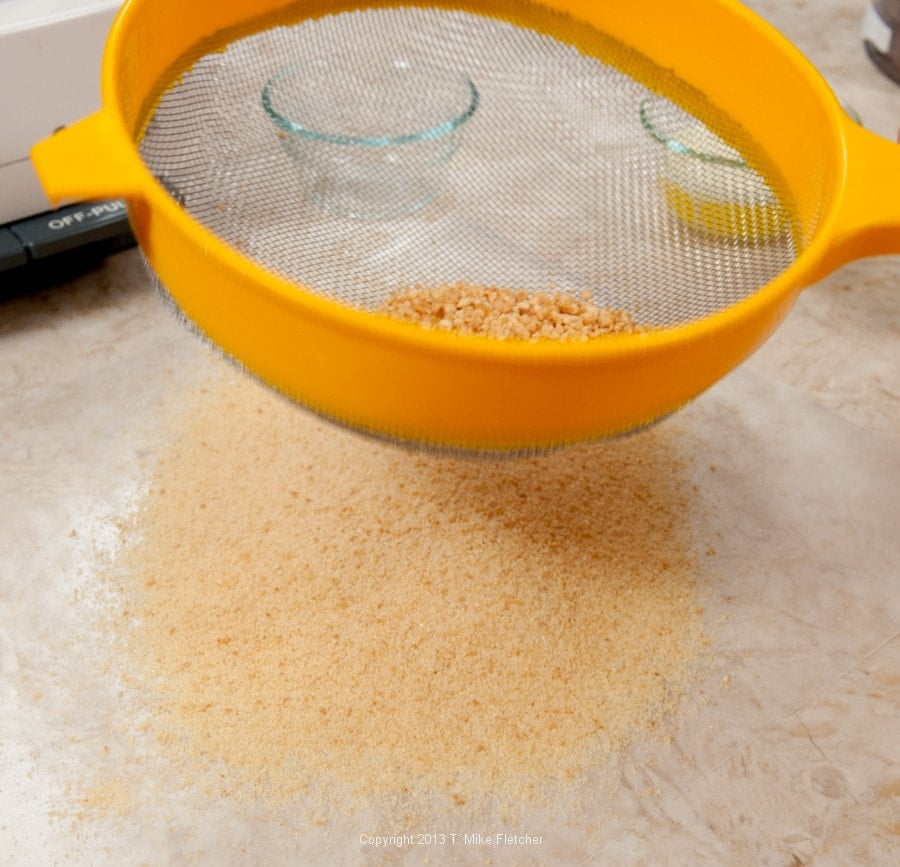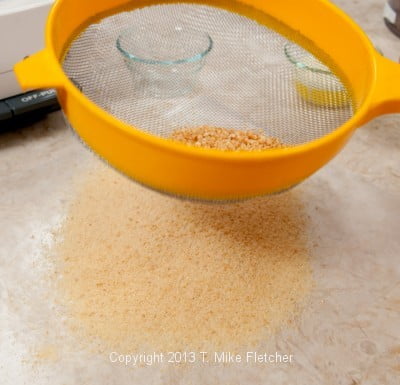 Set this aside.
Pastry Cream - for how to photos see Pastry Cream
1 ½ teaspoon gelatin
2 teaspoons cold water
4 large egg yolks
½ cup sugar (100 grams)
3 tablespoons cornstarch*
1 ⅓ cup milk, very hot
1 ½ teaspoon grated orange rind
¾ cup 40% or heavy cream
*If you are going to freeze this pastry cream or use it in anything frozen, you cannot use the cornstarch. Substitute ¼ cup flour (35 grams or 1 heavy ounce). Cornstarch breaks down when thawed, flour doesn't.
Soften the gelatin in the water and set aside.
Whisk the egg yolks and sugar together in a non-reactive saucepan. Whisk in the cornstarch or flour. Add the milk slowly, whisking well and scraping the corners of the pan with a rubber spatula to make sure all of the egg yolk mixture is incorporated.
Place over medium heat and, stirring constantly, bring to a boil. This will become very thick. You have to whisk very hard at the end to prevent it from lumping. If you are using cornstarch, remove it as soon as it comes to a boil. If using flour, boil for 1 minute, stirring constantly. Remove from the heat and tear the dissolved gelatin into small pieces stirring it into the hot liquid (there is no need to liquefy it, the heat of the mixture will do this for you).
Divide the mixture in half (about 1 cup each). Add the orange rind to one of the containers.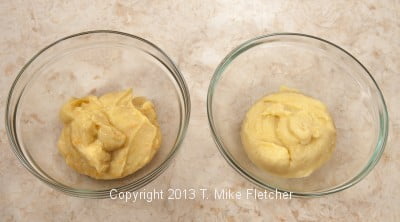 Cover the surface with plastic wrap, poke a few holes in it and refrigerate overnight to chill.
When ready to use, whip the cream to stiff peaks.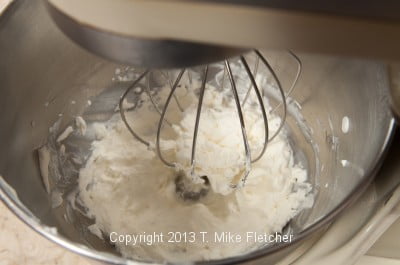 The pastry creams will be very stiff. That is how it should be. Break each of the pastry creams up, then whisk each of them to loosen.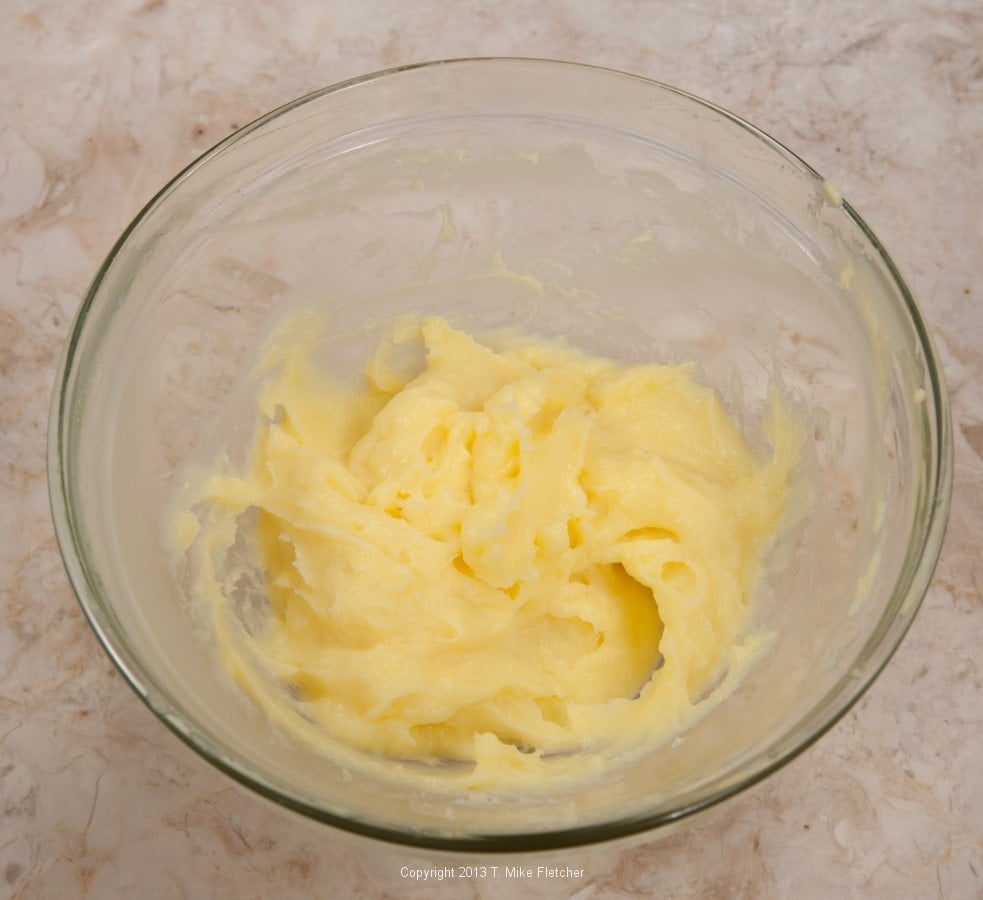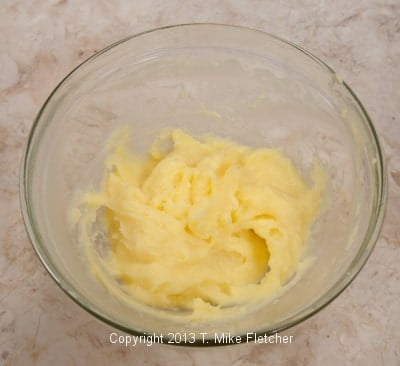 Fold half the whipped cream into each of the pastry creams.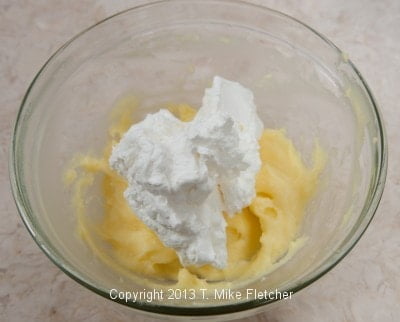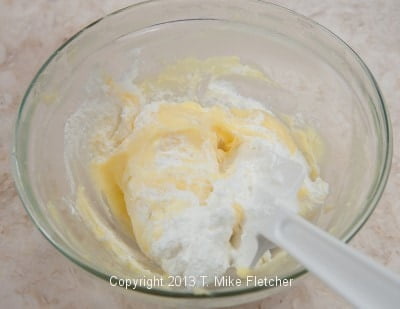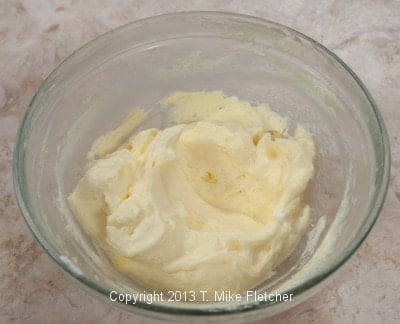 Repeat with second pastry cream.
Nutted Meringue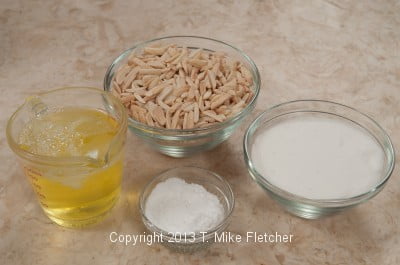 1 cup + 2 tablespoons superfine or baker's sugar (225 grams or 8 ounces)
10 ounces almonds or hazelnuts or half and half, toasted (285 grams)
3 tablespoons potato starch (30 grams or 1 ounce)
1 cup egg whites (256 grams or 9 ounces or about 8 egg whites)
Before starting the meringue, draw two 5"x14" rectangles on a piece of parchment paper.
These will be your templates for the meringue layers.
Preheat the oven to 350 degrees and place the nuts in a single layer on a baking sheet.
Roast for about 7 to 9 minutes until golden brown and fragrant. Cool completely. This may be done a week ahead of time.
Preheat the oven to 350 degrees and line two sheet pans with parchment. Set aside.
If your only choice for sugar is granulated, put it in the bowl of a food processor and process for about a minute or so to grind it finer.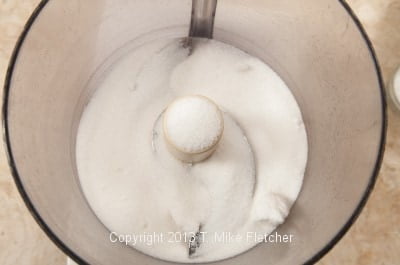 Remove from the bowl and set aside.
Place the nuts, potato starch and 2 tablespoons of the sugar in a processor bowl and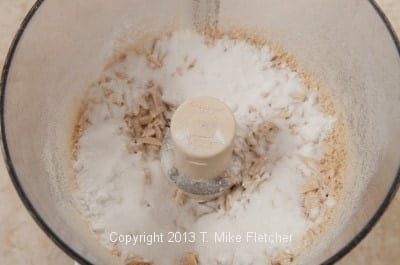 process until very finely ground.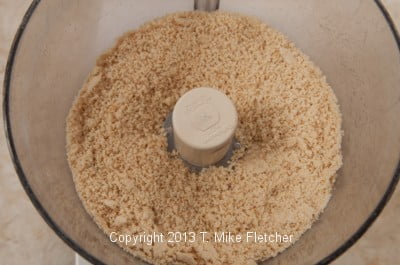 Stop several times, pulse the machine to redistribute the nuts and continue until they are properly ground.
Place the egg whites in a mixer bowl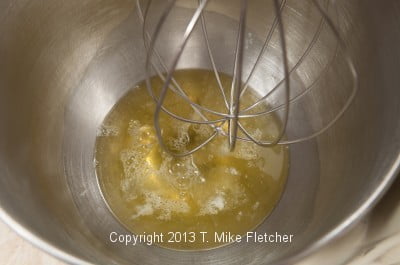 and beat until they are quadrupled and leave the beater lines in the foam.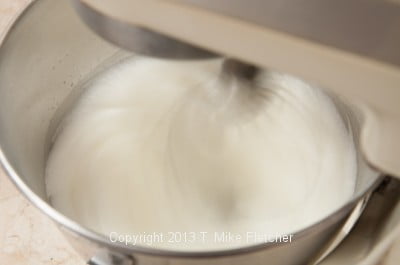 Slowly, add the remaining sugar and
continue beating for 3 to 4 minutes if using a heavy duty stand mixer.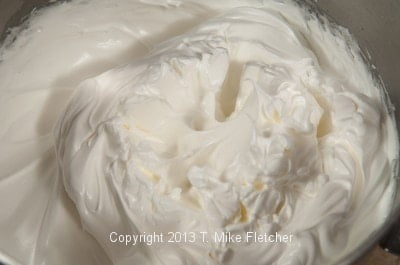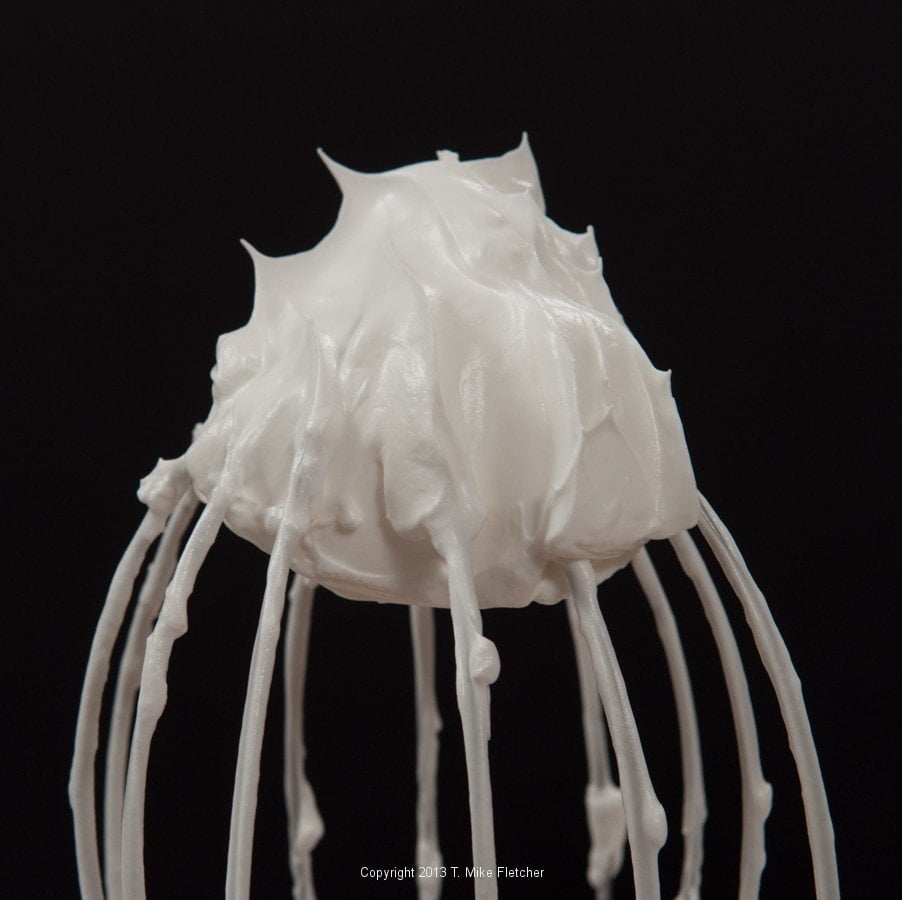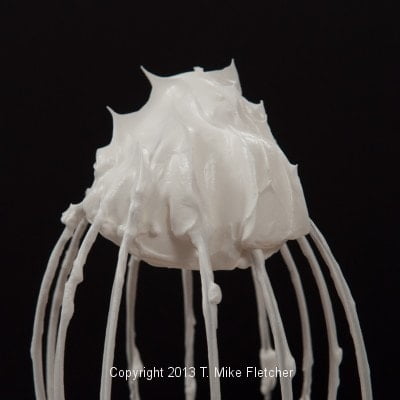 Fold in the nut mixture in three batches as gently and quickly as possible so the meringue does not break down.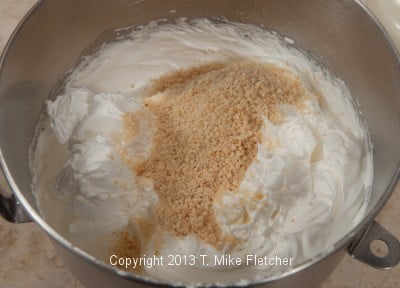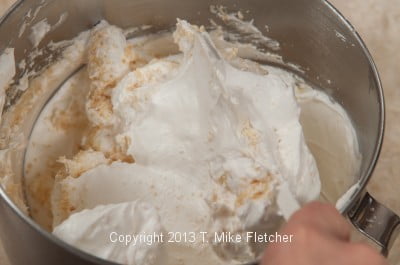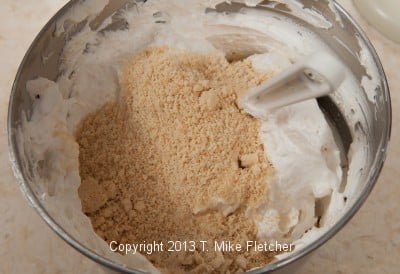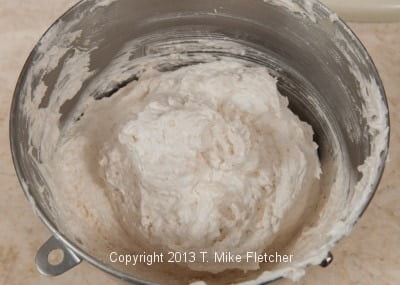 Place the template under a piece of parchment in the half sheet pan. Fit a piping bag with a number 9 plain tip. Place one-fourth (180 grams 6 ⅓ ounces) in the bag.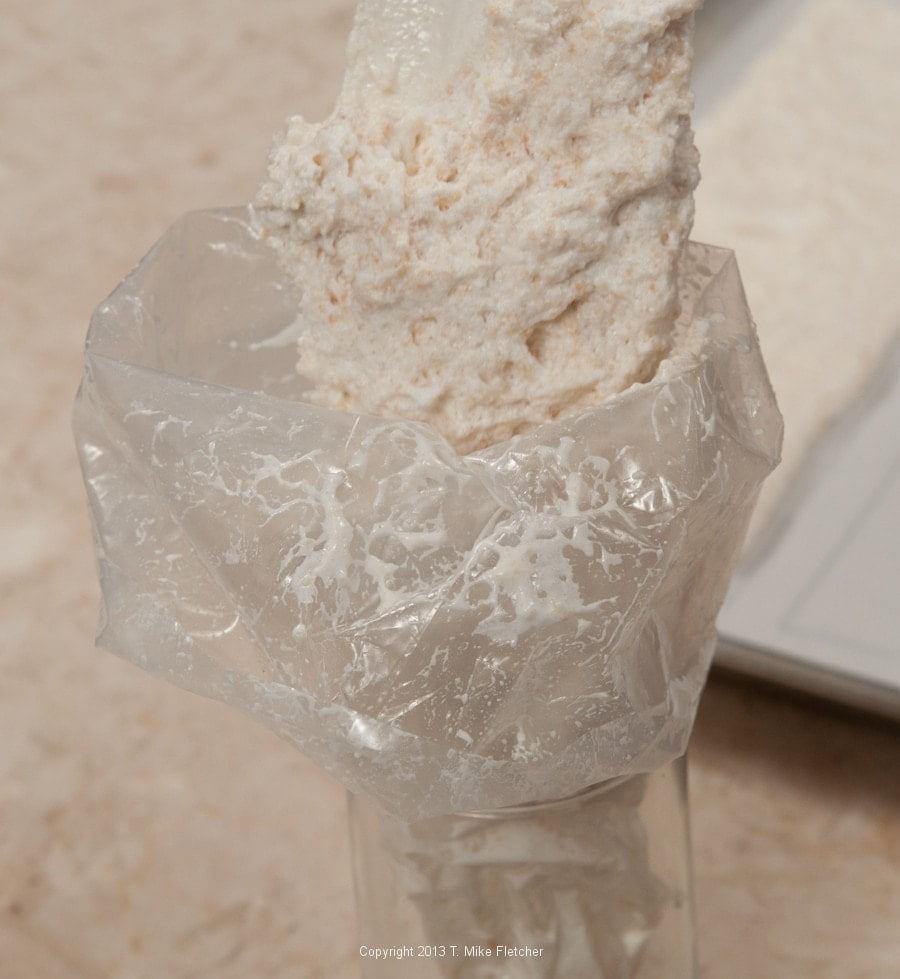 Pipe about ¼ inch inside the line.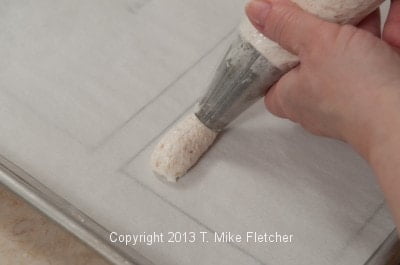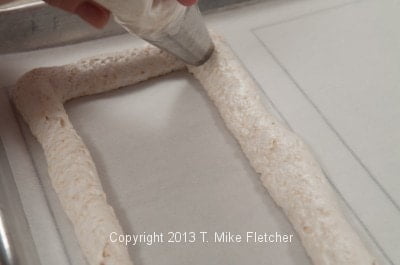 Fill in the outline with a zig-zag motion.
Using a small offset spatula, fill in the meringue and level it.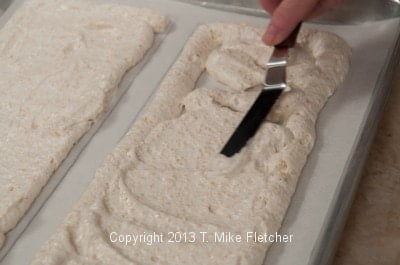 Repeat with the second piece on the template. Remove the template from under the meringue. Bake for 20 to 22 minutes until lightly browned. Cool completely.
While the first sheet is baking, place the template under the parchment and immediately pipe the second set. Remove the template. Bake as directed.
If you don't have access to a piping bag and tip, simply divide the meringue and spread it evenly over the templates.
These can be made a week ahead and stored well covered and airtight.
Trim the meringues so there are 4 uniform layers. Cut the meringues apart.

Remove the paper on the bottom by turning upside down.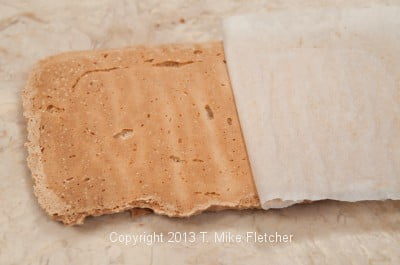 Turn right side up and, using a serrated knife, saw with very little pressure to avoid cracking the rectangles.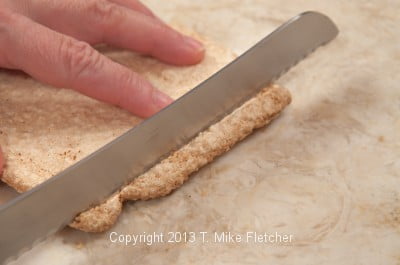 Trim one layer to 13 x 4 ½ inches, then stack one on top of another and trim it to size.
Repeat with the other two layers. Do not stack any more than two layers together when trimming.
Sour Cream Chocolate Ganache and the cream - make just before using.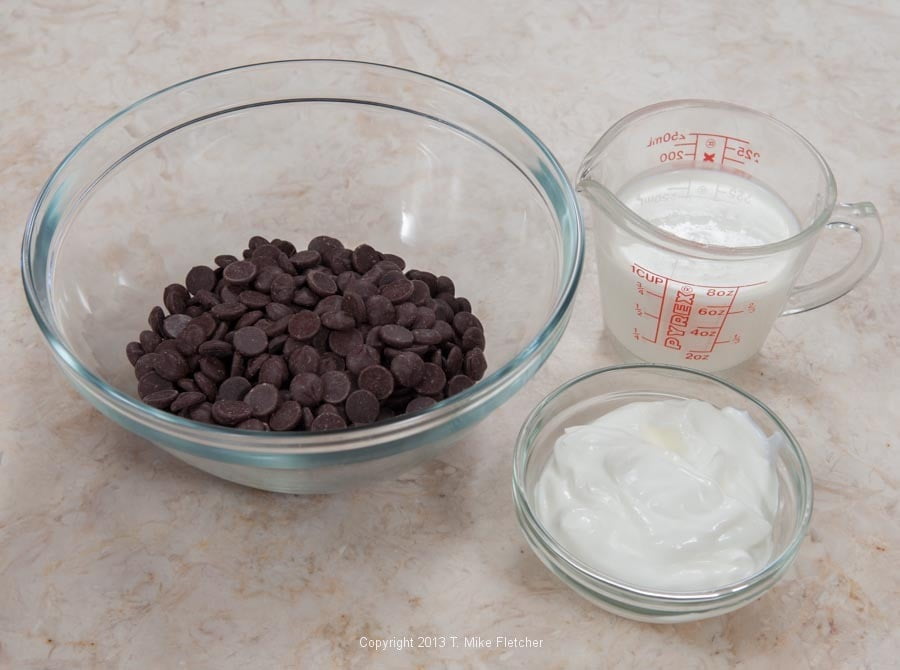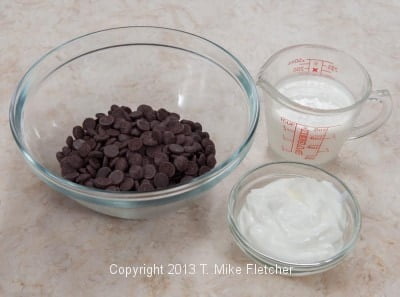 16 ounces semisweet chocolate (454 grams)
1 cup 40% or heavy cream
1 cup sour cream (225 grams or 8 ounces)
Melt the chocolate over a double boiler or in the microwave at half power.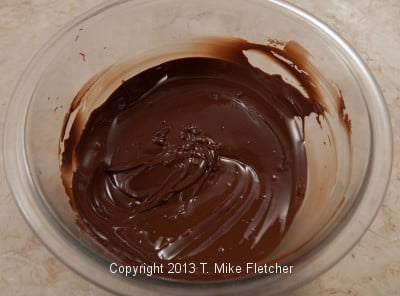 Remove it from the heat and stir in the sour cream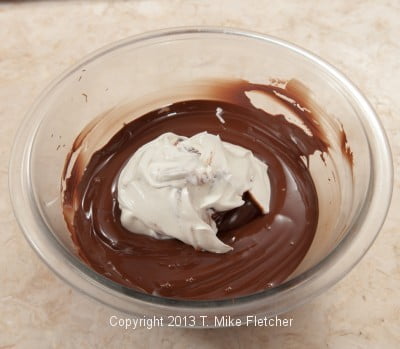 and the cream.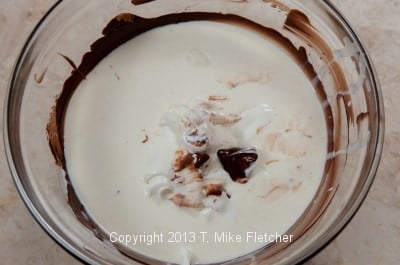 Assembly - best assembled one day ahead. As it sits, the meringues continue to soften.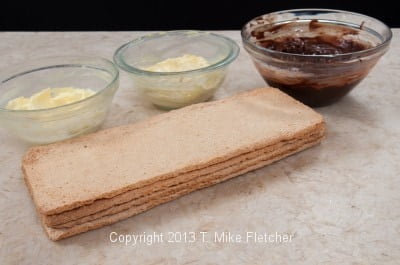 4 layers Nutted meringue, trimmed
Orange pastry cream with whipped cream
Pastry cream with whipped cream
Sour Cream Chocolate Ganache
Sliced almonds, roasted
Praline
Place one layer nutted meringue on a board.
Top with the plain pastry cream.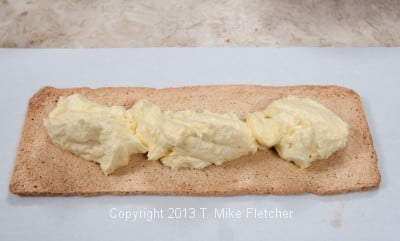 Place the second layer of meringue on the pastry cream and top it with ½ cup ganache. This is a good place to put a broken meringue.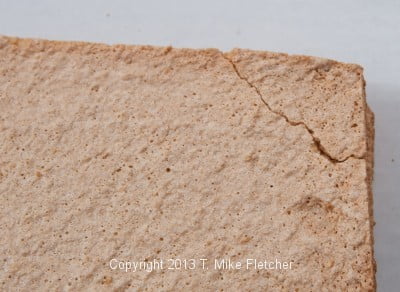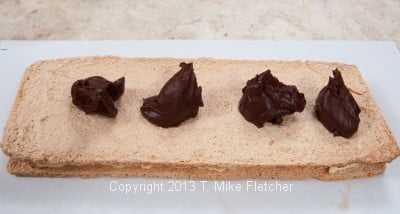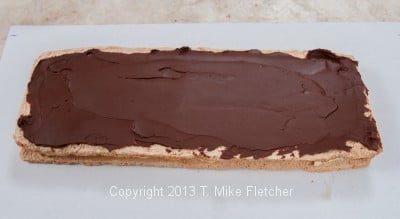 Place the third layer on top of the ganache and top with the orange pastry cream.
Place the fourth layer of meringue on the pastry cream.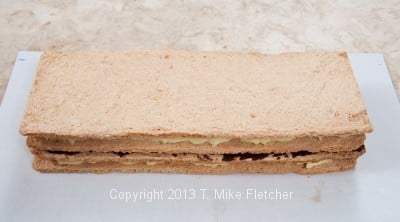 Reserve 1 cup of ganache. Use the remainder to coat the sides and top of the Marjolaine.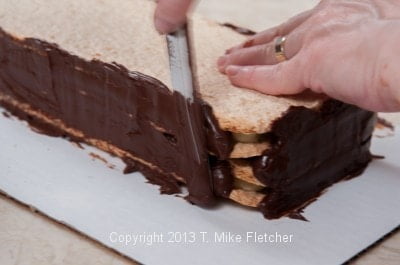 Cover the sides with the toasted sliced almonds.
Cover the top with the praline. Sometimes the layers of meringue shift a bit as you are pressing on the opposite side while applying the chocolate or the almonds. If the Marjolaine has become a little crooked while assembling, square it by placing one hand on each side and gently press toward each other.
Pipe ganache on the top layer with #3 open star tip.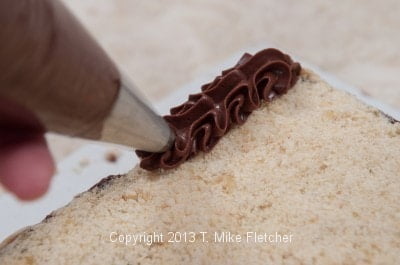 Refrigerate overnight to allow the meringue to soften.
Yield: Cut into 12 or more servings.
SaveSave
SaveSave