I know this week has been a busy one but I wanted to drop you a quick note to let you know the two Virtual Baking Classes in February are almost full. I also wanted to remind you that if you sign up by December 31st there is a 10% discount.
Come Join Me for my Virtual Baking Classes
I'm really excited to announce my step into virtual teaching. As you know I love sharing my baking and pastry experience through my blog, but there is nothing like having access to a real person (me) in a live setting where your questions can be asked and answered.
Small classes of 20 people allow lots of interaction.
Gift certificates are offered so the recipient can pick out their own class to attend. Click here to purchase.
A Waiting List is offered in case you miss the 20 person cut off. I will re-offer the class as the list warrants.
10% discount now through the end of December 31st. I have two classes listed, both in February. I wanted to share them with you now because they are being offered at a discount. On January 1st the price goes up to $50.00 per class.
ANATOMY OF A CAKE
Date: Saturday February 6, 2021
Time: 3:00 CST
Cost:

$50.00

$45.00 through December 31st 2020.
Click here to sign up.
This master class tackles everything you ever wanted to know about baking a cake and probably more.
From equipment to the whys and wherefores of ingredients, types of cake makeup, scaling a recipe up or down for a larger or smaller version, pan size conversion, and cake pan prep for baking flat layers are some of the topics covered.
The class will feature one basic cake recipe that can be altered myriad ways giving you a single go to recipe for all your cake needs including white, yellow, marble, and two chocolate cakes as well as lemon and orange.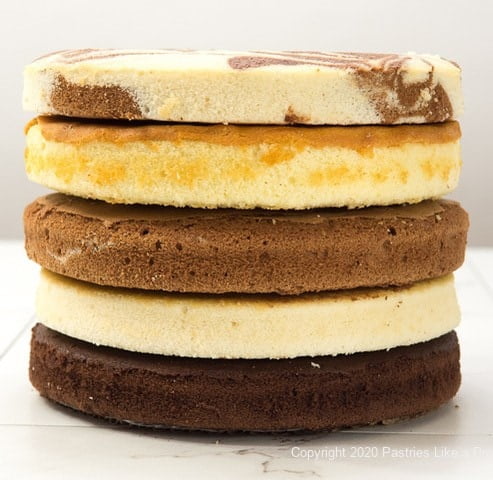 60 SECOND BRIOCHE
Date: Saturday February 27, 2021
Time: 3:00 CST
Cost:

$50.00

$45.00 through December 31st 2020.
Click here to sign up.
French pastries and dough have the unwarranted reputation of being difficult and time consuming to make. Brioche, a masterful basic light yeast dough heavily enriched with eggs and butter is no different. Beaten for 20 minutes in a mixer, it's enough to burn the motor out.
But I could never understand why it has to beaten so long. So I came up with my 60 Second method in the processor that yields the same marvelous basic dough that I learned from a French Pastry Chef many years ago. In keeping with my goal of simplifying recipes without sacrificing taste or texture I came up with a very easy method for making this French specialty that should be in every bakers repertoire. I have also included a mixer method.
While most known as a dinner or breakfast roll, Brioche is also a basic yeast dough that is infinitely variable as a sweet or savory dish.
This class features:
Lemon Glazed Lemon Twists
Brioche Pizza featuring wild mushroom brie, artichokes and peppers
Rum Fruit and Nut Knots
I hope to see you at one or both of my Virtual Baking Classes.