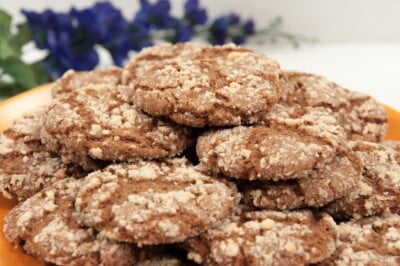 These Plantation Spice Cookies are one of my very most favorite cookies and are straight from "Julia Child & More Company" with minor changes. I love the crackle finish on these best of all spice cookies.
Several weeks ago I posted some of my favorite books from which I learned to bake. This recipe for spice cookies was among my favorites.
These cookies will have crisp edges but will be soft in the centers if not overbaked. It is important to double pan these cookies as they feature molasses which tends to over brown the bottoms as you can see in this photo. The cookie on the left was baked on a single pan and is close to burning. The plantation spice cookie on the right was double panned and is the same color as the top.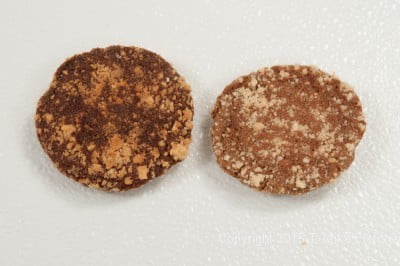 Plantation Spice Cookies
1 ¼ cups salted peanuts, divided (140 grams or 5 ounces)
1 ⅓ cups sugar, divided (265 grams or 9 ⅓ ounces)
1 ½ sticks butter (170 grams or 6 ounces)
1 egg
⅓ cup dark molasses
2 cups all purpose flour (280 grams or 10 ounces)
2 teaspoons baking soda
1 teaspoon cinnamon
¾ teaspoon cloves
½ teaspoon ginger
½ nutmeg
¼ teaspoon salt
Preheat oven to 350 degrees. Line baking sheets, double pan.
Place the peanuts in a food processor. Pulse to coarsely chop. Remove ½ cup and set aside. To the remaining peanuts in the processor, add ⅓ cup of the sugar and pulse to finely chop the peanuts. Remove to a bowl. Set aside.
Cream the butter, sugar and ½ cup chopped peanuts until light and fluffy. Beat in the egg, followed by the molasses. Scrape often.
In the meantime, combine the flour, baking soda, spices and salt. Whisk to combine.
Add to the creamed mixture and beat until well combined.
These can be shaped by rolling about a tablespoon of dough into a ball then rolling it in the peanut/sugar mixture. Place 9 equally spaced on a half sheet pan as these will flatten and spread. Double pan.
Alternately, (and this is the method I use), scoop the dough with a #40 disher or scooper, scraping it off well. Finish as above.
Bake for 9 minutes on the center rack, turn the pan and bake for 3 to 5 minutes more.
They will have flattened out, have a crackle finish and be slightly puffy. Cool slightly and remove to cooling racks.
Approximately 30 Plantation Spice cookies.