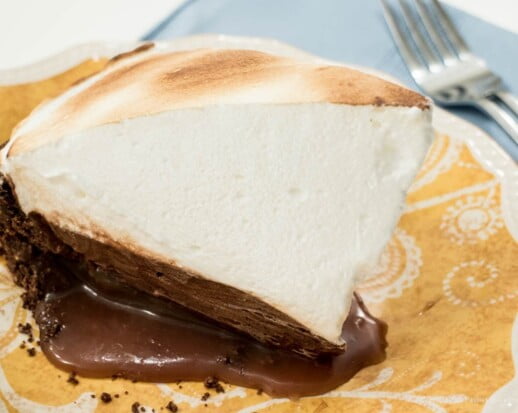 This Sky High Salted Caramel Chocolate Pie is a make-ahead, no-bake chocolate pie that came to me while I was making the special dessert for Valentine's Day this year at the restaurant.  It's super easy with intensely deep, layered flavors of coffee and brandy which enhance the chocolate.  It can be frozen in part or as a finished dessert.  The really neat thing about this pie is that, when cut, it forms its own sauce as the salted caramel layer slowly oozes out to form a puddle around the base.  
I used a meringue on this pie instead of whipped cream which is good but the meringue allows the chocolate to come through better.  My one tip here is to use baker's sugar or superfine sugar.  It's hard to find in grocery stores but can be easily made at home but just processing regular granulated sugar.  I usually keep a jar of this fine sugar just for meringues or when beating sugar into egg whites, such as an Angel Food cake.  It dissolves into the egg whites faster and easier.
The salted caramel can be omitted from this chocolate pie if you want to simplify it, but I highly suggest using it.  It brings a sophistication to an otherwise basic dessert.
Salted Caramel Sauce
Using the measurements below, please see the how-to photos for caramel sauce.
⅓ cup water
1 ½ cup sugar (300 grams or 10 ½ ounces)
¼ cup light corn syrup
¾ cup 40% or heavy cream
¼ cup unsalted butter (30 grams or 1 ounce)
1 teaspoon fine sea salt, or to taste
1 tablespoon vanilla
In a heavy saucepan that is at least 4 times as big as the ingredients, place the water, sugar and corn syrup.  Bring to a boil, stirring until it comes to a boil.  Wash down the sides with a brush dipped in cold water.  Boil until it becomes a deep golden color.
Remove from the heat immediately and add the cream very carefully as it will boil up furiously.  If the cream clumps up, put the pan over the heat again and heat over low, stirring constantly, until it is smooth.  Stir in the butter, salt, and vanilla.  Pour into the filling and refrigerate to set.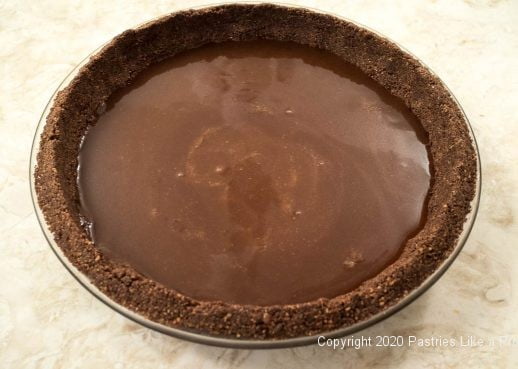 Note:  This can be made ahead and held at room temperature several days or refrigerated for 10 days or so.  Before using, microwave it or heat it over very low heat to soften it so it will spread smoothly over the crust.
Chocolate Crumb Crust for the Chocolate Pie
1 ⅓ cups graham cracker crumbs (buy them in crumbs or run the  crackers through a food            processor) (170 grams or 6 ounces)
¼ cup cocoa (22 grams or 1 scant ounce)*
½ cup unsifted powdered sugar (65 grams or 1 ¾ ounces)
1 stick unsalted butter, melted (114 grams or 4 ounces)
*Either plain or Dutch cocoa can be used.
Spray a 9" standard pie pan with non-stick spray.  Set aside
Sift the cocoa and powdered sugar into a medium-size bowl.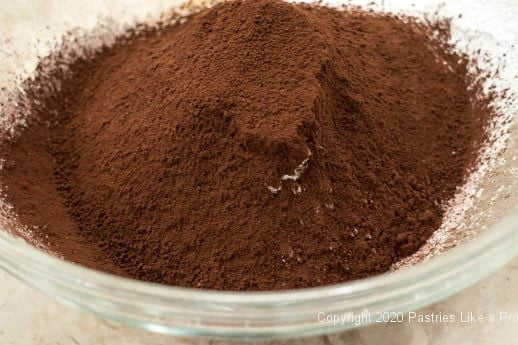 Add the crumbs and mix together. 
Add butter and toss with a fork until crumbs are completely coated.  Pour the crumbs into the center of the pie pan.  Even it out.
Push about ⅔ of the crumbs to the edges of the pan. 
Press them evenly against the sides extending the sides about ½" above the edge of the pie pan.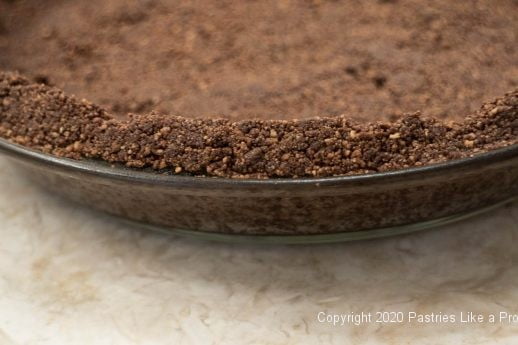 Using a dry measure as an assist,
spread the remaining crumbs evenly over the bottom and press them in.  Set aside.
Chocolate Pie Filling
3 tablespoons cream
½ teaspoon coffee
2 tablespoons butter (30 grams or 1 ounce)
½ cup sugar (100 grams or 3 ½ ounces)
5 ounces semisweet chocolate (140 grams)
2 tablespoons brandy
⅔ cup cream
In a small saucepan, combine the 3 tablespoons of cream, coffee, butter, and sugar.  Heat until the butter is melted.
Wash the sides of the pan down with cold water.  Bring to a simmer.  Remove from the heat.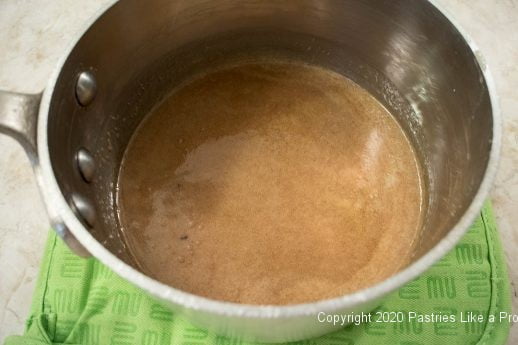 Add the chocolate, stirring until it is melted and smooth. 
Add the brandy and pour it into a large bowl so it can cool to lukewarm.
Transfer to a bowl to cool.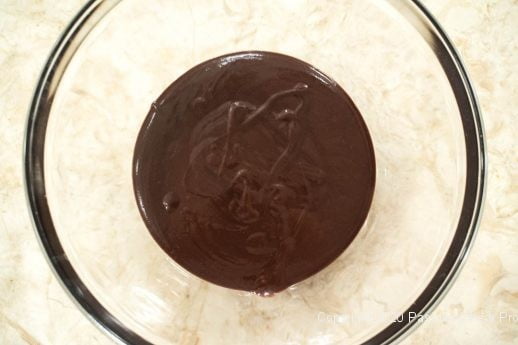 Cover directly with film to prevent a skin from forming.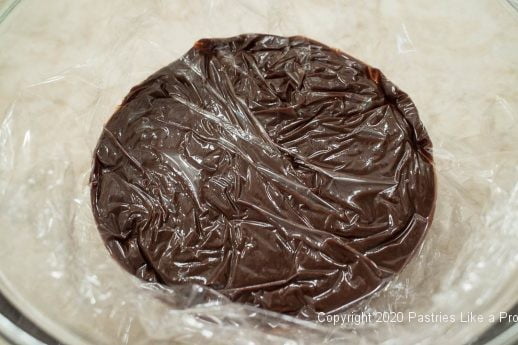 In the meantime, whip the cream just to very soft peaks. Fold it in by thirds until smooth.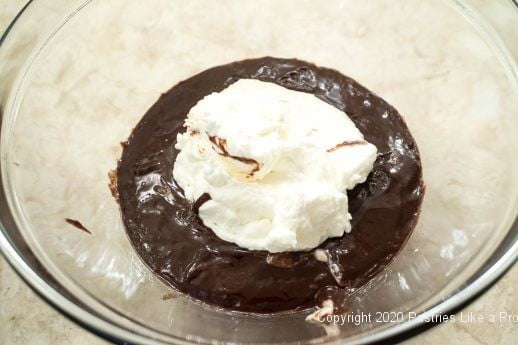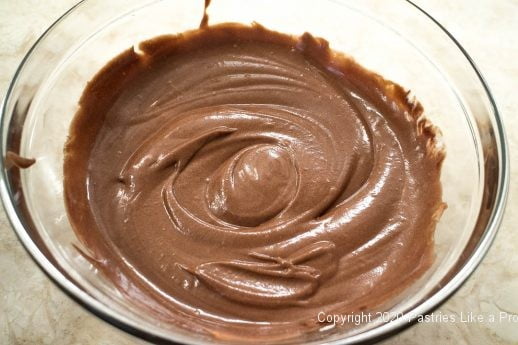 Pour into the pie shell and refrigerate until firm.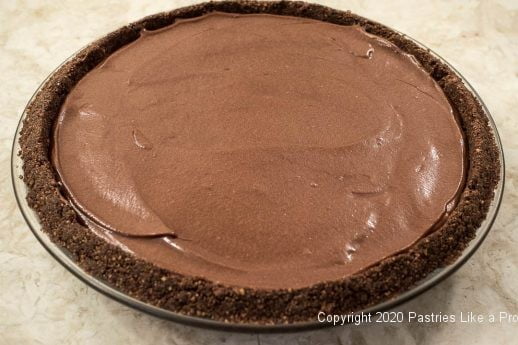 Meringue
6 egg whites from above (200 grams or 7 ounces)
¾ teaspoon cream of tarter
1 cup sugar (200 grams or 7 ounces)
There are two ways of browning the meringue.  If you are using the oven place the oven rack to the most bottom rung.  Preheat the oven to broil.  Otherwise use a blow torch.
Place the egg whites and cream of tartar in a mixing bowl. Beat until soft peaks begin to form.
 Gradually add the sugar.  Beat to really stiff peaks.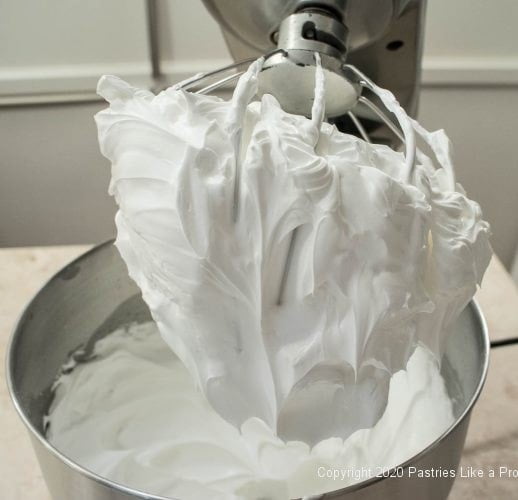 Place in a piping bag fitted with a #8 or 9 open star tip and pipe the meringue onto the chocolate filling starting at the inside edge of the crust.  Then pipe in concentric circles towards the middle. Pipe more meringue on top of the already piped meringue until it is all used.
Alternately, just spoon it on.  Smooth out the meringue using a metal spatula.
If browning in the oven, place the pie on a rimmed baking sheet and into the oven for about 1 minute and 15 seconds or until lightly browned.  Watch it carefully as the top-most meringue can burn quickly.
If using a blow torch, which I did, hold it abiyt 6 inches away and move it back and forth until it browns the meringue.  Turn the  Sky High Salted Caramel Chocolate Pie and continue browning the meringue. Refrigerate several hours before cutting.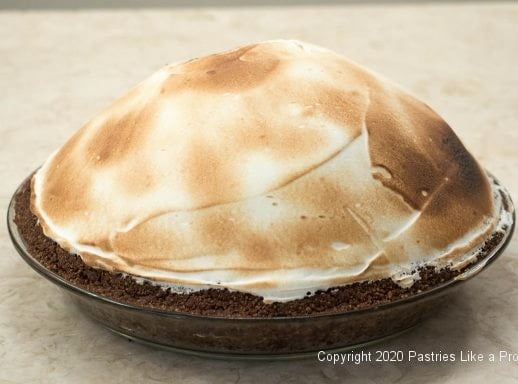 To easily cut the pie, warm the edge of the pie pan with a hair blower on high.  Warming the crust slightly will help it come out neatly.  One other thing, run your knife under really hot water, shake it off and cut through the meringue.  As you can see above, the meringue cuts really smooth.
One last thought.  This is very rich so it will easily serve 10 to 12.
Note:  This Sky High Salted Caramel Chocolate Pie can be assembled and frozen for a month.  The pie can also be frozen without the meringue if desired. Thaw in the refrigerator to serve.