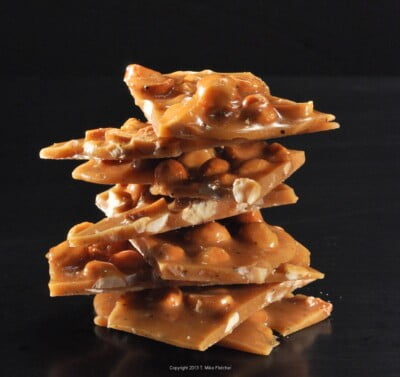 Macadamia brittle is a treat anytime, but add a bit of heat and it becomes Sweet and Hot Macadamia brittle, a candy not to be forgotten.
I recently had to make a brittle for one of the desserts at the restaurant. It didn't take me long to remember why I wasn't a candy maker! Five pounds of sugar, umpteen nuts, cups of corn syrup and my frustration only grew. Some recipes used butter and vanilla, others not so much. Some used baking soda, but I didn't want the opaque, spongey look. All of them used corn syrup but it seemed any amount went. One recipe used so much butter it told you to blot the excess off after it cooled!
So back to the drawing board I went. Sugar, nuts and some kind of heat were a given. Butter was added for richness and the key came down to the amount of corn syrup used. Using too little, still allowed granulation of the sugar and didn't allow the mixture to be stirred. So a two to one ration of sugar to corn syrup worked perfectly.
The mixture could be stirred and no matter what, wouldn't granulate. To make things easier this recipe does not require the use of a candy thermometer. All the ingredients are in the pan and the mixture are cooked to color.
Two types of pepper add heat, but not an overwhelming amount. The pepper can be adjusted more or less, as your taste dictates. Do not try to test this while the brittle is hot.
While I normally toast nuts before using them, for brittles I don't because they get toasted in the sugar mixture. Cutting them is important to the final look of the macadamia brittle. I like my brittle to look like like stained glass with nuts floating in it and specks of black pepper. Macadamia nuts vary a lot in size. If they are small, I cut them in half, if large, they are cut into fourths. I then put them in a strainer to strain out any really fine powdery nuts as that distracts from the clear look.
Any nut can be substituted in this brittle and the pepper can be omitted if desired. Use a much larger pan then you think, as the syrup will bubble up quite high and you need room to stir it. When it starts to color, it needs to be stirred frequently and turned over in the pan. I found it useful to remove the brittle from the heat just before it was the correct color, as it will continue to color in the pan before you can pour it out.
The use of a silpat or exopat mat is very helpful here as the brittle will not stick to it. No need to prepare it in any way. Just be sure to put it inside a rimmed baking sheet and when the macadamia brittle is done, pour it onto the silpat and quickly spread it with the back of the sprayed spoon. If silpat is not available, line a rimmed baking sheet with heavy duty foil and spray well. After pouring the hot brittle into the sheet pan, the only thing left to do is walk away and let it cool completely Break into pieces. Store in an airtight container.
Sweet and Hot Macadamia Brittle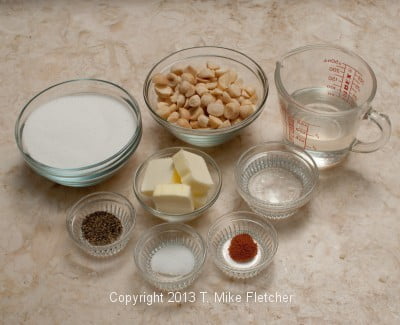 ¼ cup water
½ cup corn syrup
1 cup sugar (200 grams or 7 ounces)
¼ teaspoon salt
1 cup macadamia nuts, coarsely cut (5 ounces or 140 grams)
4 tablespoons butter (60 grams or 2 ounces)
½ teaspoon black pepper, coarse grind
¼ teaspoon cayenne pepper
Place the silpat in a rimmed half sheet pan.
Set aside. Spray the back of a large spoon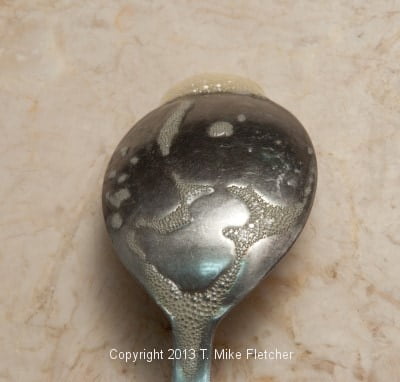 and set aside. If the macadamias are whole cut them into halves or fourths, keeping them in large pieces.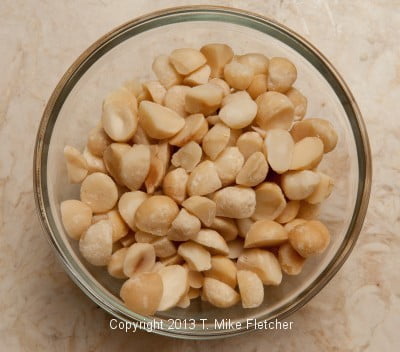 Place the cut nuts in a strainer and strain out any powdery nuts.
Place the water, corn syrup, sugar and salt in a large, heavy saucepan.
Bring to a rolling boil and wash the sides down with a brush dipped in cold water.
remaining ingredients
and cook, stirring frequently. As the mixture cooks, the bubbles will become heavier and it will become very thick.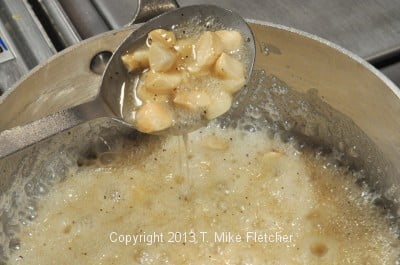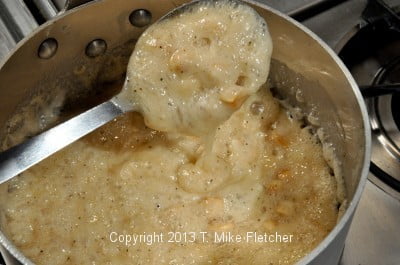 Cook until a deep amber color is reached.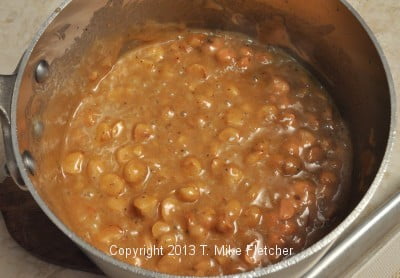 Stir frequently, especially towards the end. Turn the mixture over as you stir. It may be removed just before it gets to the correct color and allowed to sit briefly as it will continue to color. Immediately pour over the silpat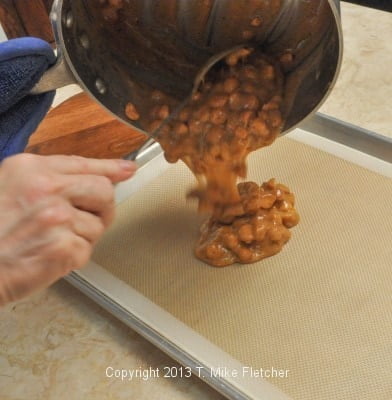 and spread out as thinly as possible with the back of the coated spoon.
Cool completely and break into random pieces.
Yield: 375 grams or 13 ounces.