Red Roses, dinner out, jewelry and candy headline the possible gifts for Valentine's Day. Of all of these, candy is my favorite, followed by yellow roses or tulips tied with a lavender ribbon.
So for this Valentine's Day, I have searched my posts and come up with six candy recipes that will make any candy lover happy. They are all easy and can be made ahead, so there is no last minute rush. You will notice I have a predilection for macadamia nuts for which I do not apologize. They are among my favorite nuts that are definitely worth the splurge for your Valentine.
Just in case you missed it, I like to stack up shards of candy.
Leading the list is the truffle we were known for at the bakery. We made thousands and thousands of these and Valentine's Day was always a big Chocolate Chocolate Truffle day, whether boxed in singles, doubles, tens or twenties they were our biggest sellers.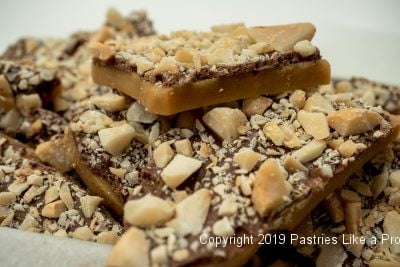 This is my newest ode to my most loved nut. How can you possibly go wrong with macadamia nuts, rum, and toffee? I am not a bit ashamed to say I hid these from my husband and ate them all…not at once, tempting as it was.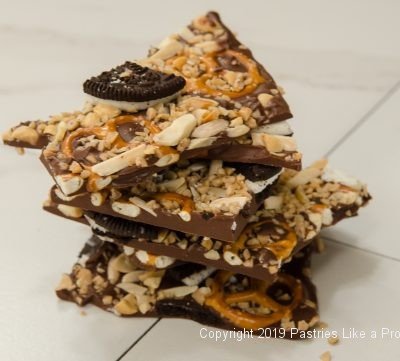 If it is quick and simple you are looking for, here it is. Just melt the chocolate and pile everything on.
This simple recipe is perfect for cutting out and decorating hearts for the one that holds yours.
This peanut butter filling is so smooth, it will make your reputation as a candy maker.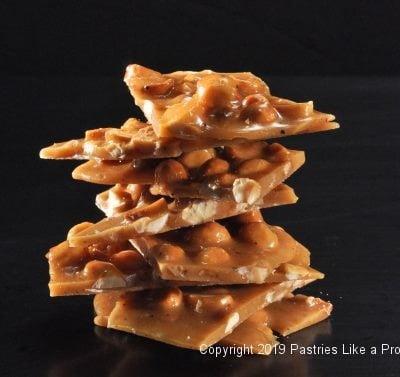 Unfortunately, Mike saw this before I could ditch it. If you think salted candy is great, wait till you taste this brittle with a bit of heat.
So now you have a week to get ready to give your loved ones something unexpected and special made just for them.
I will be spending my 59thValentine's Day with my very special husband. I wonder if he has caught on that I hide candy – not always, mind you, but on occasion.
Happy Valentine's day to you and those you share your life with.
If you enjoyed this post, here are others that might tempt you.
No Bake Chocolate Raspberry Truffle Tarts
Hazelnut Meringues with Raspberry Mascarpone Mousse
Warm Chocolate Lava Cakes with Bailey's Sauce