Two Ingredient Fudge Hearts couldn't be an easier surprise for that someone special on Valentine's day. Just a couple of steps and these Fudge Hearts are ready to go.
For those in St. Louis that watch me on KMOV's Great Day St. Louis, I will be on the first Thursday of every month now. This is the segment for this Thursday.
These do not require anything but heating a few ingredients together. No taking temperatures or concern that the fudge hearts will be grainy when finished. Perfect fudge, every time.
They can be finished with any topping you wish such as nuts, chocolate chips, etc. I chose red sugar, chocolate sprinkles, brick pieces and white chocolate drizzle. But anyway you choose to do them, no finish, all one finish or multiple finishes these fudge hearts are sure to please.
Fudge Hearts
1 pound milk or dark chocolate
1 14 ounce can condensed milk
1 teaspoon vanilla
Decorations
Red sugar
Chocolate sprinkles
Toffee pieces
White Chocolate, melted
Line an 8x8 inch square baking pan with foil by turning it upside down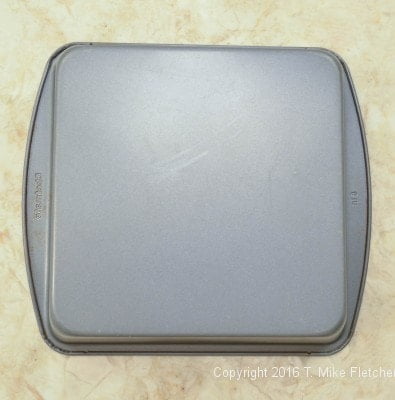 and pressing it against the pan.
Remove the foil, keeping it in shape and turn the pan over.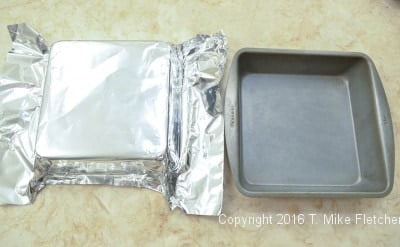 Place the foil in the pan, leaving "wings" on the side to assist in removing it. Set aside.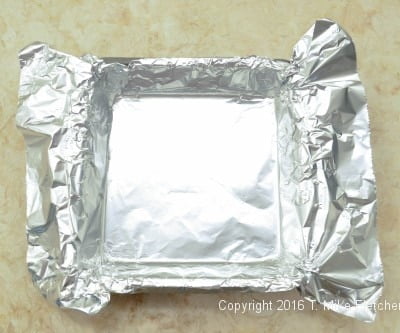 Place the condensed milk, vanilla and chocolate In the top of a double boiler.
Mike noticed the vanilla looks like a giraffe!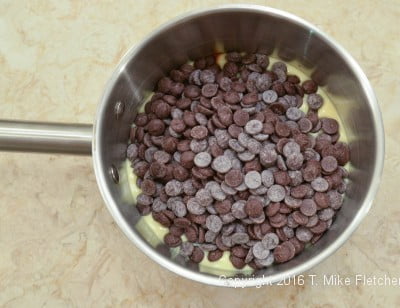 Melt the ingredients. Do not overheat as the hotter it gets the thicker it gets.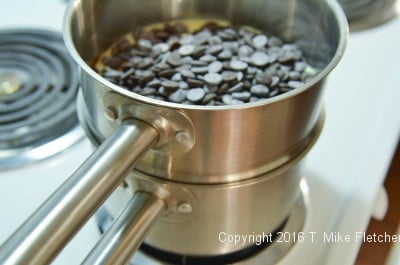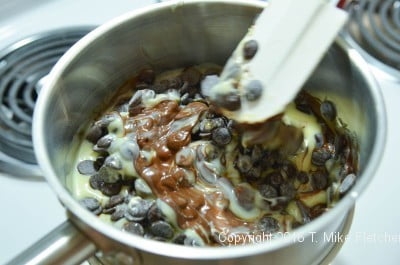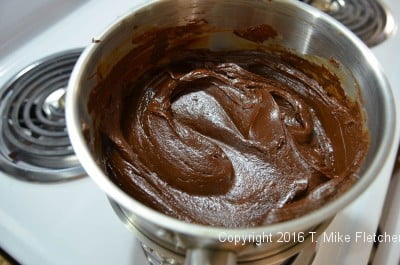 Pour into prepared pan and spread evenly and quickly.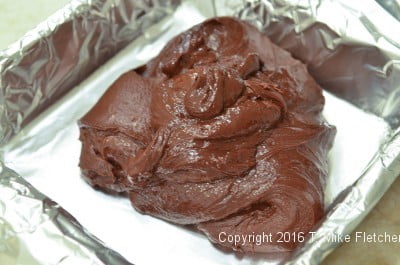 If you want multiple finishes like I have, use a 6 inch ruler or anything really that can be pushed into the fudge to mark the areas in 2" segments. While the ruler is in place, cover the fudge with the red sugar.
Move over 2 inches and cover with chocolate sprinkles.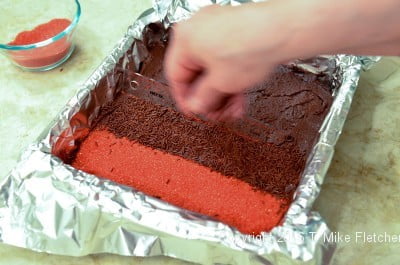 Move over another 2 inches and cover with toffee pieces.
Leave the last 2 inches uncovered. Refrigerate until set. Remove from pan and remove foil.
If you have done multiple finishes, cut the fudge along the dividing lines.
Cut out with a heart shaped cookie cutter.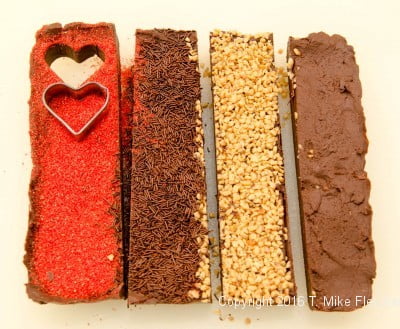 Push the fudge heart up from the bottom so you don't mar the top.
The fudge can be stored at room temperature at this point.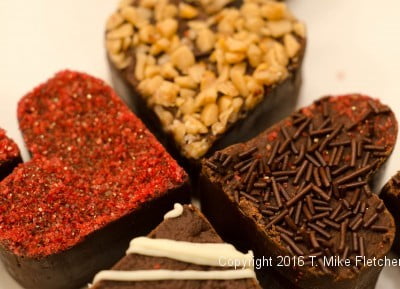 And what to do with the scraps - these are the baker's reward - just don't eat them all at once.