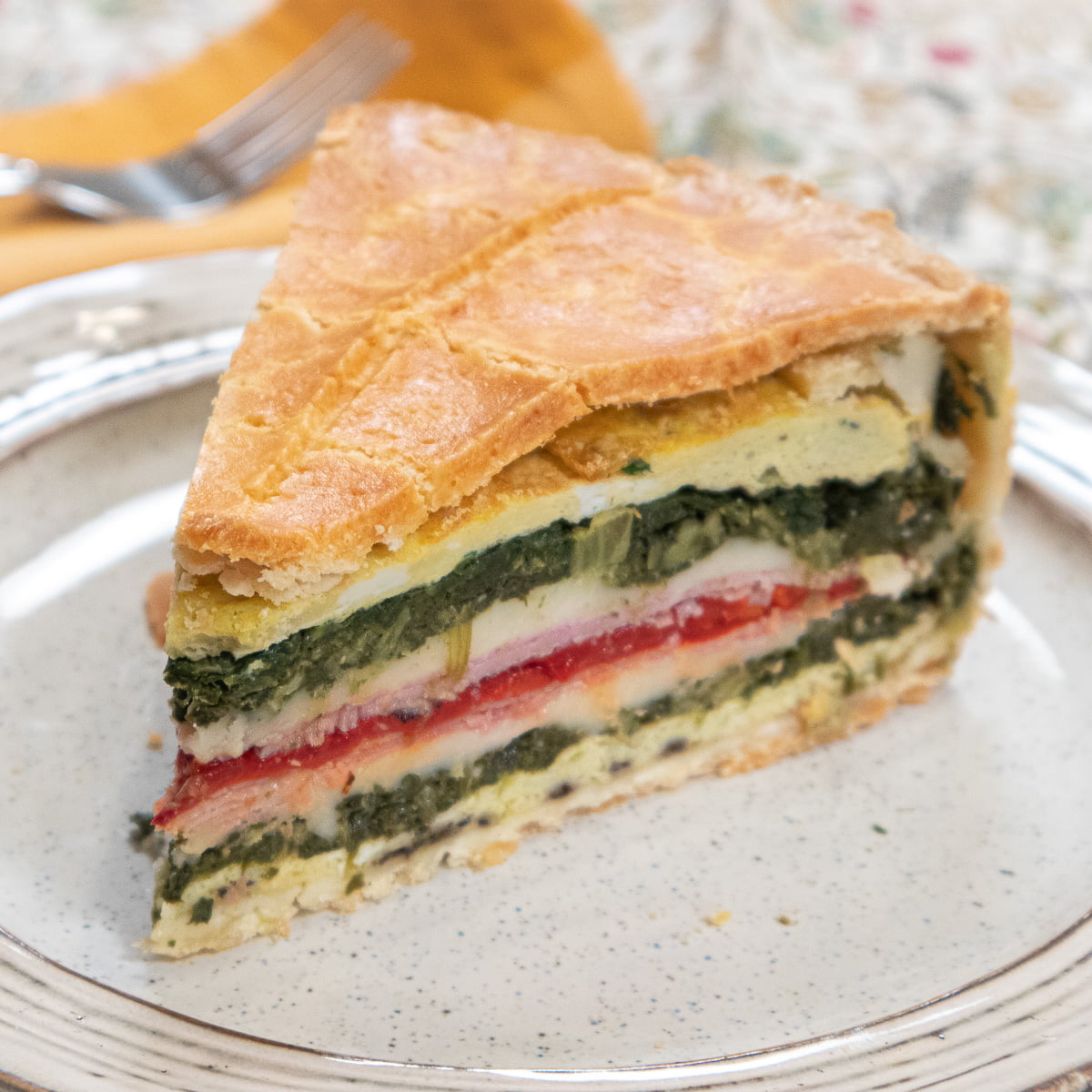 I came across Tourte Milanase years ago. It's a spectacular tour de force. And, as with most spectaculars, it requires a bit of preparation to get it finished. But when it's done and cut into, the striking layers of green, red, pink and white are dramatic.
I'm writing about it now because it is a natural for Easter Brunch. First of all, it's impressive look.. It can be made ahead and room temped as the rest of the brunch is attended to. A short warming in the oven and it's ready to dazzle your family or guests.
While I am making the original Tourte Milanese, feel free to switch out ingredients. Don't like spinach? Switch to marinated artichokes or broccoli. Trade the ham for turkey. Cheddar cheese would be good and you can really add excitement with hot pepperjack cheese.
Don't let the length of the recipe deter you. Much of the prep can be made ahead to speed things along. The tourte can also be assembled completely either baked or unbaked.
The Origin
Both the book and the PBS series, Baking with Julia, featured Michel Richard along side Julia Child. It's as relevant today as it was then. Tourte Milanase is the creation of Michel Richard, a French born pastry chef who was adventurous, jovial and fond of experimentation. Born in France, he became a citizen of the United States. He was known to be open to the many culinary influences of this country with his hybrid French-Californian take on food.
The original recipe featured puff pastry as its crust. But I feel the puff is too light for the multiple layers inside so I changed it to one of my favorite savory crusts, pasta frolla as used in the Torta Rustica.
Ingredients for the Tourte Milanese
While impressive, it isn't difficult but time has to be set aside for sure.
For ease of preparation, I used chopped frozen spinach and jarred fire roasted red peppers. For some reason, spinach stays frozen longer than any other vegetable we handled. Thaw a couple of days in the fridge or set it out at room temperature for several hours. It should be very well thawed. Drain in a colander and then squeeze the water out until it is very dry.
The red peppers should be well drained and patted dry or, if using fresh peppers they should be roasted and cooled.
Use your favorite ham as long as it isn't loaded with water. If the ham has a casing, cut it off.
For the Omelets, I cut the chives and parsley and set them aside. When cooking the eggs, I sprinkled them with the herbs, salt and pepper before I flipped them over. Because they are large and awkward to flip, I cut each in half making it much less intimidating.
The omelets, spinach filling and red peppers can be made the day ahead and refrigerated making this a very manageable entree.
The crust for the Tourte Milanese should be made just before assembly.
Get the Recipe:
Tourte Milanese
What could be more dramatic than spectacular layers of green, red, white and pink encased in pasta frolla for this best of all make ahead entrees?
Ingredients
Omelets 
This is for 2 omelets. Use half the ingredients for each. These can be made the day ahead and refrigerated.

2

Tablespoons

fresh chives

chopped

2

Tablespoons

fresh parsley

chopped

¾

teaspoon

dried oregano

¾

teaspoon

salt

¼

teaspoon

black pepper

10

large eggs

4

tablespoons

water

Butter and/or oil for pan
Spinach Filling 
This can be made the day ahead and refrigerated.

24

ounces

chopped frozen spinach

thawed and the water squeezed out

2

tablespoons

olive oil

1

tablespoon

butter

2

cloves

garlic

peeled and minced

¾

teaspoon

salt

½

teaspoon

black pepper

¼

teaspoon

nutmeg

½

cup

cream
Pasta Frolla Crust
3 ⅓

cups

cake flour

420 grams or 14 ¾ ounces*

1 ¼

teaspoons

salt

¾

cup

unsalted butter

refrigerated (170 grams, 6 ounces, 12 tablespoons or 1 ½ sticks)

2

eggs + 1 yolk

¼

cup

cream

*3 cups all-purpose flour

420 grams 14 ¾ ounces can be substituted if necessary
Assembly of the Tourte Milanese
Pasta Frolla Crust

Two Omelets

Spinach Filling

½

pound

Swiss Cheese

thinly sliced (225 grams)

½

pound

smoked ham

thinly sliced (225 grams)

1

pound

jar or can of fire roasted red peppers

drained and patted dry (454 grams)

Egg beaten for egg wash
Instructions
Omelets
Chop the chives and parsley separately.  Set aside.  Have the oregano, salt and pepper in close proximity to the saute pan. 

For each of 2 omelets, whisk 5 eggs until completely blended.  Add 2 tablespoons water.   

Add a bit of butter or oil to a 9" saute pan and heat until melted and hot.   

Pour in the eggs.  Immediately, sprinkle with half of the chives, parsley, oregano, salt, and pepper or as much or little as you care.   

Cook until the bottom is just set.  It will still have a lot of uncooked eggs on top.  Lift the omelet in several places, tilt the pan and let the liquid run underneath.  

Remove it to a sheet pan to cool.  Cover and cool completely before using.

Repeat with the second half of the ingredients.
Spinach Filling
Heat the oil, butter and garlic in a large skillet or pot over medium heat.   

Add salt, pepper and nutmeg and cream.  Mix quickly so the spinach absorbs the cream.   

Remove the spinach, correct the seasonings, cover and cool completely.  Set aside. 

This may be made the day ahead and refrigerated
Pasta Frolla Crust
Using the ingredients listed, go

here

for how to pictures.

Place the flour and salt in the bowl of a processor.  Process to mix.

Cut the cold butter into small pieces and add to the processor.  Process until it looks mealy and no butter is visible. 

Whisk the eggs, yolk and cream together and pour over the ingredients in the processor.Process until a ball forms. Redistribute the dough, making sure the top of the dough is on the bottom. Process again.

Spray a 9x3" cheesecake or springform pan very well with a non-stick baking release.  Set aside. 

Divide the dough in half.   

Divide one piece in half again and roll each piece into a 9 ½" circle.  Place one in the bottom of the prepare pan.  Refrigerate the second piece while preparing the sides.

For the sides, divide the second piece of dough into 3 equal pieces.  If you don't have a scale, roll the dough into a log and divide into 3.   

Roll each piece into a 11 x 3 inch rectangle.  The photo shows an overhang but I don't think that is necessary.  The crust as rolled here will come to the top of the pan.

Place each one, as it is rolled, against the side of the pan.  The spray should keep it in place.   Join the seams well by pressing them firmly together. 
Needed for Assembly
Preheat the oven to 350F.  

Pasta Frolla Crust prepared

Two Omelets

Spinach Filling

½ pound Swiss Cheese, thinly sliced

½ pound smoked ham, thinly sliced

1 pound jar or can of fire roasted red peppers, drained and patted dry

Egg beaten for egg wash
Layer as follows
Completing the Tourte Milanase
Place the 9 ½" top over it.  Seal the seams.

Press the pastry firmly to level it. 

Cut a vent in the center of the dough and carefully with a very sharp knife,  mark the tourte into 10 to 12  pieces and carefully cut, not more than ½ way through the crust.

Brush the top with egg wash.  Let it dry for about 5 minutes.

Brush with egg wash again. 
Notes
This Tourte Milanese can be made ahead in one of two ways.  Assemble and refrigerate unbaked, adding additional baking time.   Alternatively bake it and refrigerate it.  
Disclaimer
This Analysis is an estimate based on available ingredients and this preparation. It should not substitute for a dietitian's or nutritionist's advice.