While apple pies get most of the attention an Apple Cake with all of its spices, lots of apples and raisins is no slouch. We made many of these for catered events where there was no refrigeration as the plated deserts could sit for hours at room temperature.
This is a dense cake filled with fruit. The pecan caramel top compliments the cake and adds a luxuriousness that a buttercream would not.
Any apple that bakes well can be used. Many prefer Granny Smith apples,but Pink Ladies or Gala apples are also good choices.
Cake

4 medium apples peeled and chopped after cleaning (400 grams or 14 ounces)*
⅔ cup raisins (85 grams or 3 ounces)
2 cups flour (280 grams or 10 ounces)
1 ½ teaspoon baking soda
½ teaspoon cinnamon
½ teaspoon nutmeg
½ teaspoon salt
¼ teaspoon cloves
¼ teaspoon ginger
1 ½ cups butter, room temperature (340 grams or 12 ounces or 3 sticks)
2 cups sugar (400 grams or 14 ounces)
2 eggs
*The weight measurements may be a little more or a little less, it doesn't really matter.
Peel and core the apples. Cut into large pieces. Place in a food processor and pulse a few ties to chop coarsely. Set aside.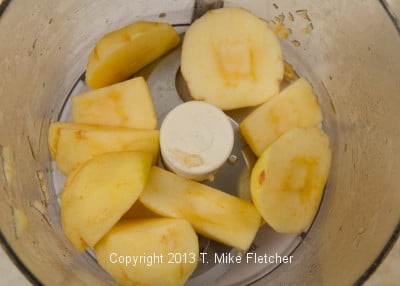 Preheat the oven to 350 degrees. Spray the center only of a 9x3 inch cheesecake or springform pan. Line the pan with a parchment round and spray the center of that only.
Soak the raisins in hot water until needed.
Whisk together the flour, baking soda, nutmeg, cinnamon, salt, cloves, and ginger.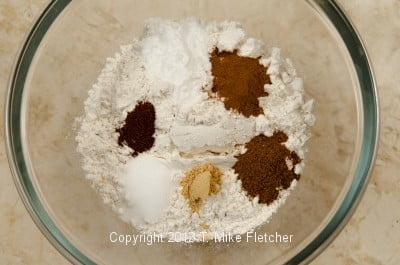 Set aside.
Cream the butter and sugar until light and fluffy.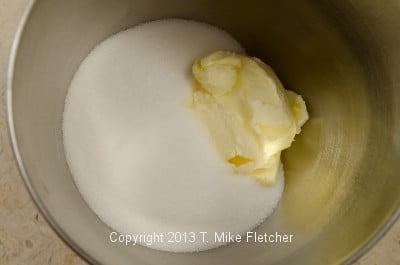 Add the eggs one at a time, beating well after each addition.
Add the flour in 3 parts on low, mixing well each time.
Drain the raisins and add the raisins
and apples.
Pour the batter into the pan
and smooth the top. It will be very thick.
Bake 65 to 75 minutes or until a tester comes out clean. Spray a piece of foil larger than the top of the pan and place it over the pan at abut 45 minutes in to prevent any further darkening. Set aside in the pan while making the topping.
Pecan Caramel Top
½ cup brown sugar
6 tablespoons butter (90 grams or 3 ounces)
¼ cup water
2 tablespoons light corn syrup
2 tablespoons cream
5 ounces pecan pieces (140 grams or 5 ounces or 1 ½ cups)
2 tablespoons cream
Place the brown sugar, butter, water, corn syrup and 2 tablespoons of cream in a medium size saucepan. The mixture will rise considerably when boiling so make sure the pan has enough depth.
Heat on low until the butter melts;
raise to medium to high and boil to 234 degrees on a candy thermometer.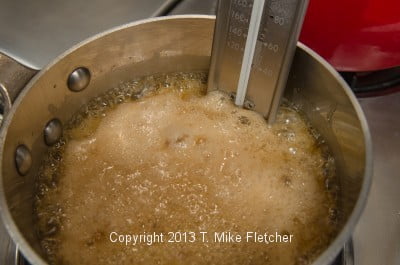 Remove from the heat and add the pecans and additional cream.
Stir well. Pour over the top of the apple cake
and spread evenly to the outer edges with an offset spatula.
Chill to set.
Remove the sides of the pan with a blow dryer. See Apple Crisp Cheesecake. Serve at room temperature.
Yield: 10 to 12 servings.
Yield: 1625 grams or about 3 ½ pounds.