My daughter-in-law Kate absolutely loves pluots and I agree. Fully ripened, this combination of plums and apricots is decadently sweet and lends itself perfectly with amaretti cookies. Crushed with brown sugar, almonds and butter they add a bit of sweetness to the pluots. If you can't find pluots use any ripe plum.
If you've never experienced a pluot it is a treat. Sixty to seventy percent plum with thirty to forty percent apricot this fruit is almost heart shaped. It can be eaten raw, grilled, or baked as in this quick dessert.
Ripe summer fruit is the sweetest to be found eaten out of hand or used in desserts, salads or entrée accompaniments. This quick, easy and delicious dessert doesn't need additional sugar unless the fruit is not fully ripened. Peaches, apricots, blueberries, almost any ripe summer fruit will work with the amaretti crisp.
Amaretti Crisp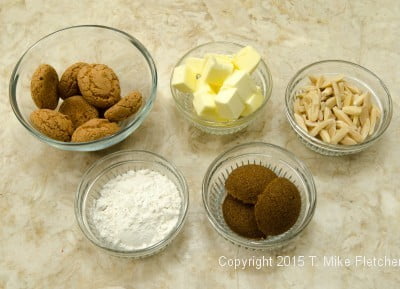 9 to 11smal amaretti cookies, 6 or 7 large cookies
5 tablespoons coarsely chopped or slivered almonds
5 tablespoons packed brown sugar
3 tablespoons flour
5 tablespoons butter, unsalted preferably, cold and cut into ½ inch pieces
6 to 8 Large plums or pluots
Granulated sugar as needed
Vanilla Ice Cream, optional
Preheat the oven to 350 degrees. Set aside 4 individual casseroles.
Place all but the butter in a processor bowl.
Process until large crumbs form.
Cut the butter into several pieces and add to the bowl.
Process to make crumbs. Set aside.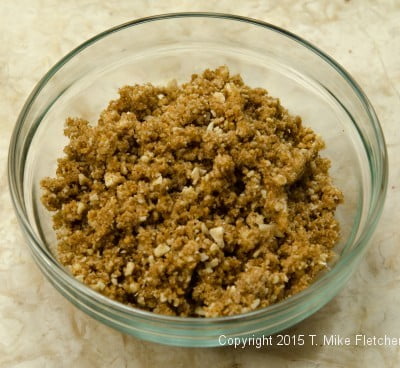 Pit the pluots or plums by cutting along their equator lines and twisting in the opposite directions just like pitting an avocado.
Cut each half into 3 or 4 pieces and then cross cut them so you have 6 to 8 pieces for each half.
Fill individual casseroles ¾ of pluots or plums. Sprinkle with granulated sugar if needed.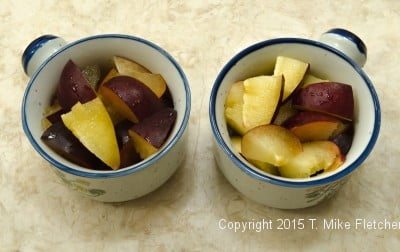 Place the casseroles on a baking sheet and divide the crisp between the casseroles.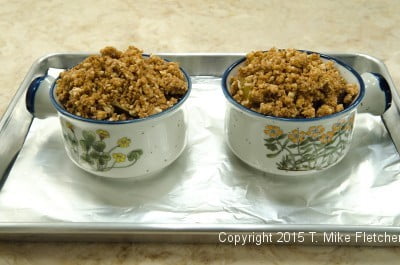 Bake for 25 to 35 minutes until the fruit is soft and bubbly.
Serve warm with or without ice cream.
Yield: 4 individual desserts