Garmisch is another wonderful yeasted coffeecake as only the Germans can make them. Superb bakers, their products not only look beautiful but are luxurious tasting.
This yeast dough is really easy to put together and even if you have been slow to come to yeasted doughs this is a great place to start. It is a firmer dough that handles easily. It can be made ahead and refrigerated for several days before shaping and after baking, it freezes to be eaten another day - maybe as a special treat on New Years Day morning.
This Garmisch dough comes from a recipe that is so old I can't remember where I got it. The dough itself is not sweet. The sweetness of the Garmisch comes from the filling. The original filling was walnuts and while delicious, the chocolate cherry almond filling adds a note of excitement. Dried bing cherries are soaked in brandy. Almond paste, a European favorite combines exquisitely with the cherries and brandy. The processor makes quick work of combining the ingredients into a filling with the egg white used to bind the filling.
Homemade almond paste is easy to make and can be used in this recipe. It is generally less
While I love chocolate in all its forms, I chose mini chocolate chips for this filling. They blend well and after baking, they stay soft but don't stay melted like regular chocolate. Regular size chips are too large to blend well. If you can't find the mini chocolate chips, chop or process them to make them smaller.
There are varying degrees of shine and color when using egg washes. One of the deepest is a whole egg and cream. Used as a finish to this Garmisch, it adds a luster and beauty that necessitates the need for no other glaze, drizzle or icing.
Yeast Dough
½ cup milk
5 tablespoons butter (75 grams or 2 ⅔ ounces)
2 eggs
2 teaspoons active dry yeast
2 ⅔ cups bread flour (365 grams 12 ¾ ounces)
2 tablespoons sugar (25 grams or 1 scant ounce)
½ teaspoon salt
¼ teaspoons cardamom
¼ teaspoons ginger
¼ teaspoon nutmeg
Heat the milk and butter until the butter melts. Cool to lukewarm.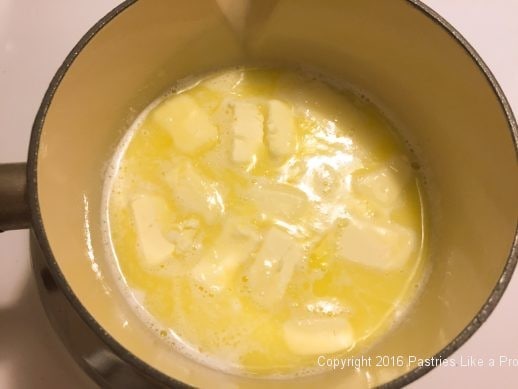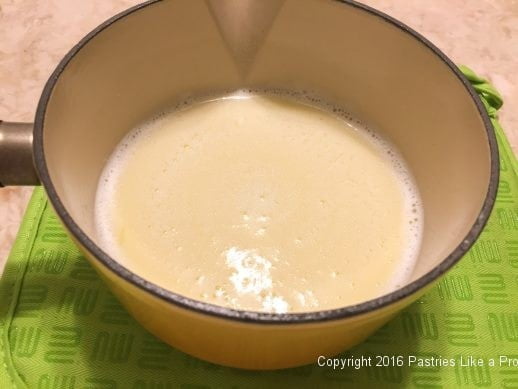 Add the cooled milk and butter to a mixing bowl. Add the eggs, yeast, and sugar. Whisk to combine.
Whisk together the flour, salt, cardamom, ginger and nutmeg.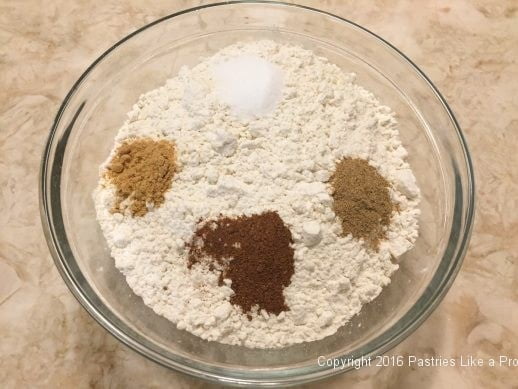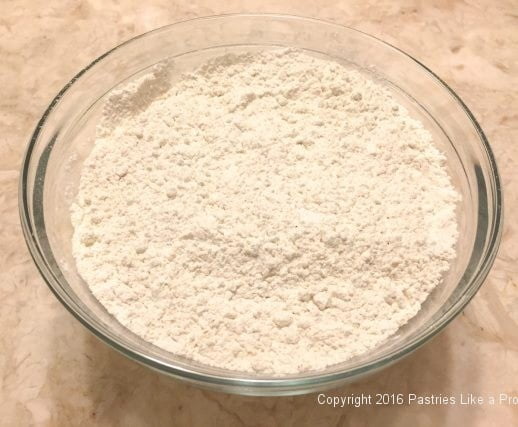 Add to the liquid and beat, preferably with a dough hook.
Beat on low to bring together. Raise to medium if your mixer allows and beat for 3 minutes. Take a small piece of dough and check for the windowpane. If the dough stretches without breaking it is done. If not, beat a bit longer.
When the dough is done it it will come together in the bowl,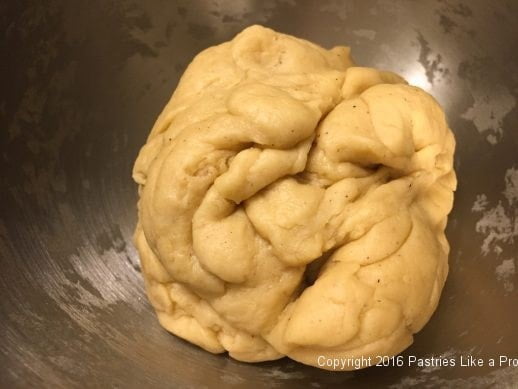 cleaning the bowl completely.
Remove it from the bowl and knead it several times to bring it together and form a ball.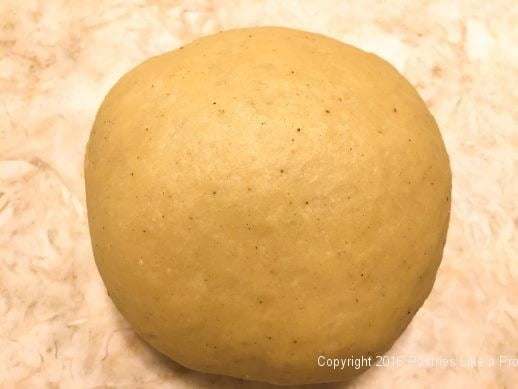 Place in a greased bowl or container and let rise for about 1 to 1 ½ hours. Use immediately or punch down and refrigerate up to 3 days.
Filling
½ cup dried Bing cherries (70 grams or 2 ½ ounces)
2 tablespoons brandy
½ cup almond paste (140 grams or 5 ounces)
½ cup sugar (100 grams or 3 ⅓ ounces)
1 egg white
½ cup mini chocolate chips (85 grams or 3 ounces)
Cut the cherries into small pieces. Place in the small pan with the brandy. Heat until it just comes to a boil. Remove from the heat and cover. Cool completely. This can be done the day ahead if desired.
Place the brandied cherries, almond paste and sugar in the processor.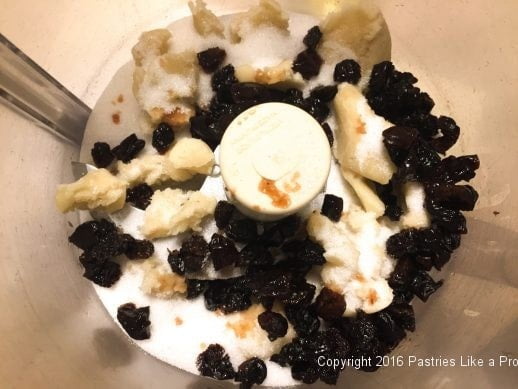 Process until everything is very finely cut together.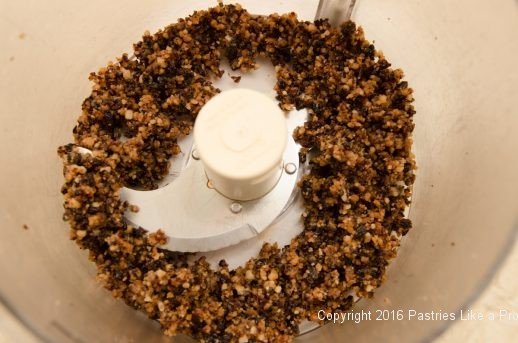 Add the egg white and process to mix completely.
Assembly
Yeast Dough
Filling
Mini Chocolate Chips
1 egg beaten
1 tablespoon cream
Roll the dough into a 12 x 14 inch rectangle.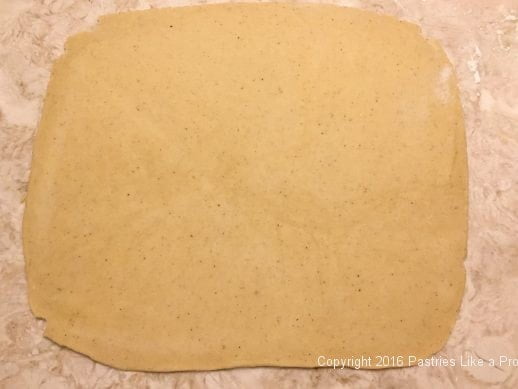 Spread the filling to within 1 inch of the edges. Sprinkle the chocolate chips evenly over the filling.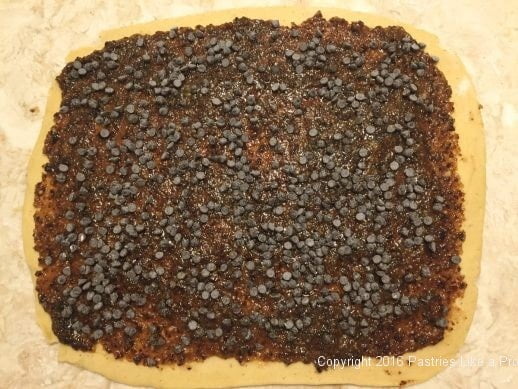 Brush the edges with water.
Roll up tightly from the 14 inch side.
Pinch the seam and top and bottom edges together.
Place on a parchment lined baking sheet so that it is facing you longwise.
Starting at 1 inch from the top edge, with a sharp knife, cut down the center of the roll all the way through, keeping the cut edge up. Twist them together keeping the cut edges on top.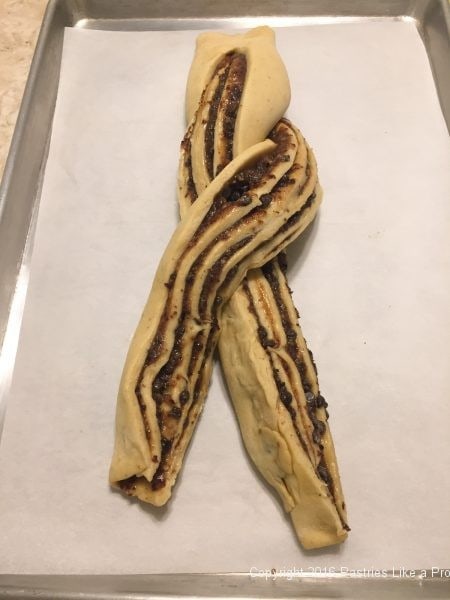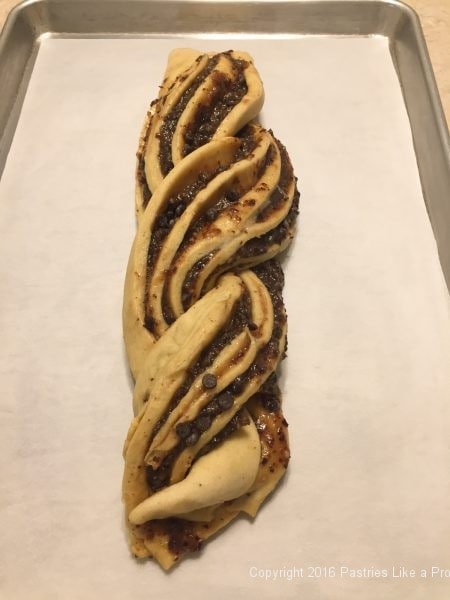 Tuck the ends under. Let rise 60 to 90 minutes until doubled.
In the meantime, whisk together the beaten egg and the cream.
Preheat the oven to 375°F. Double pan the Garmisch and bake for 15 minutes. Remove from the oven and brush with the egg mixture. Bake for another 10 minutes. Remove from the oven and brush again. Bake for 10 to 15 minutes until deeply browned and baked through. It should register about 180°F in the center of the Garmisch.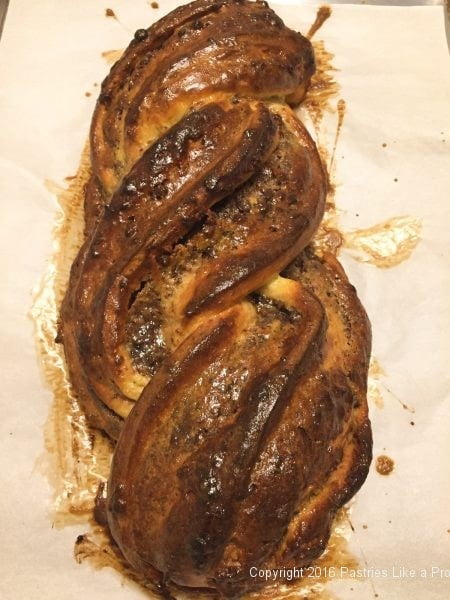 Cool on a rack before cutting.
This Garmisch freezes well. For best results, thaw first then heat in a 350°F oven for 15 to 20 minutes to warm through.