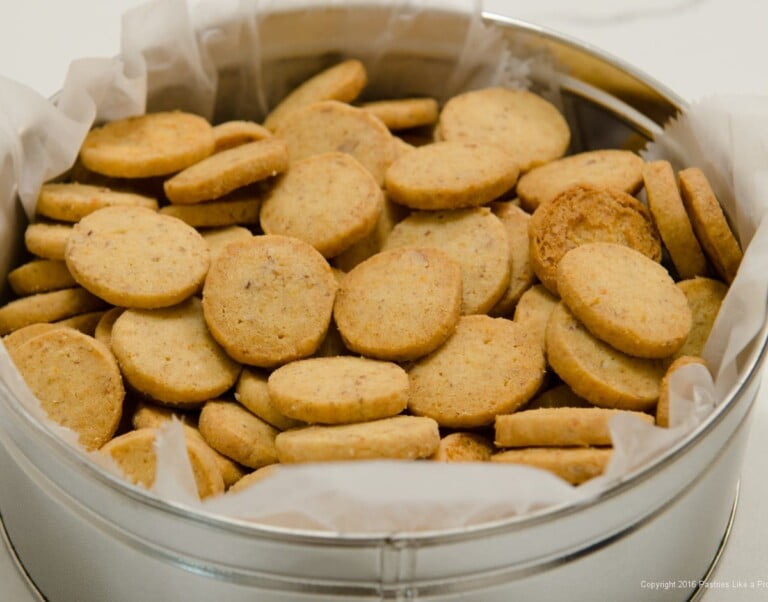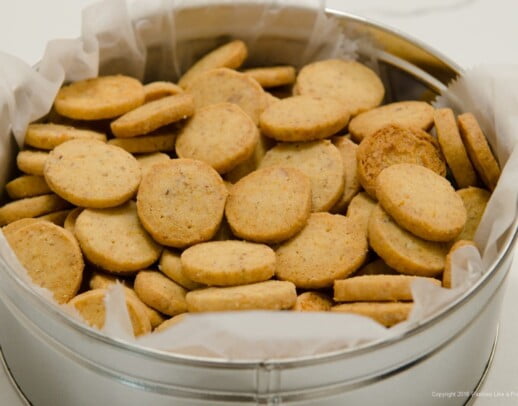 While shortbreads are usually thought of as sweet, these Cheddar Pecan Shortbreads are definitely on the savory, snacky side. Anything with cheddar cheese, pecans and cayenne pepper is definitely on my must try list. But I must warn you, these are absolutely, positively addictive. There is not way to eat just one – hence the large number it makes!
When I had my take out shop, we sold these Cheddar Pecan Shortbreads and they were always a winner with wine, beer, lemonade or nothing at all.
They are perfect for the holidays as they can be kept in an airtight tin for weeks and in the freezer, unbaked for months. One thing to mention is that they will seem a lot zippier if eaten when just baked. They should be made and stored in a tin for at least a few days to mellow them out - even better for the busy times.
I found a cheddar cheese by Cabot that is marked "Seriously Sharp" and used that. Buy the sharpest cheese you can find so the cheese comes out in the cracker.
A quick turn in the processor or mixer and you are looking at least 12 dozen shortbreads, depending upon how thick you cut them. That's about it for the Cheddar Pecan Shortbreads. Just make 'em and enjoy 'em!!
Zippy Cheddar Pecan Shortbreads
1 cup pecan pieces (114 grams or 4 ounces)
8 ounces extra sharp cheddar cheese or Extremely Sharp if available (225 grams)
½ pound butter, cold for the processor method, room temp for the mixer method
2 ½ cups all purpose flour (340 grams or 12 ounces)
1 teaspoon salt
½ to 1 teaspoon cayenne pepper
Preheat the oven to 350°F. Spread the pecans in a single layer on a baking sheet and toast for 5 to 7 minutes until fragrant and lightly colored.
Processor Method
Cut the cheddar cheese into ½ to ¾ inch pieces and set aside. Cut the butter into the same size pieces and keep cold.
Place the flour, salt and cayenne in the processor.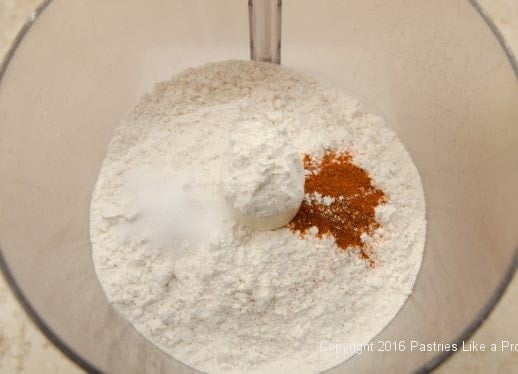 Pulse several times to mix.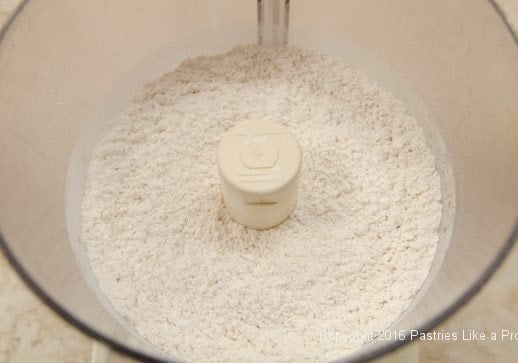 Add the cheddar cheese chunks and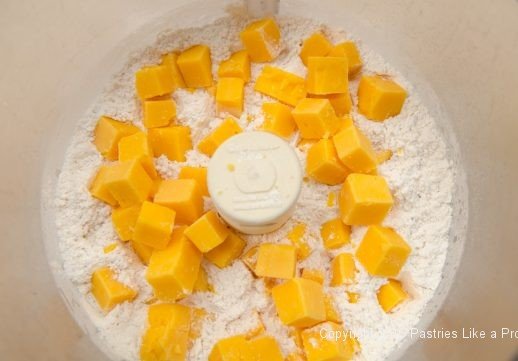 process until the cheese cannot be seen. You will have an orange looking mixture.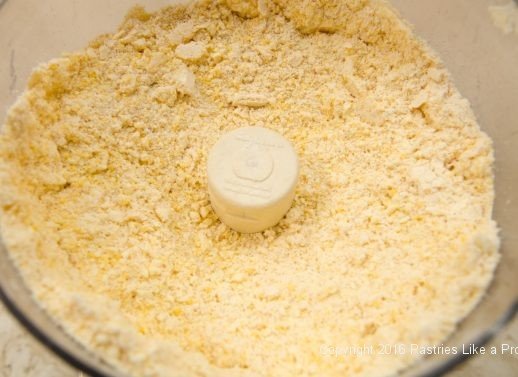 Add the cold butter and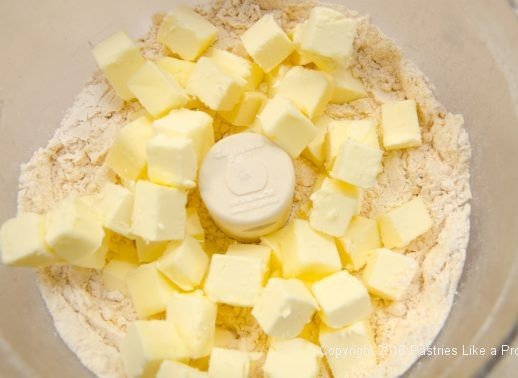 process until the dough is just about finished coming together. Do not add water or any liquid to get it to all up. If necessary, redistribute the dough in the processor to help it along.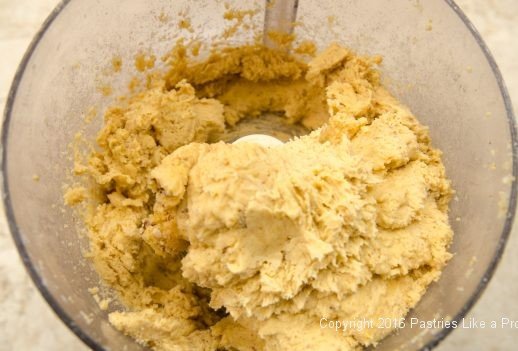 When the dough comes together completely, add the pecans.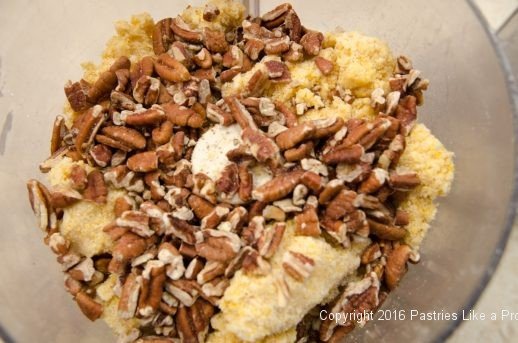 Pulse to cut mix theme into the dough Don't process pass this point or the pecans will be cut in too finely as I did. And even if you do, the flavor will be there and it will be fine. It's just chunky pecans vs. fine pecans. Chill the dough if necessary in order to be able to roll it.
Mixer Method
The butter should be room temperature and the cheese should be grated.
Place the butter and cheese in the bowl of a mixer fitted with the paddle attachment. Cream until completely mixed. Add the salt and cayenne pepper, beating to incorporate. Add the flour in 3 parts, mixing each time until completely incorporated. Lastly add the pecans. Chill the dough if necessary to roll it.
Shaping
Divide the dough into 4 pieces (225 grams each or 8 ounces). Roll each into a log 13 to 14 inches long. Wrap in plastic wrap or foil and refrigerate until firm. The rolls may be frozen at this point for several months. Thaw in the refrigerator to cut.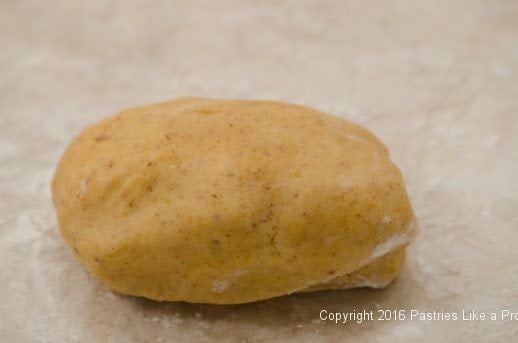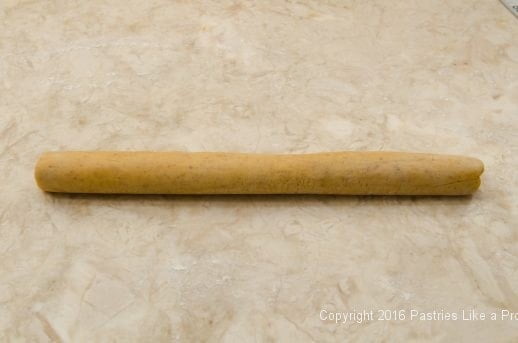 Preheat the oven to 350°F. Line baking sheets with parchment paper. Cut into slices about ¼ inch thick. Bake for 13 to 15 minutes until just colored.
Cool completely. Store in an airtight tin.
Makes approximately 200.