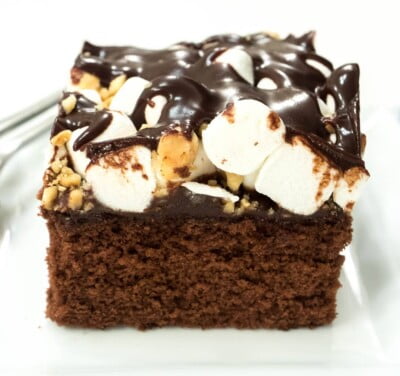 As a committed chocoholic, this Rocky Road Snack Cake fills the bill. I noticed recently that I haven't posted a chocolate recipe for a while and being short on time came up with this really fast snack cake.
Snack cakes need to be quick, good and so easy to make. This Rocky Road Snack Cake fills all those requirements. Half of the cocoa version of the high ratio cake is the base for this one. A deep chocolate ganache moors the mini marshmallows and peanuts to the cake. While any nut can be used, I just like the peanuts with this. They can be left whole or lightly cut in the processor.
Rocky road Snack Cake is perfect with a tall glass of cold milk. So if you're in a hurry and need a chocolate fix, this is the cake for you.
Chocolate Cake
For how-to photo's for the cake.
2 large egg whites
½ cup milk
1 teaspoon vanilla
1 cup cake flour (125 grams or 4 ⅓ ounces)
⅓ cup Dutch cocoa (30 grams or 1 ounce)
¾ cup granulated sugar (150 or 5 ¼ ounces)
2 teaspoons baking powder
⅛ teaspoon salt
6 tablespoons unsalted butter, softened (85 grams or 3 ounces)
Preheat the oven to 350°F. Line a 9x9x2 inch square pan with parchment. Spray the center only with baking spray. Set aside.
In a small bowl lightly mix the egg whites, 2 tablespoons milk, and the vanilla. Set aside.
Place the cake flour, cocoa, sugar, baking powder, and salt in a mixing bowl. Mix briefly to combine the ingredients. Add the butter and remaining milk. Moisten the dry ingredients by beating on low for about 30 seconds. Raise the speed of the mixer to medium and mix for 1 ½ minutes.
Add the liquid half at a time, beating on low for 30 seconds each time.
Spread the batter evenly in the prepared pan. Bake for 24 to 26 minutes until a cake tester comes out clean. Cool the cake in the pan.
Chocolate Ganache
This needs to be in a pourable state when used. If making ahead, just microwave at half power to liquefy it again. This will not be super thin. It is heavy glaze but will pour.
⅔ cup heavy cream
5 ounces semisweet chocolate (140 grams)
Heat the cream until very hot but not boiling. Remove from heat and add the chocolate. Let it sit for a few minutes and then whisk gently to combine it.
Assembly of the Rocky Road Snack Cake
Listed below are the amounts of nuts and marshmallows I used. More or less can be used according to your taste.
Chocolate Cake
Chocolate Ganache
3 ounces peanuts (85 grams) [or any nut of your choice]
2 ½ cups mini marshmallows (140 grams or 5 ounces)
Release the edges of the cake with a small metal spatula. Spread half the ganache over the layer and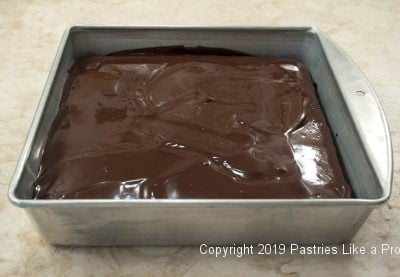 top with half the peanuts and half the marshmallows.
Cover with the remaining marshmallows topped with the remaining nuts. Press down.
Drizzle heavily with the remaining ganache.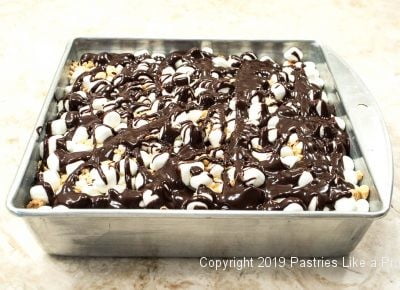 Refrigerate for several hours to set up the ganache. After the ganache has set up, the cake may be stored at room temperature for a couple of days.
Cut into 9 pieces by cutting 3 across and 3 down.
Here are a few other quick to make items.
Cocoa Brownies in No Time or a Little Time
Quick Peanut Coffeecake
Fall Muffins - Apple, Pumpin and Cranberry