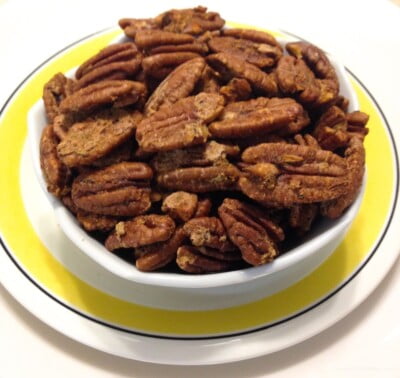 Hot Peppered Pecans are perfect with the super bowl around the corner. I originally discovered these Hot Peppered Pecans when the St. Louis Art Museum wrote their cookbook, "Artists in the Kitchen". Some of the testing was done in my bakery kitchen
These pecans are a standout. Heat Alert - they are hot!! So if you don't favor a lot of heat, tone down all the pepper and the hot pepper sauce. Start with half and go from there.
If you're going to a Super Bowl party these are a great hostess gift. Or if you're hosting a Super Bowl Party these Hot Peppered Pecans make great gifts to send home with your guests. Choose little containers or put them cellophane bags and tie with decorative ribbons. They are also great on a cheese tray, crumbled in a salad or included in any recipe calling for pecans, including sweet ones. The kick they add to chocolate chip cookies is amazing. Add them to Cocoa Brownies for an unusual twist. As an added bonus they are gluten-free
Including baking, these Hot Peppered Pecans shouldn't take more than 20 minutes.
Hot Peppered Pecans
2 egg whites
1 teaspoon ground pepper
1 teaspoon ground white pepper
1 teaspoon cayenne pepper
½ teaspoon dried thyme, crumbled
1 tablespoon Worcestershire sauce
1 tablespoon hot pepper sauce
1 teaspoon salt
1 pound pecan halves
Preheat oven to 325 degrees. Line a heavy baking sheet with foil. If you don't have heavy baking sheets, double the pans. Spray with cooking spray and set aside.
Beat the egg white with a fork until foamy.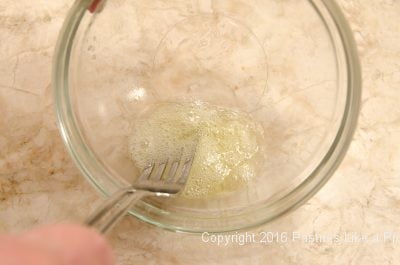 Add the remaining ingredients and mix together.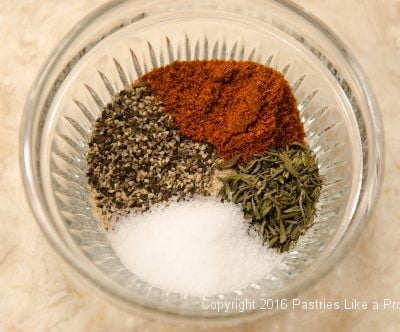 Pour over the pecans and
stir to coat them evenly.
Pour onto the baking sheet, making sure they are in a single layer. You will have to use at least 2 pans.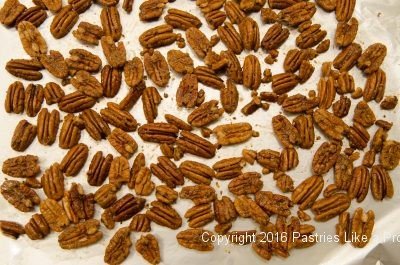 Bake for 5 minutes. Stir nuts. Bake an additional 5 to 7 minutes until browned. Watch carefully at the end so they don't burn.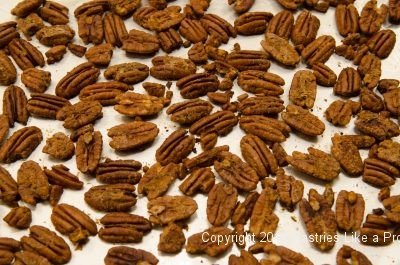 If you are looking for more snack ideas try these easy to make recipes:
Cheddar Pecan Shortbreads
Puff Pastry Crackers
TJ's Cowboy Bark
This recipe was originally posted as Hot Peppered Pecans on November 2, 2016.