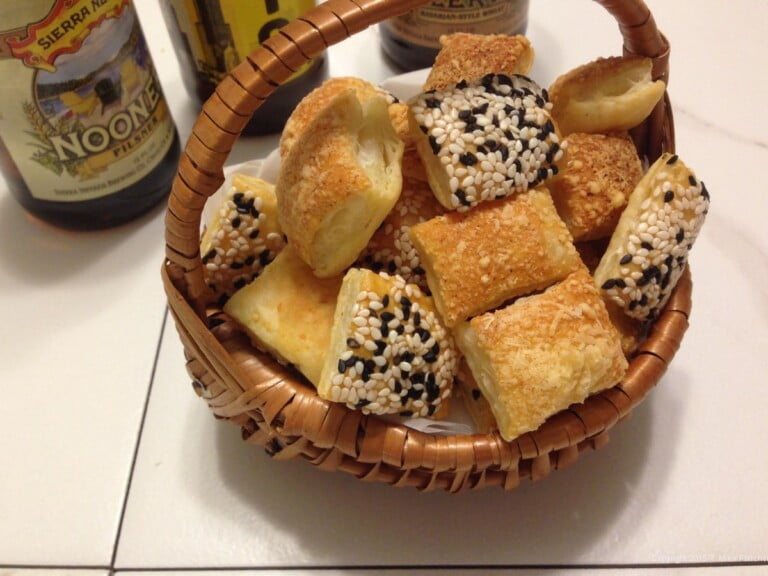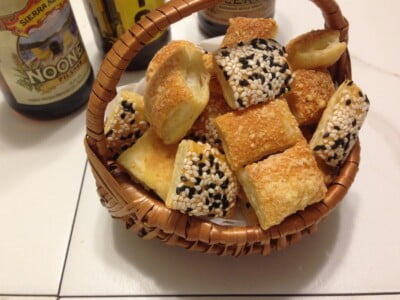 I don't know about you, but last minute everything seems to happen at my house and these Puff Pastry Crackers take care of that. With little time to plan or think ahead, it makes it difficult sometimes when your guests expect something a bit out of the ordinary.
These Puff Pastry Crackers are the solution for 2015....or the first of 2016! Take one box of purchased puff pastry (Pepperidge Farm is fine), a beaten egg and various toppings and you have the makings of instant crackers.
These Puff Pastry crackers will keep a few days in an airtight container. However, they are so easy to make ahead there is no need. Just top the, cut and freeze. Bake from the frozen state in a matter of minutes and you'll have everyone thinking you are a genie in the kitchen!
Puff Pastry Crackers
1 box frozen puff pastry sheets, thawed overnight in the refrigerator
1 egg, well beaten
Assorted toppings, such as
sesame seed
finely grated parmesan cheese with a hint of cayenne pepper
parmesan cheese, dried basil, oregano, a dash of garlic powder and a hint of cayenne,
cheddar, cayenne and cumin
anything favorite flavor combination
Remove one piece of puff pastry from the box. Roll it out to about 14x12 inches. Brush it with the egg and top it as you please. Place in the freezer until frozen – this takes about 10 minutes. Remove it and cut it into the desired size of cracker. Keep in mind they will shrink somewhat when baked. Freeze again before going into the oven. Or keep them frozen for later.
When ready to bake preheat the oven to 375°F.
Line the tray with parchment paper and place the crackers on the tray about ¼ inch apart. Bake for 13 to 15 minutes until browned and risen.
That's it! Now act like it was just a pain to make these crackers but your guests were sooooo worth it!!!
Yield: It depends upon the size of the cracker. But a lot!