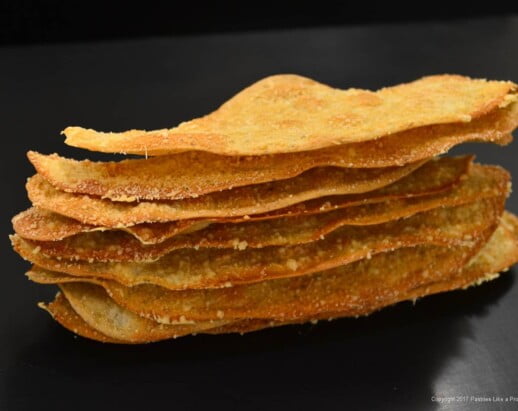 This Garlic Oregano Cracker Bread has a story. Next week we are having a gourmet wine dinner at the restaurant. The organizer didn't want a dessert but requested a cheese plate. Good for me right? I skipped a special dessert for seventy people. Well, not really. I was asked if I had something like a savory cookie that would go with the cheese tray.
After a day or two, it suddenly dawned on me that this Garlic Oregano Cracker Bread was the perfect solution. Years ago before I became involved seriously with food, I loved experimenting with recipes and food.
This recipe was a part of a group of breads I developed. If I had to name categories of favorite foods, breads are number one or two. So variable in so many ways with so many uses. The Wine and Cheese Baguettes with their silky texture are from this group of breads.
The final offering to these seventy diners will be my Painted Cookies.
I use my pasta machine with an electric motor to roll out the Garlic Oregano Cracker Bread. It makes it much easier and faster when you have about 100 pieces to shape and bake. Lacking a pasta machine, a rolling pin is your best friend.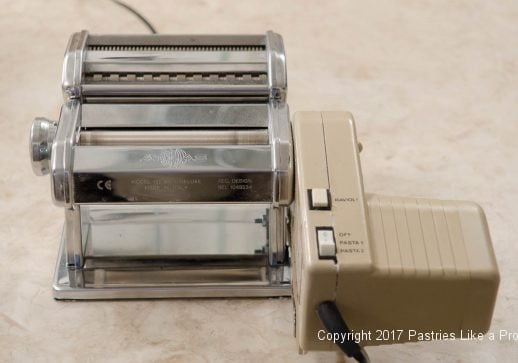 The one thing you have to watch for when you use the pasta machine is the small twiggy part that sometimes is part of the dried oregano leaf. As you roll the dough thinner and thinner, it often won't go through the machine and ends up tearing the cracker bread. Simply take the machine back to number one and use a cake tester to flip out the twig. Shape the dough back into a ball, flatten it and put it through the machine again.
Making the dough one day and rolling it out the next day is ideal as the dough rolls out much easier through the machine. If it is room temperature, it will roll out a bit longer each time. Cool water is used because the processor will heat up the dough when it is made.
The larger the dough ball, the longer the piece of cracker bread. Using 25 grams or slightly less than 1 ounce per ball, the bread will be 8 to 9 inches long and about 3 inches wide.
It can be finished with parmesan, sesame seeds, a combination of the two or anything else you feel is appropriate.
The cracker bread should be made at least a day before or It can be made a couple of weeks ahead of time. Simply wrap it well in plastic wrap and store it where it won't get crushed. The bread will become more flavorful as it sits.
This Garlic Oregano Cracker Bread is perfect served with cheese, hummus, salads or just as a snack
Garlic Oregano Cracker Bread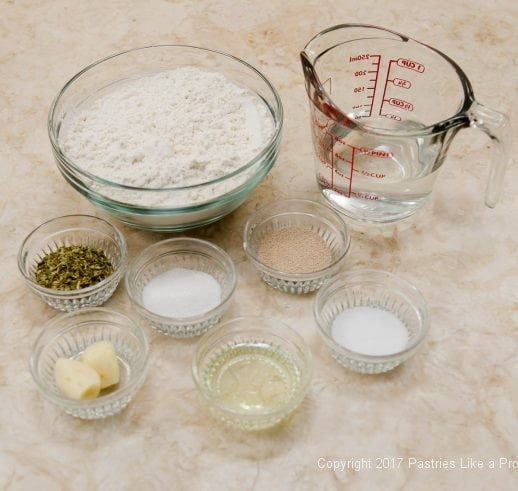 ½ cup cool water
1 teaspoon dry yeast
1 teaspoon sugar
2 tablespoon olive oil
1 ½ cups bread flour (210 grams or 7 ounces)
2 teaspoons dried oregano
¾ teaspoon salt
2 large cloves garlic
1 egg white
3 tablespoons sesame seeds (30 grams or 1 ounce)
3 tablespoons grated asiago or parmesan cheese (30 grams or 1 ounce)
Combine the water, yeast and sugar.
Let the yeast dissolve, about 5 minutes. Add the olive oil and set aside.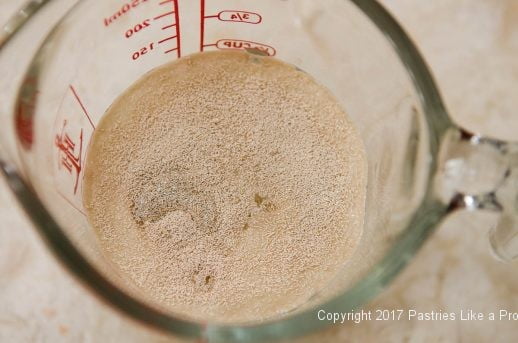 Place the bread flour, oregano, salt and garlic cloves in the bowl of food processor.
Process very to mix well and chop up the garlic. Stop from time to time and pulse to redistribute the ingredients and then process again.
Pour the liquid over the dry ingredients. Process until a ball forms. If it does not form a ball, add another tablespoon of water.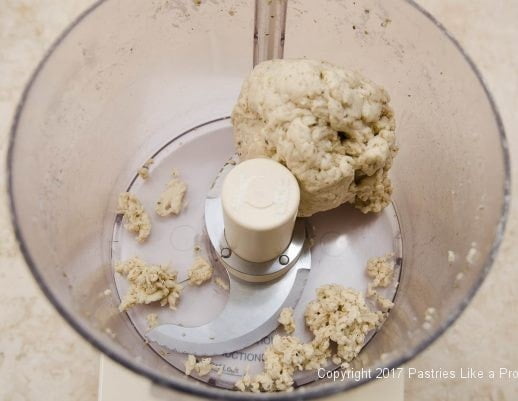 Process about 45 seconds after it reaches the ball stage. Dump out and knead five or ten times to make a smooth ball.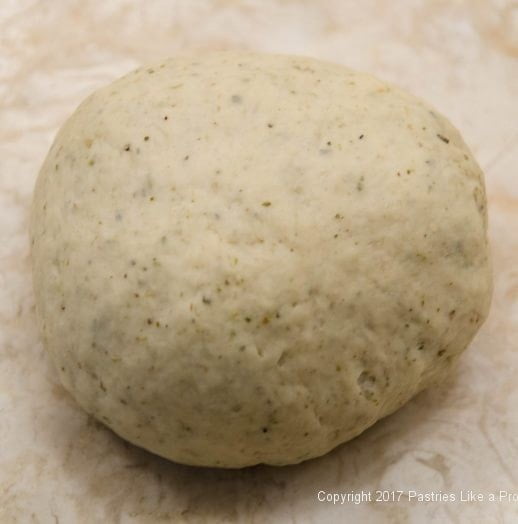 Spray a bowl at least twice the size of the dough. Place the ball in the bowl, turn it over, cover it with film and mark it.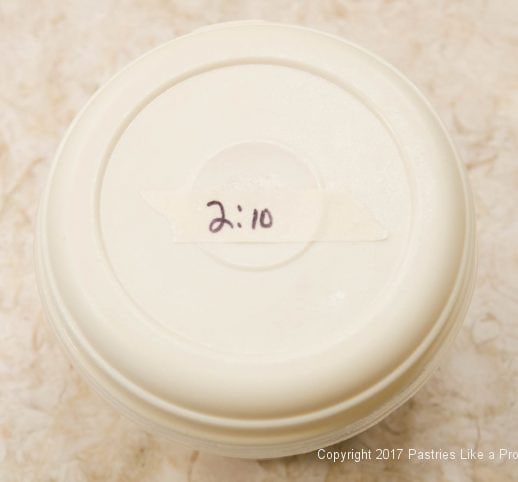 Let it rise for an hour to an hour and a half until doubled. Refrigerate up to 3 days if desired.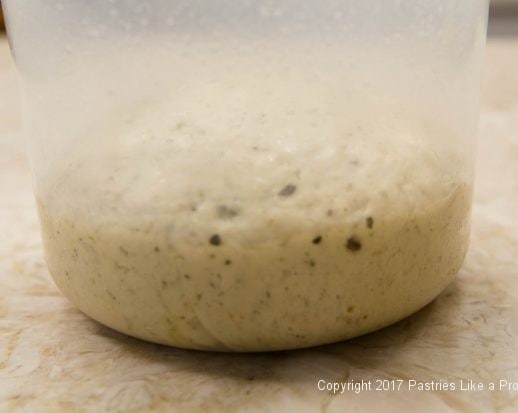 Preheat the oven to 350 degrees. Line half sheets with parchment and set aside.
Beat the egg white until foamy and set aside. Combine the sesame seeds and cheese or have anything you are topping with prepared. Set aside.
Deflate the dough, roll it into a log and divide it into about 13 pieces or however many you want, keeping in mind the larger the piece the larger the pieces of cracker bread. Roll each piece into a ball.
I worked 4 pieces at a time and kept the remaining balls in the refrigerator. Flatten one piece of dough with the palm of your hand.
Dust with flour and run the dough through a pasta machine from 1 through 5 or 6, depending how big the piece is using more flour as necessary. It will be very, very thin. Alternately, roll it out with a rolling pin until it is really thin.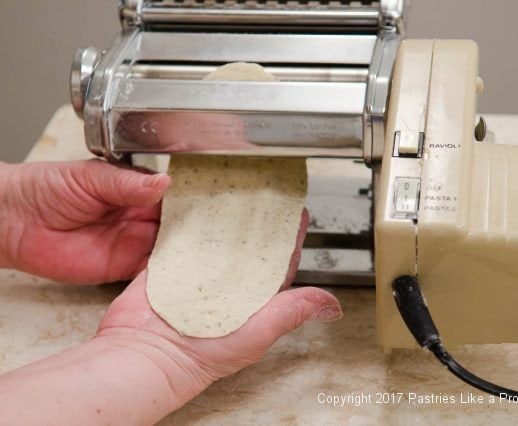 From the bottom to the top of the picture below the dough can be seen from the first roll out to the finished Garlic Oregano Cracker Bread.
I placed 4 cracker breads on a half sheet pan.
Brush with egg white.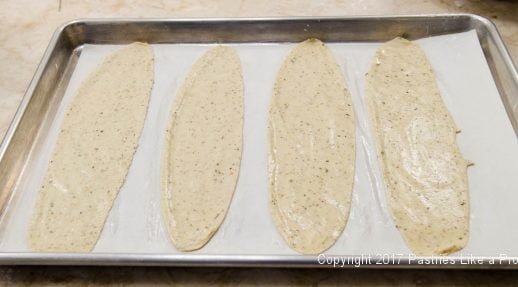 Sprinkle liberally with the sesame seed/cheese mixture or whatever you decide to use.
Immediately put the sheets into the oven for 10 to 14 minutes until medium brown and crisp.
Cool and store in an airtight container.
Dough yields about 340 grams or 12 ounces unbaked. Yields: 12 to 14 pieces - more or less as desired.