Chocolate Orange Raisin Bread - A Favorite Homemade Bread
Perfecting this Chocolate Orange Raisin Bread was exhilarating for me. I have been fascinated with chocolate bread for more years than I care to remember. Almost every recipe I read mentioned the denseness of the bread. Every chocolate bread I made was dense. In fact, I have a Chocolate Cherry Bread on my blog that is also dense. Good, but dense. There had to be a way to lighten up the dough and make a moist, light and flavorful loaf.
I was reminded of this quest when I saw a Chocolate Bread recipe by David Lebovitz. Again, he mentioned the dense word. After giving the problem some thought I came up with the answer – and it was right in front of me all the time - a sponge.
Why Use a Sponge when making Homemade Bread
When yeast doughs are heavy in milk, sugar, chocolate, and/or eggs they tend to rise slowly. These are called rich doughs. Dried yeast is a living organism that is asleep. Just as we like to wake up in a warm atmosphere ready to eat, so does the yeast. By making a sponge of some of the warm liquid, flour, yeast, and a bit of sugar that feeds them, the dried yeast wakes up happy and starts multiplying immediately. This multiplies the initial yeast and adds a lot more rising power to the bread than it would otherwise have. This is the simplest of all starters. It is called a sponge because that's what it looks like when risen.
About the Chocolate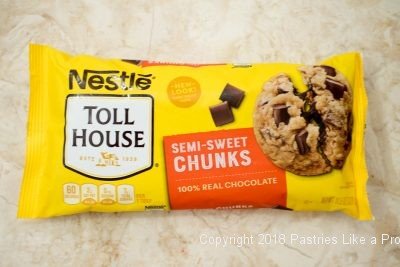 Normally I use chocolate chips in cookies or wherever the item is going to be picked up barehanded because they don't melt. This time I went with chocolate chunks for a more pronounced chocolate. You will notice in the ingredient photo there are two bowls of chocolate. That is not a mistake as you will see when you make this best of all homemade bread. I have had questions about the chocolate I use because it looks like chocolate chips – which it is not. I use Callebaut semisweet callets. They are a boon to the professional baker. When I had my bakery the chocolate we used came in ten-pound blocks which had to be hand chopped. It was a great day when callets were introduced. The same unadulterated chocolate used in the blocks is used in callets which look like chocolate chips but are a bit larger. They melt faster and more evenly than chopped chocolate because of their uniform shape.
A bit about the Ingredients
I used dutch cocoa for the darkness of its color when baked, but natural would do also. Bread flour, with its high protein count, is important to the ability of this rich dough to rise. The raisins are plumped in hot water while preparing the rest of the recipe to ensure their moistness. Since very little butter is used, I opted for whole milk instead of my normal 2% milk. As is my practice, I added coffee and vanilla since they heighten the flavor of chocolate. This dough is actually a batter. The consistency of the dough bakes into a wonderful texture, a dark chocolate color with a moistness that keeps it fresh for days when well wrapped.
You will notice in the ingredients photo that two of them are different. After the photo was taken, I increased the milk and added an additional egg to ensure the outcome I wanted. I mention this only because I know many of you will notice the changes.
Homemade bread is often so much better than any you can buy and this one certainly falls into that category. I'm very proud of this bread and it was worth all it took to get it here.
We are experiencing our first snow of the season here and making homemade bread is my idea of winter. This Chocolate Orange Raisin Bread would be perfect for the holidays as a morning, afternoon, evening or anytime treat. Who am I kidding? I would wake up in the middle of the night for this bread!
Chocolate Orange Raisin Bread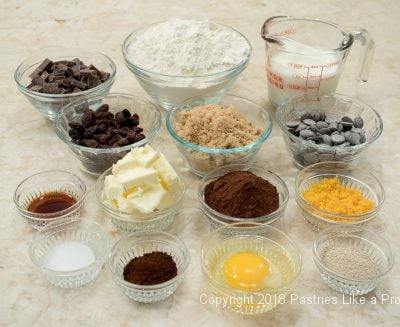 ⅞ cup whole milk, divided (1 cup less 2 tablespoons)
2 ¼ teaspoons active dry yeast (7 grams or one envelope of ¼ ounce)
2 ¼ cups bread flour (315 grams or 11 ounces)
½ cup packed light brown sugar (100 grams or 3 ½ ounces)
2 tablespoons orange zest – about 1 large orange
½ cup raisins, (60 grams or 2 ounces)
¼ cup Dutch cocoa (25 grams or ⅞ ounce)
½ teaspoon table salt
4 tablespoons butter (60 grams or 2 ounces)
3 ounces semisweet or bittersweet chocolate, coarsely chopped (85 grams)
1 ½ teaspoons instant coffee or espresso powder
1 teaspoon vanilla
2 large eggs
½ cup chocolate chunks (60 grams or 2 ounces)
Heat the milk in the microwave or in a small pan until lukewarm. If it gets too hot, let it cool to lukewarm before continuing.
In the bowl of a mixer, whisk together ⅓ cup of the lukewarm milk, the yeast, ¼ cup of the measured flour, and 1 teaspoon sugar from the measured sugar.
Cover with plastic wrap and allow to double, about 30 minutes.
Zest the orange with a microplaner and set aside.
Cover the raisins with really hot water and set aside.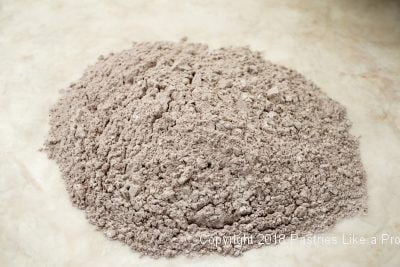 Because cocoa often has lumps that won't come out when beaten, sift the flour, cocoa, and salt together. Set aside.
Melt the butter and 3 ounces (85 grams) of chocolate in the microwave or in a small pan. Whisk to combine and let cool to lukewarm.
Stir the coffee into the vanilla. When the sponge has doubled, add the remaining milk, sugar, vanilla and coffee, egg, and orange zest to the mixing bowl. Fit the mixer with the paddle attachment and beat on medium speed to mix.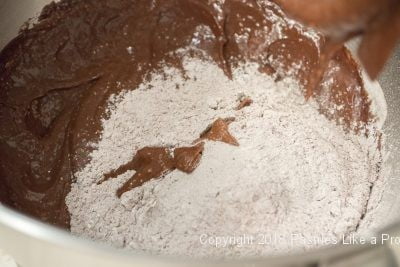 Add half the flour/cocoa mix, beating well on low. Blend in the chocolate and butter mixture.
Add the remaining flour/cocoa mix, beating to combine. Change to a dough hook if available and beat for 3 minutes. Drain the raisins and squeeze out any excess water. Add them, along with the chocolate chunks, to the batter. Mix for 2 more minutes.
Leave the dough in the bowl and cover with plastic wrap. Let it rise for 2 to 2 ½ hours in a warm place until doubled.
Preheat the oven to 350°F.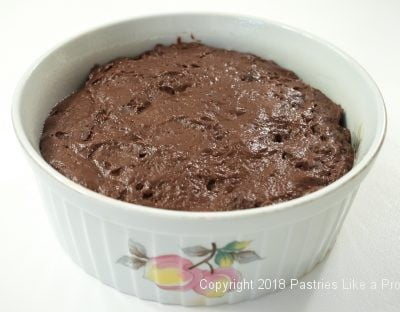 Spray a 6 cup, oven proof bowl such as soufflé dish. Stir the batter down. It will be very light and spongy. Scoop the batter into the bowl. Smooth the top. Cover very lightly with plastic wrap and let it rest for about 30 minutes. At this point, it should have risen somewhat but nowhere close to doubling. That is as it should be.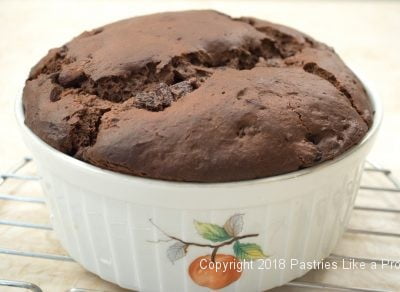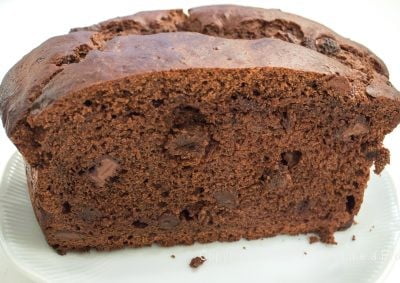 Bake for 30 minutes. Tent with aluminum foil to prevent over-browning and bake for another 20 to 30 minutes until the dough is firm. The normal temperature for bread when baked is 180°F. However, I took mine out of the oven at 165°F because it was firm and set. I let it cool in the dish for about 30 to 40 minutes before releasing and setting it on a rack to cool completely. As you can see in the picture, it is totally baked.
I am sure my newest favorite homemade bread will freeze and thaw well but mine didn't stick around long enough to try it.
However, it does retain its texture and moistness for several days well wrapped.