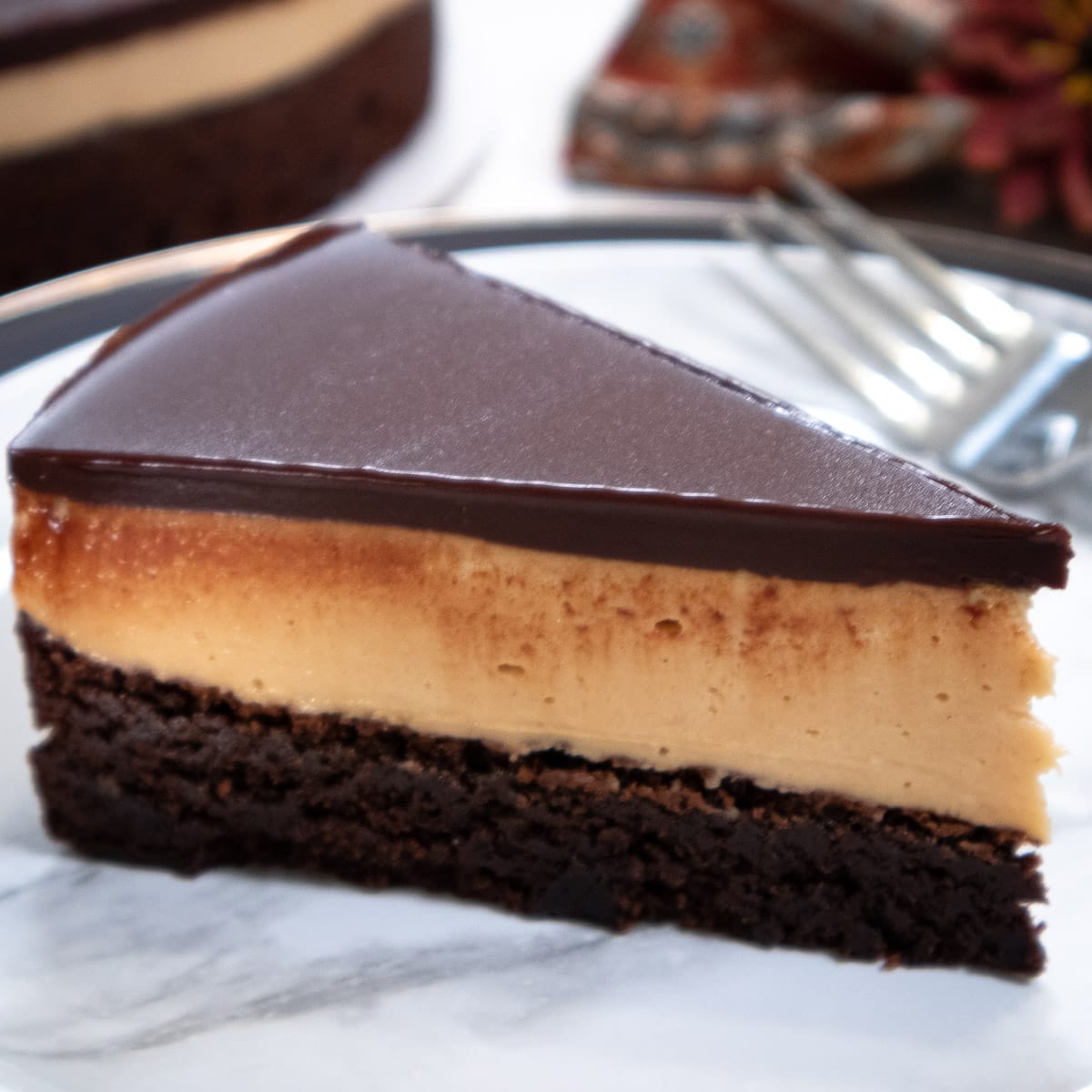 This Chocolate Peanut Butter Mousse Cake is absolute proof that sometimes the easiest cake to make is also one of the best. How could you go wrong with a brownie cake layer, peanut butter mousse and an extravagant deep chocolate glaze?
Whether it's for Father's Day or another day, this cake is sure to please all chocolate peanut butter fans.
Brownie Cake Layer
If peanut butter is going to be teamed up with a cake layer, what could be better than a brownie turned cake layer. This cake layer is based on my Cocoa Brownies (not to be missed). Really easy and really good.
Peanut Butter Mousse Filling
Peanut butter is much loved and for good reason. My husband, one son and a grandson could live on it. Lighten the filling with a bit of whipped cream and it melts in your mouth. Creamy peanut butter is best here. Don't use natural because it doesn't whip up the same.
Ganache for Chocolate Peanut Butter Mousse Cake
I love this Dark Satin Ganache to finish this cake. The clear corn syrup gives the ganache a shiny finish. Ganaches are basically chocolate and cream, sometimes butter, sugar, and/or corn syrup.
I have seen methods where the cream is heated and then poured over the chocolate in another bowl. Maybe it's my baker's instinct to use as few dishes as possible, but I just add the chocolate to the heated cream, let it sit for a minute and then very gently whisk the chocolate to melt it. One less dish to wash! Don't get over enthusiastic whisking or the finished ganache will have air bubbles.
Also, don't let the cream boil. The resulting ganache will lose its shine if the chocolate gets too hot. When the cream starts steaming, remove it from the heat and add the chocolate.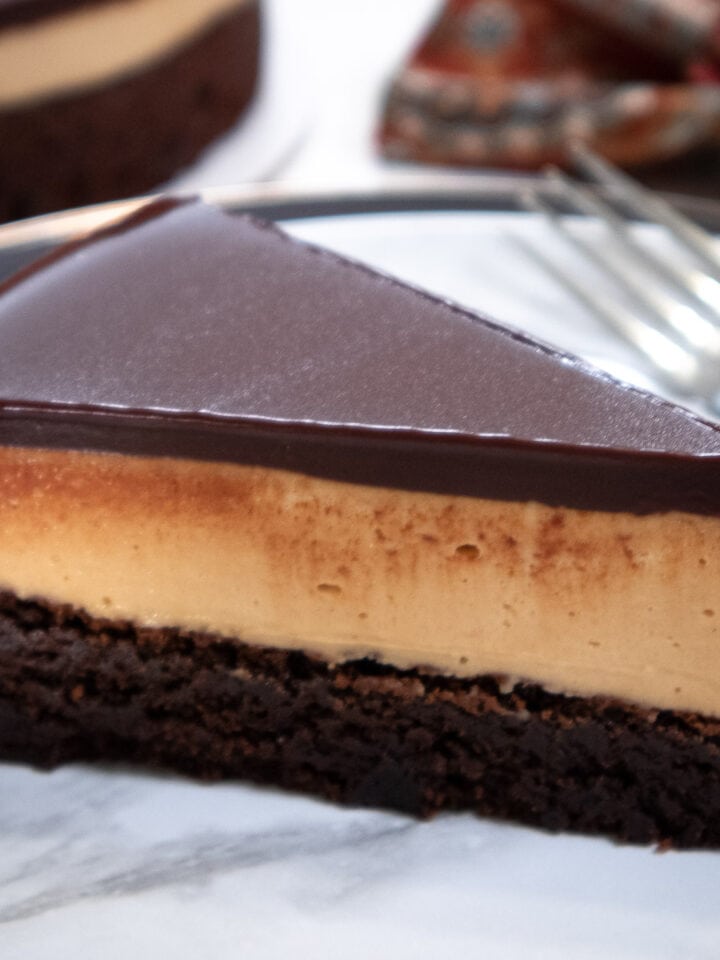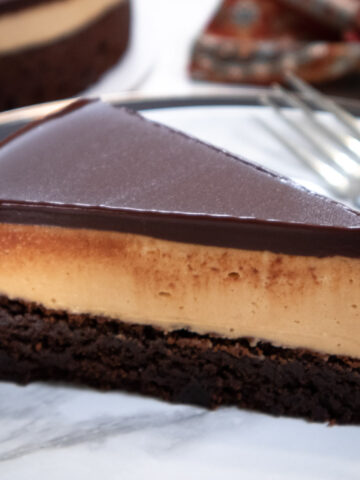 Get the Recipe:
Chocolate Peanut Butter Mousse Cake
How can you go wrong with a chocolate brownie layer, peanut butter mousse and a deeply decadent chocolate glaze that's a snap to make.
Ingredients
Brownie Cake Layer 
⅔

cup

natural unsweetened cocoa powder

55 grams or 2 scant ounces

½

cup

all-purpose flour

70 grams or about 2 ½ ounces

½

teaspoon

salt

¼

teaspoon

baking powder

3

eggs

⅔

cup

packed dark brown sugar

130 grams or 4 ½ounces

1 ⅓

cup

powdered sugar

170 grams or 6 ounces

⅔

cup

canola or vegetable oil

1

teaspoon

vanilla
Peanut Butter Mousse Filling
1

cup

heavy cream

1 ½

cups

smooth peanut butter

385 grams or 13 ½ ounces

8

ounces

cream cheese

softened (225 grams)

1

cup

powdered sugar

130 grams 0r 4 ⅕ ounces

2

teaspoon

vanilla
Dark Satin Ganache for Cake
⅓

cup

40% or heavy cream

2

tablespoons

clear corn syrup

4

tablespoons

butter

60 grams or 2 ounces

5

ounces

semisweet chocolate

140 grams
Instructions
Brownie Cake Layer
Preheat the oven to 325 F /162 C with the rack in the middle.  Line the bottom of a 9" round cheesecake pan or springform mold with parchment. Spray the parchment and sides of the pan.  Set aside.

Measure the cocoa, flour, salt and baking powder and sift them through a strainer.  Both the flour and especially the cocoa have a tendency lump.  The cocoa lumps don't want to dissolve in liquid but sifting will take care of that problem.

Beat the eggs and both sugars for about 3 minutes or until fluffy and lighter in color.

Add the oil and vanilla, mixing until completely combined.

Add the flour mixture and beat on low just to combine.

Pour into the pan, level the mixture and bake for 28 to 33 minutes until a tester comes out with a few moist crumbs clinging to it.
Peanut Butter Mousse Filling
In a mixing bowl, beat the cream until stiff.  Remove the cream to another bowl.

In the same mixing bowl combine the peanut butter, cream cheese, powdered sugar and vanilla.  Beat until smooth on medium. 

Chill overnight.
Dark Satin Ganache
Go

here

for how to pictures.

Combine the cream, corn syrup and butter in a small saucepan.  Heat until the butter melts but do not let it boil.  It should be steamy hot but not boiling.

Remove from the heat and submerge the chocolate.  Wait for 2 minutes the gently whisk until smooth.

Pour over the chilled cake and refrigerate until set.
Notes
This cake may be frozen in its entirety well wrapped for a couple of months.  Thaw in the refrigerator.  
Disclaimer
This Analysis is an estimate based on available ingredients and this preparation. It should not substitute for a dietitian's or nutritionist's advice.