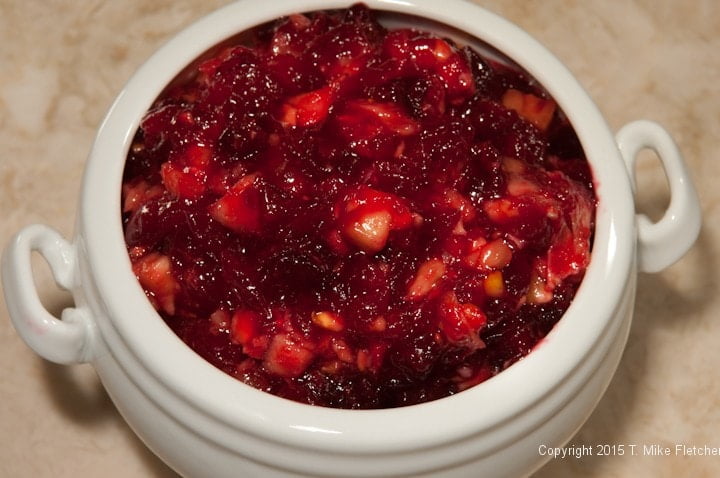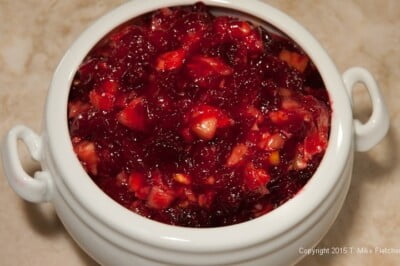 You're right, Cranberry Fresh Pineapple Relish has nothing to do with pastry. However, before I had Pastries Like a Pro, I had another blog for which I am no longer writing. It featured all manner of food and I couldn't help think, as I prepare for the holidays that this Cranberry Fresh Pineapple Relish would be something you would like also. This is one of the most popular recipes from my take out shop and we featured it every year for Thanksgiving. I still do. I think if you try it, it will become one of your traditions also.
I love cranberries almost anyway you can serve them. In fact, when I had the bakery, the staff had to restrain me because I had so many cranberry items on the menu.
I don't know if it's their tart taste, beautiful red jewel like color, or their ease of preparation. I suspect it is all of them. This quick to put together Cranberry Fresh Pineapple Relish will keep in the refrigerator for a week, so make it ahead of time so you have one less thing to do on the day of service. As an aside, we froze cranberries in season so we had them all year as we featured an appetizer sandwich of biscuits, brined roasted pork tenderloin topped with this relish. It was always a huge hit – even with people not prone to cranberries.
Cranberry Fresh Pineapple Relish
1 -12 ounce package fresh cranberries
¼ cup water
½ cup sugar
2 tablespoons apricot preserves
½ cup finely cut fresh pineapple
¼ large orange
Pick over the cranberries to remove any bad ones by placing them in a rimmed pan so they can't roll away. Place the cranberries, water and sugar in a saucepan.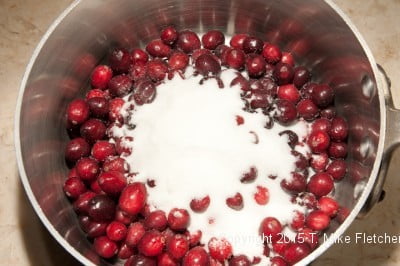 Bring to a boil, over medium heat, stirring frequently.
Continue to a full boil, until most of the liquid has evaporated.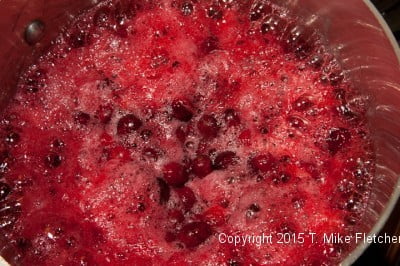 Remove from the heat and add the apricot preserves.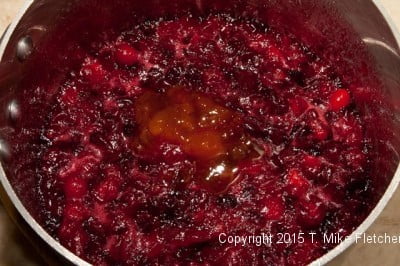 Cool completely at this point. If you are in a hurry (as I am invariably) quick cool by thinly spreading out on a plate.
In the meantime, cut the orange including the rind into about 6 pieces. Place in a processor and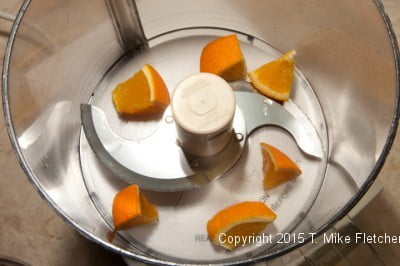 process until very finely chopped.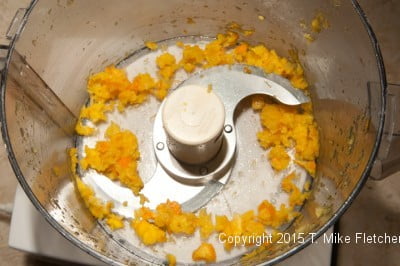 Combine all, stirring well.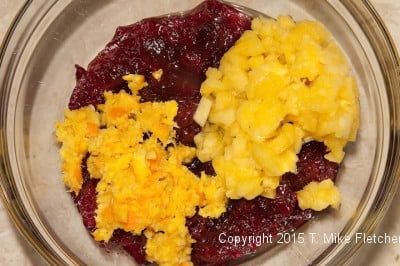 Store the Cranberry Fresh Pineapple Relish in the refrigerator up to a week.