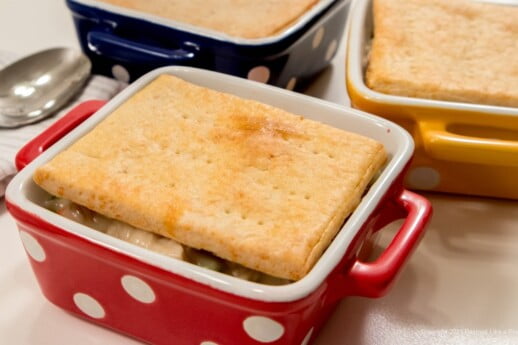 This Easy, Elegant Chicken Pot Pie is a notch above most pot pies. Large pieces of roasted chicken breast augmented with carrots, shallots, red peppers, bella mushrooms, and peas in a very low fat sauce of chicken broth, white wine and brandy.
The asiago crust on top is one of my favorites perfect for this dish. By not enclosing the entire pie in crust, the flavor is all there without the calories.
This Chicken Pot Pie is especially welcome this time of year for it's robust warmth, deep flavor and straight forward method of putting it togeher. In fact, both the filling and the crust can be made a day or two ahead, refrigerated, and assembled just before serving.
Add a salad and a dessert and you have an instant party!
Chicken Mushroom Filling
1 large, boneless chicken breast or 2 medium breasts totaling about 1 pound
½ cup diced carrots, par cooked
6 tablespoons butter
¼ cup finely diced shallot (1 large shallot)
½ cup diced red peppers
½ pound sliced mushrooms*
⅓ cup flour (45 grams or 1 ½ ounces)
2 cups chicken broth**
⅓ cup cream
⅓ cup white wine
1 tablespoon brandy, optional
½ cup frozen peas
1 teaspoon salt
¼ teaspoon white pepper
*Any mushrooms can be used. I used Baby Bellas, portobellos, chanterelles and white or button musrooms. If using portobellos be sure to remove the dark gills on the underside. There should be about 4 cups of raw mushrooms.
**A 15 ounce can of chicken broth is about 1 ⅞ cups. Just add water to make 2 cups.
Preheat oven to 350°F.
Line a rimmed pan with foil. Spray the foil and place the chicken on it. Rub it lightly with oil.
Bake for 20 to 30 minutes until it registers 165°F. Cool. This may be done several days ahead if desired. Keep refrigerated.
Cut the chicken in large dice. There should be about 2 cups of chicken. Set aside.
Peel the carrots and cut into ¾ inch dice. Par cook the carrots in water just until barely soft.
Melt 2 tablespoons butter in a sauce pan and add the shallots and pepper. Cook just until slightly softened. Add the mushrooms and cook until tender; remove to a bowl including any juice. Add the carrots and peas.
Melt remaining butter to the pan; add the flour and whisk constantly until it comes together. Add all of the stock, cream, wine and brandy at once; whisk constantly until it comes to a boil. Reduce heat and simmer for 3 minutes, stirring constantly. Remove from the heat; add the mushrooms and liquid, chicken, vegetables, salt, pepper Stir well. Correct the seasonings if necessary.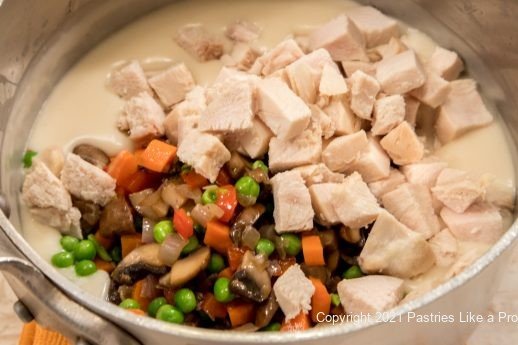 Cool and refrigerate. To quick cool, pour the filling onto a rimmed pan, cover with film and cool for 30 o 40 minutes, then refrigerate.
The filling can be made the day or two ahead if desired.
Asiago Pastry Crust for the Chicken Pot Pie
For how to photos, please go here.
The asiago crust on top is the perfect accompaniment and by not enclosing the entire pie in crust, the flavor is all there without the calories. I love this crust because it doesn't shrink when baked.
1 ½ cups flour (210 grams or 7 ½ ounces)
½ cup grated asiago or parmesan cheese (45 grams or 1 ½ ounces)
½ teaspoon salt
¼ teaspoon cayenne pepper
½ cup +1 tablespoon butter, cold and cut into pieces (125 grams, 4 ½ ounces)
5 tablespoons ice water
Place the flour, cheese, salt and pepper in the bowl of a processor fitted with a steel blade. Process briefly to mix. Circle the butter over the dry ingredients and process until mealy. With the processor running, add the ice water and process until it forms a ball.
I used individual casseroles for my Chicken Pot Pie but it could be made in on large dish if desired.
In any case, roll the pastry between ⅛" and ¼" thick. Cut the pastry the size of the top of the dish or casseroles. Leftover pastry can be rolled to about ⅛" and cut into small crackers. Bake until golden brown.
Two Ways of Finishing and Serving
Chicken Pot Pie Filling
Crusts, rolled and cut
1 egg, well beaten, optional
Preheat the oven to 400°F. Line a baking sheet with parchment paper.
There is a slow way and a faster way of putting this together and baking (or not),
1.Place the crusts on a parchment line baking sheet. In either case brush the crusts with the beaten egg if using.
The first and my favorite is to bake the cut out crust or crusts at 400°F for about 20 minutes until golden brown. While the crusts are baking, heat the filling. When the crusts are baked, fill individual cassertoles or 1 dish with the hot filling and top with a crust.
I like this method because it is faster, it's neater, and the crust is crisper.
2.Divide the filling among individual casseroles or place it one dish.Top with the unbaked crust brushed with egg wash if using.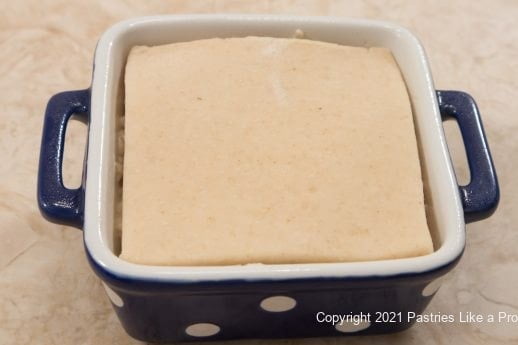 Bake for about 35 to 45 minutes until the filling is bubbly and the crust is golden brown.
Because the crust is baked in the sauce it is not as crisp.
Yield: 4 - ¼ cup servings.