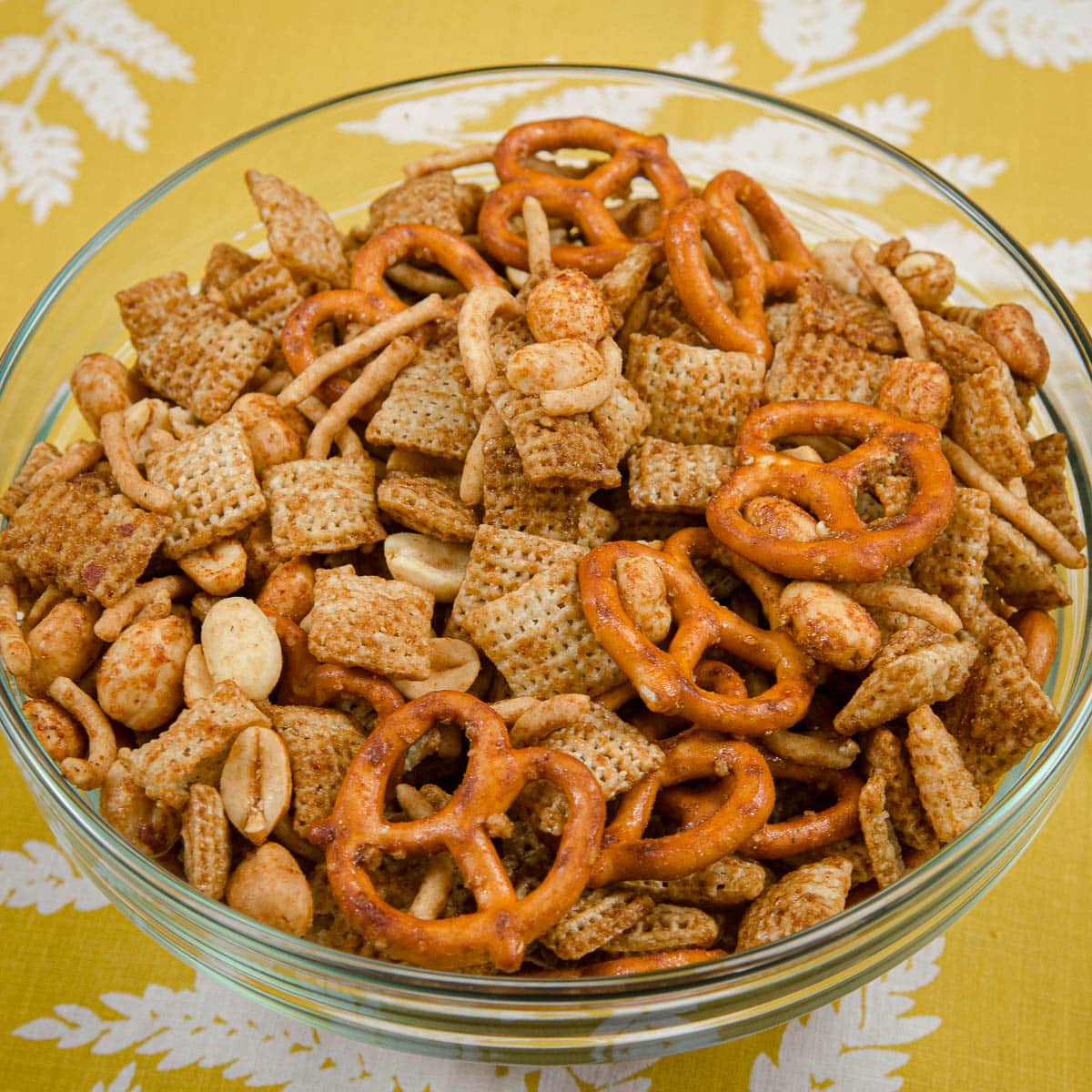 Ok, so Hot Curried Party Mix isn't a pastry, but you do bake it. This is a quick snack for anytime but well suited for News Years Eve and the Super Bowl. (I know I am a little early. - just saying')
I wonder how many "party mixes" have been concocted since someone first thought of them. Almost anything snacky can be combined and held together with some kind of a binder. The greatest thing about these is how easy they are to prepare. Be sure to make this Hot Curried Party Mix a minimum of one day ahead – a week is better. Stored in an airtight container, this will last a month, if you can keep out of it.
The amount of cayenne pepper in this makes a very zippy snack. If you prefer a milder version, cut the amount by half.
Hot Curried Party Mix
5 cups Chex cereal (rice or corn work the best)
2 ½ cups mini pretzels
2 cups roasted peanuts (8 ounces)
1 ¼ cups chow mein noodles
4 tablespoons butter melted
1 tablespoons soy sauce
2 teaspoons curry powder
½ teaspoon cayenne pepper
½ teaspoon dry mustard
¼ teaspoon salt
2 tablespoons honey
Preheat the oven to 275 degrees. Line a baking pan with foil and spray with a non stick spray.
Combine the cereal, pretzels, peanuts and noodles in a large bowl.
Whisk the butter, soy sauce, curry powder, cayenne, mustard, salt and honey together. Pour over the dry ingredients and mix together very well. I use a gloved hand to do this as it is pretty sticky. Bake for 25 to 30 minutes until golden brown.
Yield: Approximately 1 ¼ pounds Hot Curried Party Mix which doesn't sound like a lot but is. I doubled it once and hardly had a bowl big enough to hold it all.
Other posts you might enjoy: