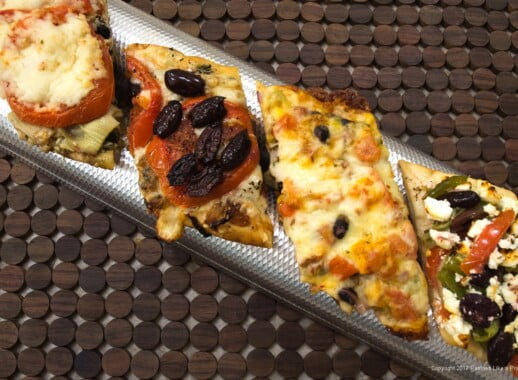 This International Flatbreads post started with my interest in exploring 00 flour. The recipe I chose to work with was for a pizza dough from Roberta's restaurant in New York. The recipe came from the New York Times.
I suggest you get a cup of coffee, tea or whatever you drink, find a comfy chair and get ready to read this rather lengthy blog.
Pizza my way is something I really love to make. It is simple and satisfying. But more than pizza I love flatbreads. The lack of a sauce allows the ingredients to come through with a power they can't otherwise.
Anyway, back to the flour. The recipe calls for 00 flour, which has recently become the new darling of the flour world. So I went to my Italian grocer and bought a bag. I found the flour to be incredibly smooth and fine. I loved the feel and texture of it.
Here is a quote from an article on Breads, Cakes and Ale that talks about 00 flour.
"When you see a flour graded as 00, it's not a reference to a particular type of grain or species of wheat, it's simply a reference to how finely the flour has been milled, and how much bran and germ has sieved out, and what sort of colour the flour is as a result.
Although 0 and 00 are commonly used for bread-baking, both are loosely interchangeable with British plain flour or US all-purpose flour.
....the grade of refining indicates the quantity of flour obtained from grinding 100kg of grain. The higher the grade, the coarser the flour."
The recipe called for half 00 and half all purpose flour. It was precisely written in grams with the admonition to follow the recipe to the gram. So I did. A simple recipe of flour, salt, water and yeast. That's it. The dough came out so silky smooth, slightly sticky and soft. It rose beautifully and easy to shape or roll. Perfect, I thought.
Then those little voices in my head started whispering to me. So I began tinkering to see what would happen. 00 flour has 8% gluten which is really low for a yeast bread. What would happen I thought if I subbed cake flour, also 8%. It worked out just as well – except the taste. The 00 flour had a depth of taste the cake flour didn't. So I scratched that test. The next test involved using just all purpose flour.
The flatbreads featured in this blog used a combination of the 00 and all purpose flour and one using just all purpose. I couldn't tell the difference for the flatbreads.
But that isn't the end of the story. When I used the 00 flour combination recipe for focaccia it really was better. There is so much more I want to test with this flour but for now, I want to share these International Flatbreads.
Flatbreads are basically pizza without a sauce. They can be topped with a little or a lot. I prefer a lot as you will see in the photos. These International Flatbreads can be altered in anyway you choose. Or don't choose any of them just top them with your favorites. While these are all vegetarian, the flavor they pack is terrific. But use shrimp, sausage, pepperoni, whatever you want. These are just to get you started.
It is best to make the dough up to three days prior to using whether you use the 00 recipe or use all purpose flour only to enhance the flavor. While the ingredients are listed, the amounts are up to you.
The size of the flatbreads is entirely up to you. I chose to make three larger ones but certainly smaller ones could also be made. They can be oblong, as are mine, round or irregularly shaped. This is rustic, peasant food at it's best and as such requires little in the way of technique.
Here are the four International Flatbreads. Please note calamata olives is a derivation of the spelling for Kalamata olives. They are the same thing.
Roberta's Pizza Dough (with minor changes) from the New York Times. Weights are preferred to volume measurements.
150 grams 00 flour (1 cup + 1 tablespoon)*
150 grams all purpose flour (1 cup + 2 tablespoons)
1 teaspoon salt
¾ teaspoon active dry yeast (not instant)
1 teaspoon olive oil
⅞ cup lukewarm water
*300 grams all purpose flour (2 cups + 2 tablespoons) can be substituted for the 00 and all purpose flour combination.
Combine the flours and salt in a mixing bowl.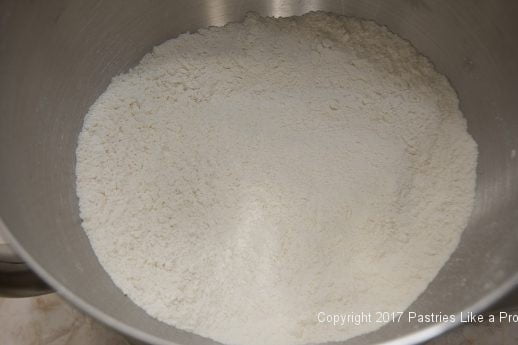 Add the yeast and olive oil to the water. Stir to moisten the yeast. Add to the flour.
Fit the mixer with a dough hook and mix on low to bring the dough together. It will be a shaggy mixture in the beginning.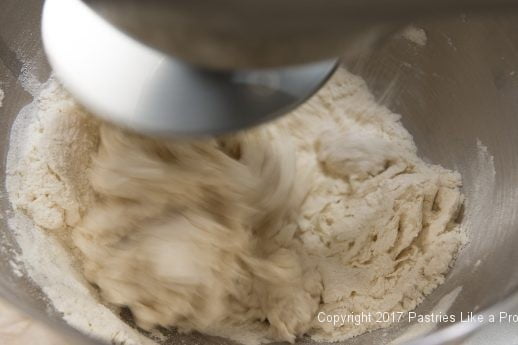 Raise the mixer slightly and beat for 3 minutes. The dough will clean the bowl and form a ball.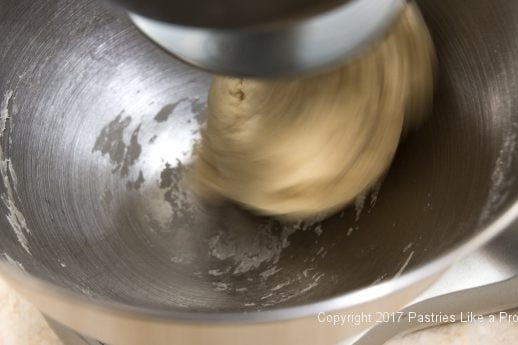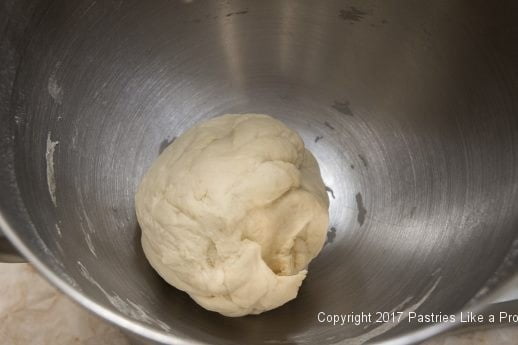 Place in a greased container, turn the dough over so the top will be greased.
Flatten the dough.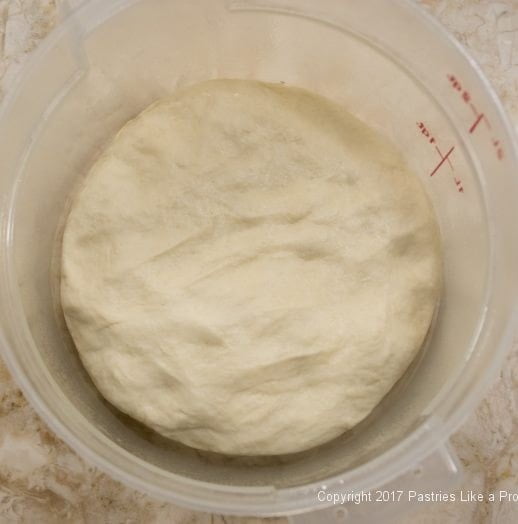 Place plastic wrap over the top of the dough,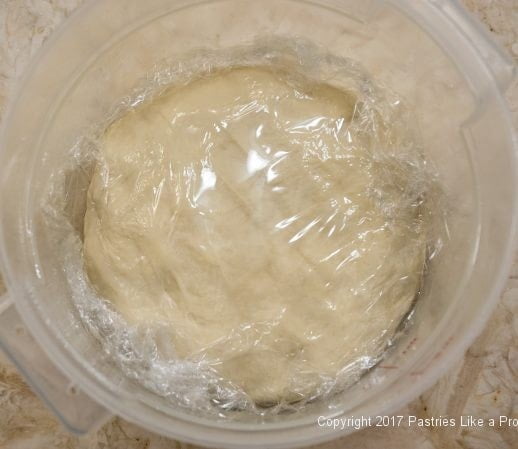 cover and let it raise for 1 ½ to 2 hours until doubled.
Stir down and place in the refrigerator for up to 3 days. Makes approximately 500 grams or 17 ½ ounces.
Flatbread Crusts
Preheat the oven to 350°F. Line have sheet pans with parchment. Set aside.
You can make these any size you want. I divided the dough into 3 approximately 170 gram pieces (6 ounces) and rolled them into 11" ovals.
Prick the dough wth a fork.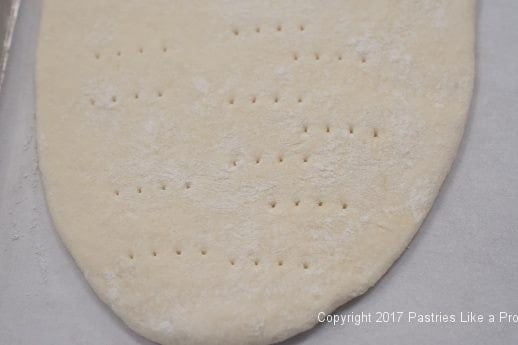 Bake for about 13 minutes. They will have little to no color, top and bottom, and be rather soft. That is how they should be as they will bake again after being topped.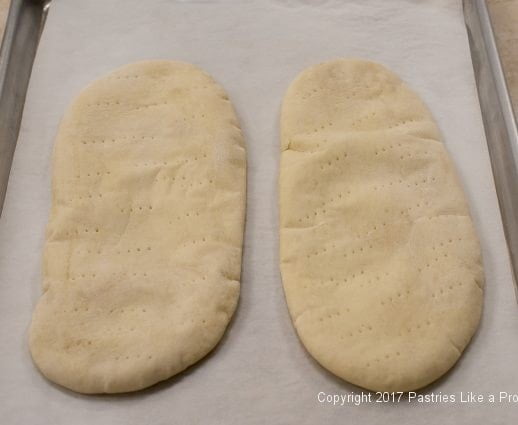 If they pouf up, flatten them while holding a potholder as they will be hot. Set aside while the ingredients are being prepped.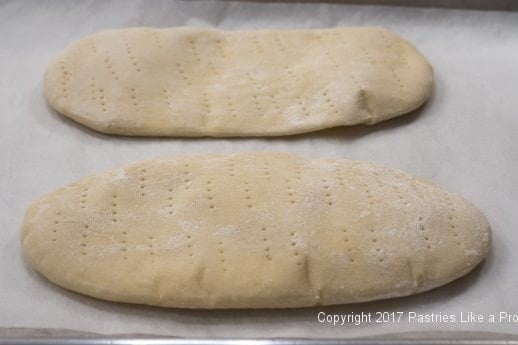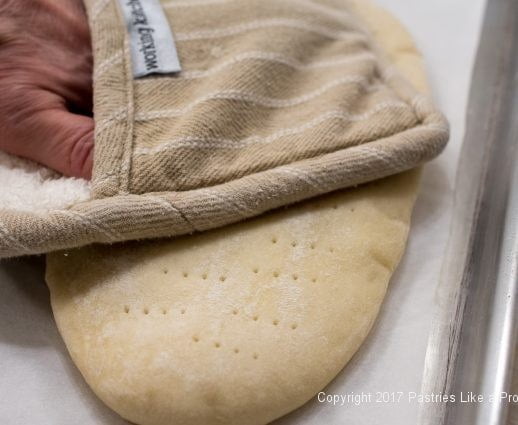 Top with your favorite ingredients or any of the flatbreads below.
Baking the Flatbreads
Raise the oven to 400°F. Bake for 20 to 25 minutes until heated through.
Make ahead crusts - The crusts can be made and par-baked ahead of time if desired. Cool, wrap well and freeze. Defrost and use as freshly baked. Bake off as above.
Below are listed my International Flatbreads. All are baked as above.
About the Tomates - Cut the tomatoes in half and squeeze them to remove excess liquid so they don't water down the flatbreads. This is referred to as seeding and juicing. The tomato on the left has been cut in half. The one on the right has been seeded and juiced.
ITALIAN – All the flavors of Italy are piled on this flatbread. I put them on in the order listed.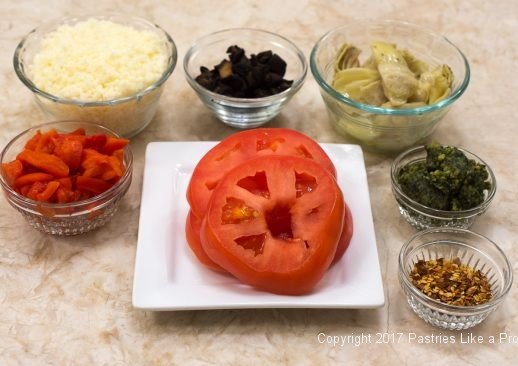 - Pesto spread on flatbread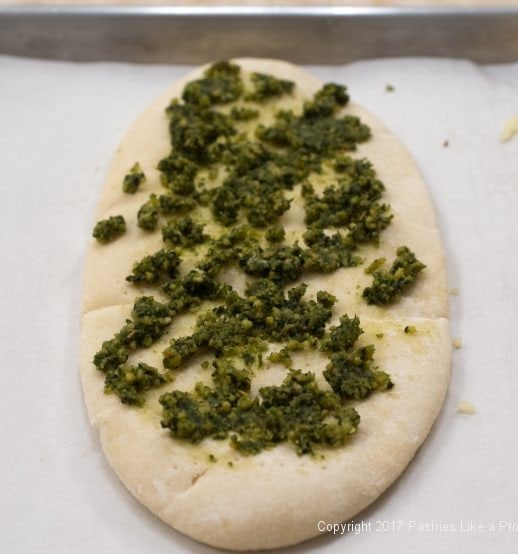 - Roasted red peppers (canned or jarred are fine)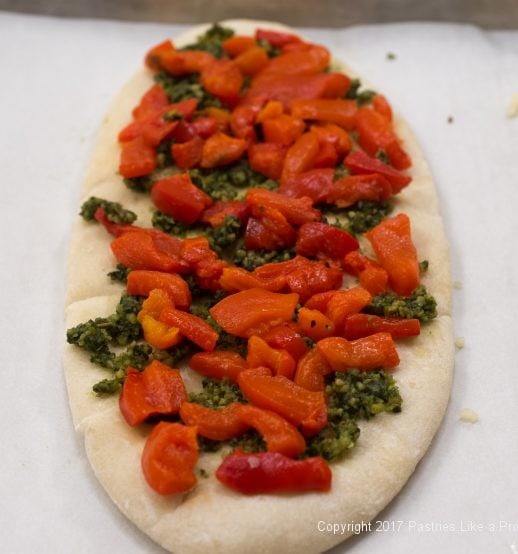 - Sauteed Portobello mushrooms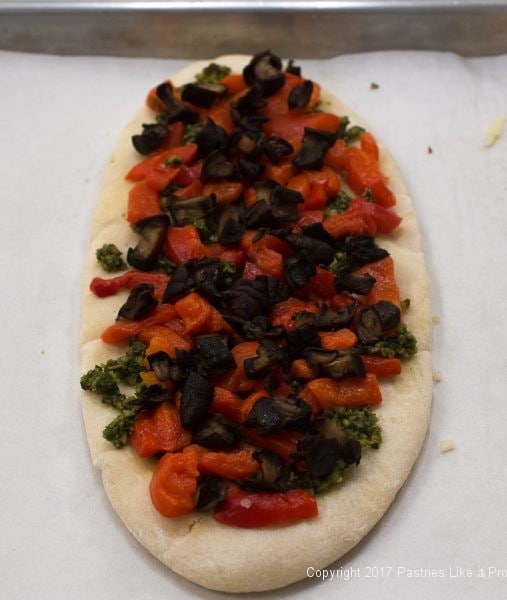 - Marinated Artichokes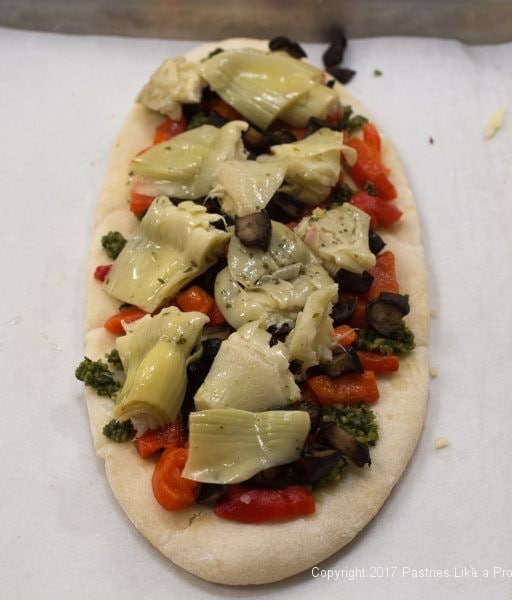 - Sliced Tomatoes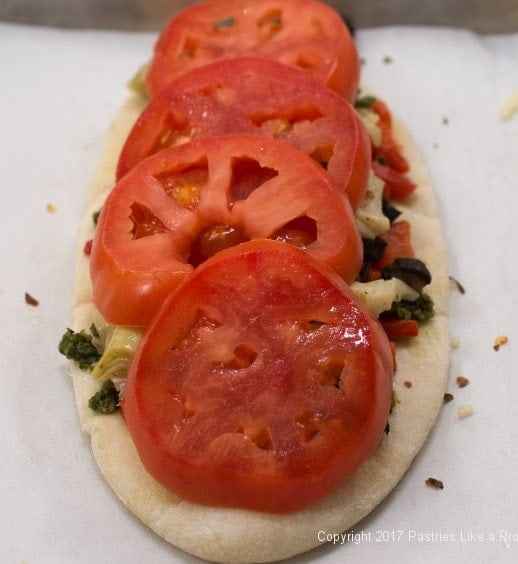 - Red pepper flakes
- Drizzle with Balsamic Vinegar
- Top with parmesan or asiago cheese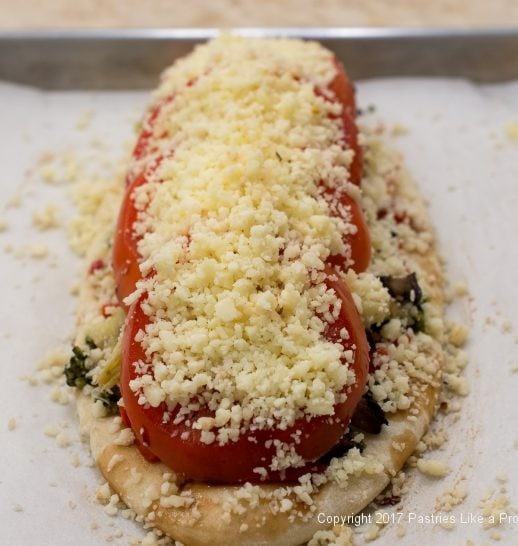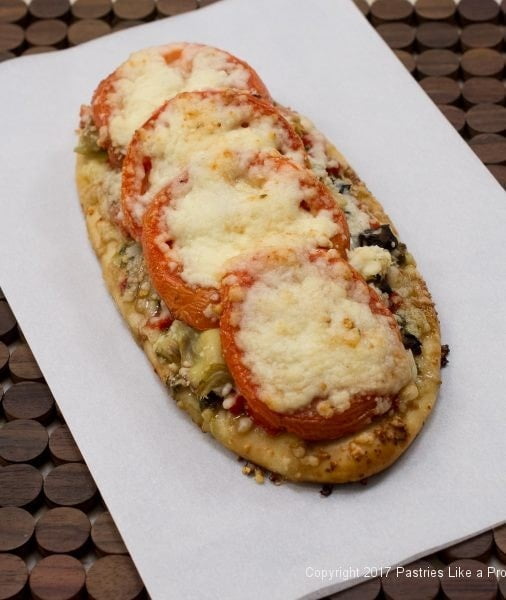 GREEK – This flatbread uses a drizzle over the ingredients to add additional flavor. The amount below was used for one 11" flatbread. I used feta cheese made with sheep's milk which makes a very flavorful flatbread but feta made with cow's milk is very acceptable.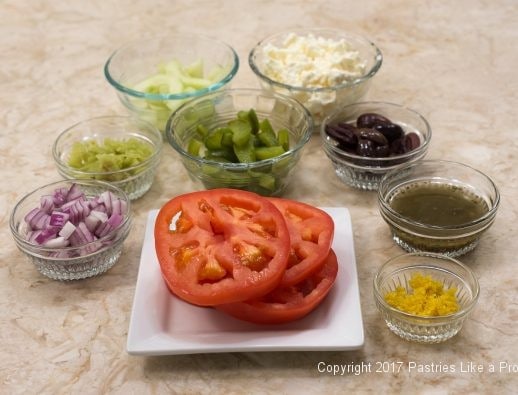 Flavor Drizzle
1 tablespoon olive oil
1 teaspoon lemon juice
1 teaspoon pepperoncini juice
½ teaspoon oregano
⅛ teaspoon salt
⅛ teaspoon pepper
¼ teaspoon sugar
Assembly – Layer as below
Tomatoes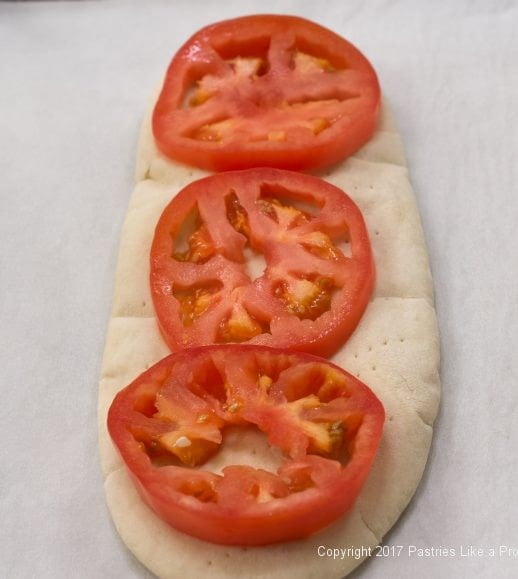 Cucumber, seeded and cut into half moons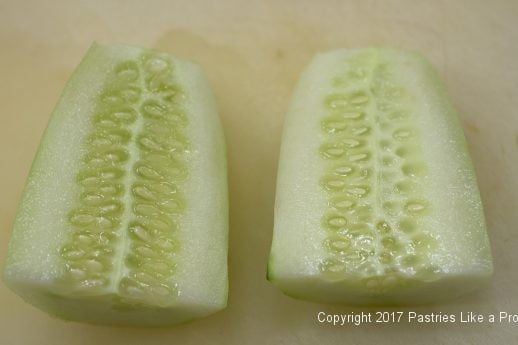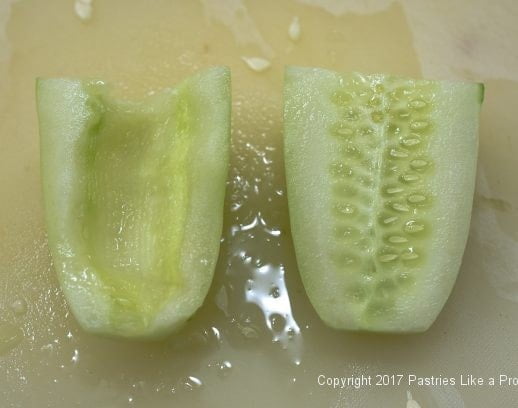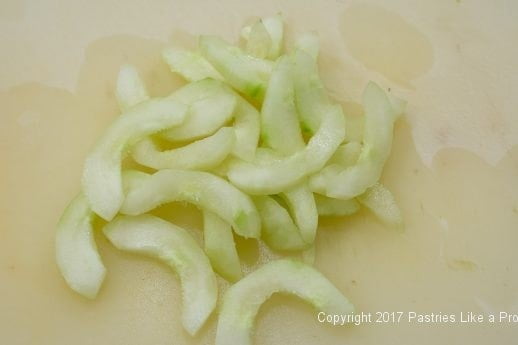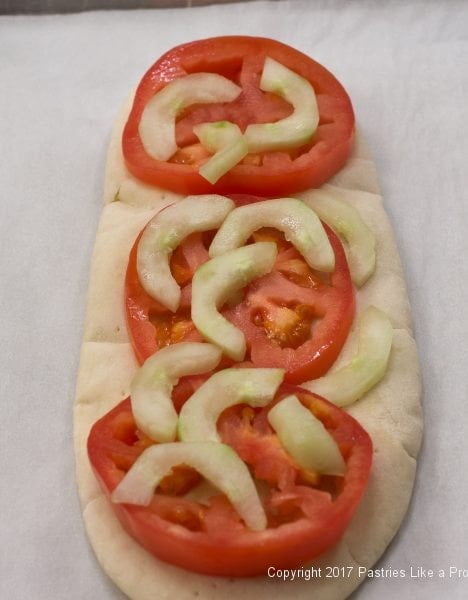 Red onion, diced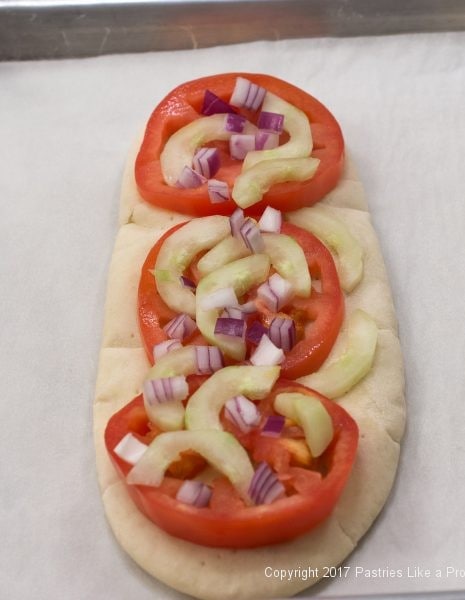 Green pepper – raw or sautéed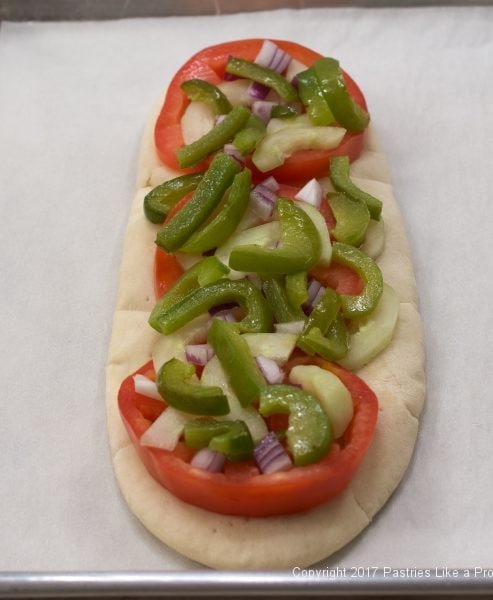 Calamata olives,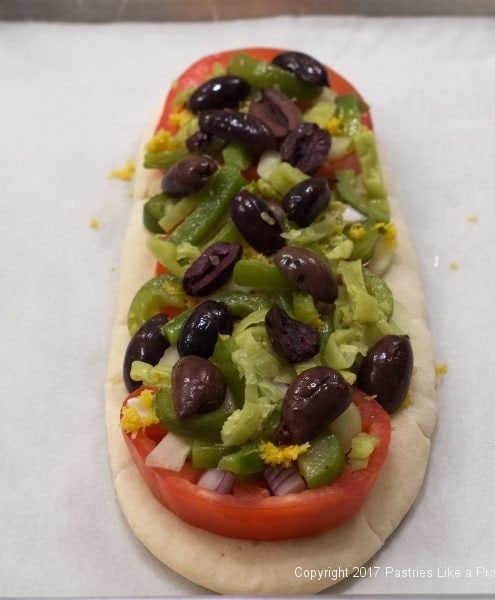 Lemon zest – sprinkled on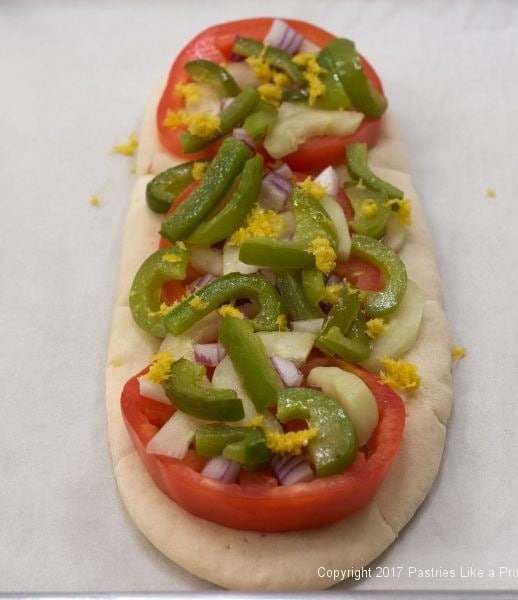 Pepperoncini on

Flavor Drizzle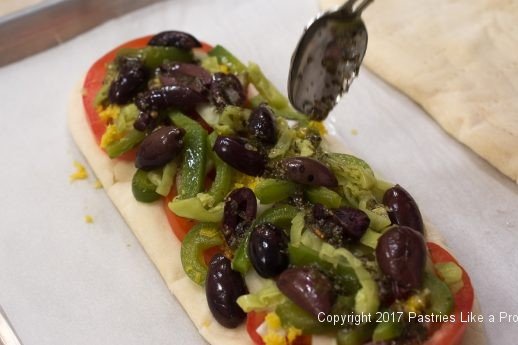 Feta Cheese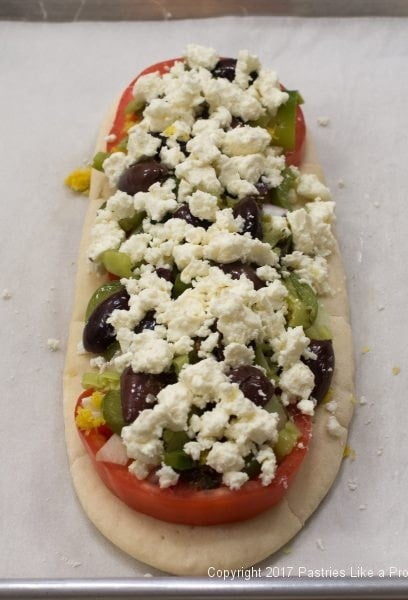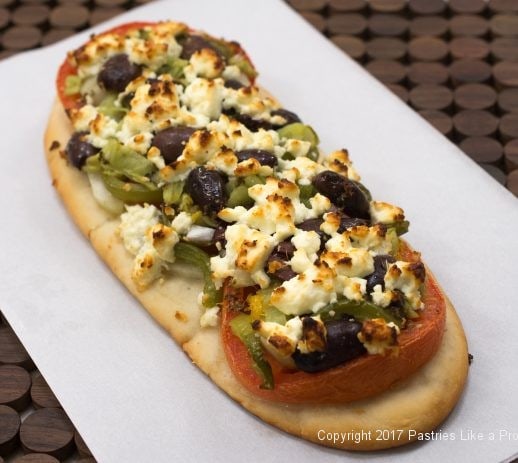 SOUTHWESTERN – This turned out to be a really surprising flatbread. You have to use the drizzle or it will be flat (no pun intended). I used frozen corn that was defrosted. The canned black beans should be thoroughly rinsed.
Flavor Drizzle
2 tablespoon canola oil
½ teaspoon vinegar
½ teaspoon cumin
¼ teaspoon salt
Assembly in the order given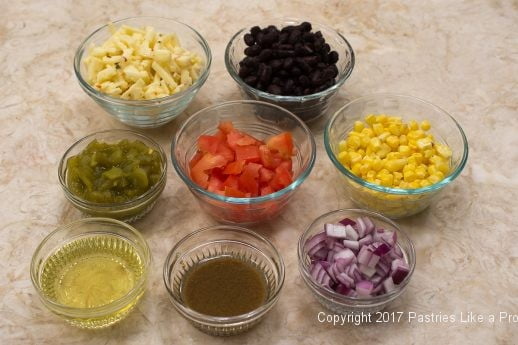 Zippy Garlic Oil
Black Beans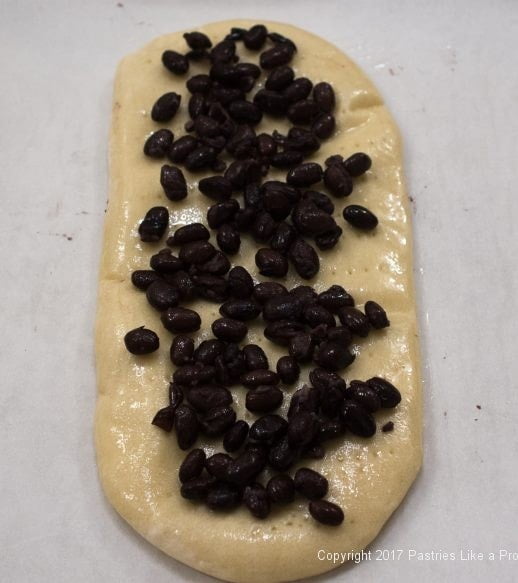 Corn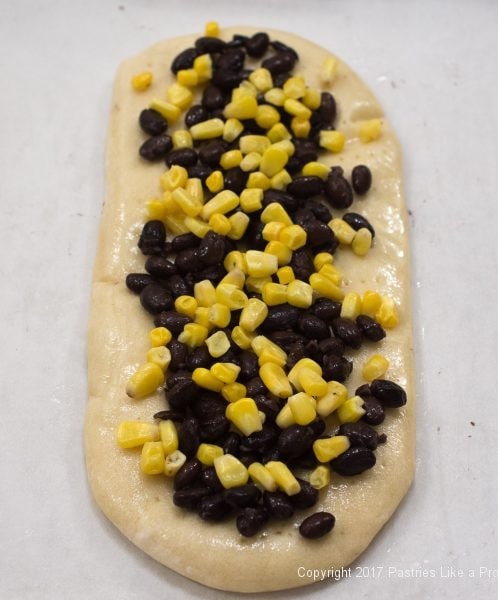 Green Chilies, chopped canned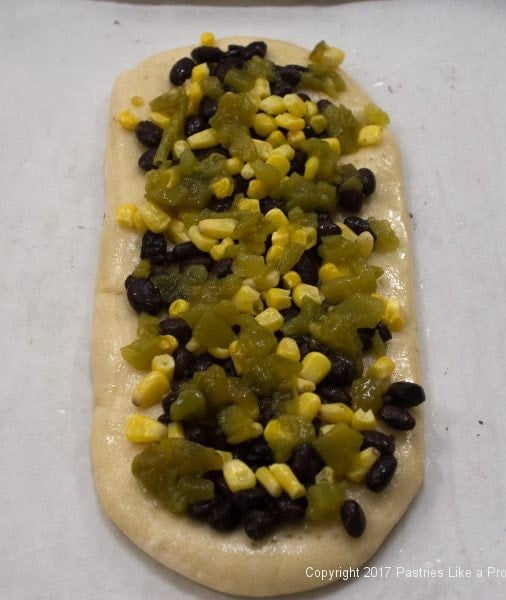 Red onions, diced
Tomatoes, diced
Flavor Drizzle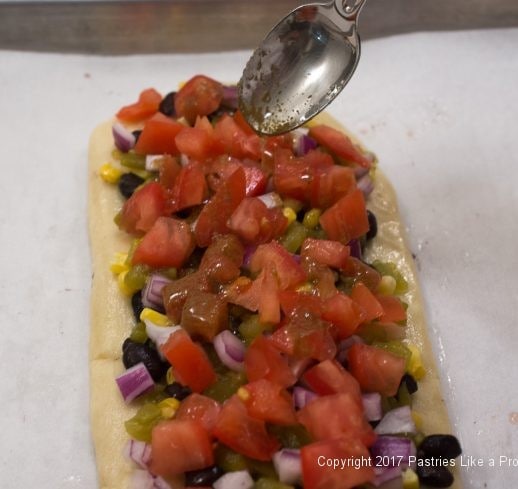 Pepperjack Cheese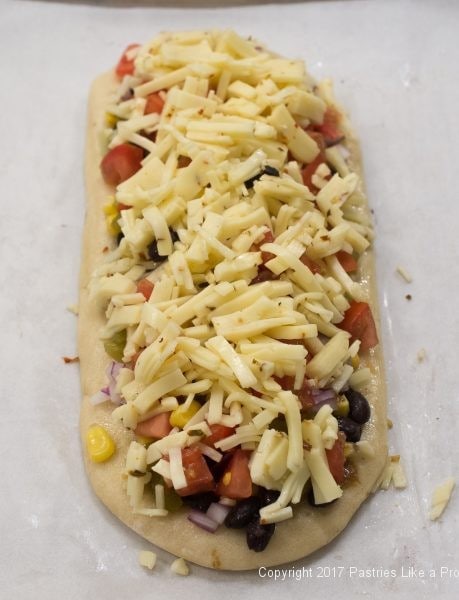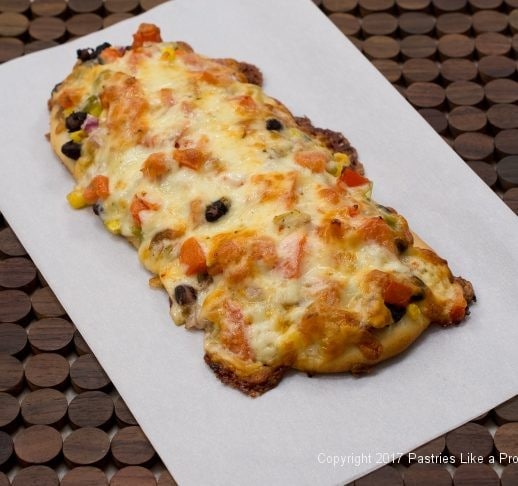 FRENCH– The flavors for this come from my French Onion Tart. It makes an excellent flatbread. The top should be brushed with olive oil, or even better, the Zippy Garlic Oil when it comes from the oven. Also, the fresh basil is placed deep under the other ingredients so keep its flavor. I never sprinkle fresh herbs on top of anything being baked because they just dry out or burn.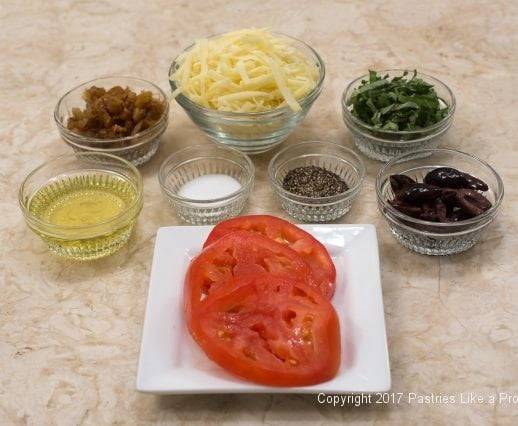 Basil, cut in chiffonade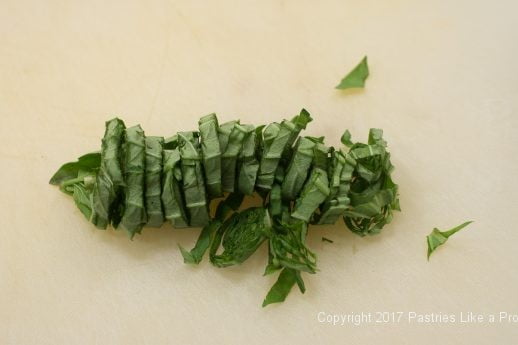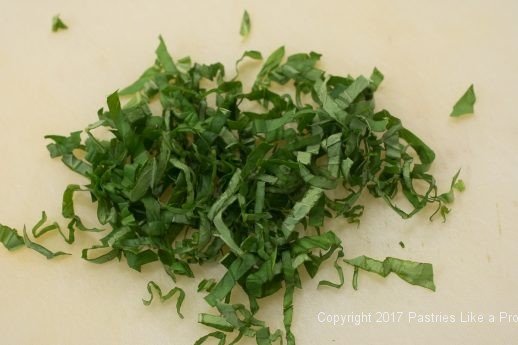 Caramelized Onions, go here for how to pictures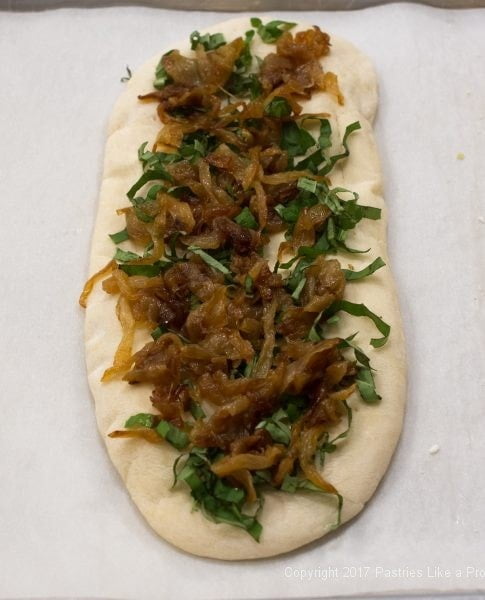 Guyere Cheese, Shredded
Tomato slices
Calamata Olives, halved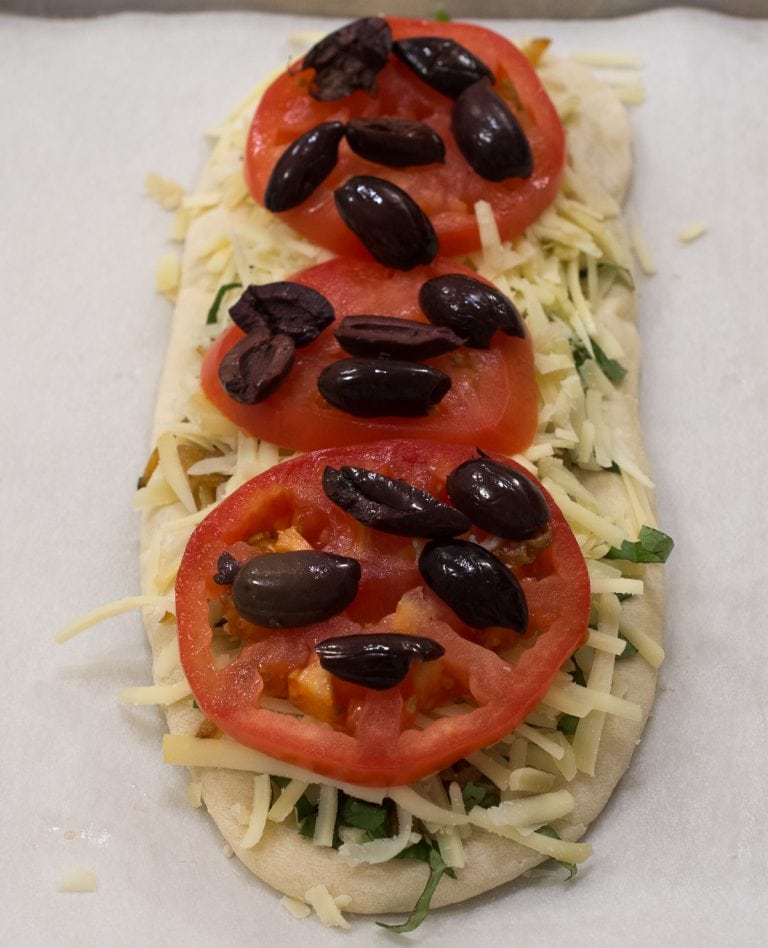 Salt and Pepper
Brush with olive oil or Zippy Garlic Oil.