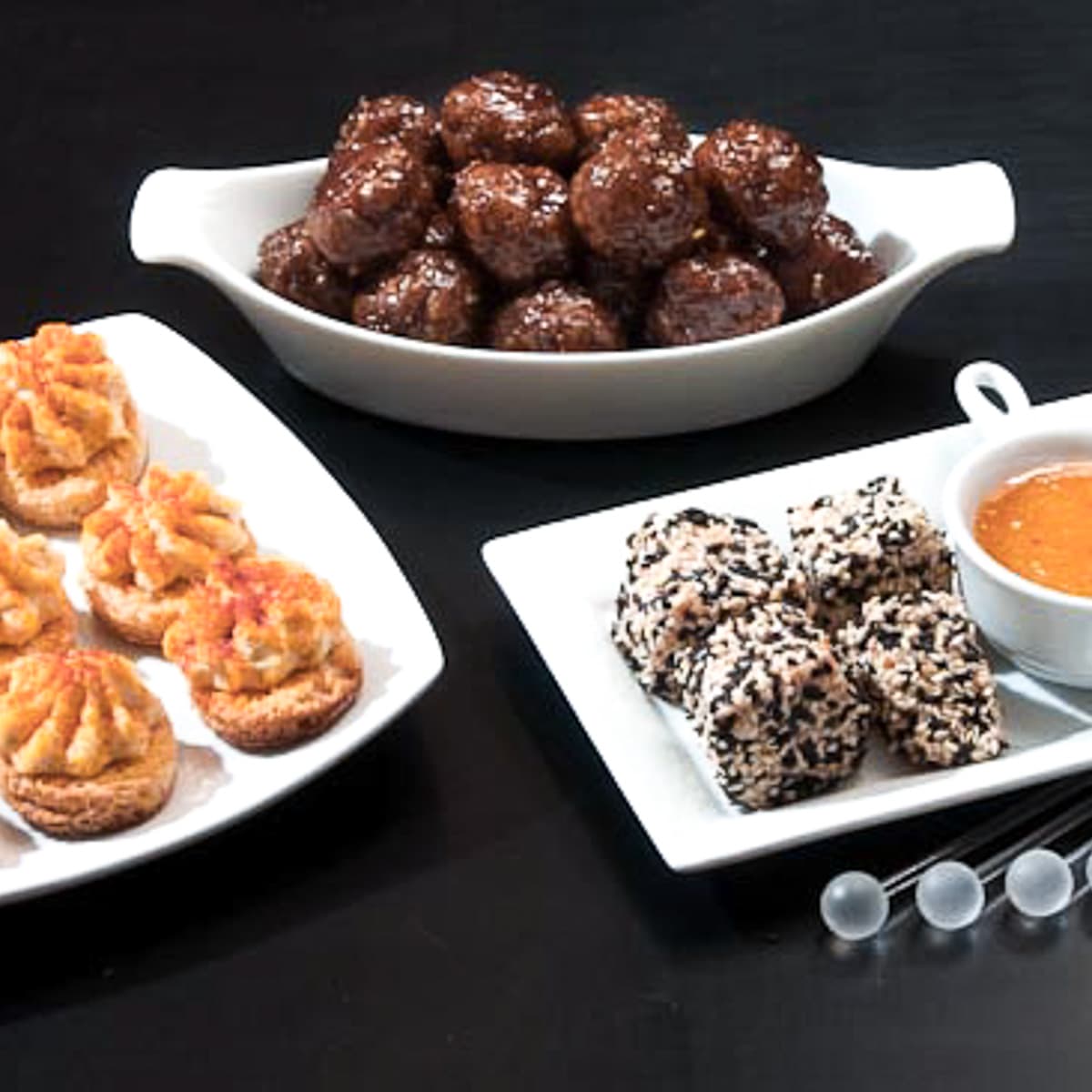 Last Minute Appetizers is perfect If you're anything like m since, there always seems to be more to do than I have time for. Around this time of the year, it is even worse so here are a few appetizers that are fast and delicious.
These appetizers are all so easy they don't need much in the way of explanation.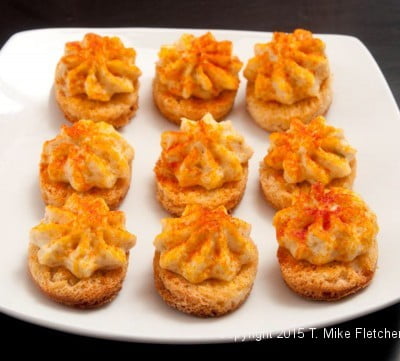 ARTICHOKE CROUSTADES
These little toasts are great all by themselves. I always make extra just to have leftovers. The bread used for these is important. When I had my take out shop, I tested several breads to see what worked the best. Pepperidge Sourdough Sandwich bread is the one that worked best for us. I use a 2"x1 ½" oval cutter and can get 4 croustades out of one piece. The near end pieces yield less. The prepared croustades freeze beautifully before baking. They can be baked straight from the freezer in about 10 to 12 minutes. These are good hot or room temperature.
1 loaf Pepperidge Farm Sandwich Bread or other sandwich bread, prepared as above
Olive Oil as needed
¾ cup artichoke quarters, well drained (not marinated)
⅔ cup grated asiago cheese (Parmesan may be substitued)
4 ounces cream cheese, room temperature (⅓ less fat is fine)
¼ cup mayonnaise
¼ teaspoon cayenne
⅓ teaspoon salt
Paprika as needed
Preheat oven to 350 degrees. Using a 2 x 1 ½ inch oval cutter (or anyone you wish) cut ovals out of the bread slices. Place on a parchment lined cookie sheet and brush with olive oil. Bake 7 to 10 minutes until lightly browned.
In the meantime place the remaining ingredients, except the paprika, in a food processor and process until smooth. Place in a pastry bag fitted with a #9B tip. Pipe dip onto croustade and bake for about 8 minutes. Place paprika in a very fine sifter and dust the top of the appetizers. If these have been frozen, bake for about 10 to 12 minutes at 350 degrees.
Yield: 24 appetizers
SESAME SALMON WITH APRICOT GINGER SAUCE
White sesame seeds can be enhanced in flavor by toasting. Just as with nuts, sesame seeds develop a depth of flavor not present when left untoasted. When baking the salmon the seeds will not toast further. Your fish person should skin the salmon for you. To prevent dry, overcooked fish, especially with these small cubes, use the cooking rule that states cooking fish by any method for 10 minutes per inch will provide juicy fish. The dipping sauce for this appetizer can be used for many other recipes where you want a sweet/sour dipping sauce.
Sesame Salmon
½ cup white sesame seeds
¼ cup black sesame seeds
1 ½ pound side of salmon, skinned
Preheat oven to 350 degrees. Place white sesame seeds in a jelly roll pan. Shake the pan to get them in a single layer and dispersed evenly. Toast 7 to 9 minutes until golden brown. Cool completely and combine with the black seeds. Set aside.
Cut the salmon into 1 inch squares. As the tail section is approached the salmon will get thinner. In order to keep the pieces evenly thick for cooking purposes, cut the salmon into pieces 1 by 2 inches long. Make a cut on the top side of the salmon at the 1 inch mark almost completely through and fold the thinner piece under. These may be cut the day ahead, covered tightly with plastic wrap and stored in the refrigerator.
Line a baking sheet with parchment paper or foil. Coat with releasing spray.
Just before baking, roll the salmon cubes in the sesame seeds to coat all sides. Bake for 8 to 10 minutes until firm. Do not overbake.
Apricot Ginger Sauce
1 medium cloves garlic
⅔ cup apricot preserves
1 tablespoons minced ginger
1 ½ tablespoons cider vinegar
½ teaspoon salt
½ teaspoon red pepper flakes
With the processor running, drop the garlic down the feed tube. Add the remaining ingredients and process to puree. This may be made a week ahead and stored in the refrigerator. Serve at room temperature.
To serve: Serve the salmon and sauce at room temperature. Spear the cubes with toothpicks to be dipped into the sauce.
Yield: 24 appetizers or more depending upon the size of the salmon.
Spicy Meatballs
When we were younger, much younger, we entertained a lot. We were part of a group that loved to get together, argue politics (can't do that anymore!) and just have a really good time. One of the wives introduced these meatballs and I have served them countless time since them. The are super easy, can be made a ahead and never fail to please.
1 pound ground beef (I use 10% fat)
½ pound hot pork sausage (I use Rice's Hot Sausage)
½ cup milk
½ cup bread crumbs
½ teaspoon salt
Preheat oven to 325 degrees.
Combine all of the above and shape into small balls. The number you get depends upon the size of the balls. Place on a foil lined, sprayed jelly roll pan and bake for about 20 minutes or until cooked through. You can turn them half way through if you wish. Cool.
Sauce
¾ cup packed brown sugar
½ cup vinegar
½ cup water
6 whole cloves
1 tablespoon dry mustard
Combine all of the ingredients in a saucepan. Bring to a simmer and simmer for about 5 minutes. Cool. Place the meatballs in the sauce and store in the refrigerator for 2 to 3 days or freeze up to two months.
If frozen, thaw these appetizers in the refrigerator overnight.
Place in a saucepan to heat. Serve in a chafing dish.
Yield: Depends upon how big you make the balls.
More recipes for quick appetizers can be found at:
https://www.foodnetwork.com/recipes/photos/easy-appetizers
https://www.cookinglight.com/food/quick-healthy/quick-easy-appetizer-recipes
https://www.purewow.com/food/Best-Appetizer-Recipes?