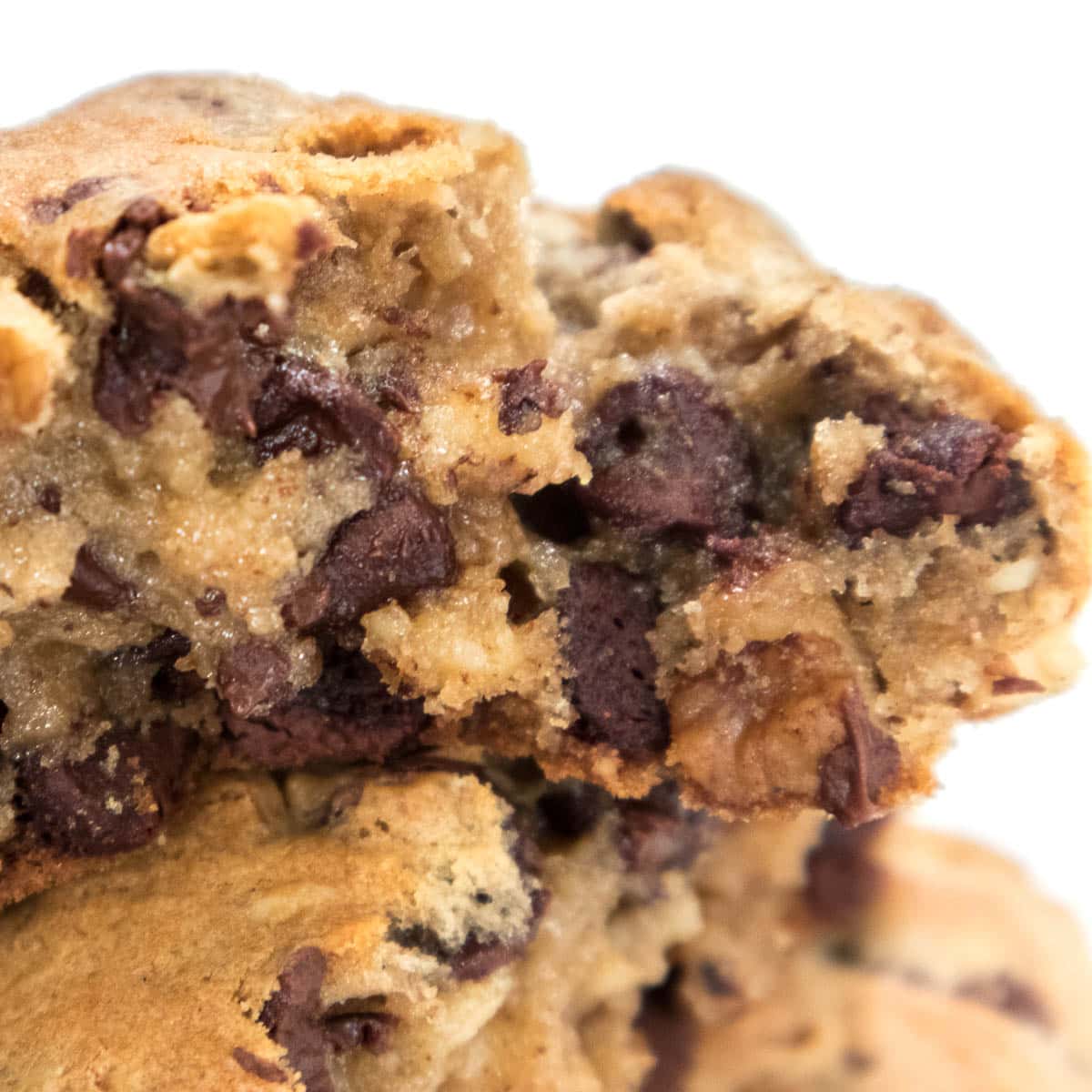 These Levain Style Chocolate Chip Cookies are a new twist on an old favorite. While baking professionally for over 30 years, I thought I'd seen just about every chocolate chip cookie around. But this is definitely a new one.
This huge 6 ounce chocolate chip cookie is the brainstorm of Pam Weekes and Connie McDonald who own Levain Bakery in New York. There's a great video of them making their wares at Levain Bakery Youtube. New York is called the big apple. They like to do everything in a big way and these cookies are no exception.
While they haven't given out their recipe there have been versions of it on the internet. Serious Eats has a version as well as several others.
Basically, these over sized monster cookies use the same ingredients as most chocolate chip cookies but in different proportions. They are mixed as a normal cookie. One of the things I learned a while ago while working on cookies was the more you load them up with add ins, the less they spread.
So I made my perfect chocolate chip cookie but reduced the flour, omitted the shortening, used half the fat and way upped the walnuts and chocolate chips. An overabundance of these makes a really large, fat cookie with very little spread.
In an effort to keep these gooey inside, I noticed some of the recipes really shorten the baking time but this only produces an under baked cookie with a raw middle which is not gooey. There's a big difference between the two.
I used bread flour as I do in my normal chocolate chip cookie and conducted a little test by baking half of them immediately upon mixing, and I shaped the other half into balls, wrapped them in plastic wrap and refrigerated them overnight to see if they would bake up differently. If you are going to keep them overnight, remember to weigh and wrap the before chilling. The dough is much too stiff to shape when cold.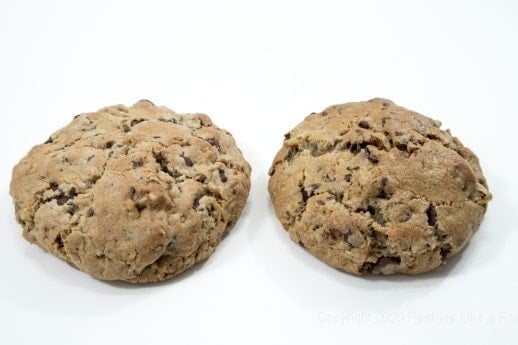 The test was interesting. Both were really good and gooey. The difference was in the height of the cookies. The freshly baked one flattened just a little more than the refrigerated cookie.
The cookie on the left was freshly baked and is 4", the one on the right was refrigerated overnight and then baked. It is 3 ¾". The only difference is the height of the cookies. Both of the cookies lost 7 grams or ¼ ounce when baked, so they are pretty much still 6 ounces - huge.
Definitely double pan these Levain Style Chocolate Chip Cookies or they will over brown.
This recipe makes 8 cookies – that is not a misprint, it really makes 8 huge, gooey, fat, chocolate chip cookies that are really, really good. I do agree with Stella in that they are best the day they are made, preferably eaten when just cooled a bit and the chocolate chips are not set but melty. The cookies can always be made smaller, just reduce the baking time.
Levain Style Chocolate Chip Cookies
2 cups bread flour (280 grams or 10 ounces)
1 teaspoon baking soda
1 teaspoon salt
½ cup butter* (114 grams or 4 ounces)
¾ cup brown sugar (150 grams or 5 ⅓ ounces)
½ cup granulated sugar (100 grams or 3 ½ ounces)
2 teaspoons vanilla
2 large eggs
2 ½ cups chocolate chips (425 grams or 15 ounces)
2 cups walnuts (225 grams or 8 ounces)**
*The butter should be softened to about 72°F. It should not be overly softened.
**If the nuts are omitted increase the chocolate chips by 225 grams or 8 ounces
For how to photos for Chocolate Chip Cookies
Preheat the oven to 350°F. Line two baking sheets with parchment paper. Set aside.
Whisk together the bread flour, baking soda and salt. Set aside.
Cream the butter, both sugars, and vanilla together in a mixing bowl. Add the eggs. Add the flour mixture followed by the chips and the walnuts, beating long enough to incorporate them completely.
Using a bowl scraper, turn the dough over in the bowl to make sure there are equal amounts of chips and nuts at the bottom. If not, use the scraper, to turn the dough from the outer edges into the center to finish mixing.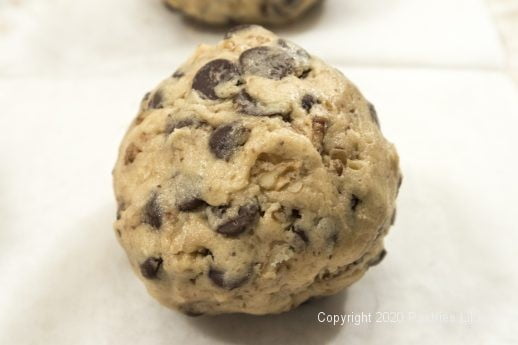 Weigh 8 pieces 170 grams or 6 ounces each. Shape them into loose balls, but do not compact them. Do not flatten them.
If baking immediately, place 4 on a tray. If resting overnight, wrap each ball separately in plastic wrap and refrigerate.
If baking immediately double pan and bake for 18 to 20 minutes until golden and mostly set. If they wiggle just a little in the center and that is fine. They'll finish baking on the tray outside of the oven.
If baking from the refrigerator bake for 22 to 24 minutes..
Yield: 8 giant Levain Style Chocolate Chip Cookies cookies.