It's that time of the month when I'm off to TV land. By virtue of the fact, I have four to four and a half minutes on air, whatever I am doing has to be easy and doable. This month my focus is on the Magic Shell for ice cream.
If you've ever had a soft serve ice cream dipped in chocolate that forms a hard shell, magic shell is it. I always have mine dipped twice and then try to eat it fast enough so the ice cream doesn't drip all over me. I'm usually not successful so it calls for getting one of these when I'm in an old, comfy top I don't much care about.
Coconut oil can be found in most grocery stores today, You want the refined coconut which is opaque white in the jar and solid, not liquid.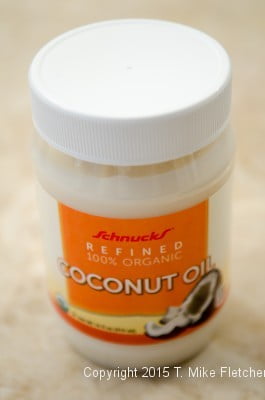 Some say you can use any oil or butter but I have only made it with the coconut oil. After you open the oil, store it in the refrigerator. Liquify in the microwave when you want to use it again or as in this case, just spoon it out.
You can make as little or as much as you wish as the basic recipe consists of twice as much chocolate as coconut oil by volume.
Because of the melting point of the coconut oil, the magic shell will stay liquid in a hot kitchen and solidify after sitting in a cold kitchen or the fridge. If your leftover shell hardens, just re-melt in the microwave.
This magic shell is really good to have at home since you can just drape a towel around you and have at it. And feel free to put it on twice for a really thick shell.
Magic Shell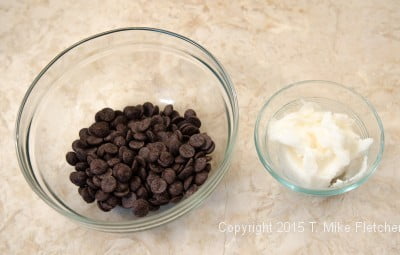 1 cup chocolate (150 grams or 5 ⅓ ounces)
½ cup coconut oil (100 grams or 3 ½ ounces)
Combine the chocolate and coconut oil in a microwave proof bowl or put the bowl over a pan of hot water and heat until melted. It took 2 minutes at half power in my microwave. Don't overheat it or it can separate.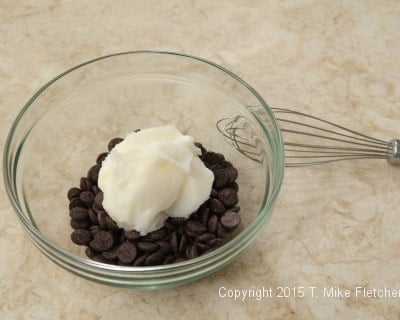 After it has melted,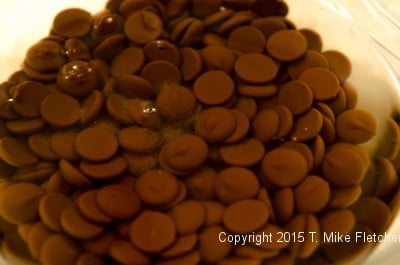 whisk to combine.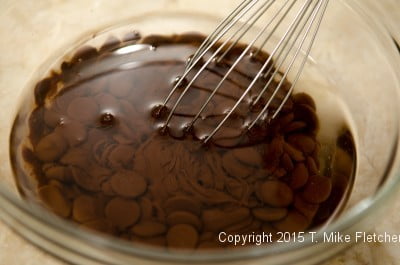 It will be very thin when whisked. This is as it should be.
Scoop ice cream into dishes and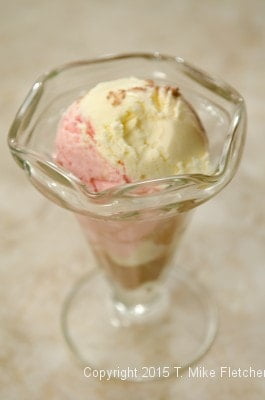 simply spoon the magic shell over really hard ice cream. It will be shiny at first. When it becomes dull and loses all of its shine wait another 5 to 10 seconds.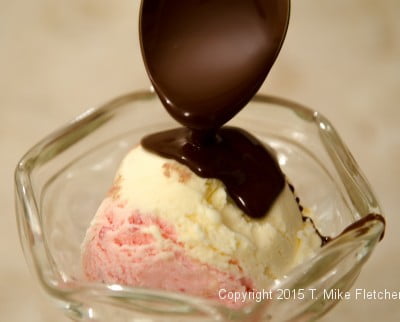 When you tap it with a spoon it will be really hard.
Break the magic shell and eat away!!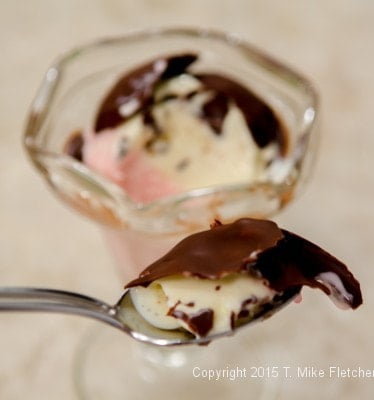 Yield: 1 cup