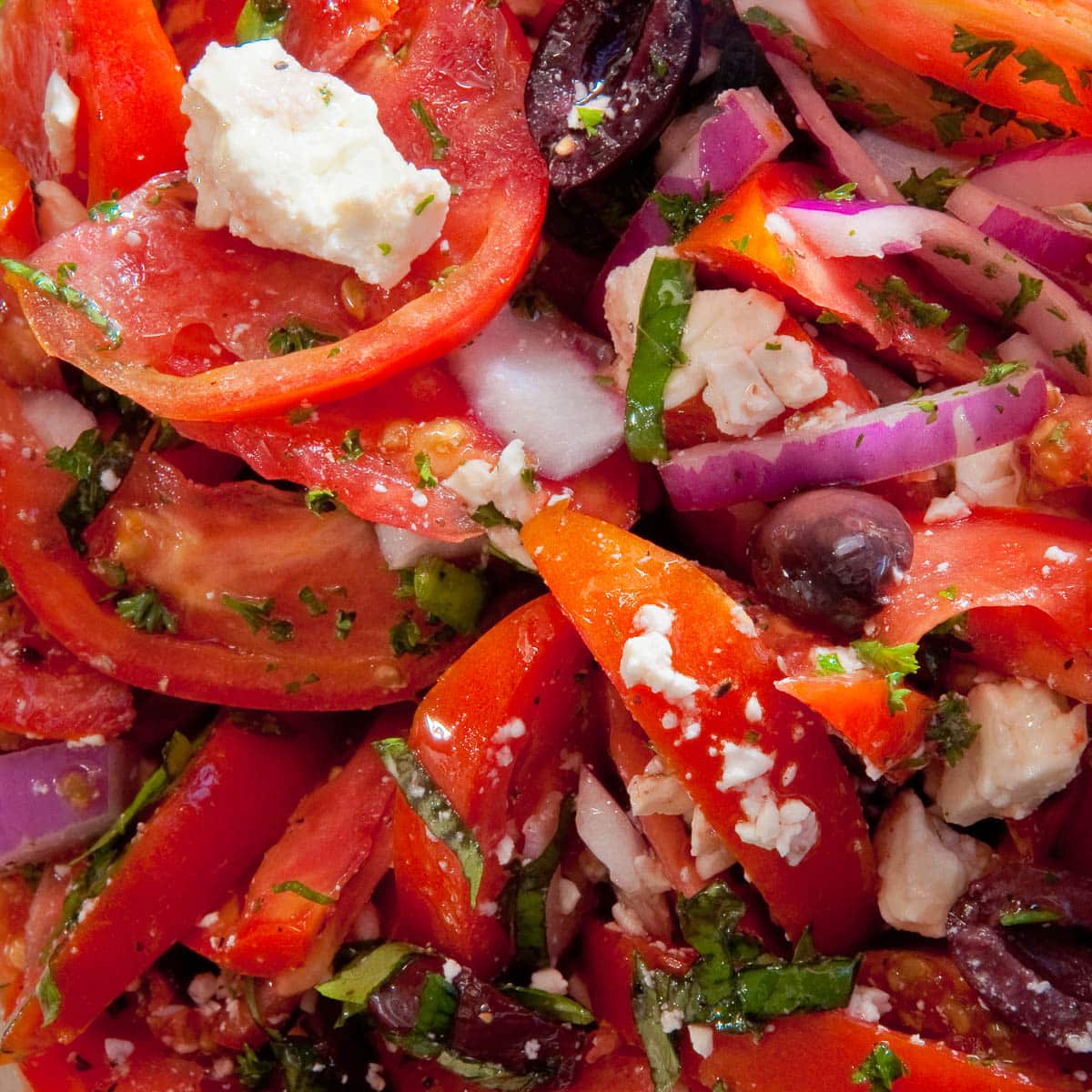 This Trio of Super Simple Side Salads is the definition of casual, effortless eating. This week I went back into my files and am serving up three side salads made for the hot days of summer. Lots of fresh vegetables from farmer's markets make these not only easy but good for you.
All of these side salads came from my take out shop and illustrate the timelessness of good, solid recipes. These are as pertinent today as they were then and I still make them at home.
Great with grilled meat, fish, or sandwiches you'll be out of the kitchen in no time. All of these recipes can be cut in half if desired. Since we are empty nesters, I do just that for the two of us with delicious left overs!
Mediterranean Orzo Salad
Pasta salads are among the easiest and tastiest ways to enjoy our love affair with Italian food. Other than cooking the pasta and chopping the veggies, there isn't a lot more to do. The fact it holds wonderfully in the refrigerator, makes this ideal for get-togethers or to take to a pot luck.
Orzo is a rice shaped pasta. My husband has never been a big fan of rice and I remember the first time I served this to him. He thought this was the best rice dish he had ever eaten. I'm not sure to this day if he realizes he isn't eating rice! I honestly don't remember telling him differently.
I can't tell you how much of this we made at the retail shop. It has the perfect balance of pastaa, vegetables and dressing. Whenever I have included this in one of my teaching menus, it is always a huge hit. At one of the classes, students were almost diving over the counter to get more.
1 ½ cups dried orzo
¼ cup chopped sundried tomatoes
½ cup crumbled feta cheese
⅓ cup finely diced red onion
⅓ cup finely diced yellow pepper
⅓ cup finely diced red pepper
⅓ cup finely diced green pepper
3 tablespoons chopped parsley
3 tablespoons coarsely chopped calamata olives
3 tablespoons red wine vinegar
2 tablespoons olive oil
½ teaspoon black pepper
¾ teaspoon salt
Cook the pasta in boiling, salted water. Drain. Rinse the orzo and cool.
Combine the orzo with all but the vinegar, olive oil salt and pepper. Mix well.
Whisk the vinegar, olive oil, salt and pepper together and pour over the orzo and vegetables. Chill to combine flavors.
This can be served room temperature or cold.
Yield: 4 to 6 servings
Epicurean Potato Salad
This potato salad highlighted with a bit of dill and two different olives is best made a day or two before so the flavors can meld. When you drain the olives, be sure to save some of the juice from both as it is used in the dressing. This recipe uses American Mission Olives in a can. Substituting another black olive will change the flavor of the finished salad.
A small 2.25 ounce can of sliced black olives is perfect for this recipe. For the green olives I use the pimento stuffed for the color but it isn't strictly necessary.
"B" potatoes are also known as new potatoes and are just baby big red potatoes. If these are unavailable, use regular size red potatoes and cut them into bite size pieces. Leave the skins on.
3 pounds red "B" or new potatoes
⅔ cup or 6 ounces drained black olives, coarsely chopped*
⅔ cup or 6 ounces drained green olives with pimento, coarsely chopped
⅔ cup onions, finely diced
1 cup mayonnaise
2 tablespoons parsley, finely chopped
2 teaspoons dried dill
1 ½ teaspoon salt
½ teaspoon white pepper
2 tablespoons green olive juice
3 tablespoons black olive juice
Wash the potatoes, cut in half or quarters and simmer just until tender – approximately 20 minutes. Do not let them get mushy. Drain well and cool. Add olives and onions.
Whisk together the mayonnaise, parsley, dill, salt, pepper and olive juices. Toss with the potato mixture and mix carefully so as not to break the potatoes. Chill overnight.
Yield: About 4 ½ pounds or 8 to 10 servings.
Greek Tomato Salad
This super simple side salad was originally posted last year but I wanted to include it for those who may have missed it. If you love tomatoes, there isn't a better way to eat them How to photos can be seen here.
2 pounds fresh tomatoes, cut into wedges
¼ pound feta cheese
½ small red onion, cut into ½ moons
½ cup calamata olives, halved
2 tablespoons parsley, minced
4 tablespoons basil, cut in chiffonade
½ cup olive oil
1 teaspoon sugar
¼ teaspoon salt
¼ teaspoon pepper
⅓ cup red wine vinegar
Place tomatoes, feta, onions, olives, parlslety and basil in a non-reactive bowl.
Whisk together the ollive oil, sugar, salt and pepper. Slowly whisk in the vinegar to emulsify. Pour over tomato mixture. Chill.
Yields: 3 pounds
These are literally super simple side salads and I hope you enjoy them as much as we do.
If you enjoyed these, you might also like:
Savory Tarts, Summers Bounty
Low Fat Fantastic Low Fat Crustless Quiche