Banana Pudding is a favorite southern dessert usually made with purchased vanilla wafers and vanilla pudding mix. Before I became the pastry chef at Tony's, I worked briefly at the Hyatt Hotel which was a client of the bakery. I wanted to see how a big bakery department worked.
I remember making 10-gallon jars of Banana Pudding for a southern convention at the hotel. I was surrounded by cases of vanilla wafers, and pudding that was premade. After a while, I couldn't even remember the order in which the jars were assembled because my mind was so numb. I don't think I looked at another banana for years.
This Banana Pudding is a less sweet version with homemade vanilla wafers, maple pecans, pastry cream, and bananas. Everything can be made days or longer in advance and assembled the day of serving. If you made the vanilla wafers from last week, you are on your way.
The Maple Pecans can be made a week or more ahead, the pastry cream can be made days ahead or even longer and frozen. Just thaw it in the refrigerator the day before you need it. The only last minute thing to do before assembly is whip some cream and cut the bananas. Speaking of the banana make sure they are all yellow so they will be very firm and not discolored when cut.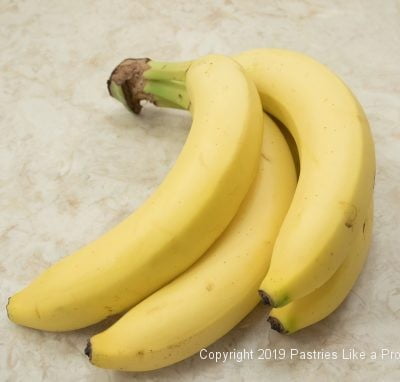 I would change only one thing. I think the wafers are better if they are laid flat instead of standing them up as I did. The pastry cream can soak into them so you won't get unsoaked, dry cookies.
Instead of whipped cream to finish, I covered the top layer of pastry cream with crushed vanilla wafers and chopped maple pecans. The top must be covered with something so the pastry cream doesn't form a skin on top.
The day after I made this, there were leftovers (two people can only eat so much Banana Pudding!). In the morning I convinced myself without too much effort, that the pastry cream was made with 2% milk, a banana is good anytime, nuts are healthy and I just forgot about the cookies. It was one of the best breakfast's I have ever had!
Maple Pecans
These are best made on a day with low humidity. These may be made in advance.
2 tablespoons pure maple syrup
2 teaspoons butter, melted (10 grams)
1 teaspoon vanilla
¼ teaspoon salt
1 ½ cups pecan halves (about 170 grams or 6 ounces)
Preheat the oven to 325°F. Line a half sheet pan or other large baking pan with foil and spray the foil. Set aside.
Whisk together the maple syrup, butter, vanilla, and salt.
Place the pecans in a medium-size bowl, add the liquid and toss to coat them completely. Pour them into the prepared baking sheet and arrange in a single layer.
After baking for 10 minutes, stir the nuts. Stir, every 5 minutes or so until the nuts are deeply golden brown which will take 20 to 25 minutes. Remove the nuts and cool. They may be a bit sticky coming from the oven but will harden upon cooling. Store in an airtight container.
Pastry Cream
Pastry cream can be made several days in advance or longer if frozen. Using the ingredients below, go here for how to photos. This recipe omits the gelatin that I normally use in my pastry cream as I want a looser cream.
2 ¼ cups milk
6 egg yolks
¾ cup sugar (150 grams or 5 ⅓ ounces)
3 tablespoons all purpose flour (30 grams or 1 ounce)
2 tablespoons vanilla
Heat the milk until very hot but not boiling.
In a large bowl, whisk together the yolks and sugar until completely combined. Whisk in the flour. Slowly whisk in the milk.
Strain the mixture into the top of a double boiler. Cook, stirring constantly until it becomes very hot and thickens.
Remove the pan from the double boiler and place it directly over medium-low heat. Stirring constantly, bring it to a boil and boil for 1 minute. Take it off the heat and stir in the vanilla. Pour it into a storage container, cover directly with film, poke a few holes in the film and allow to cool. Store in the refrigerator for several days or freeze for longer storage. Thaw in the refrigerator overnight to use.
Assembly of the Banana Pudding
¾ cup heavy cream
Pastry cream
¾ cup chopped Maple Nuts
3 to 4 bananas sliced
Vanilla Wafers
Whip the cream to soft peaks and fold it into the pastry cream. Set aside.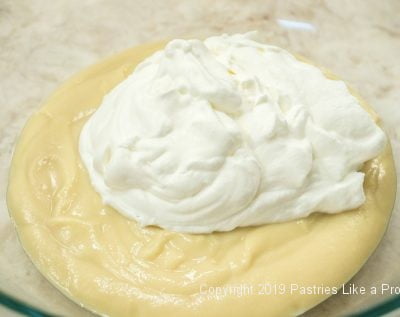 Spread a third of the pastry cream in the bottom of a 9x9x2 inch pan. Sprinkle with nuts and add a layer of bananas.
Place vanilla wafers in a single layer on top.
Spread another third of the pastry cream over the vanilla wafers, sprinkle with nuts and add a layer of bananas. Top with one more layer of vanilla wafers.
Cover the wafers with half of the remaining pastry cream and sprinkle with the nuts then add the sliced bananas. Finish with the remaining pastry cream.
Crush vanilla wafers under the heel of your hand until there are about ¼ inch crumbs. Combine with the remaining chopped nuts (or chop more if necessary) and cover the top of the Banana Pudding with the crumb mixture.
Place plastic wrap on top and refrigerate for several hours before serving.
Refrigerate any leftovers.
Yield: 9 servings
Pastry cream is a building block for pastry. Here are a few more recipes to consider:
All About Pastry Cream
Banana Caramel Tart with Rum Pastry Cream and Praline
Chocolate Coconut Cake
Gateau St. Honore