I couldn't think of anything that says winter more than Bread and Soup. Being in the middle of a blustery winter with snow, wind, and rain all taking their turn, I went to my Sweet and Hot Red Pepper Bread along with an easy to make Broccoli Cheese Soup.
While it's a perfect vegetarian meal this particular Bread and Soup is filling and satisfying. The bread can be made ahead and frozen if desired as can the soup.
I enjoy the softer nature of homemade bread. I do, however, allow the bread to rest in the refrigerator for a day or two before shaping and baking so it can develop additional flavor. Calamata olives can be substituted for the green olives and if you're not a fan of heat, reduce the hot pepper flakes.
Sweet Rice Flour for Thickening
Although the soup can be thickened with flour, I have found Sweet Rice Flour does a better job. It doesn't break when the soup is frozen and thawed and has no pasty taste. Even better, if the soup isn't thick enough for some reason, just sprinkle a little of the rice flour in at a time and cook a little longer. There is no making a buerre manie of butter and flour to add at the end. The rice flour is not sweet at all, it is actually small grain white rice that is considered sticky rice used as an accompaniment in oriental cooking. It is also used as an ingredient in some gluten-free flour substitutes. This is a popular brand and can be found in oriental grocery stores. However, don't substitute regular white rice flour - it is not the same.
To safely store my razor blade, I keep several of them in a small medicine bottle with a tight lid.
Here is the first half of Bread and Soup.
Sweet and Hot Red Pepper Bread
This bread calls for careful processing after the olives have been added.
¾ cup medium stuffed green olives
¼ cup cool water
2 ¼ teaspoons active dry yeast (1 package, 7 grams or ¼ ounce)
2 teaspoons sugar
1 cup canned red pepper puree*
2 tablespoons olive oil
¾ teaspoon hot red pepper flakes**
4 cups bread flour (560 grams or 19 ¾ ounces)
1 teaspoon salt
1 egg white
2 tablespoons sesame seeds
*A 15 ounce can or bottle of roasted red peppers will yield at least a cup of puree. If the can or bottle is 12 ounces or so, that's fine. You may not have an entire cup but it won't matter that much.
**If you want a milder version of the bread use less red pepper flakes or omit them entirely.
Drain the olives well remove additional liquid out by pressing them between paper towels. Set aside.
Combine the water, yeast, and sugar.
Set aside until the yeast dissolves and the mixture is foamy.
Add the olive oil and hot pepper flakes to the yeast mixture. Stir to mix well.
Process the peppers in the bowl of the processor until pureed. Measure the puree. Add water if necessary to make up the difference. Add the yeast mixture to the puree.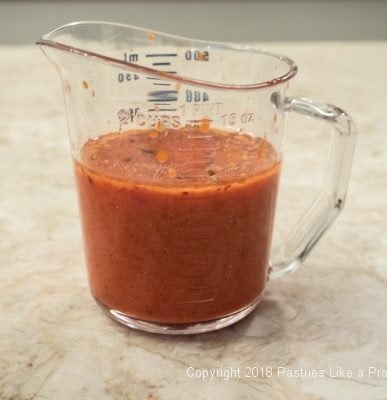 Place in the processor and process for several seconds. Add the flour and salt.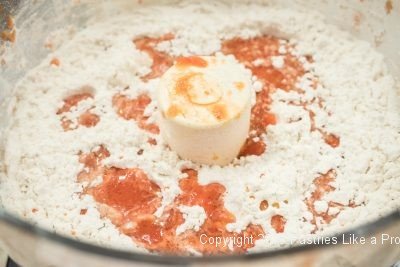 Process until it comes together. The bread should form a ball that cleans the bowl. If it does not, add additional flour a little at a time. Process for about 45 seconds to a minute to knead it.
Remove the bread and tear it into pieces. Place it back in the processor. Place the olives on top of the dough and pulse to cut them in.
Do not over process as you want the olives coarsely chopped in.
Remove from the processor and knead several times to shape into a ball.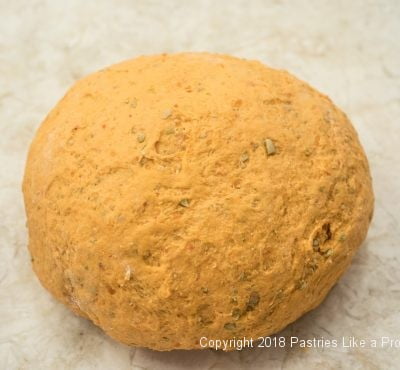 Place it in a container sprayed with baking spray. Turn it over so the top is oiled.
Place a piece of plastic wrap over the dough and cover the container.
Refrigerate overnight or up to 3 days. It will rise in the refrigerator.
When ready to bake punch the dough down and shape it into a ball placing it on a parchment lined baking sheet.
Allow it to rise for about an hour until somewhat less than doubled.
About 15 minutes before baking, preheat the oven to 350°F.
With a sharp, single edge razor blade, slash the dough about ⅛" deep spacing them evenly 3 times across in one direction. Turn the dough 90° and slash again 3 times.
Lightly beat the egg white and brush the bread. Sprinkle with sesame seeds.
Bake for about 40 to 45 minutes until lightly browned and baked through. Cool on a rack.
This bread freezes well after baking. Thaw on a rack and refresh in a 350° oven for about 15 minutes.
Broccoli Cheese Soup
This second half of Bread and Soup is a thick, filling, cheesy soup especially fitted to the winter. I chose an American cheese for this soup since it melts better and doesn't separate as cheddar cheese can. It's easy to make and is the perfect compliment to the Sweet and Hot Red Pepper Bread.
4 cups broccoli florets
¼ to ⅓ large red pepper, cut into ¼ inch dice
1 large stalk celery, cut into ¼ inch dice
1 large carrot, cleaned and shredded
6 tablespoons butter (90 grams or 3 ounces)
½ cup sweet rice flour or all purpose flour
2 cups chicken broth*
4 cups whole milk
½ pound American Cheese, cubed (225 grams)
1 teaspoons salt
½ teaspoon white pepper
*1 - 15 ounce can of chicken broth may be substituted
Cut the florets into bite size pieces and cook in water to cover or steam until barely soft. Drain well and set aside.
Saute the red pepper, celery, and carrot in 2 tablespoons butter until softened a bit.
Add the remaining 4 tablespoons butter. Add the sweet rice flour or flour
and stir to a paste along with the veggies. Cook for a minute or so if using all purpose flour. There is no need to for the sweet rice flour.
Add the chicken broth and stir until smooth. Add the milk. Bring to a boil, stirring constantly. Reduce to a slow boil and cook for about 5 minutes.
Add the cheese, stir until melted. Add the salt and pepper, correcting if necessary.
The soup can be stored in the refrigerator for several days or frozen if using the sweet rice flour.
Additional blogs you might like are:
International Flatbreads - An Easier Version of Pizza
Stuffed Italian Bread - Pane Bianco
Scones with Cranberry Strawberry Jam
From Craving Cookies come these Raggedy Ann Cookies named for the raggy edges of the cookies.