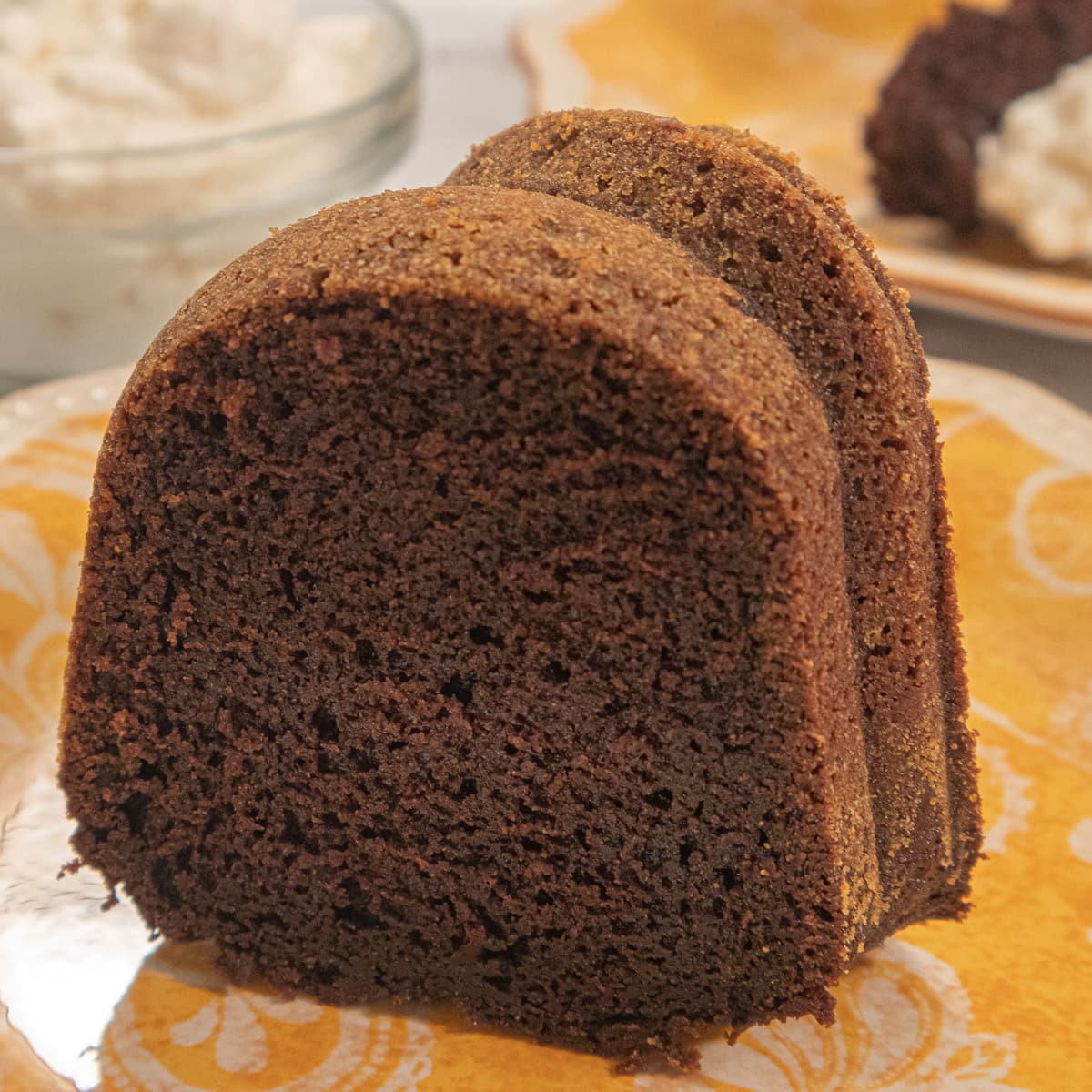 This Chocolate Guinness cake is surprisingly easy to make ahead.
I ran across this online recently and put it in my pile to test. There are many versions of this from Nigella Lawson to the New York Times to The Brown Eyed Baker. The majority of the recipes feature a single or double layer cake with cream cheese icing.
Others bake it in a bundt pan which is my favorite and finish the Chocolate Guinness Cake with a chocolate ganache. Because of its rich, dark, intense and interesting flavor, I don't think it needs anything more but then again, a dollop of Baileys whipped cream can't hurt nor can ice cream. However, I have included a recipe for the chocolate ganache should you wish to use it.
About Guinness Stout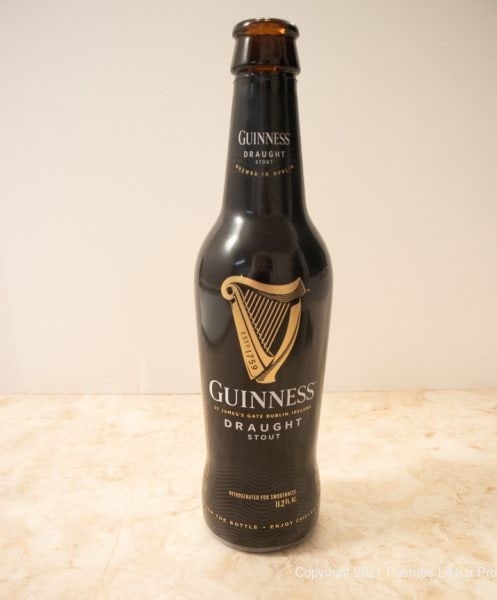 A word about Guinness Stout. I used the bottled draught stout. It also comes as Extra Stout which I thought might be too bitter. According to Wikipedia, "Guinness is an Irish dry stout that originated in the brewery of Arthur Guinness at St. James's Gate, Dublin, Ireland, in 1759. It is one of the most successful alcohol brands worldwide, brewed in almost 50 countries, and available in over 120. Guinness's flavour derives from malted barley and roasted unmalted barley. The draught beer's thick creamy head comes from mixing the beer with nitrogen and carbon dioxide."
Type of Cocoa
While most of the recipes use cocoa, some specify Dutch chocolate, which I prefer for its depth of color and more chocolatey taste. What I found really interesting was that all of the recipes specify baking soda as the leavening agent no matter what cocoa was used. In my blog, Cocoa Fundamentals Natural vs. Dutch, I talk about the two cocoas. Natural cocoa uses baking soda because it is acidic. The process by which Dutch cocoa is made neutralizes it so it uses baking powder to leaven it. To that end, because I use Dutch cocoa, I use baking powder and a bit of baking soda to neutralize the sour cream. If all natural cocoa is used, use all baking soda.
Releasing the Chocolate Guinness Cake
There was talk on a couple of the websites that the cake was difficult to release. I used a trick I learned for the Citrus Pound Cake to ensure that cakes release from a bundt pan. The pan is sprayed with a non-stick baking release and then dusted with fine bread crumbs. The excess crumbs are knocked out. After baking, the cake literally falls out of the pan.
If you want to enjoy the get-together, this cake can be made ahead and frozen. Just thaw on a cooling rack, allowing it to come to room temperature. It can also be made the day or so ahead and kept covered at room temperature.
Making Whipped Cream Ahead
Even the Baileys whipped cream can be made ahead so you won't miss a thing. Dollop the whipped cream on a parchment or wax paper lined tray and freeze it. When ready to serve, place a dollop of cream on the plate. Allow it to thaw for 5 to 10 minutes, slice the cake and it's ready to serve.
This Chocolate Guinness Cake is going into my favorite cake file and I hope it goes into yours.
Chocolate Guinness Cake
2 cups all-purpose flour (280 grams or 2 cups)
1 ¾ teaspoon baking powder
½ teaspoon baking soda
1 cup Guinness Stout
1 cup unsalted butter (225 grams, 8 ounces, 2 sticks)
¾ cup Dutch process cocoa (70 grams or about 2 ½ ounces)
2 cups granulated sugar (400 grams or about 14 ounces)
⅔ cup sour cream (150 grams or 5 ⅓ ounces)
2 large eggs
1 tablespoon vanilla
Preheat the oven to 350°F. Spray a 12 cup or smaller bundt pan with a non-stick baking release. Dust the inside with fine bread crumbs. Knock out the excess. Set aside.
Combine the flour, baking powder, and baking soda. Set aside.
Pour the Guinness into a saucepan and add the butter. Heat until the butter's melted. Sift the cocoa into the Guinness and butter to remove any lumps. Whisk in the cocoa and sugar.
Beat the sour cream with the eggs and vanilla until completely mixed.
Add the Guinness mixture and beat until combined.
Add the flour mixture and beat on low just till totally mixed.
Pour the cake batter into the prepared bundt pan. Bake for 40 to 45 minutes or until a cake tester comes out almost clean.
Cool the Chocolate Guinness Cake for about 10 minutes. Place a cooling rack on top of the cake and flip it over so the top is resting on the rack. Cool completely.
The cake can be held at room temperature, well covered for several days or frozen.
Baileys Whipped Cream
1 cup heavy cream
¼ cup powdered sugar (30 grams or 1 ounce)
1 tablespoon Baileys liqueur
The cream should be cold. Place all the ingredients in a mixing bowl. Beat to desired consistency from soft peaks to medium stiff peaks.
This can be made ahead for several days and stored in an airtight container. It can also be dropped in dollops on a parchment or wax paper lined baking sheet and frozen for weeks.
Chocolate Glaze
For how to photos, please go here
½ cup heavy cream
4 ounces semisweet chocolate, chopped
Heat the cream until steaming hot, but do not boil. Submerge chocolate in the hot cream. Let it sit for a few minutes then gently whisk to combine. Let it sit at room temperature to cool and thicken somewhat. Pour it over the top of the cake and let it run down.
Be sure to check out the Warm Chocolate Lava Cake with Bailey's Sauce